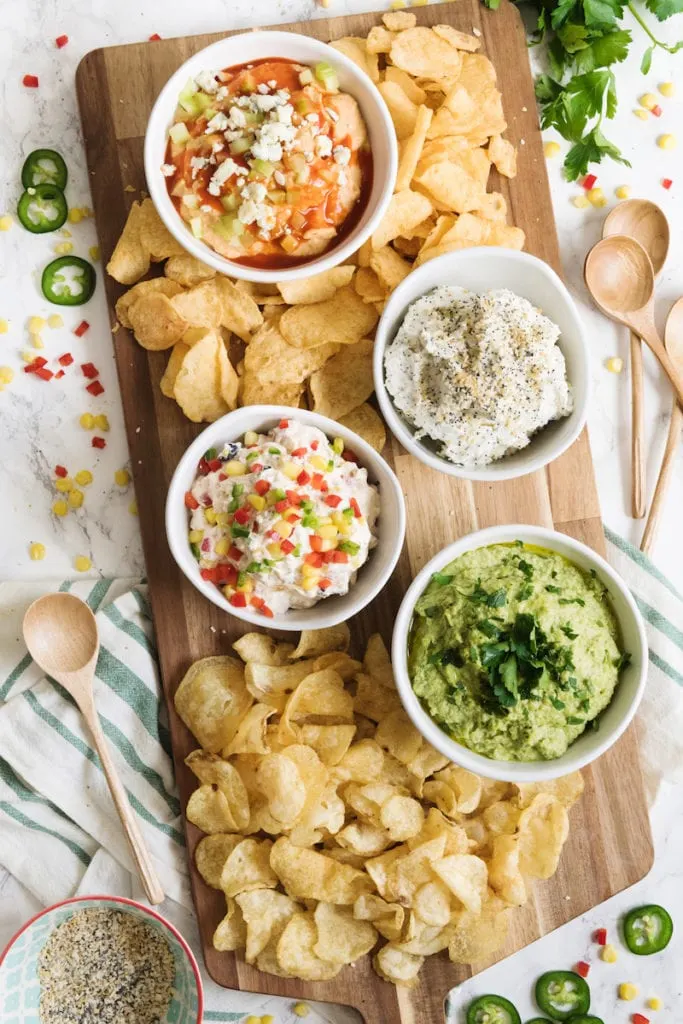 One of the most popular requests I receive (both here, on Instagram and from my friends and family) is for more party appetizers! People love an easy party appetizer recipe, so I decided I would take a moment today to round up 21 of the best summer appetizers perfect for all your upcoming summer parties.
1. Four easy party dip recipes [above]
Easy Summer Party Appetizers
I like my summer party appetizers to be easy and low or no cook. Meaning, I don't like to heat my kitchen up anymore than absolutely necessary so I'm all about party dips, appetizer skewers and easy salsa recipes.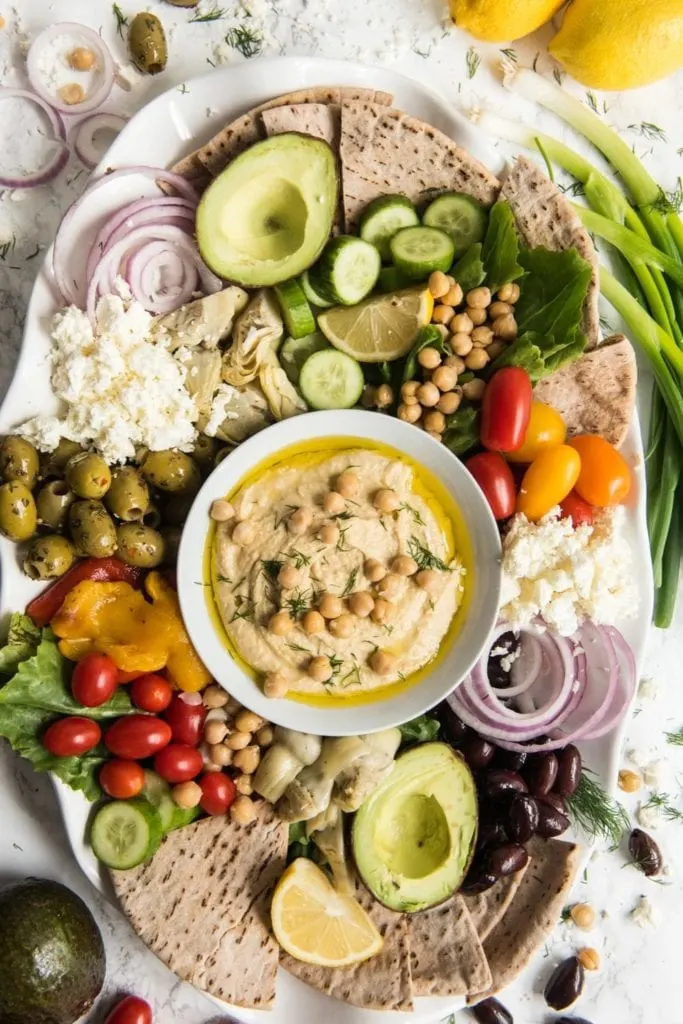 2. The ultimate hummus platter
This hummus platter is one of my favorite summer appetizers! You don't have to cook anything – you barely even have to chop!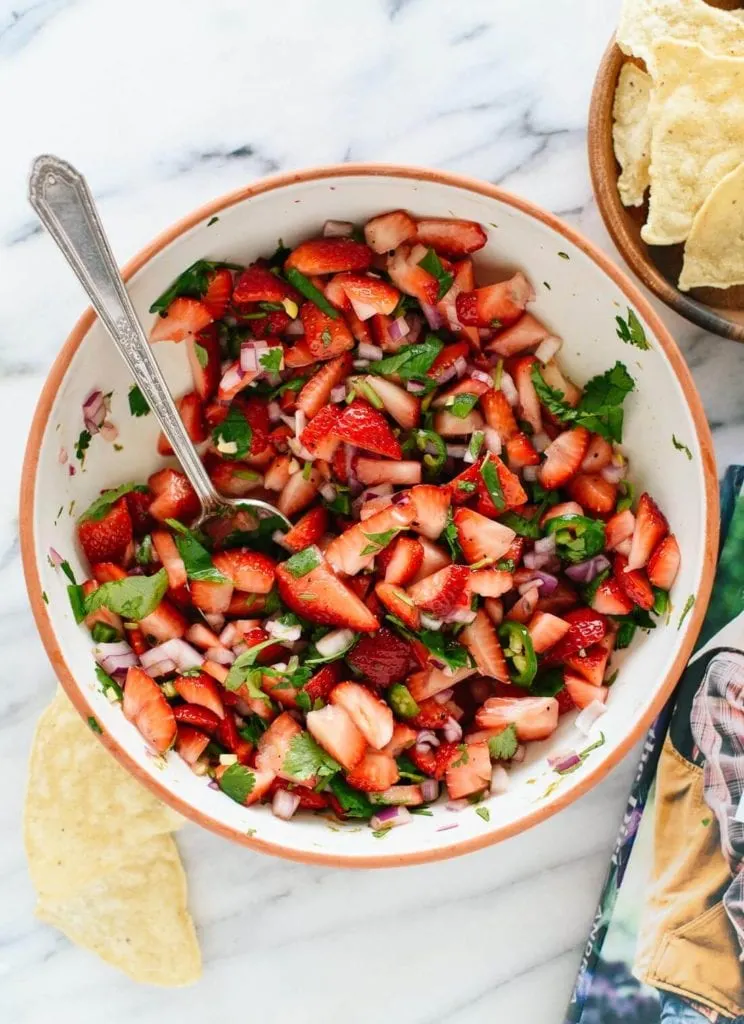 3. Strawberry salsa
Who doesn't love a twist on a classic salsa recipe? This strawberry version is so fresh!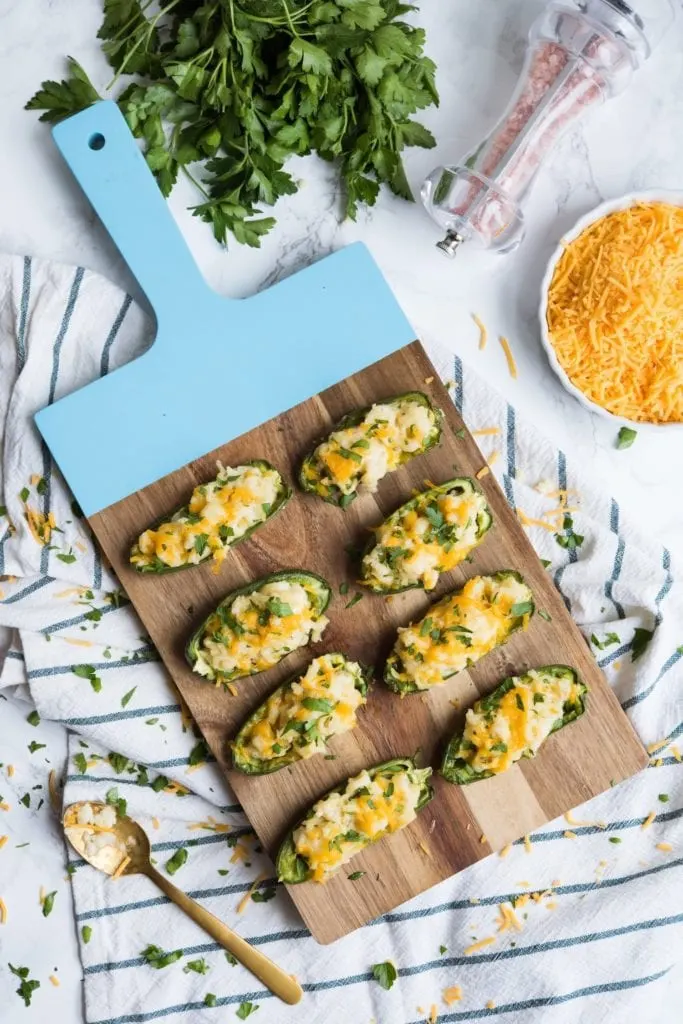 4. Mac and cheese stuffed jalapeño poppers
I make my easy jalapeño poppers in the oven in the winter, but in the summer I make them on the grill! They're even tastier.
5. Roasted chili pepper guacamole
Summer isn't summer without the best guacamole recipe! I present this one for your consideration.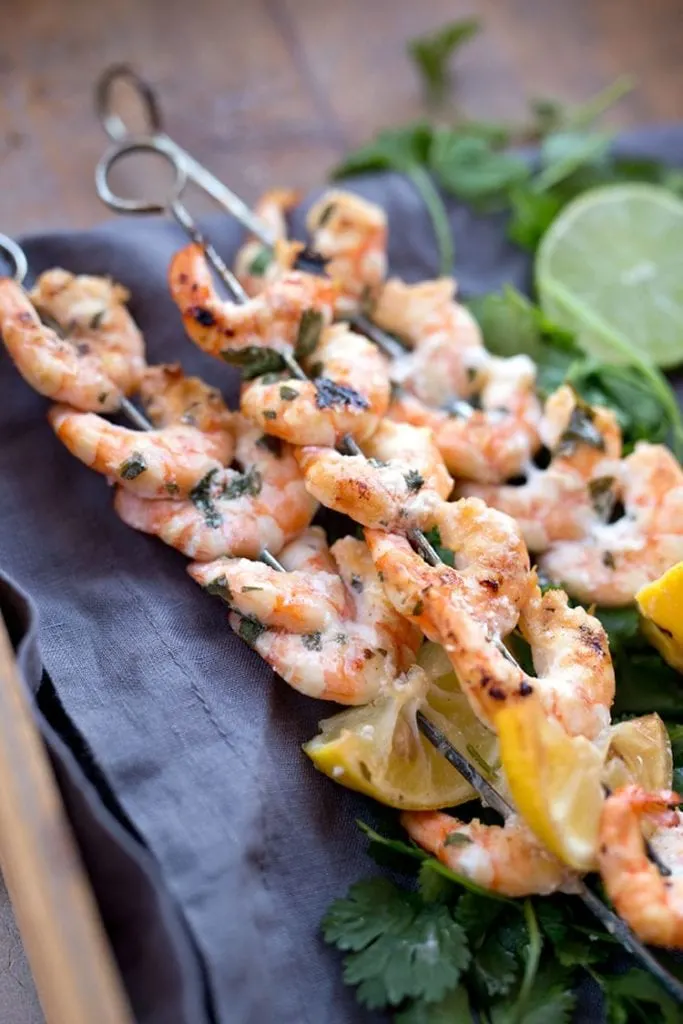 6. Easy citrus grilled shrimp skewers
While I eat vegetarian 98% of the time, sometimes I make an exception for a really great grilled shrimp skewer!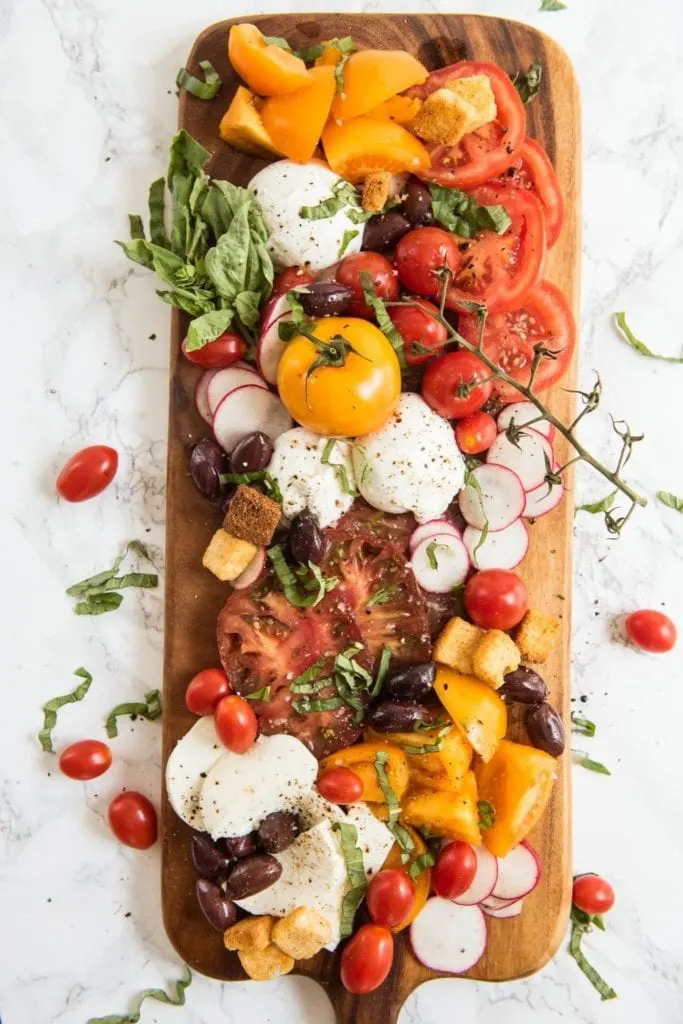 7. Caprese salad board
Take your cheese and crackers game to the next level with this easy caprese salad board!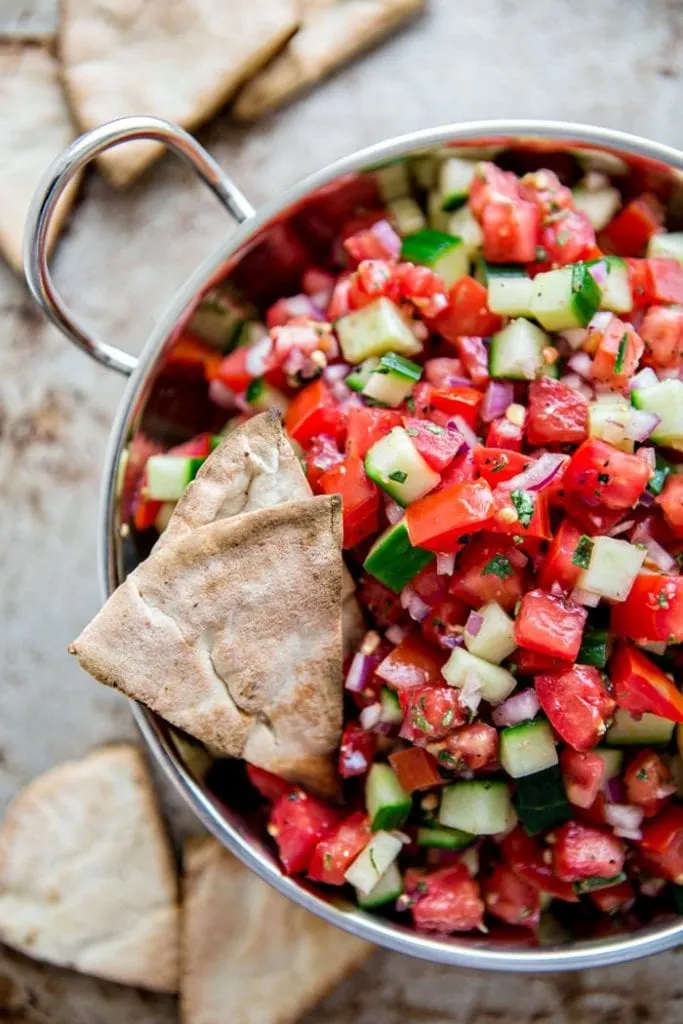 8. Greek Pico de Gallo Recipe
Fresh pico de gallo gets a Greek twist and I'm here for this easy summer party appetizer!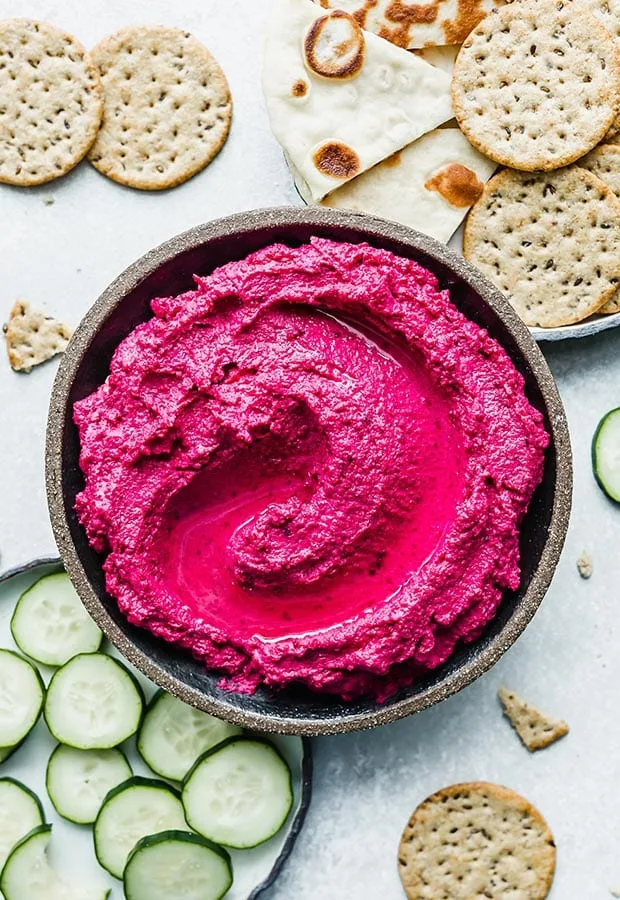 9. Beet hummus
You can never go wrong with a good hummus recipe, but this beet hummus is at another level!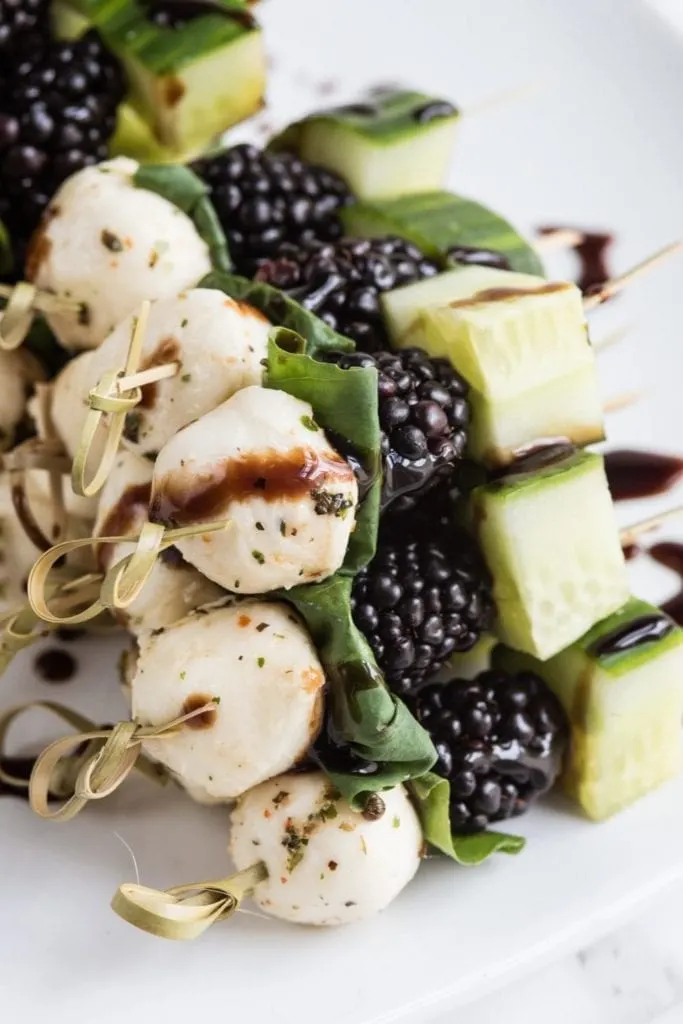 10. Blackberry caprese skewers
No-cook appetizer skewers are my favorite! These blackberry caprese skewers are a huge hit.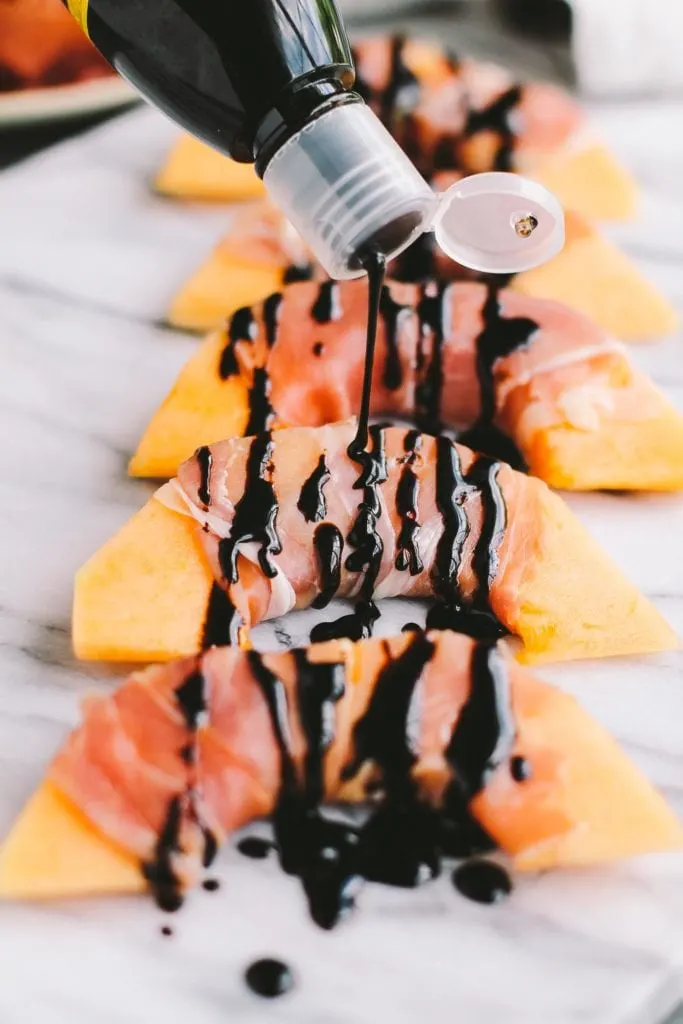 11. Prosciutto wrapped cantaloupe with balsamic glaze
I'll personally pass on the prosciutto here, but for you prosciutto fans, this is a must try party appetizer!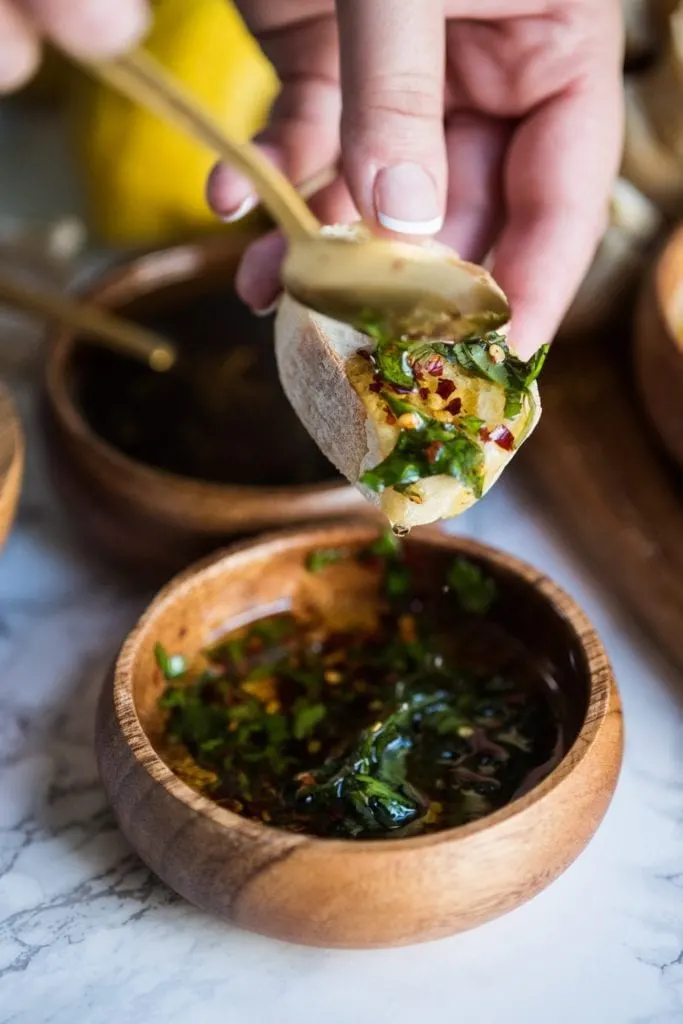 12. A bread and olive oil dipping station
Every good party needs a carb loading station, which is why I shared how to make this bread and olive oil dipping spread!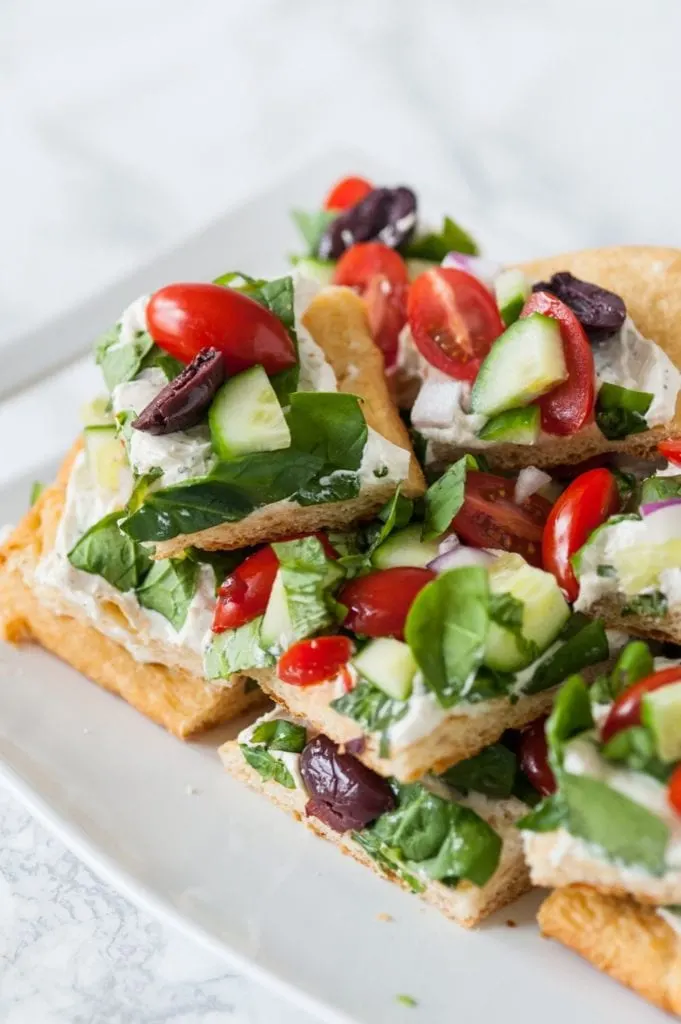 13. Mediterranean veggie flatbread
Arguably the easiest veggie flatbread recipe, one of my family's favorite party appetizer recipes!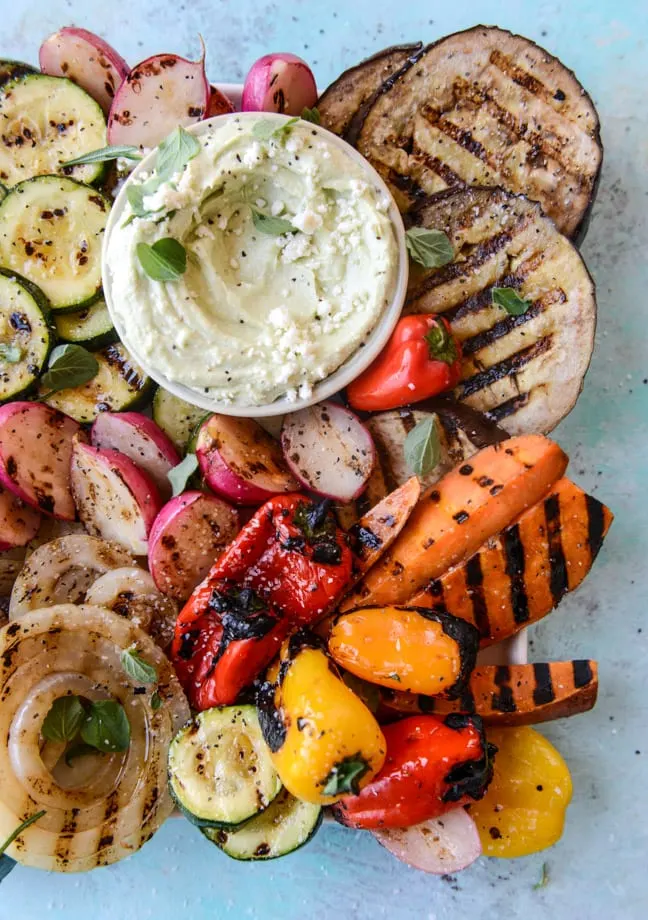 14. Marinated grilled veggies with whipped feta
A platter of grilled veggies paired with the perfect dipping scenario makes for a perfect summer appetizer.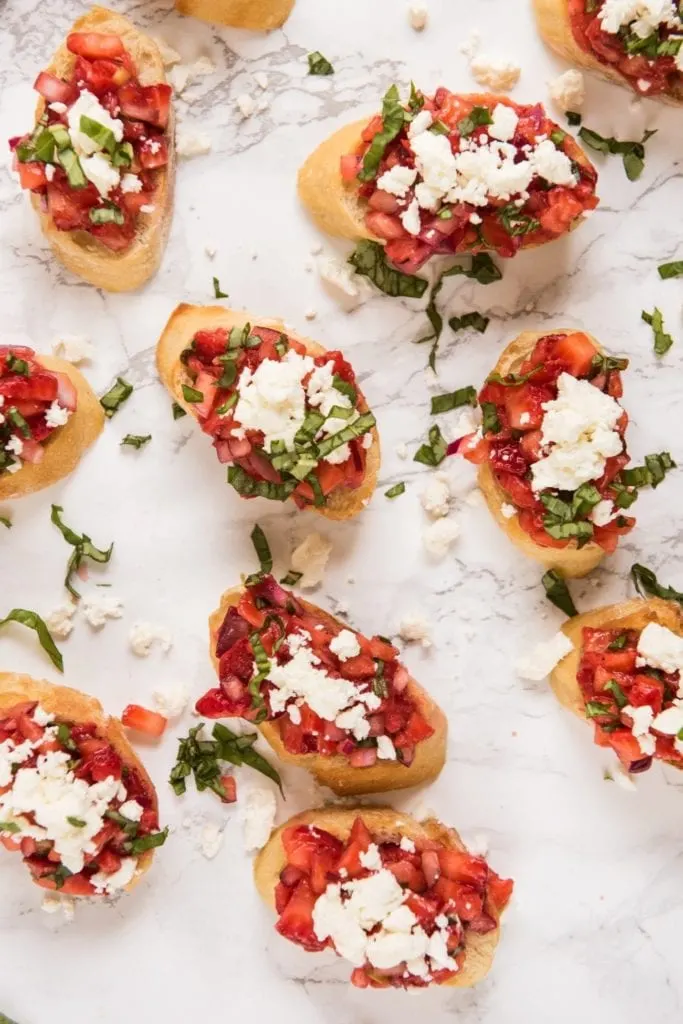 15. Strawberry feta bruschetta
Put strawberry on all the things, I say! Including my favorite strawberry feta bruschetta recipe.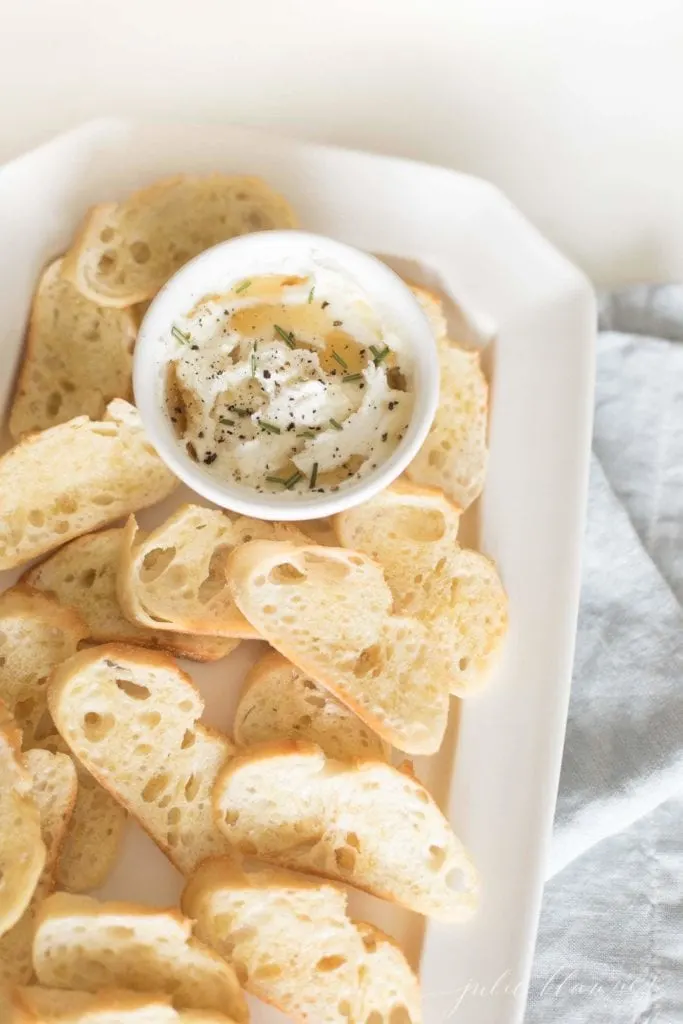 16. Whipped goat cheese spread
You had me at whipped goat cheese! Add crostini and you've got a super easy appetizer recipe.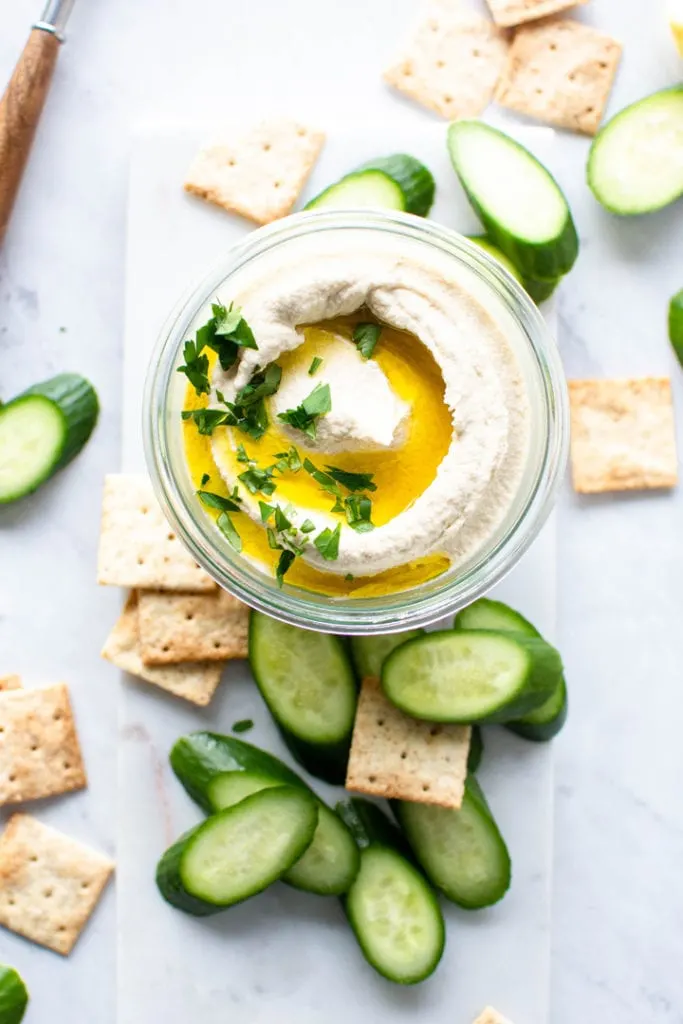 17. Roasted cauliflower hummus
Throwing this one out there for all of your paleo appetizer and vegan appetizer needs! Yum!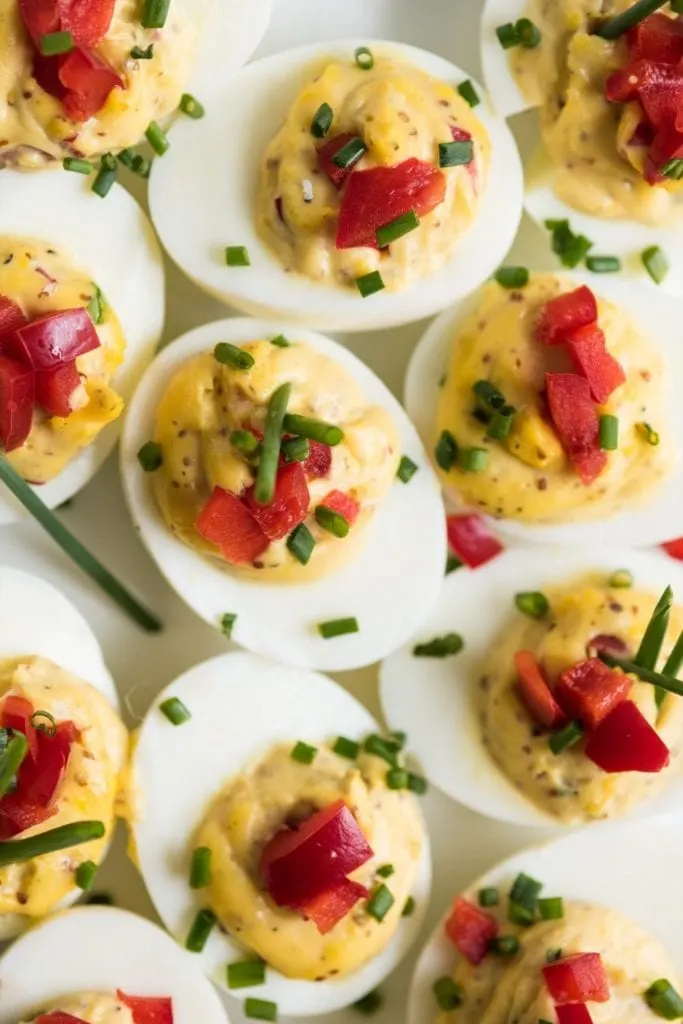 18. Red pepper and chive deviled eggs
You can never go wrong with a great deviled egg recipe! I love adding chives and red bell pepper.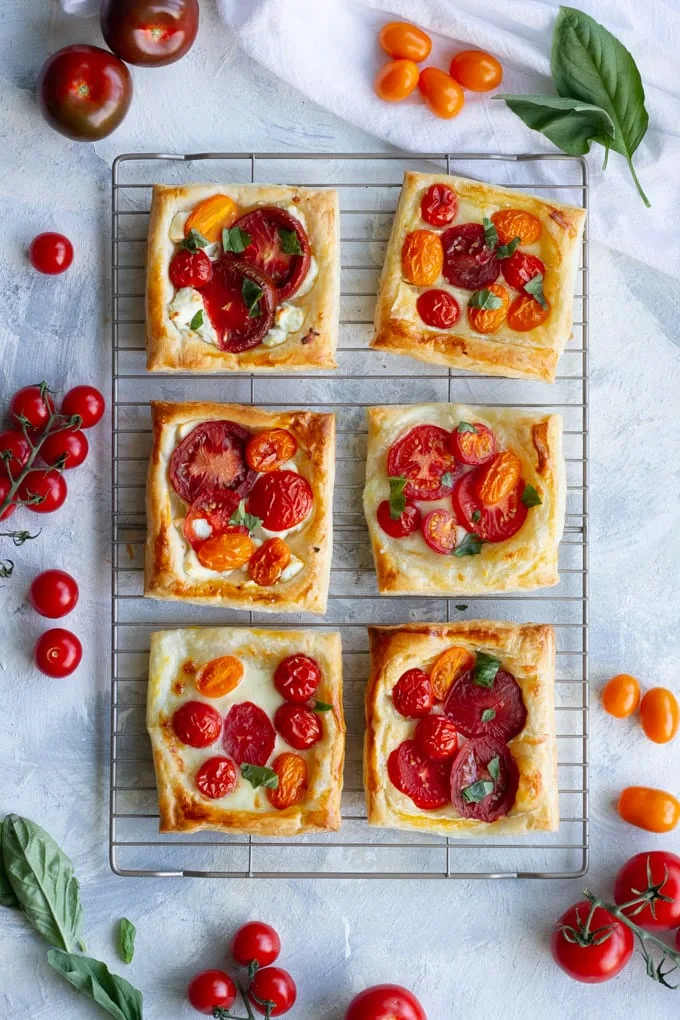 19. Tomato tart recipe
Tiny tarts topped with tomatoes? This is my kind of party appetizer!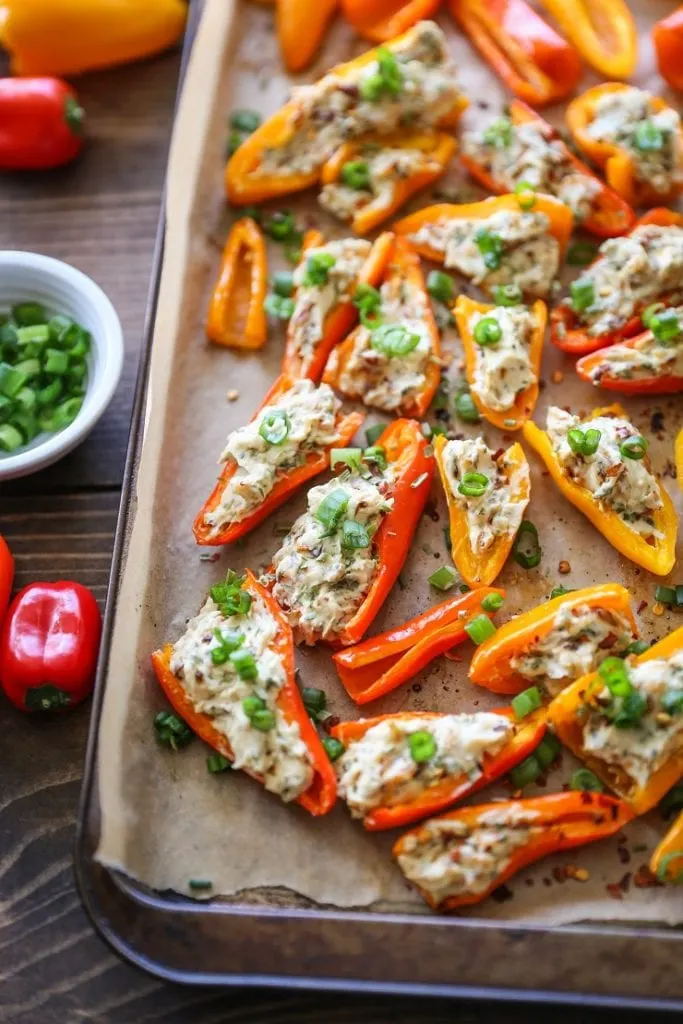 20. Caramelized onion and cream cheese stuffed peppers
Little peppers stuffed with caramelized onions and cream cheese make a great no-cook appetizer!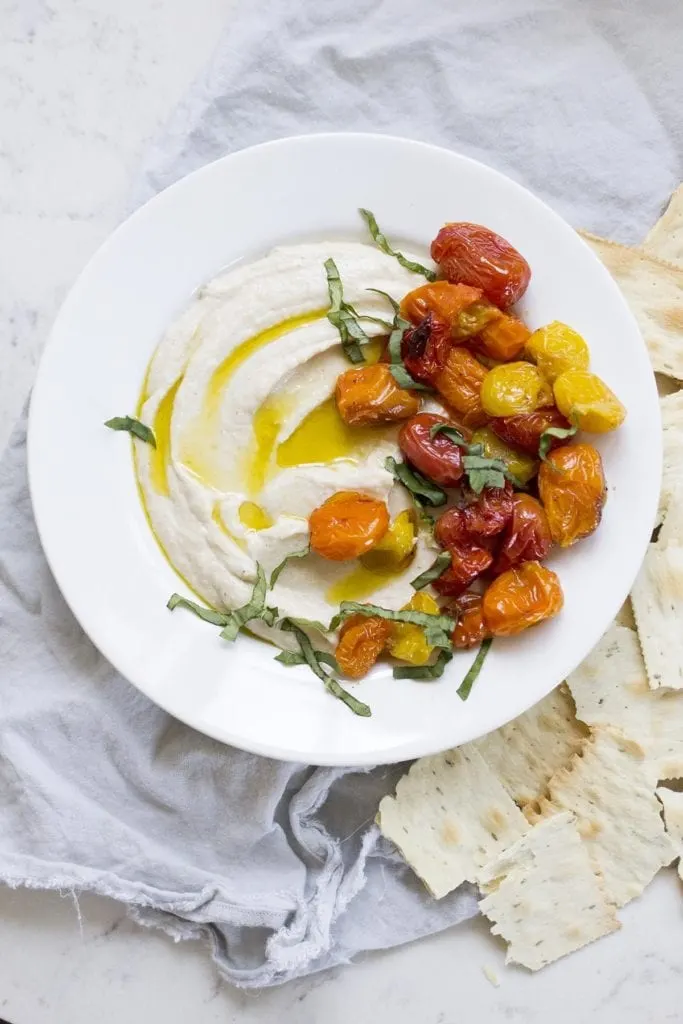 21. Ricotta white bean dip with roasted tomatoes
I am all about the party dip life – this ricotta and white bean dip is sensational!
My Easy Summer Party Tips
Serve a spread of great party appetizers and skip the fuss of a full meal!
Make up a couple of pitcher cocktail recipes to make beverage service a breeze.
Create a great summer playlist and dance all night!
Our Best Summer Cocktails
Try these refreshing and festive cocktails - these are some of our best summer cocktail recipes!