In honor of Thanksgiving this week, I thought I'd share some of my favorite thank you cards perfect for sending a message of gratitude. Working in the stationery world as I do, I've had the great fortune to amass an incredible list of favorite stationers and this week seems like the perfect opportunity to share some of them with you. Bring one along with a bottle of wine to show your thanks to your host or hostess this Thursday or bookmark your favorites to send out after receiving holiday gifts. A long list of favorite thank you cards is always a good thing to have.

I love essentially everything the fabulous ladies of Dutch Door Press design. The colors of this thank you card alone are enough to make me smile.
I really love the soft muted colors of this letterpress thank you card from Delphine. I may be a little biased, but I swear nothing says "thank you" in quite the same way as letterpress.

Speaking of biased, our Crochet letterpress thank you card at Smock has been one of my favorites since it was released for the 2009 National Stationery Show back in May.
A pretty white Gocco-inked design on thick chocolate stock makes these cards, from Katie Blair Designs, perfectly simple and perfectly pretty.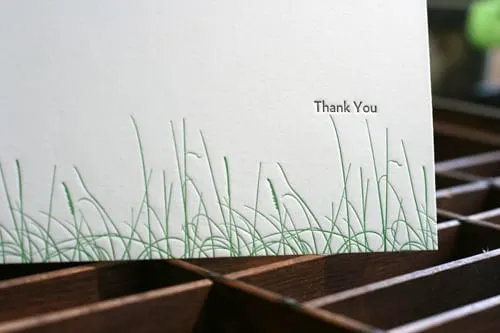 Speaking of simple and pretty and perfect, these cards from Moontree Letterpress fit the bill flawlessly.
Not only do I love everything from Pistachio Press, including these thank you cards, but they are also semi-local. Go Upstate NY stationers!
If you're in the market for something quirky, colorful or just plain ol' funny, check out the creations of Sycamore Street Press. I always enjoy my letterpress with a side of humor, don't you?
And, sometimes, it's as easy as saying "thank you." I find the bold fuchsia ink and chocolate envelopes of these cards by Ruby Press completely irresistible.
So there you have my picks for some of my favorite ways to say thank you this Thanksgiving. Do you have a favorite thank you card? I'd love for you to share!