As promised earlier, I'm back with another beautiful wedding inspiration shoot from Ashley Pepitone, this one inspired by the sights, sounds and smells of a country fair. Think popcorn, cotton candy, hot dogs and game tickets and you get the idea. A fun, upbeat and nostalgic celebration guests are sure to remember fondly for years to come.

Ashley used carnival game tickets from School Locker hand stamped with each guest's name as escort cards. Guests find their way to their seats by finding their own carnival ticket, and matching the number on it to the signs on the Ferris wheel centerpieces. A menu of fair-themed foods served in recycled paper containers with wooden flatware, all from Garnish, keeps the look authentic. Colorful ribbons are tied to the back of wooden folding chairs for an extra splash of personality.

Centerpieces of fresh sunflowers in vintage mason jars are bright and cheery, while a Gerbera daisy is tucked inside each cup of the mini Ferris wheel. That's where the flowers end though – the bride's bouquet is a bright cluster of paper pinwheels!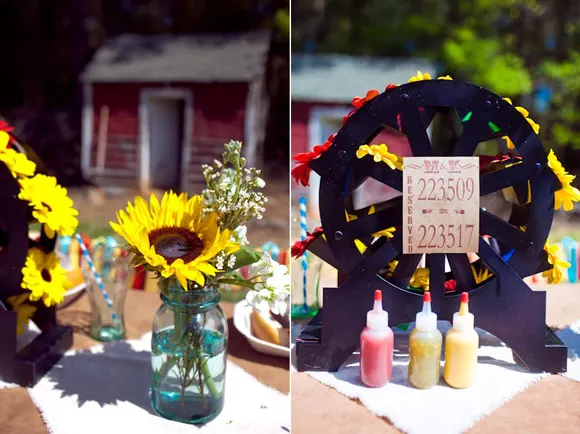 I love this festive design Ashley created and I'm head over heels for the paper pinwheel bouquet. Lucky for us, Ashley is sharing instructions on how to create your own pinwheel bouquet.
DIY Paper Pinwheel Bouquet
Materials:
4-6 sheets of double-sided patterned paper in your colors
One pack clear glass seed beads
One pack pearl-tipped pins
Half of a medium sized Styrofoam ball
1.5" Diameter wooden dowel, cut to 6" length
Hot glue gun
Satin ribbon in your choice of color
Instructions:
First, you need to know how to make your pinwheels. You'll want them to be various sizes, but they all need to start off as squares. It's good to have about 20-25 4", 3", and 2" squares cut.
Once your squares are cut, cut from each corner in towards the center of each square, leaving about .5 inch from the center, like this:

Then take a pin and pierce, from back to front, through every other corner (shown below with stars), ending in the middle:

Now you have your first pinwheel! Begin by hot gluing to the Styrofoam and continue to make pinwheels and add them until your bouquet is as full as you prefer. To finish the bouquet, glue the wooden dowel to the center of the flat part of your Styrofoam, under the bouquet. Next, create loops of satin ribbon around the perimeter of the underside- hot gluing as you go. I like to create two layers. Finally, wrap the dowel in your ribbon. (Cover the end first and glue it so that it is hidden!) Again, hot glue as you go. Voila – your bouquet is complete!
Thanks, Ashley, for creating not one but two incredible designs for the Inspired Creations Contest!
Vendors:
Event Design – Ashley Pepitone
Photography – Janet Howard
Linens – Tamara Gollob
Rentals – Peachtree Tents and Events
{Photos by Janet Howard.}