This morning's guest blogger, Annie Packman of Marry You Me, really needs no introduction. She's an incredibly talented blogger with a great editorial eye and today I'm honored to have her share her very first styled inspiration shoot on The Sweetest Occasion!
I am so thrilled/honored/ecstatic to be guest posting here on The Sweetest Occasion today! When Cyd asked me to do a guest post, I promised her I would cook up something good. I'd been dying to do my own styled photo shoot for a while, and this seemed like the perfect place to make my debut!
I love inspiration boards. Love them to pieces. They can be an amazing tool in planning your wedding or event, a way to help you clarify your theme and show your vendors what you have in mind. That said, sometimes people struggle to translate them from a simple board into a cohesive event. Do you go super literal with them, or what?? With this in mind, I set out to show how you can take cues from an inspiration board without driving yourself mad trying to replicate every little detail in the board. Because who wants to do something that's already been done? Exactly. Not you.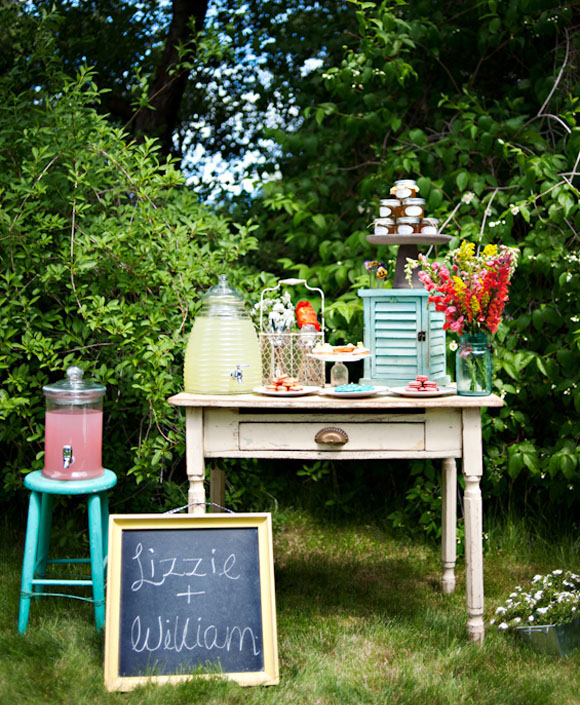 I started with an inspiration board that jumped out at me the second I saw it, this country chic board by Sofia of Brancoprata. I loved the idea of a country chic theme – it was neither too farm-y nor too stuffy, but had a hint of elegance with a vintage twist. And the colors were my initial palette, but I wasn't scared to deviate from them. I teamed up with some amazingly talented local Bend, Oregon vendors for the shoot – Nickol Hayden-Cady of Enlightened Patisserie made some amazing macarons, tarts, and a rustic meringue covered cake, and Benjamin Edwards of Benjamin Edwards Photography took the awesome pictures.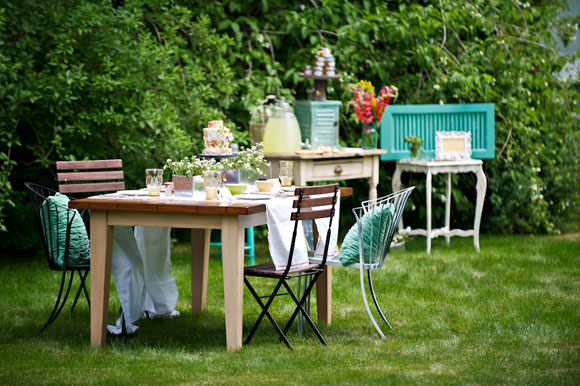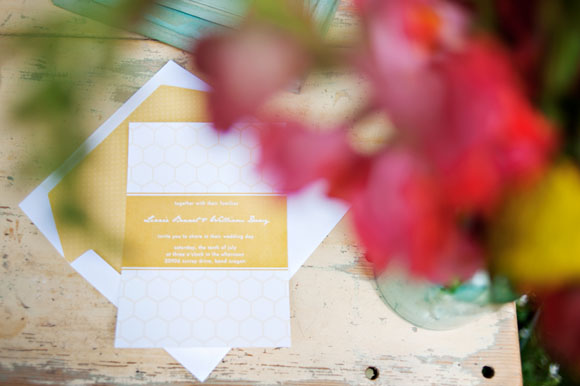 I found these adorable honeycomb themed invites via Download and Print, an amazing resource for free invitation downloads. I thought that they fit a country theme perfectly, while still being elegant.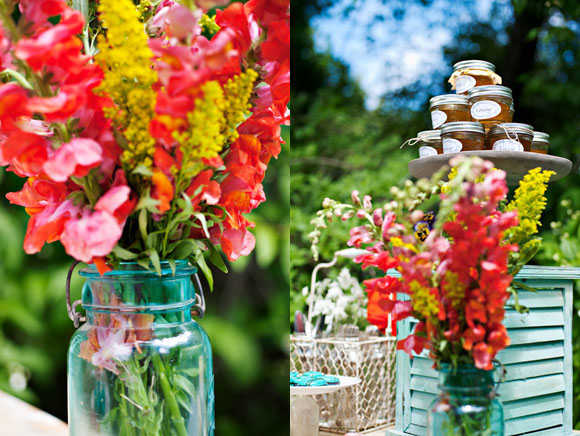 Sticking with the country theme and playing off of the invitation, jars of fresh honey stacked on a cake plate served as yummy and sweet favors for guests. Some jars had fabric lids, some had twine ties, and some were plain for a little variety.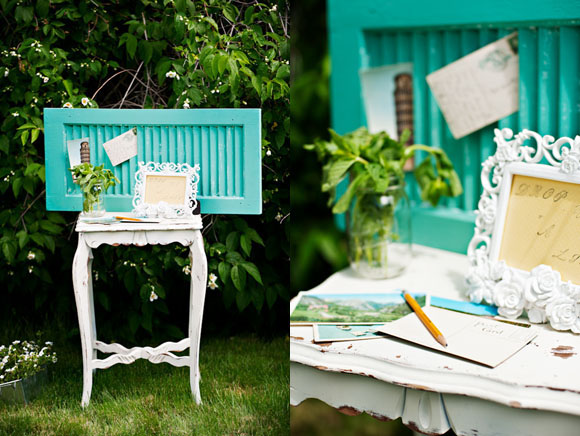 For the guest book table, I wanted to do something a little different. I took an old wood shutter and painted it, then rubber stamped a sign that read 'drop us a line' and tucked it into a frame. Guests could write on some vintage (unused) postcards, then tuck them into the shutter. After the wedding you can use it at home for mail, pictures, or notes.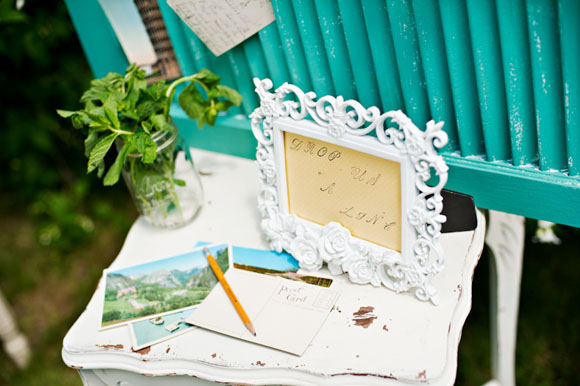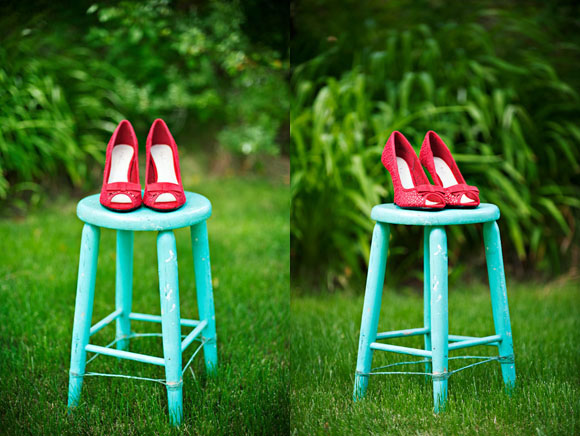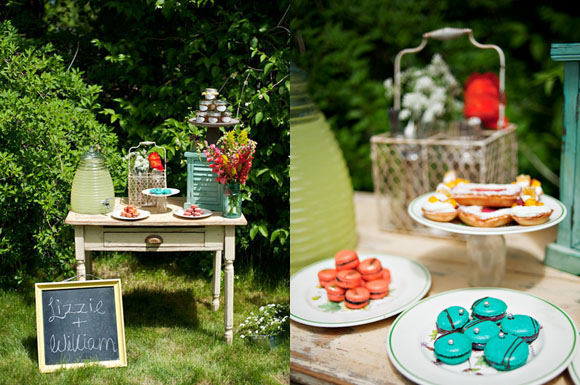 The antique dessert table (actually my desk) held the beehive dispenser, silverware caddy, favors and yummy macarons, rhubarb tarts, and honey, peach and marscapone tarts made by Enlightened Patisserie.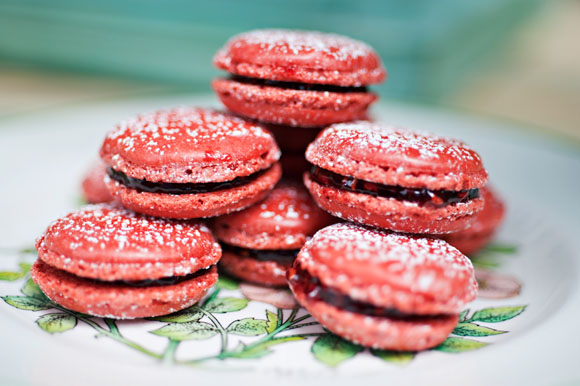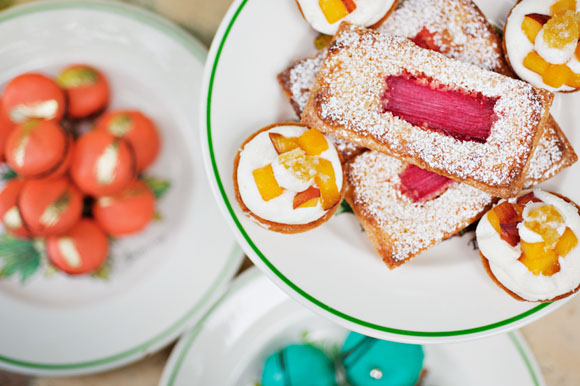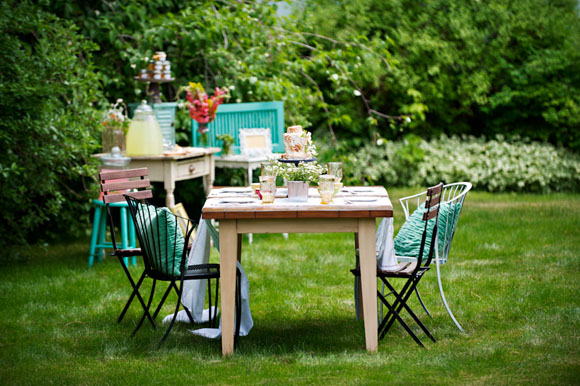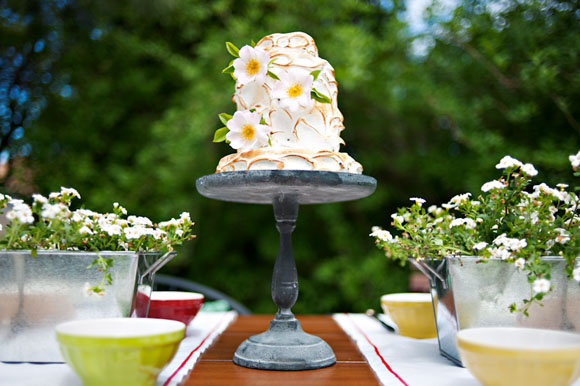 A meringue cake topped with some dogwood flowers picked from a nearby tree was the centerpiece, along with pots of dainty white flowers tucked into galvanized containers.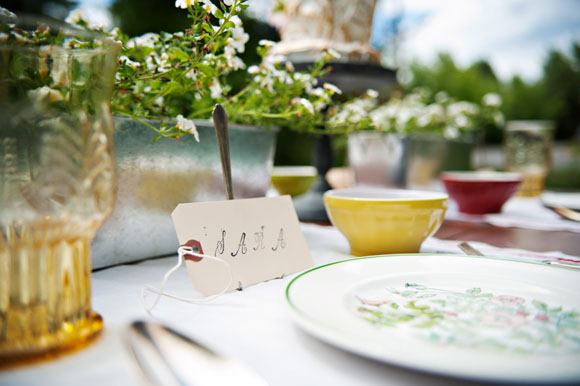 For place cards, manila tags were rubber stamped and put into antique fork place card holders. Vintage plates and silver mixed with new (but old looking) pressed glass goblets and colorful bowls to complete the place setting.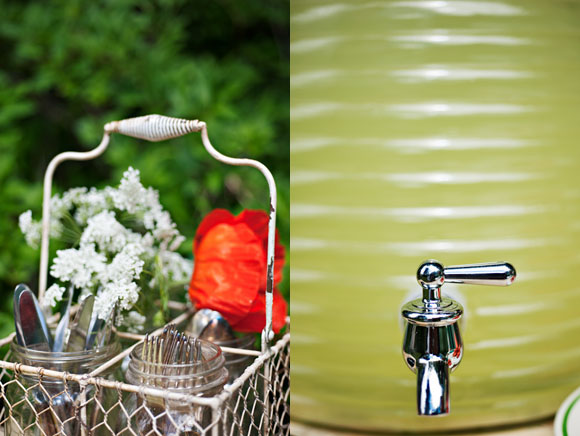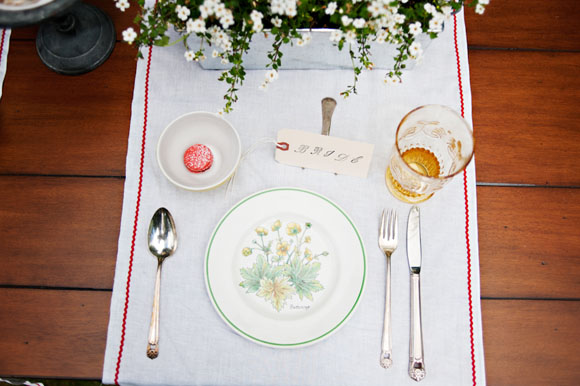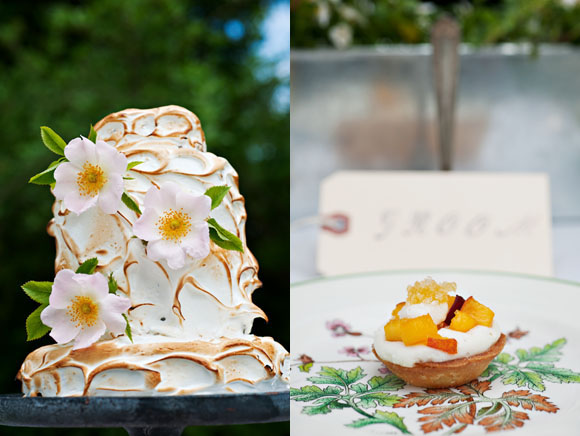 Absolutely gorgeous, right? Thank you so much for sharing, Annie! I love seeing how you brought this beautiful inspiration to life.
Vendors:
Photography by Benjamin Edwards of Benjamin Edwards Photography
Event design/concept/flowers by Annie Packman of Marry You Me
Desserts by Nickol Hayden-Cady of Enlightened Patisserie
Invitations via Download and Print
{Photos by Benjamin Edwards Photography.}