This morning's Inspired Creations Contest entry set in gorgeous Big Bear featured a stunning feather chandelier and pretty feather placemats created by Melissa Huber of The Loveliest Day. Herewith, the budget-friendly how-to for creating this look for yourself…
DIY Feather Chandelier
Supplies –
The inside ring of an embroidery hoop, whatever size you choose.
Spray paint
String or ribbon. (Melissa used varying shades of pink and cream embroidery floss for this project.)
Lots of feathers!
Scissors
Fishing line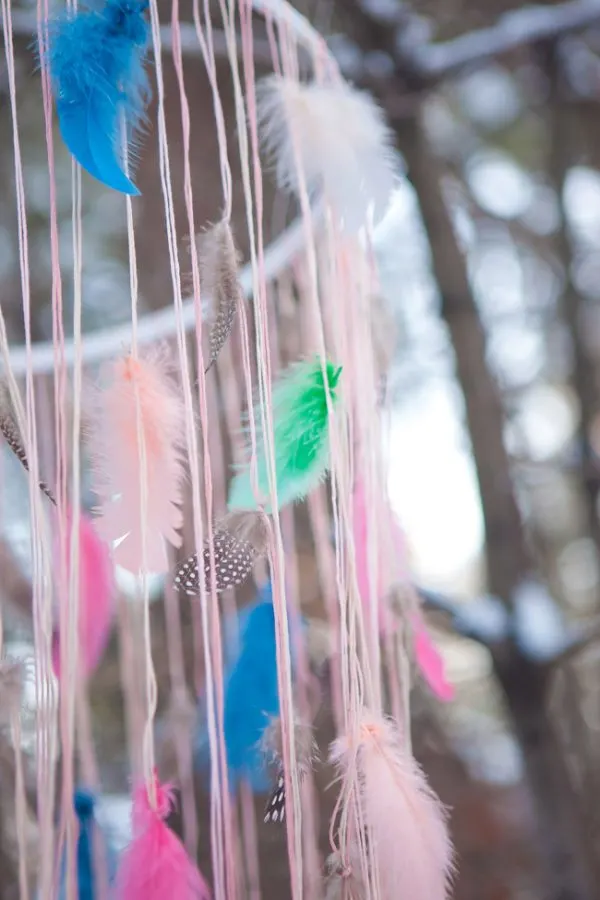 Instructions –
1. Spray paint your embroidery hoop. I chose white spray paint, but you can choose whatever color you want, or leave it natural!
2. Cut all string or ribbon to the desired length. (Melissa chose to make the string long enough to loop over the hoop, so both ends of the string were hanging down. This made it easier to adjust the spacing of the strings once attached them to the hoop.)
3. Decide what pattern you want your string to go in if you are using multiple colors.
4. Loop each piece of string over the hoop. Once attached, make sure the spacing looks good, then go back and knot each loop to secure it in place. (Note: You could knot each string when you initially loop it, but it would be a lot harder to adjust the spacing later.)
5. Now that all your strings are attached, hang the hoop for the next step. Melissa used some leftover scraps of string to tie the hoop to a clothes hanger, then hung it from a light fixture in my living room. The strings can get pretty tangled, so now is a good time to straighten them out. If any of the strings are hanging longer than the others, trim them up.
6. Start tying on the feathers! I started with the colored feathers, eyeballing the distance between them, then filled in with the guinea feathers. I didn't have a specific pattern for tying them on. I just tried to mix up the colors, and tie them at varying heights up and down the length of the strings.
7. Stand back and walk around the chandelier, filling in any bare spots, or making any last minute adjustments.
8. Cut off of hanger, and attached finished chandelier using fishing line. Voila!
Tip: This is a super simple, but time consuming project. Anyone can do it, just make sure you give yourself enough time, or work on it in segments.
DIY Feather Placemats
Supplies –
Mirrored poster board
Guinea feather trim
Glue
Ruler
Scissors
Instructions –
1. Cut poster board to the size you want your placemats to be. Melissa got crafty and used a fabric placemat she already owned as a template. Make sure to use a ruler to get straight edges.
2. Cut guinea feather trim to fit the outer edges of the cut poster board.
3. Turn poster board shiny side down, and attach feather trim to outer edges with glue. Placement will depend on how large your trim is, and how far you want the feathers to stick out.
4. To make sure everything dries flat and doesn't curl up, place some heavy books on the back of the placemats as the feather trim dries.
5. Let dry overnight, then party!
Tip: This is a great project to play around with because it's so simple. There are countless ways to customize it using different papers and trims. Have fun!
{DIY concept by Melissa Huber of The Loveliest Day. Photos by Courtney Lindberg Photography.}