Need holiday decor ASAP? It's Jenny here, from Hank + Hunt, with the world's easiest homemade garlands! I have four different designs for you. Each is quick and easy, and only one requires a sewing machine. How's that for simple? Enjoy!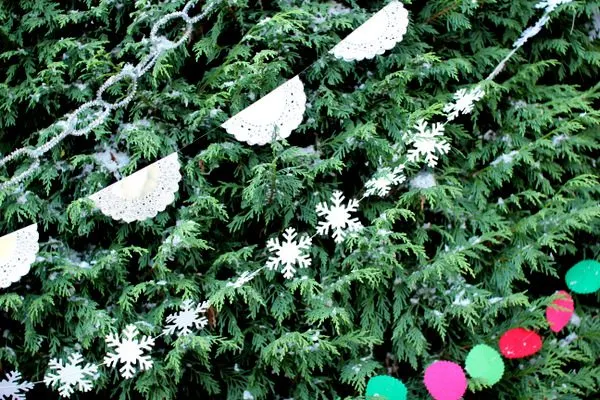 Silver Doily Garland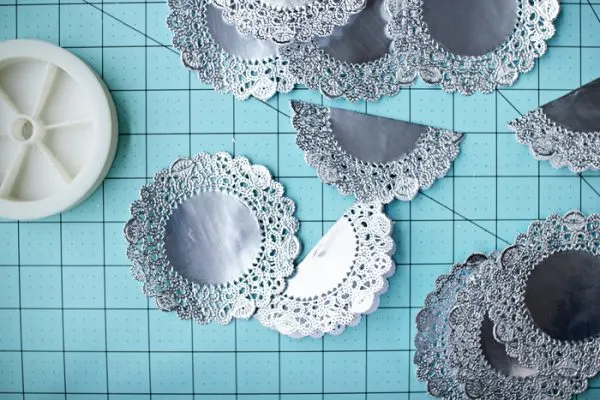 First up, a silver doily garland. Use the small, 4 inch round doilies you can buy in the cake decorating section of the craft store. They come in white, gold or silver, like I used here. You will need: small doilies, twine, and double stick tape.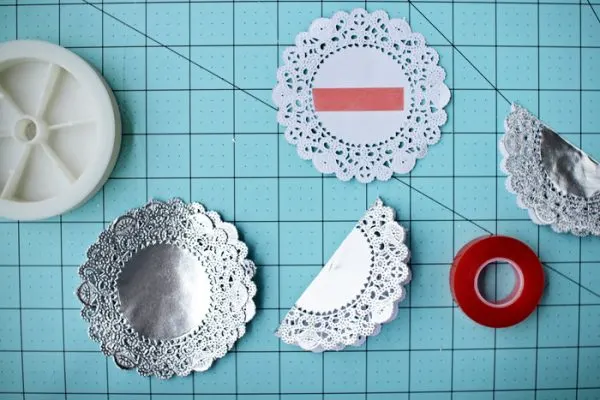 Fold in half. Place a piece of double stick tape down the inside of the seam and press closed around the twine. Space your doilies about 2-3 inches apart.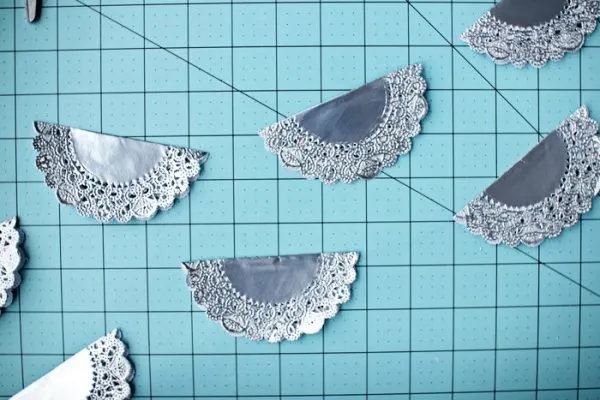 These silvered frills add just a hint of fancy to your holiday fete. I think it would be quite cute on a tree!
Colorful Felt Garland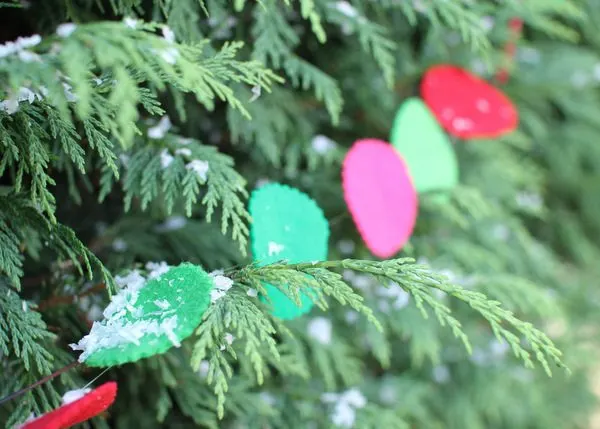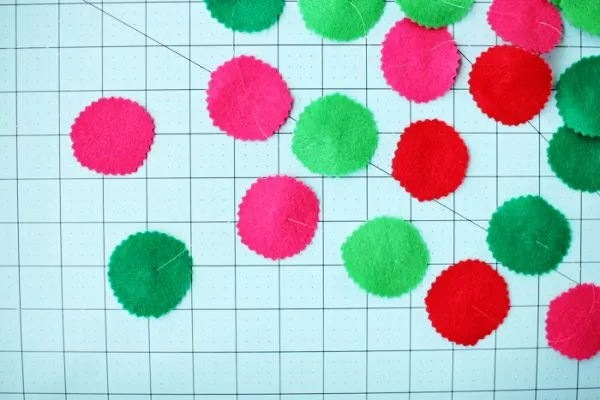 Next, we have a felt garland. Here the toughest part is cutting circles from felt. Seriously. You will need: felt, pinking shears, a needle, and clear fishing line.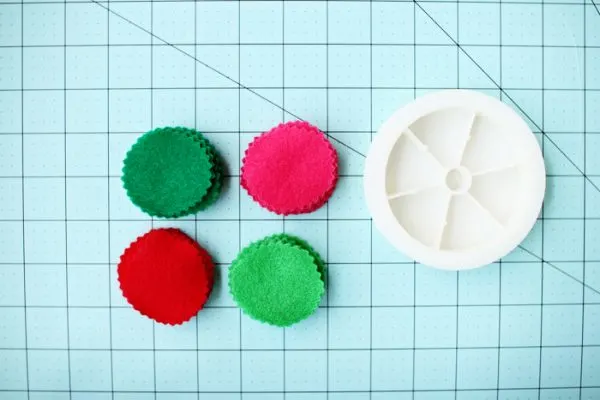 Make yourself a template by tracing a small lid onto cardstock. Use this template to cut circles of felt out with pinking shears, layer by twos to speed up the process.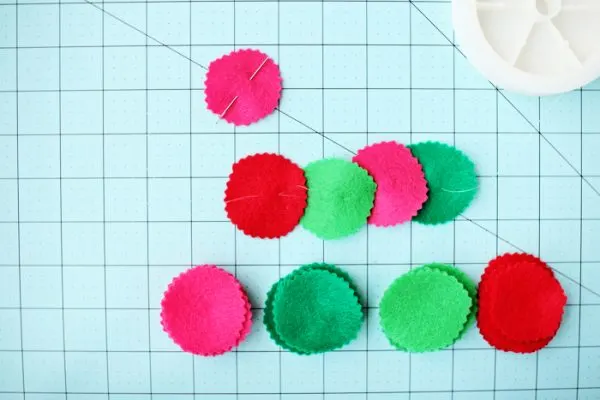 Once you have all of your circles, thread your needle with the fishing line and stitch through each piece. You can adjust the circles at the end by just pulling them along the line. This really comes in handy on the tree, where you can adjust spacing as needed. *If you happen to have a sewing machine, and don't mind static spacing, feel free to sew these little guys up to make your garland. Just lay them one after another and sew a straight stitch down the center.
Paper Snowflake Garland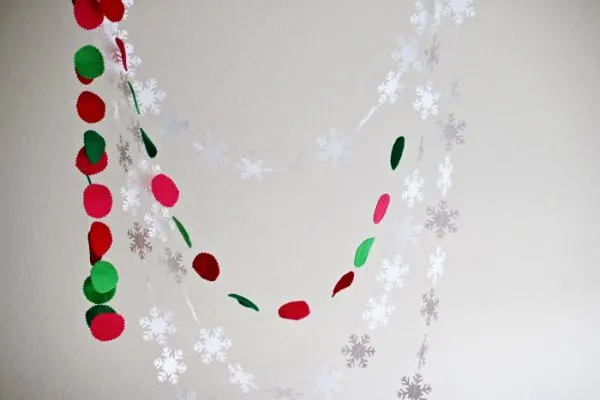 These garlands are easy as pie to make! I found a large snowflake punch, on sale even, at my local craft store. I punched out a bazillion snowflakes from white cardstock and sewed them together with the sewing machine. You will need: snowflake punch, cardstock, and a sewing machine with matching thread.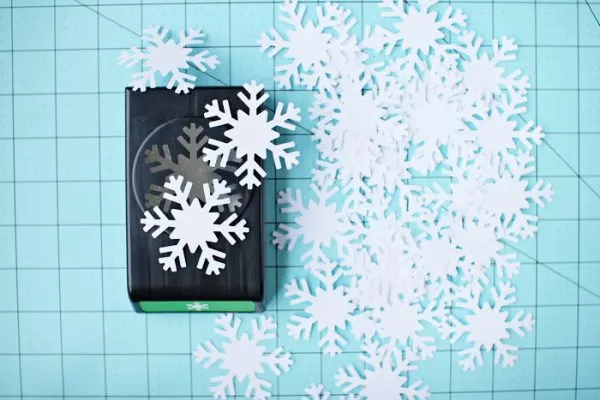 Using your punch, make a bazillion snowflakes.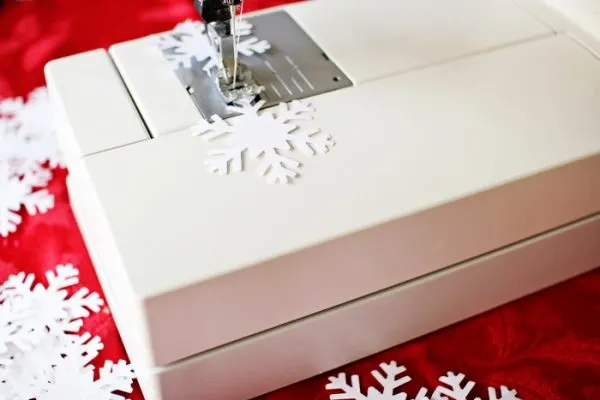 Put the paper snowflake centered under your sewing machine, and stitch a straight stitch (it's the default stitch on the machine) down the center of each snowflake. Once you finish one, just place the next one down and keep going, and going, and going. Keep in mind that delicate snowflakes can get tangled easily, so don't make your garland too long; stop around 7 or 8 feet. I might have made a 12 foot one and I might have had to cut it in half to untangle it after shooting these photos. Live and learn.
Pipe Cleaner Garland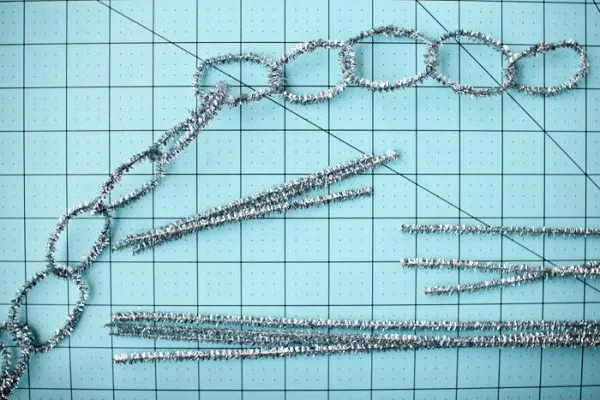 Our final garland is a pipe cleaner garland, sparkly of course! I saw one of these cuties while shopping and instantly knew how to make it. This one is so easy, my boys helped me make it, and they are 4 and 5. You will need: silver pipe cleaners and scissors.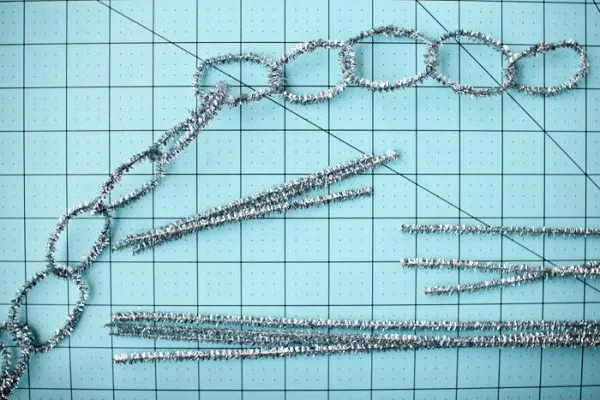 Cut each pipe cleaner in half using your scissors. Make sure these are your not so great pair and not your best sewing scissors.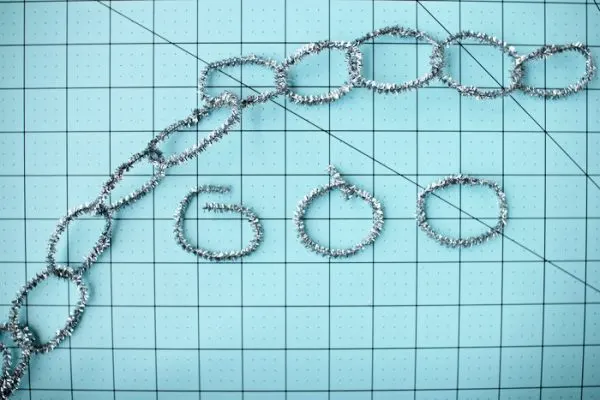 Twist a cut piece into an open circle, then twist the top closed on itself.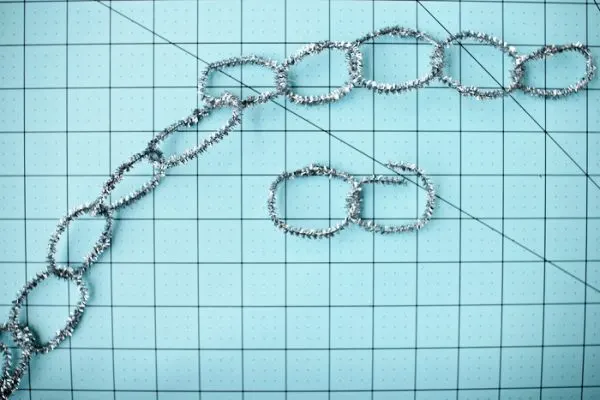 Link a second open circle piece and close that by twisting the top on itself. Keep linking until a.) you run out of pipe cleaners or b.)you end up with plenty of garland. As cheesy as pipe cleaners are, this really does turn out super cute!
So what do you think, do you love fun garlands as much as I do? Whether you are in need of a quick addition to your holiday fete or a holiday craft you can make with the kiddos, I hope you try at least one or two. Then let me know, which is your favorite!
{Photos by Hank + Hunt for The Sweetest Occasion.}