Hello! Hello! It's Jenny from Hank + Hunt with a few ideas for funky and bright gift wrapping to make all of your holiday packages look extra special. Have you finished your holiday shopping yet? We made great progress this weekend and are almost done, finally! I just started my wrapping. For the ladies this year, I decided to make it extra special and add a bit of pink.
Here's a few ideas for non-traditional gift wrapping. The main tip is, you guessed it, use different colors than your usual red and green. I also love to add something traditional, in a non-traditional color, like this hot pink candy cane and velvet ric-rac.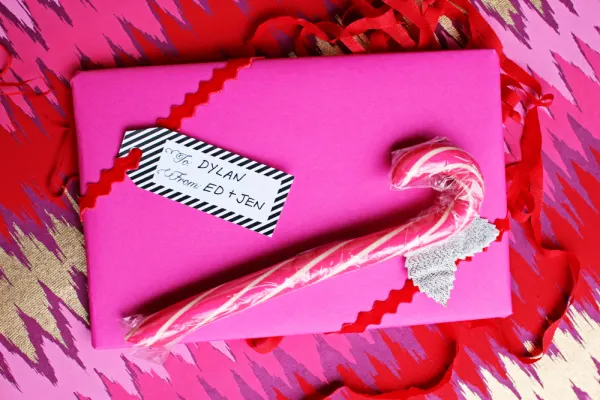 You can also take the typical ornament tie on and give it a more modern take, like this geometric darling.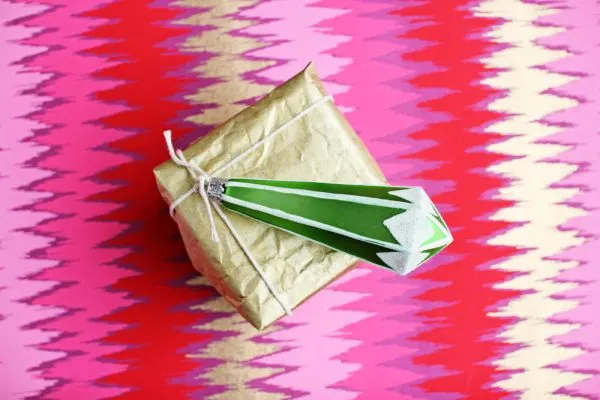 I thought it would be fun to take regular gold kraft paper and wrinkle it to give it texture. It really works with the metallic sheen. Here's another option, this time with a pop of aqua. A hint to tie a perfect bow? Tie a double knot first, then tie the bow. This will keep it from slipping on you.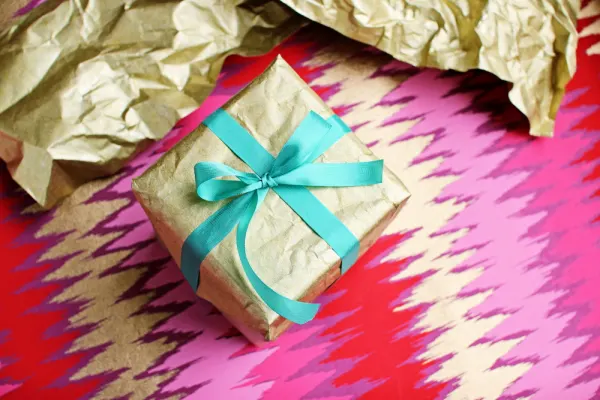 Did you know you can take strips of fabric and use it as ribbon? Use pinking shears or a rotary cutter to cut your solid fabric into strips and layer them before tying in a messy knot on top. Fluff and separate and voila! Perfect for those extra scraps of fabric you've got lying around. This would be really cute with plain kraft paper!
Stash away little treasures in a candy shaped box. I found the tube and ends here. Cut some sheets of crepe paper wider than the width of the tube. Roll to wrap and secure ends with double stick tape or glue dots. Cut the ends into fringe, twist and tie with ribbon to hold.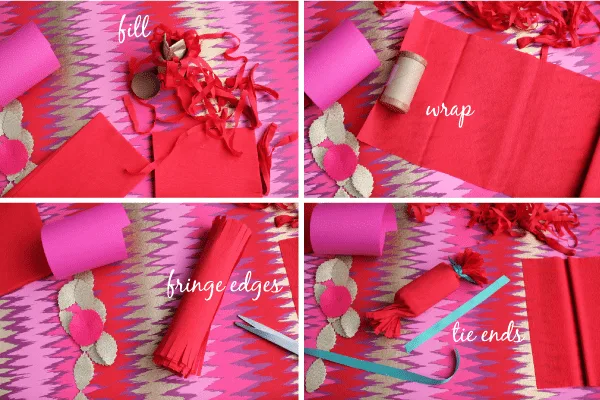 Fluff the ends and embellish as you like.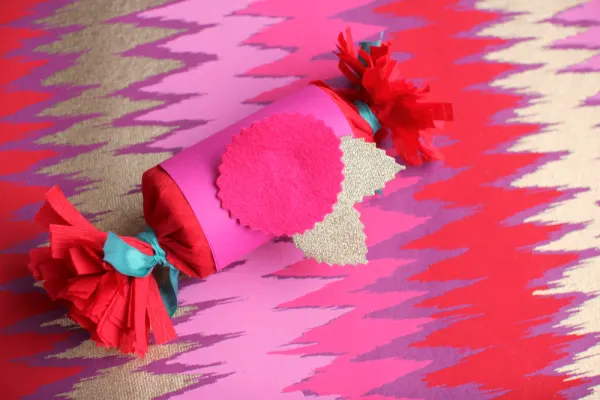 So there you have it! I hope these ideas help inspire you. It only takes a teensy bit of thought to make a gift absolutely wonderful, enjoy!
{Photos by Hank + Hunt for The Sweetest Occasion.}