I like to shop the deals at my favorite stores, scooping up goodies like this white linen table runner from Williams Sonoma. A good rule of thumb is always to buy the best quality you can afford and at more than 75% off, this brings beautiful linen into my price budget. I got this lovely a few years ago, but you can always manage a quick swoop of the sale table or find a vintage one at your local thrift store! While I love a good white table runner, I have wanted something with stripes for a long time. The ombre dip dye craze is a DIY I have been loving lately and I finally decided to try my hand at dyeing. This DIY is really easy and this is my very first attempt at ever dyeing anything, so I know you can do it, too.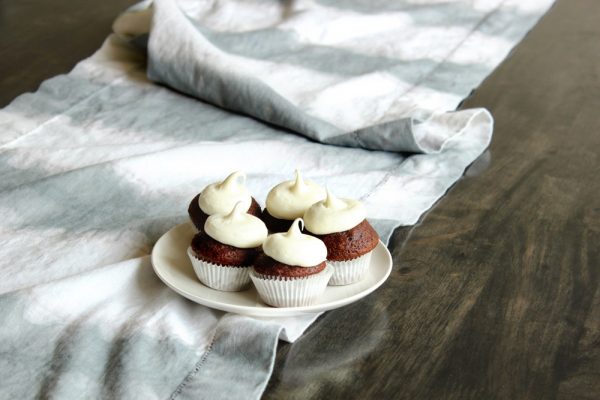 Supplies –
linen or cotton table runner
fabric dye
a large, deep tub
rod or dowel
needle + embroidery thread or twine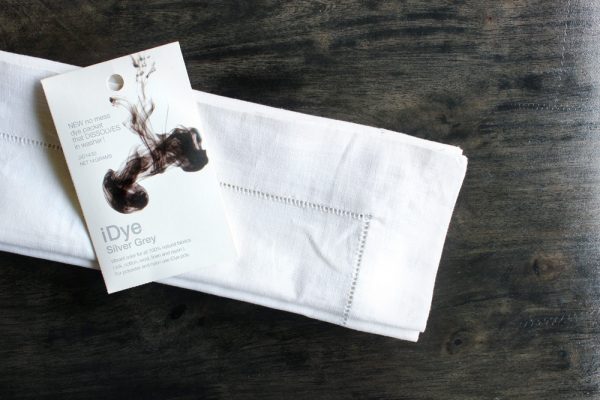 Fold your runner in half lengthwise, this will make both the ends and give you a defined center. Accordion fold the runner starting at the end, you might need to refold to make all of your sections even. Remember, this is dip dye so don't worry about being perfect, we just want the folds to be similar.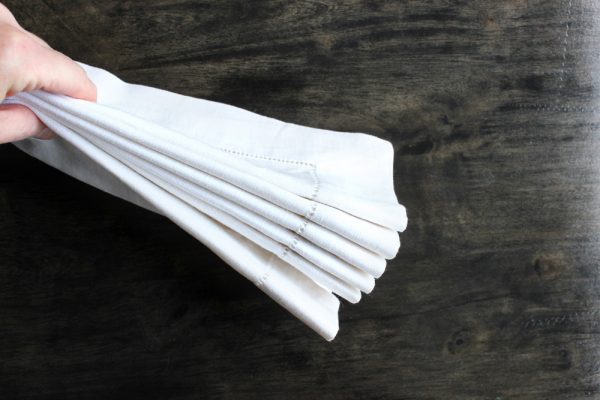 To make sure all of my layers stayed in place, I took a needle and some embroidery thread and stitched through all layers about 1/2″ in from one edge. I tied it in a knot, being careful not to cinch the fabric. I stitched in three places along the edge, both sides and the center. Leave enough of the thread past the knot to tie onto the rod. Set up your tub, empty and get your rod. I used an old tension curtain rod but you could use a wooden dowel or even a broom handle. Hang and estimate the center thread onto the rod. Take your dowel and runner to the table and tie to the desired length. Loosely tie your knots. Hang the rod in the tub and make sure the runner is hanging level. Readjust your knots and tighten. Note: Place a piece of tape on the outside of the tub to mark where you want the water level to be.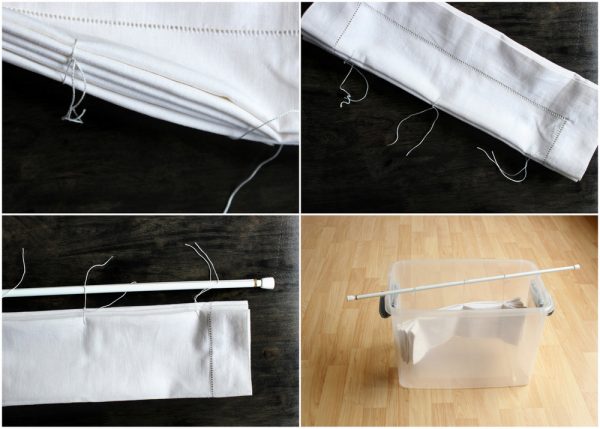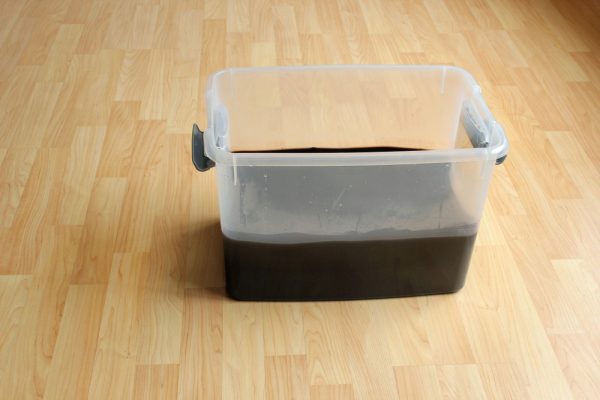 The dye I used is for washing machines, but I rarely follow the rules and this was the brand that had the color I liked. I placed the packet in my tub and ran my faucet to the hottest temperature it had. I filled this in my sink, but you could also use your bathtub or run a large pitcher of water outside. I photographed this inside and I almost had a heart attack with the stress. I recommend doing this outside or in your bathtub. Once your water level is the right height, mix well with an old wooden spoon (pitch it when you are done.)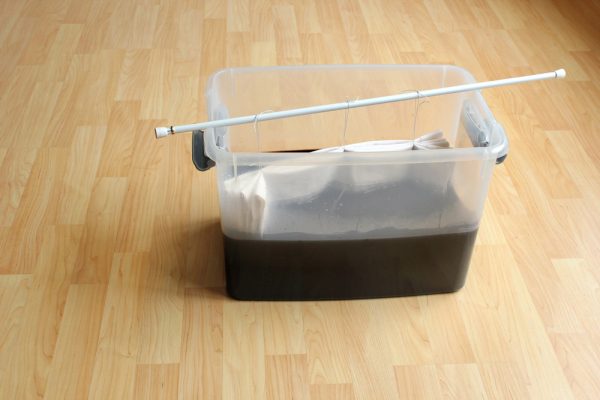 Set your rod and runner carefully on your tub. Let sit, checking periodically for the shade you want. Some of the dye will wash out, so let it get a little darker than you want. I left mine in about 15 minutes. Carefully remove your runner while still holding it up and run it off of the rod. Get it to your washing machine, cut the threads and remove them. Wash it on hot with detergent. Pop it in the dryer and voila. Use your dye bath for more or dump it out.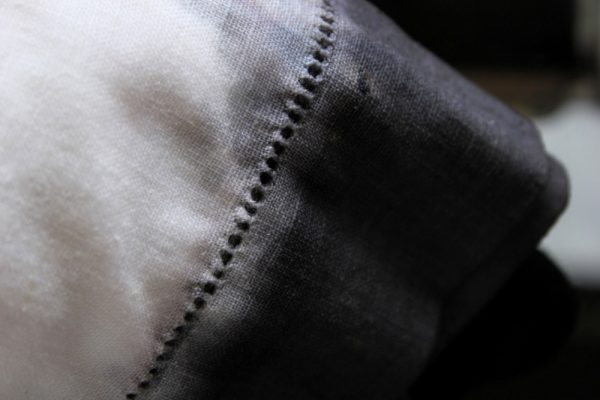 I really love the color of this dye, but you could do other colors too. Another idea? Take this one step further and ombre dye it. Mix two tubs of dye, one with twice as much water, enough to cover the whole linen and dip that tub first. Then take it to the deeper, lower level and make a darker stripe. Mix and match colors, do throw pillows or rugs, just have fun!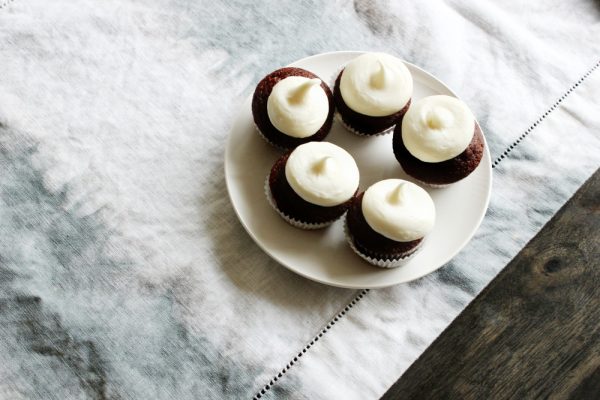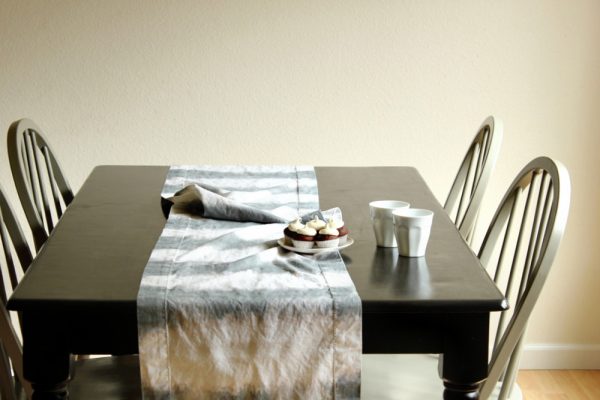 {Photos by Hank & Hunt for The Sweetest Occasion.}