Have you guys heard about Vine? If you haven't, you absolutely need to check it out. Think of it like Instagram but with short 6 second video clips. You can make stop motion videos or just show off little snippets of your day. Yesterday I posted a video showcasing some of my favorite beauty products and I thought I'd share them with you, too. I've posted about beauty essentials more than once, so I thought a quick update on a few of the products I am using and loving was in order. Do you have any winter beauty essentials you can't live without? I'm a product junkie so I'd love to hear what you're loving! (Oh and if you join Vine, be sure to find me! My username is Cyd Converse.)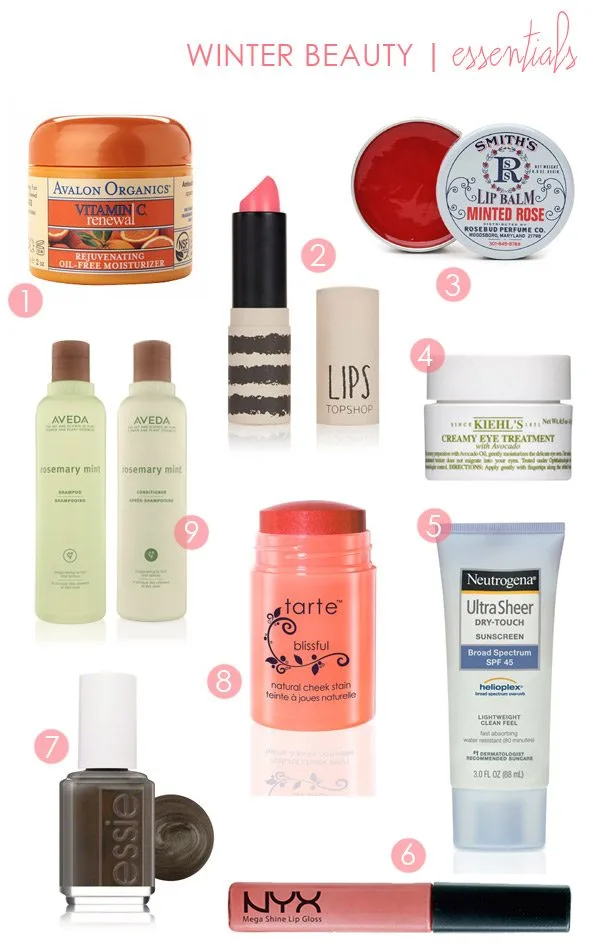 1: Avalon Organics Vitamin C Renewal Cream. I started using this moisturizer a couple of weeks ago. The oil-free version is perfect for my combination skin, but the formula is deeply moisturizing for my cheeks, which get super dry this time of year. So far it's a win!
2: Lips in Macaroon. I love bright pink lips in the winter when you need an added burst of color and sunshine. I don't typically wear lipstick, I'm more of a gloss girl, but this winter I've been trying to play around more with a bold colored lip.
3: Minted Rosebud Lip Balm. Guys, I am so hooked on this stuff. I keep one next to my bed and another stashed in my purse. It's great for a little boost of shine or when your lips just need a little extra buffer between them and the cold winter air.
4: Kiehl's Creamy Eye Treatment with Avocado. This stuff is my wonder cream. The corners of my eyes get really dry and I love how deeply moisturizing this is, while still being light enough to wear day or night.
5: Neutrogena Ultra Sheer Dry-Touch Sunscreen. I try to be good about wearing sunscreen even in the winter. It doesn't happen every day, but I love this stuff for it's super lightweight formula that doesn't make me feel greasy.
6: Nyx Mega Shine Lig Gloss. I own this lip gloss in a few different shades. I love that it's affordable and it looks great either alone or paired over a richer lip color.
7: Essie Armed + Ready Nail Polish. I chose this dark gray shade with just a subtle hint of gold shimmer for the first time at my pre-Alt manicure. I am officially obsessed with this color and am pleasantly surprised to find that I really love how the dark gray looks on my hands. (I'm usually pretty wary of unusual nail colors.)
8: Tarte Cheek Stain. Again, blush is new territory for me, but in the winter I find that powder blush does not work on my skin because it's usually so dry. Tarte's cheek stains are a great alternative, making for a dewy finish. I love the color Blissful!
9: Aveda Rosemary Mint Shampoo + Conditioner. The smell of this stuff was enough to make me a believer, but it's also really great for my super soft and rather fine hair. It keeps it from getting weighed down and helps prevent winter static, too!