I am loving this delicious winter cocktail and dessert pairing that we have for you today! Dreamed up by Andrea Harper of Gray Harper Event Maker, I am all about this delightful combination of citrus and spice. The kicker here is a bit of cayenne that warms up all the sweetness and the fresh clementines. Don't you just love that citrus is in season in winter? It's like Mother Nature's way of making these cold months a bit more bearable. This would be the perfect little pairing at an impromptu winter dinner party or a special sweet treat for yourself just because!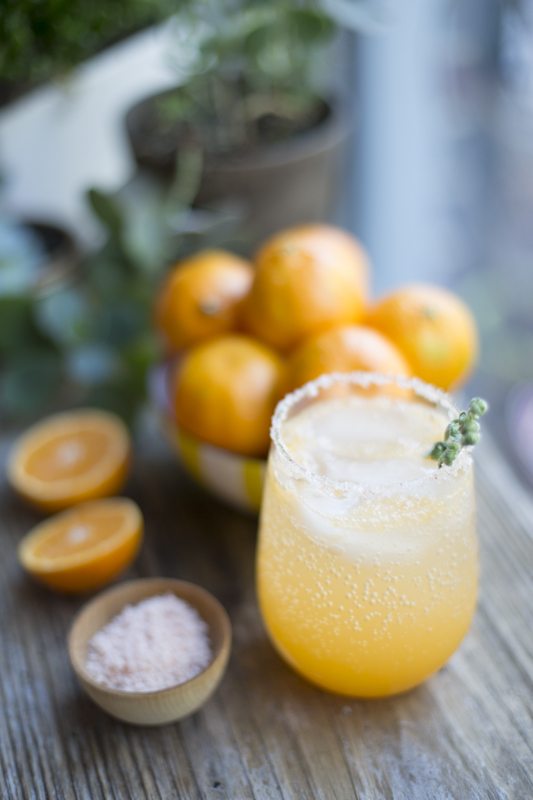 Mexican Chocolate Pudding
by Samantha Huba
2 cups whole milk
2 cups heavy cream
12 oz finely chopped bittersweet chocolate
1/2 teaspoon cinnamon
1/2 teaspoon sea salt
1/4 teaspoon cayenne pepper
1/4 teaspoon allspice
12 egg yolks
1/2 cup granulated sugar
1. Preheat the oven to 325 degrees.
2. Bring the milk and cream to a boil in a saucepan over medium heat. Remove from heat and add chocolate, whisk until the chocolate has melted, add cinnamon, salt, pepper, and allspice. Whisk until fully combined.
3. In another bowl whisk the egg yolks and sugar until light and creamy, about 3 minutes.
4. Slowly add the hot chocolate mixture to the eggs and whisk until combined.
5. Prepare 12 6 oz ramekins. Pour the custard into each, leaving a small space at the top of each. Place ramekins into roasting pans and pour water into the pan, so that it reaches half the height of each ramekin.
6. Place the pans on the middle rack of the oven, and bake for about 40 minutes, until the custard is set but still slightly jiggly in the middle. Let cool on the counter for about 30 minutes and then place the ramekins, covered, in the fridge for at least 4 hours to set.
7. When you're ready to eat, top with homemade whipped cream and enjoy!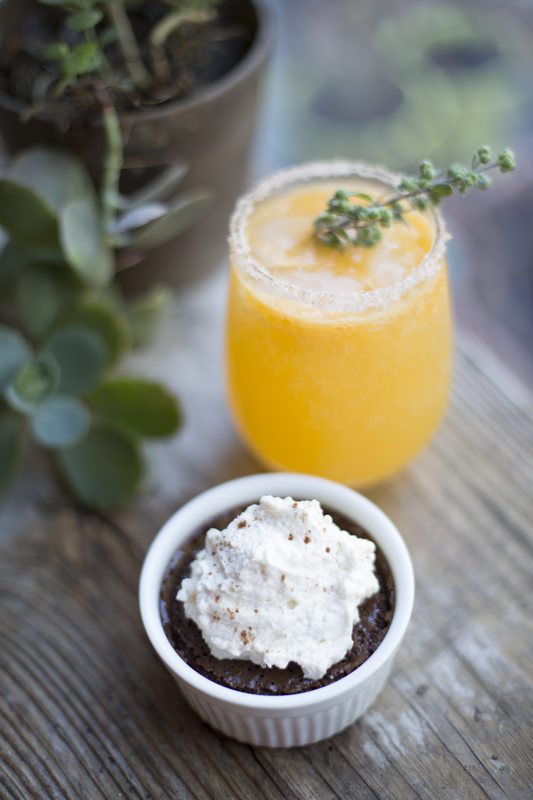 Sunny Winter Cocktail
Juice of 3 clementines
1 oz triple sec
1 oz tequila
Sprig of marjoram
Clementine wedge for garnish
Pinch of cayenne pepper
Salt
Moisten the rim of your glass with clementine juice. Combine cayenne pepper and salt in a shallow bowl or plate. Turn the glass over onto the plate and coat the rim. Pour juice, triple sec, and tequila into a shaker. Shake well and pour over ice. Garnish with marjoram sprig.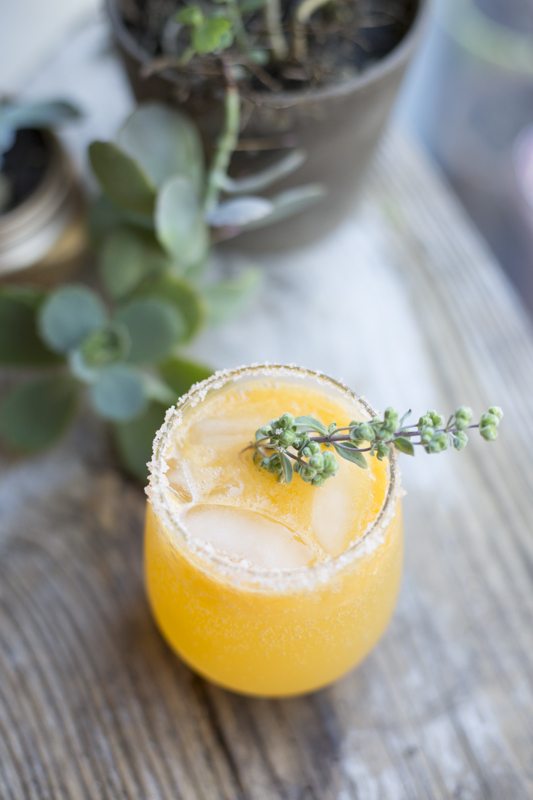 {Cocktail recipe + styling by Gray Harper Event Maker | Mexican chocolate pudding recipe by Samantha Huba | Photos by Jade + Matthew Take Pictures.}