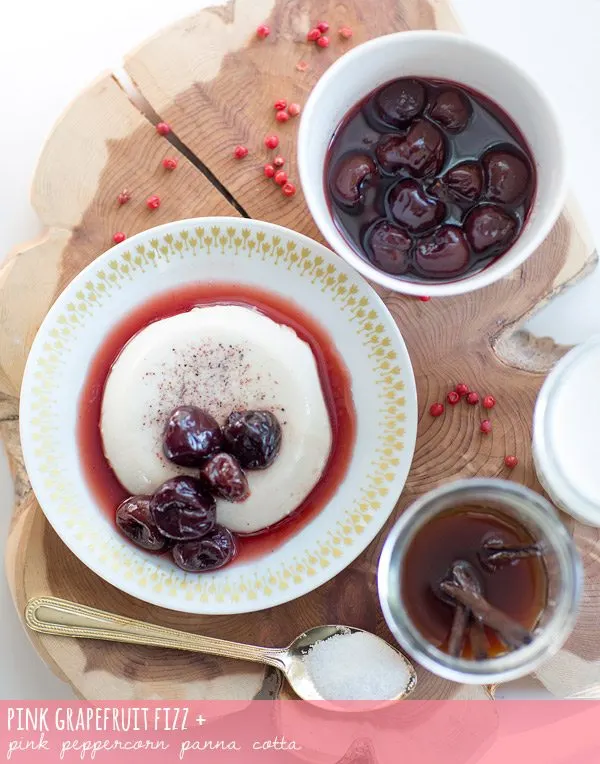 With romantic celebrations aplenty this week, I am loving today's cocktail and dessert pairing from Andrea Harper of Gray Harper Event Maker, Jade of Jade + Matthew Take Pictures and Samantha Huba. These guys are kind of like a terrific trio for my sweet tooth, let me tell you. Today they are sharing the most amazing pink peppercorn grapefruit fizz cocktail paired with a pink peppercorn panna cotta with black cherries that would be such a unique but simple way to mark Valentine's Day. Or talk about wowing your guests at your next dinner party! I am crazy about this flavor combination.

Juice from 1/2 grapefruit
Champagne
Pink peppercorns
Water (for making ice)
A few hours before serving, fill ice trays (we used heart shaped ones!) with water and sprinkle 3-4 of the peppercorns in each mold. Freeze. Place frozen peppercorn ice in desired drinking glass. Coups are our favorite for champagne drinks! Fill glass half way with grapefruit juice, then fill completely with champagne. Enjoy!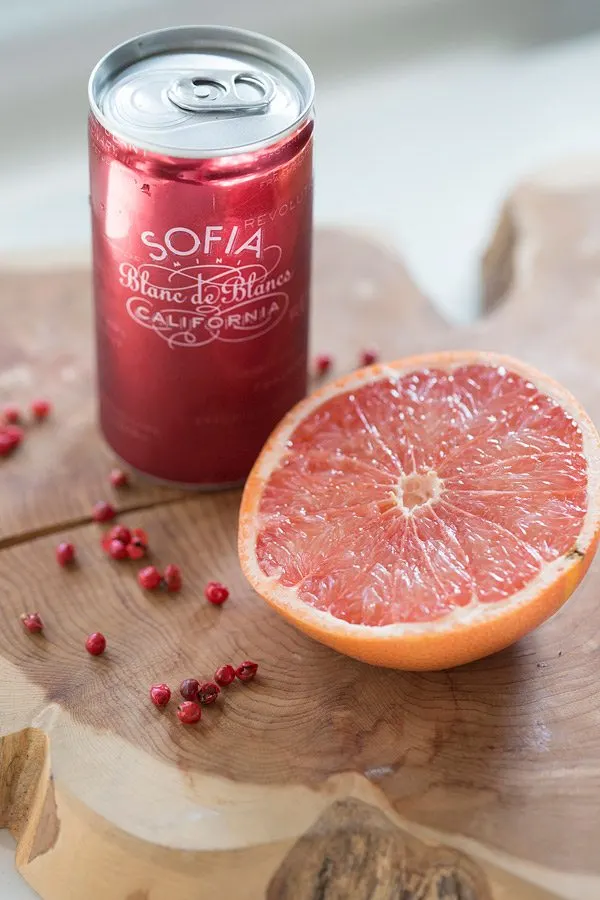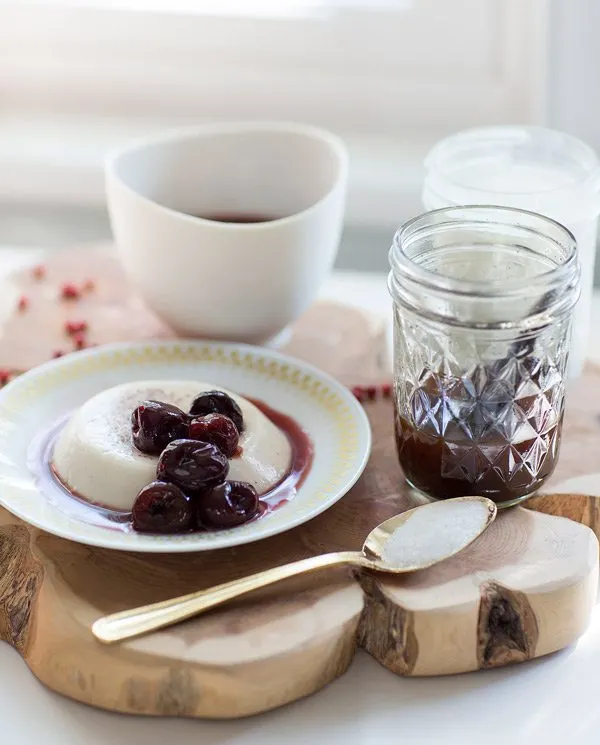 Makes 10
3 1/4 cup heavy cream
1 cup milk
3/4 cup + 2 tbsp granulated sugar
2 tbsp pink peppercorns, crushed
2 1/2 tsp unflavored gelatin
1 tsp vanilla extract
12 ounces of pitted cherries (You can use frozen and thaw them!)
1/4 tsp ground black pepper
1. Prepare 6 oz ramekins, or a jumbo muffin tray, by spraying with nonstick vegetable oil.
2. In a pot, bring the cream, 3/4 cup of milk, 3/4 cup sugar, and the crushed pink peppercorns to a boil, constantly stirring to dissolve the sugar. Once boiling, remove from heat, and cover. Allow to steep for about 10-15 minutes.
3. Pour 1/4 cup milk into a small bowl, sprinkle the gelatin over the milk. Let sit for about 10 minutes, or until the gelatin softens.
4. Set a strainer over a pitcher. Bring the cream mixture just to a simmer, add the gelatin and vanilla, whisking until the gelatin is dissolved, about 5 minutes. 5. Pour the mixture over the strainer, separating any large pieces of peppercorn. Divide the mixture evenly between the ramekins. Cover and let chill for at least six hours, preferably overnight.
6. Place the remaining 2 tbsp sugar, ground black pepper and cherries in a bowl. Gently stir and then let sit for at least 15 minutes.
7. When the panna cottas are ready, flip them out over a plate. You may need to use a hairdryer or blow torch to slightly melt the bottoms, so they slide out easier. Be careful when flipping them as they're quite delicate.
8. Spoon some of the cherries and their liquid over the panna cotta and serve.
[Cocktail recipe + styling by Gray Harper Event Maker | Panna cotta recipe by Samantha Huba | Photos by Jade + Matthew Take Pictures.]