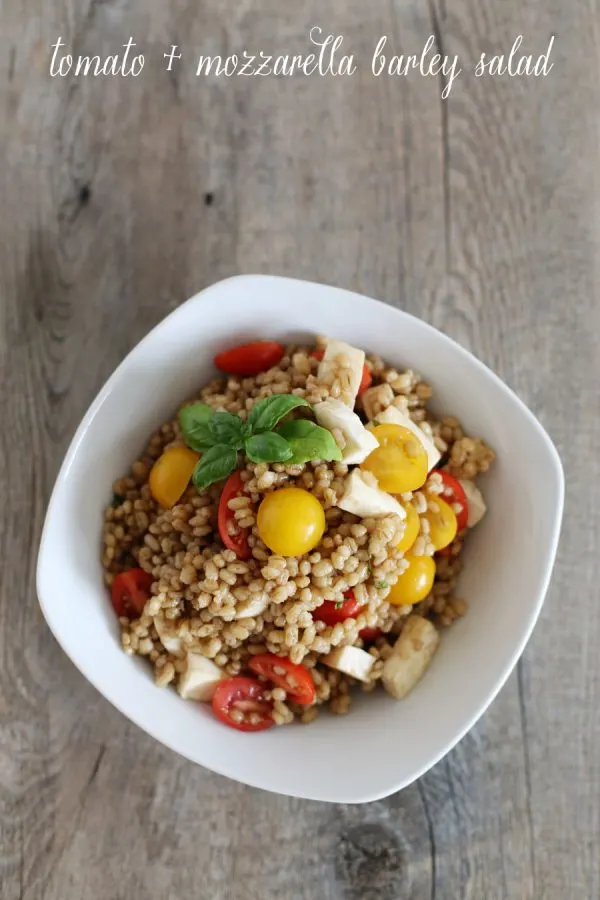 You know those dishes that you make excessively and could eat every single day? This is absolutely one of those dishes for me. We make it regularly at home where it serves equally as well as a meal unto itself as it does for a side dish. And for parties? Don't even get me started. It literally flies out of the bowl as it did at the party we brought it to last weekend. Oh, and it's about the easiest thing in the world to make. If you can cook barley, you can make this salad and you'll be glad you did!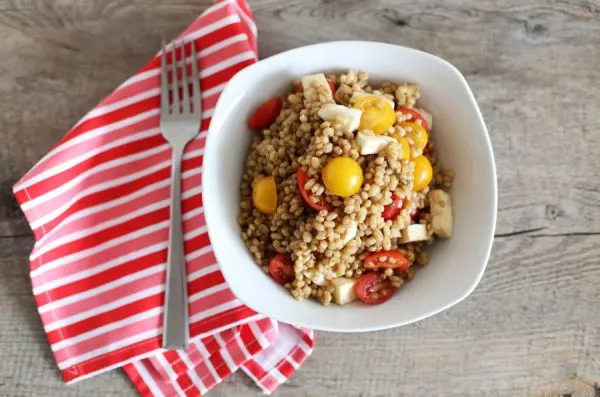 This salad is one of those awesome little concoctions that tastes just as yummy warm as it does chilled. In fact, I used to make it and eat it when freshly prepped and still warm, but discovered upon snacking on cold leftovers one day for lunch that it's pretty brilliant cold, too. So make it and serve it right up or make it the night before for a party. You really can't go wrong! I usually make it with farro actually, but discovered recently that it's stupidly good made with barley when I was out of farro. Yup, stupidly good. It's a really thing. So feel free to play with the grains and see what you like best. Either way, it's some kind of delicious.

2 cups of uncooked barley
5 cups of veggie stock
16 oz of fresh mozzarella
2 pints of grape or cherry tomatoes
3 tablespoons of extra virgin olive oil
6 tablespoons of balsamic vinegar
8 – 10 basil leaves
Fresh cracked black pepper

Start by cooking the barley, using veggie stock instead of water to prepare. Veggie stock adds boatloads of flavor so I definitely prefer it, but if you're without you can substitute water in a pinch. Add the veggie stock and barley to a pot, bring to a boil, then reduce the heat and simmer for 30 – 40 minutes until the liquid is absorbed. When it's mostly absorbed, turn off the heat and cover, allowing the barley to sit for another ten minutes or so before removing the lid.
While the barley is cooking, cut your mozzarella into bite-size chunks and cut your tomatoes in half. When the barley is all set to go, combine everything in a large mixing bowl, adding the olive oil and balsamic vinegar and stirring just until combined. Add more vinegar if you'd like as some will absorb into the barley as it cools. Add fresh cracked black pepper to taste and chop up your basil to add right at the end. And that's it! Easy as easy gets.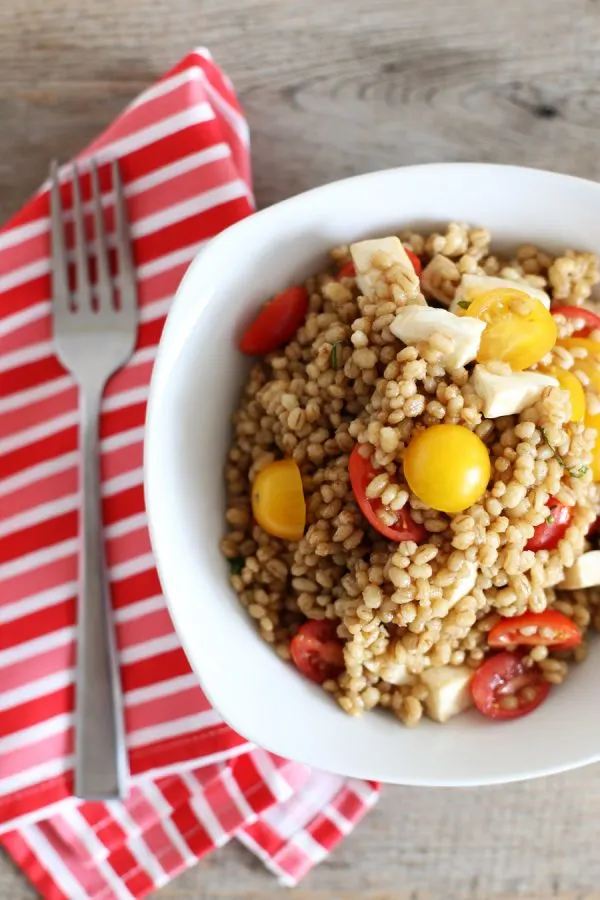 I seriously hope you give this one a try! It's one of my favorite dishes and I've been wanting to share it for a while now so I'm really excited for you to give it a whirl. If you do, make sure to let me know how you like it. Bon appetite!

[Photos by Cyd Converse for The Sweetest Occasion.]