This post was sponsored by Air Wick. Thank you for supporting the sponsors that so
generously help The Sweetest Occasion keep on keepin' on!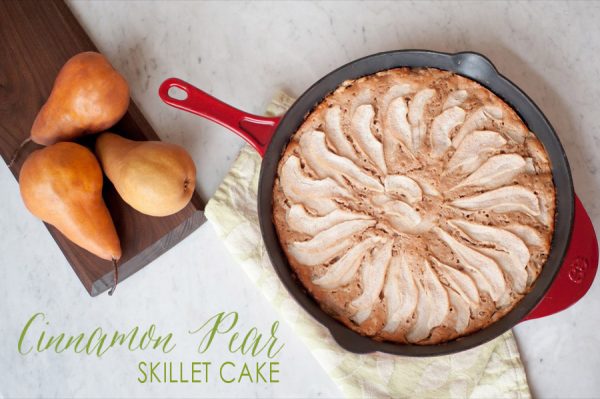 When I tell you that this cake recipe is one of my favorite recent kitchen success stories, I'm not exaggerating. With resounding cheers from B and everyone else who has tried it, I think it's safe to say this cinnamon pear skillet cake is a major win! Part of my collaboration with Air Wick (designed to bring you six inspiring homemade holiday ideas), this cake was 100% inspired by Air Wick's Baked Pear and Cinnamon fragrance. We're talking a little sweet, a little spicy, loaded with cinnamon and studded with juicy pears that just make this cake crazy delicious. Drizzle it with warm caramel sauce and it's as perfect with morning coffee as it is for Thanksgiving dessert!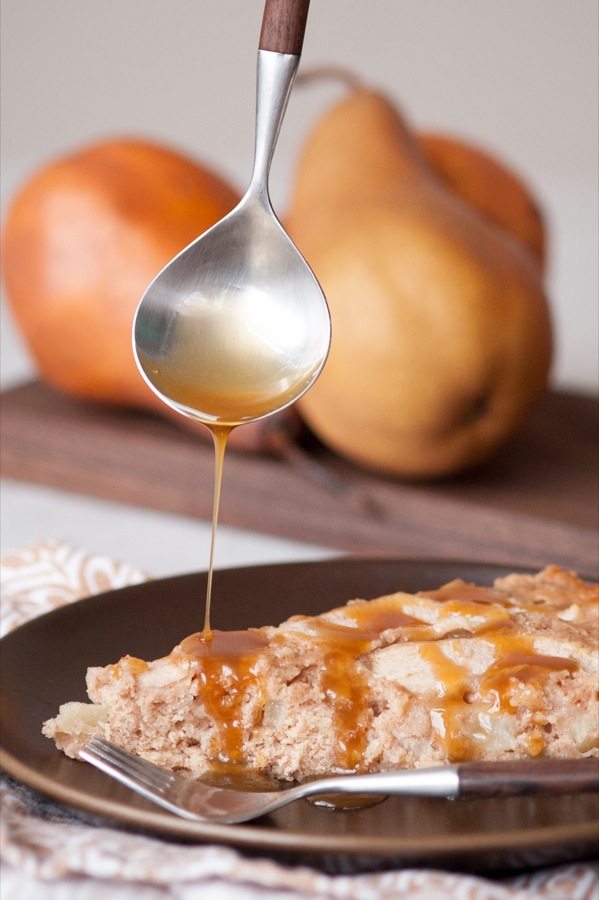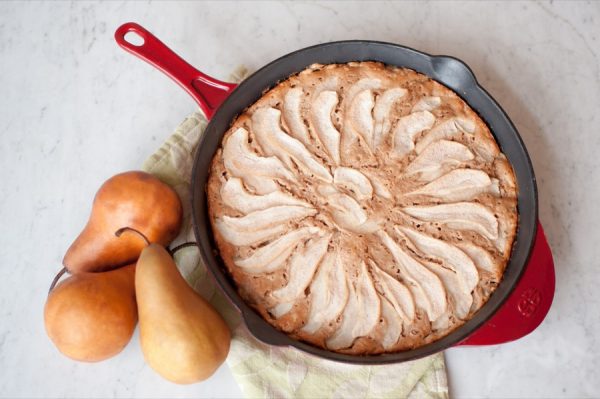 In addition to the pear cake recipe, I also teamed up with my good friend Erika of Delphine to share the sweetest printable treat tags with you! Taking cues from the warm, fruity fragrance of the Baked Pear and Cinnamon candle and the jolly green packaging, there are four tag designs perfect for bundling up dessert or leftovers to send home with family and friends this holiday season. I packed slices of cake in the cutest little kraft boxes with bamboo forks from A La Modo and tied everything up with green and white baker's twine.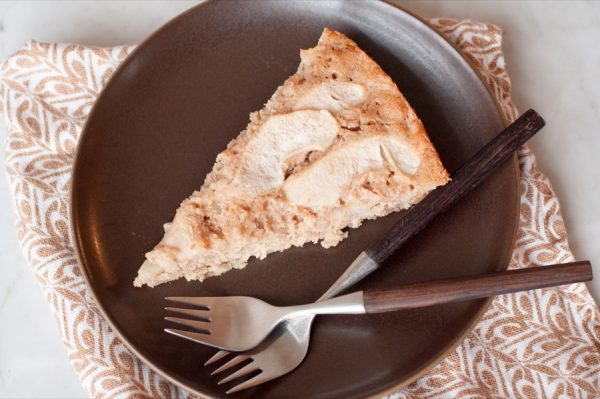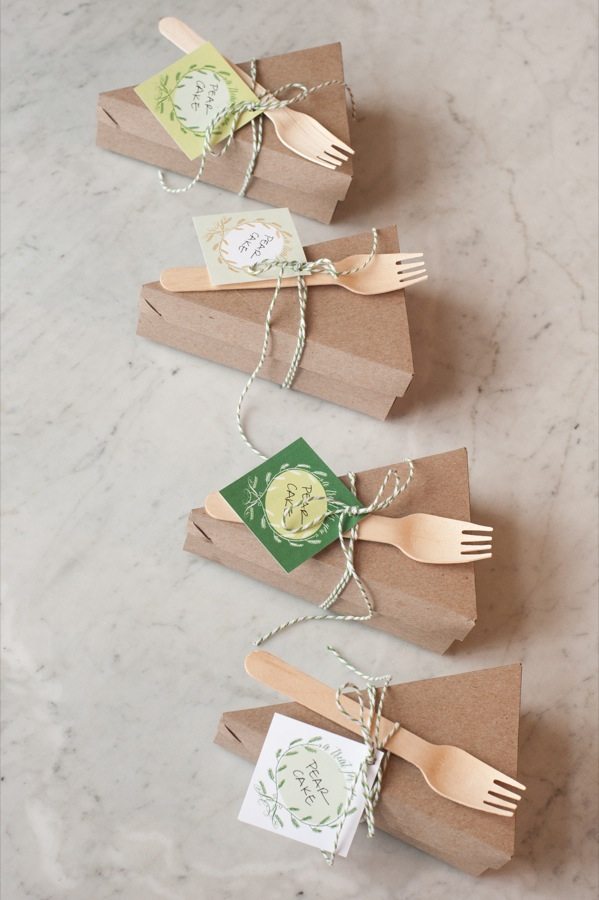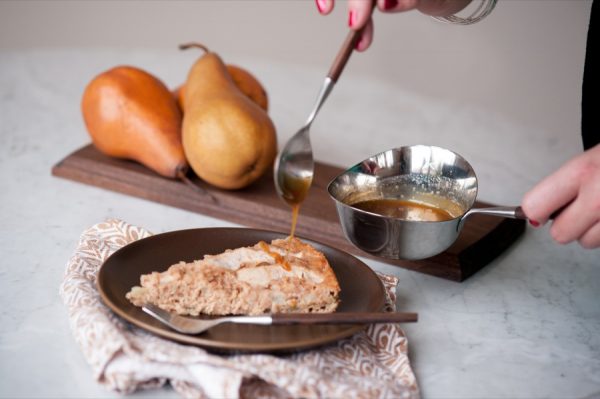 (adapted from Vintage Cakes)
4 pears, peeled and cored
1 cup of all-purpose flour
1 tsp baking powder
3 tsp ground cinnamon
1/4 tsp fine sea salt
4 tablespoons unsalted butter, at room temperature
1 cup sugar
1 egg, at room temperature
1 tsp pure vanilla extract
Caramel sauce (optional)
Preheat your oven to 350ºF and butter the inside of a 8 to 9-inch cast iron skillet. (You can scale the recipe up or down if your skillet is a different size, which I actually had to do as I have a 12″ cast iron skillet.) Chop two pears and then slice the remaining two to top the cake. Sift flour, baking powder, cinnamon and salt in a small mixing bowl. In a stand mixer, mix the butter and sugar together on medium speed for about 3 minutes. Add the egg and vanilla and blend on medium-high speed until fluffy, approximately 3 minutes, scraping the sides of the bowl as you go if need be. Reduce the mixer speed to low and add the flour mixture, mixing just until blended. Use a rubber spatula to fold the pears into the batter. Pour the batter into your skillet and spread until even. Fan the pear slices out on the top of the batter. Place the skillet on the middle rack of your oven and bake approximately 35 – 40 minutes or until golden brown and a toothpick inserted in the middle comes out clean.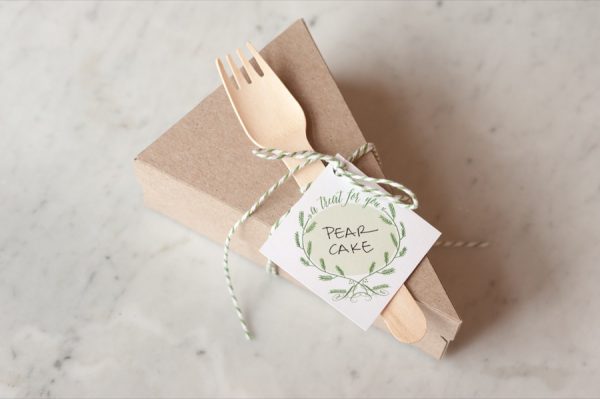 Now that you're armed with a pear cake recipe that will have your mouth watering and your whole house smelling amazing, it's time to package everything up with our free printable treat tags! Click below to download the printable tags, then print, cut them out and punch a hole in the top of each tag. String them with a bit of ribbon or twine and you're good to go!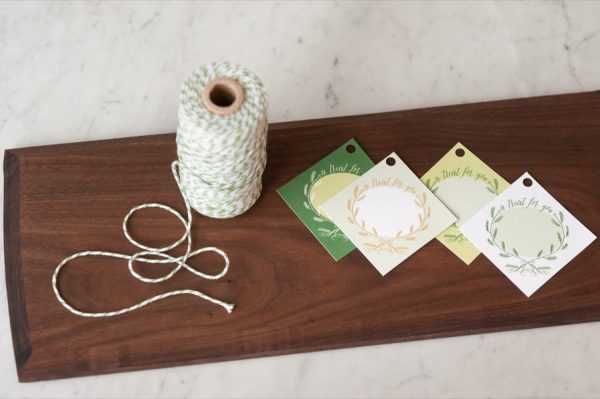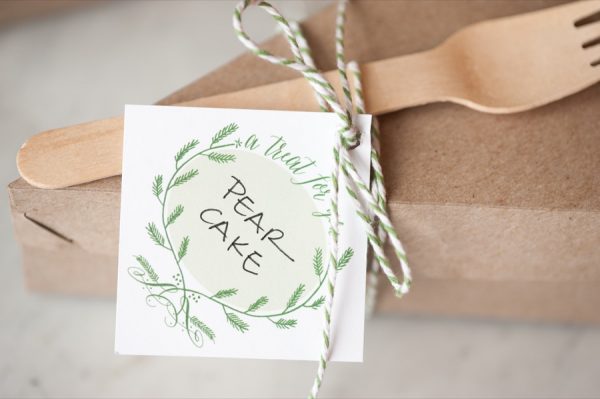 [Design + styling by Cyd Converse | Photos by Alice G. Patterson | Printables by Delphine.]
Sources –
Download the printable treat tags here
Baker's twine available from Sweet Estelle
Cake slice boxes from A La Modo
Nail polish is Sunset Kiss by JulieG
Baked Pear and Cinnamon candle by Air Wick
This post is a collaboration with Air Wick. For more homemade holiday ideas, follow along on Facebook! Read more about our editorial policies.