This post was sponsored by Air Wick. Thank you for supporting the sponsors that so
generously help The Sweetest Occasion keep on keepin' on!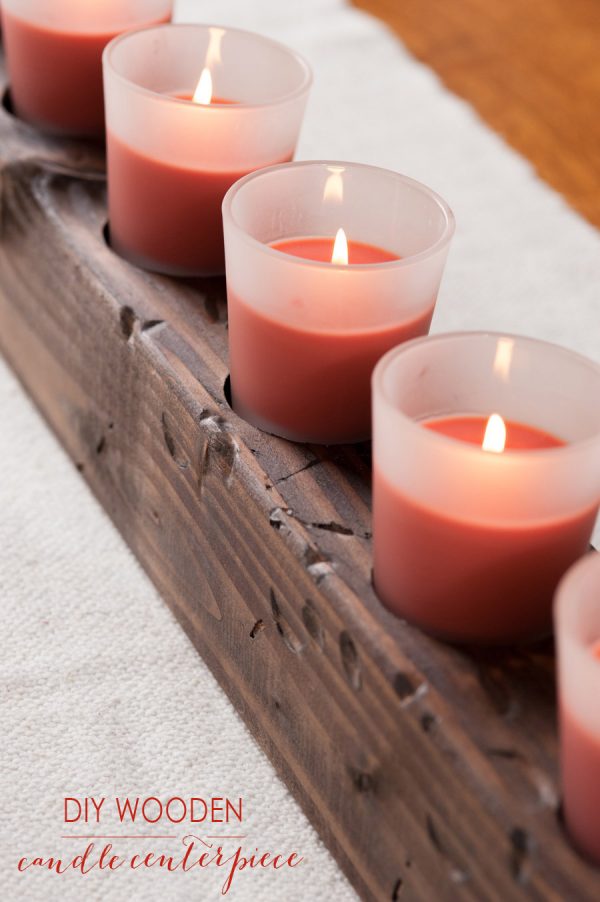 Guys, I am literally clap-my-hands excited to share this DIY project with you today! (Yup, clap-my-hands excited is a real level of excitement in my world.) Dreamed up as a part of my holiday collaboration with Air Wick (designed to bring you six amazing homemade holiday projects), this DIY wooden candle centerpiece was completely inspired by Air Wick's Baked Apple Strudel Candle. As soon as I started brainstorming ideas, I had a vision for an awesome centerpiece featuring distressed lumber that would serve as the ultimate tabletop focal point. Inspired by the candle's notes of cinnamon and apples, I kept thinking of warm and cozy holiday gatherings with something yummy baking in the oven and loads of flickering candlelight. Because in my world, that's what the holiday months are all about!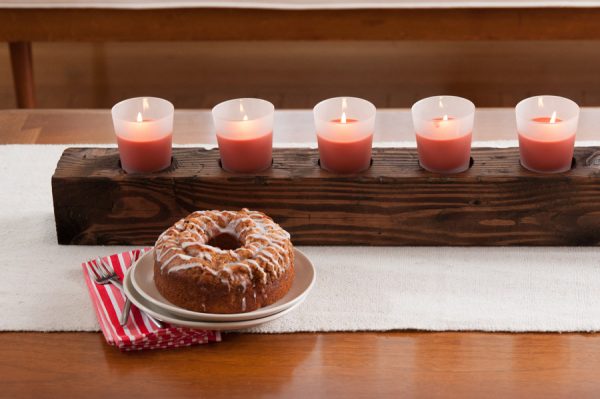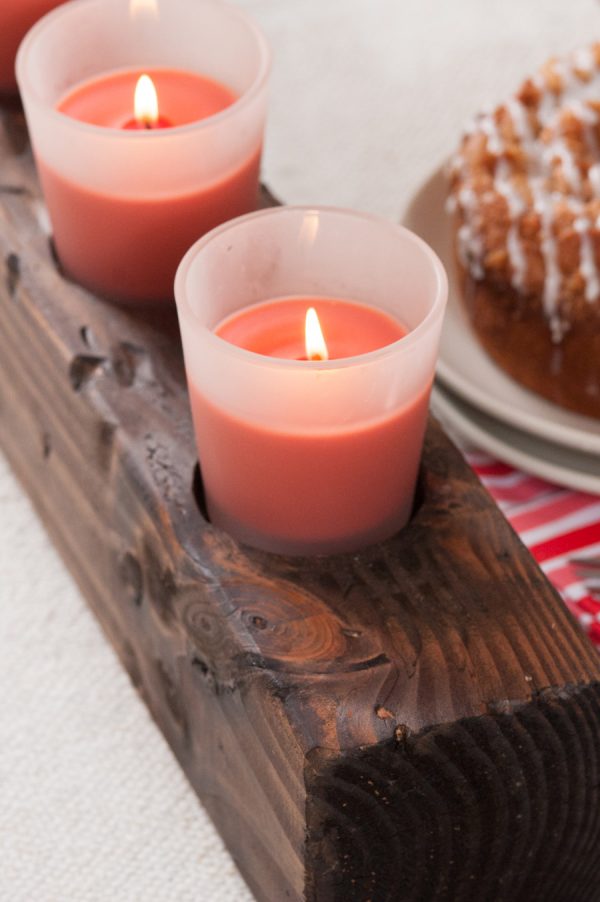 With the fragrance and rich red color of the Baked Apple Strudel candle in mind, I set off to create the prettiest DIY wooden candle centerpiece. I have to say, while it took a little bit of time and occasionally I found having B's extra set of hands very helpful, it was overall a very simple project that came together just as I had envisioned. It's a really fun and special piece that will instantly jazz up your holiday home decor and, dare I say, I think it'd make an amazing homemade holiday gift for the candle lover in your life, too!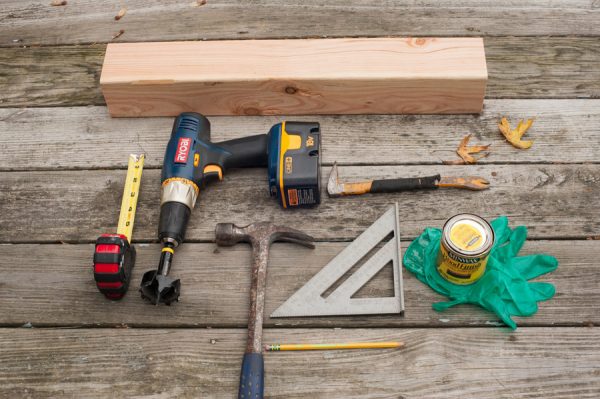 Reclaimed lumber or untreated wooden fence post
Square
Pencil
Drill with self-feed drill bit
Hammer
Tape measure
Stain + staining cloths
Latex gloves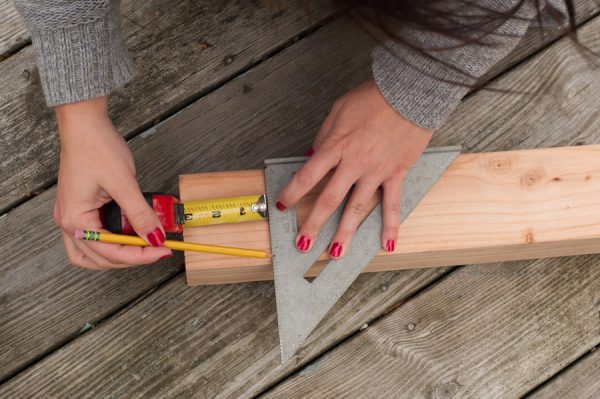 I will share with you that my initial vision for this project utilized a piece of reclaimed lumber, but after sorting through my father's heap of old lumber and boards I came up empty handed. (Namely because I had a pretty specific size and scale in mind for this piece!) So it was off to Home Depot, where I purchased a 4×4 untreated fence post and requested that it be cut into 3′ lengths. (Tip: Most home improvement stores will cut wood to length for free – just ask! Also, be sure your fence post is untreated as the pressure treated kind has a funky color that will be hard to work with when you get to staining later.)  For the size of my table, I wanted my candle centerpiece to end up 3′ long, but you can adjust the length to fit your home.
Next up, determine where you want your candles to start along the centerpiece. I used a tape measure, square and pencil to mark the placement of each candle, leaving 3″ on either end of the candleholder. To determine the placement and spacing, I lined up a row of candles along the top and decided that seven candles was going to be the perfect number of candles for my 3′ length of lumber.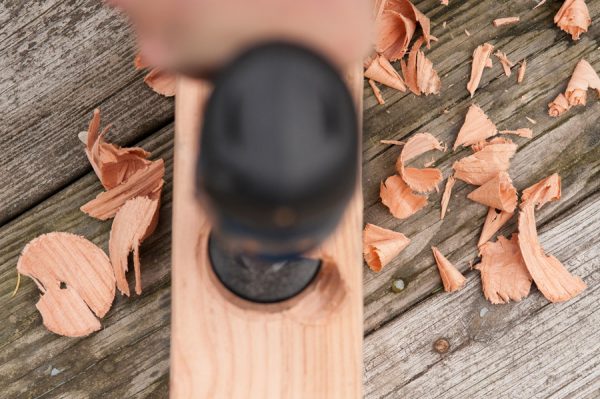 Make a mark along your lumber where the center of each candle will rest. Then it's time to start drilling! I used a self-feed drill bit with a 2-1/2″ diameter (this one although I found it locally for quite a bit cheaper) because the bottom of the candle measures just over 2″ across. Yes, we're using power tools for this, but, no, it's not hard to do! Use your self-feed drill bit to cut a hole where each candle will rest along the centerpiece. You don't have to cut very much, just go deep enough for the candle to have a little divot to sit in. It's ok if the holes are a little rough around the edges as it lends to the distressed look we're going for with this project. Of course, when using power tools be sure you're taking the proper safety precautions! Safety first, friends.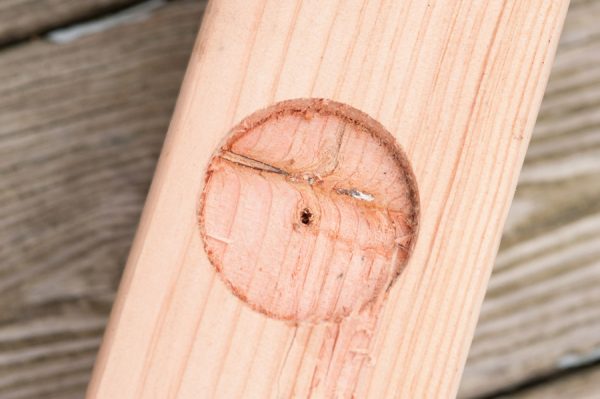 Next up, it's time to talk about distressing the lumber! This is ridiculously simple. You've probably seen it before, but I've never done it, so I kind of feared it might not be as easy as people make it sound. No worries – it really is that easy! Just take your hammer and begin knocking small dents into the wood, being sure to cover all three sides that will be visible when the centerpiece is in use. You can really use whatever you want to to achieve the desired look, just have fun and don't over think the distressing process.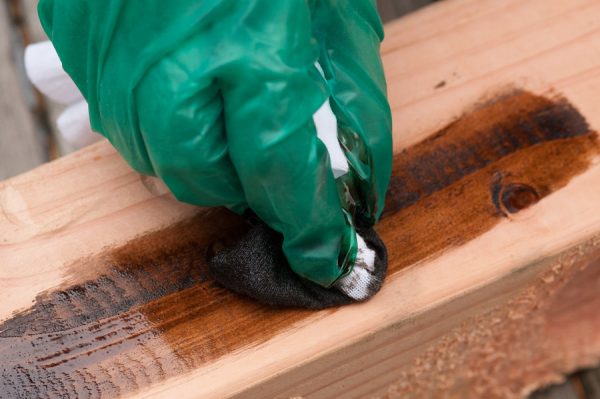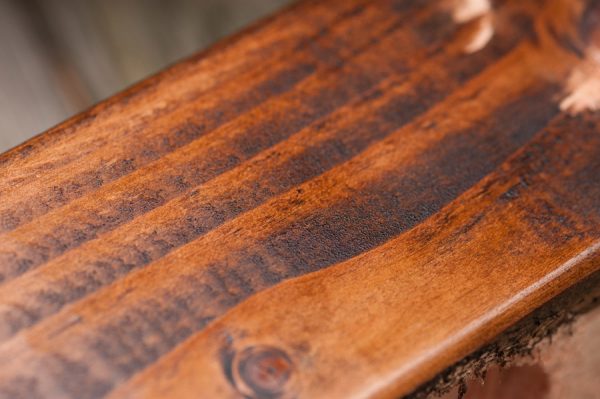 Now we're onto stain! I used Minwax in Dark Walnut, but you can use whatever you have if you happen to have some left from another project. Just one coat, applied liberally with a lint-free cloth will get the job done! Be sure to wear gloves because stain will definitely do a number on your manicure if you get it on your hands. Rub the stain with a pretty heavy hand into the wood and then allow it to dry completely. I found one coat did the trick and I skipped any kind of sealer or poly coat because I wanted it to have an older, time worn look without any sheen.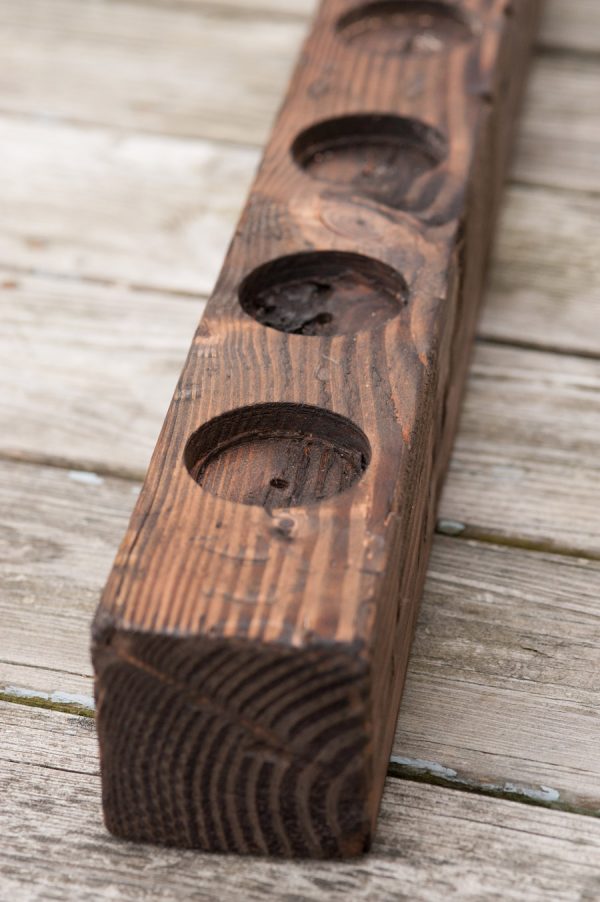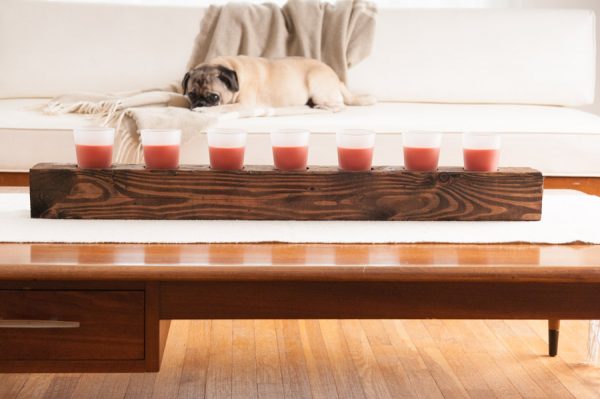 And there you have it! A really awesome (even if I do say so myself) wooden candle centerpiece that will be the star of all your holiday celebrations this year. I love the idea of using it on your dining room table or lighting it up along your coffee table and serving dessert and coffee from a comfy seat instead of at the formal table. The best part is, this piece will look amazing all holiday season long and well afterward, so you can enjoy it for a long time to come. Mine has a permanent home on our dining room table and I doubt it's going anywhere anytime soon – I seriously love how it turned out!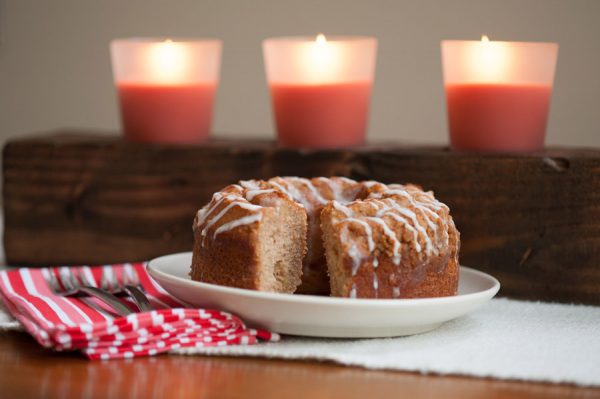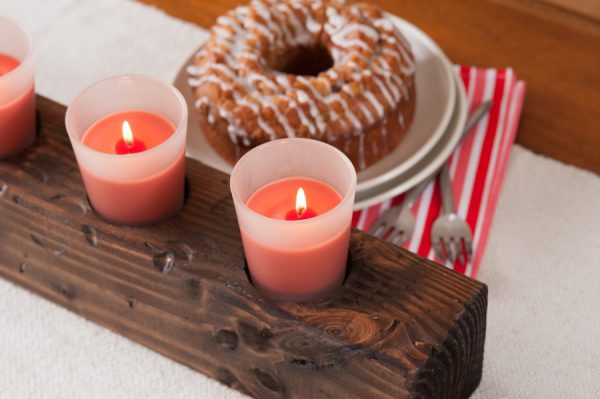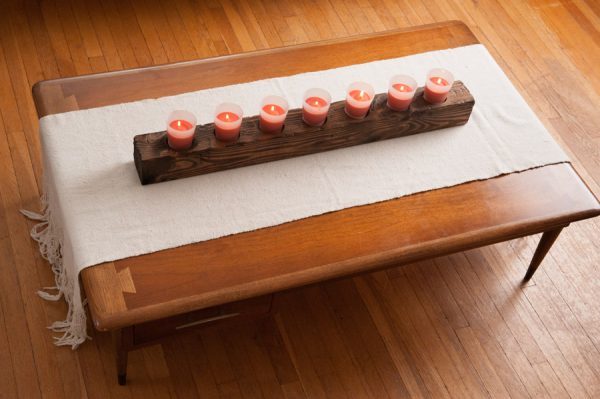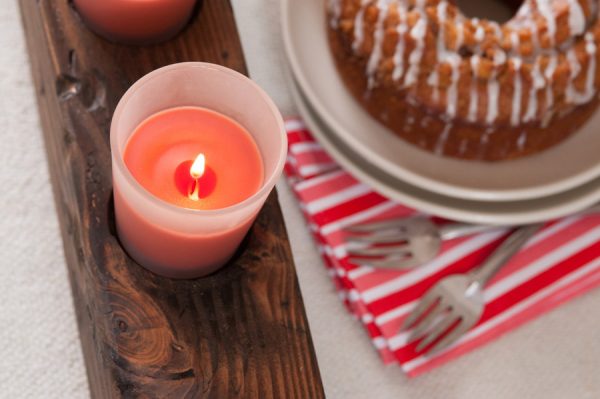 [Design + styling by Cyd Converse for The Sweetest Occasion. | Photos by Alice G. Patterson.]
Sources –
4×4 wooden fence post from Home Depot
Dessert plates by Heath Ceramics
Flatware is vintage
Napkins from Christmas Tree Shops
Berry basket from Garnish
Nail polish is Sunset Kiss by JulieG
Baked Apple Strudel candles by Air Wick
This post is a collaboration with Air Wick. For more homemade holiday ideas, follow along on Facebook! Read more about our editorial policies.