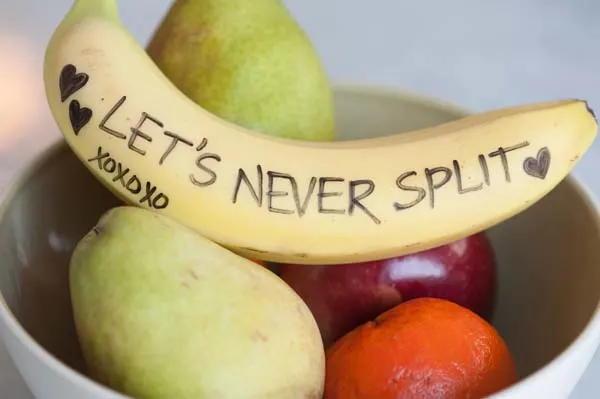 Guys. I'm going to break this down for you right quick. To call this a DIY tutorial is a bit of a stretch. To call it entirely awesome? Well, even if I do say myself, I definitely think it qualifies as the latter for sure. All you need is a banana and a Sharpie marker. That's it! Pen a cheeky saying onto the banana after giving it a good wash and you're good to go! Surprise your loved one by tucking it into their lunch or leave it perched atop the fruit bowl in the kitchen. Either way you work it, you're sure to make them smile.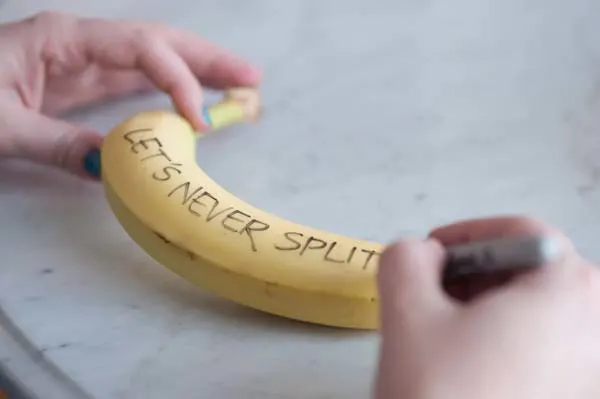 I'll make a note here that if for some reason your marker bleeds through the skin and ends up on the fruit itself, I probably wouldn't eat it myself. That said, I had no issues with the marker penetrating the skin on my bananas, even after checking them several hours later. The peel is thick and somewhat waxy so you'll need a bit of persistence to get the marker to look nice and solid, but it's not difficult at all – it just takes a few minutes of doodling! Oh and if you care to know, I tried different colors of markers but personally liked the looks of black the best, but that doesn't mean you shouldn't play around and have fun.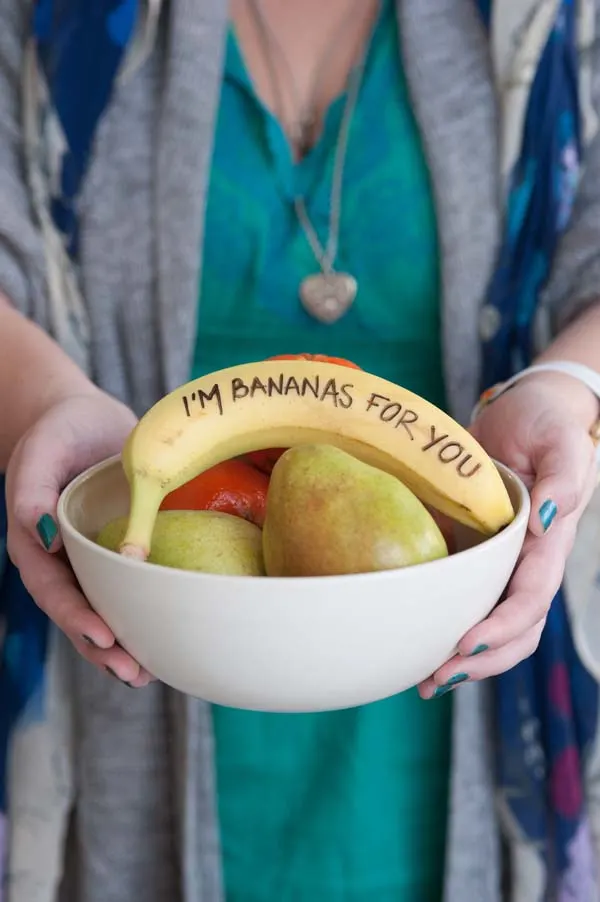 And that's all there is to it, friends! So grab those markers and pen a little love for the one you're bananas for this Valentine's Day. This is so sweet and simple it's perfect for even those of you who usually skip the hoopla entirely.

[Design + styling by Cyd Converse for The Sweetest Occasion. | Photos by Alice G. Patterson.]
Sources –
Bowl by Heath Ceramics
Nail polish is Ocean by Revlon
The fine print: Please link with love! As with all of our posts, DIY projects featured on The Sweetest Occasion may not be copied, distributed or reproduced without permission. Love and links are always appreciated! If you'd like to share this post, please link to this post directly for the DIY tutorial and do not include the instructions in your own post. Thanks so much! xoxo