Friends, I need your help today! Now that we're well into winter, my skin is taking a beating and this is the year I'm resolving to figure out a combination of products that helps remedy the situation. As a bit of background, I have combination skin. In the winter I have a very slightly oily t-zone on occasion, but tend to have extremely dry skin elsewhere. Around the corners of my nose, my cheeks, and the corners of my eyes are especially bad. My skin can get so dry in the winter that any kind of moisturizer burns like crazy and it's not uncommon for me to walk around looking like I have chapped, windburned cheeks when I do not. Pretty! I feel like I've tried most everything in the drugstore so this might be the year where I need to invest in my skincare essentials so I can get things under control. I'm also open to using different products day and evening if that helps – I've just kind of always been too lazy to think about it that hard in the past. These products are ones I've either heard great things about, have started trying myself or saw on YouTube and decided to add to my list. (That bit about YouTube? Totally true.)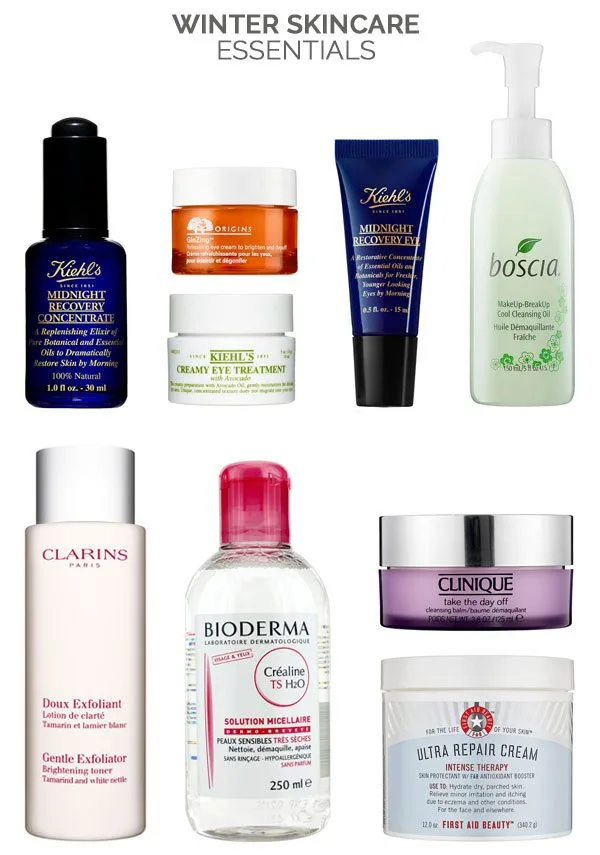 So, ok. This is where you come in! Lay it on me. What are your holy grail winter skincare products? I want to know about your favorite serums, moisturizers, cleansers, cleansing oil and waters, toners, exfoliators, the works. I try to stick to products that are free of parabens, sulphates, fragrances and alcohol where possible, although if something works well for you I want to hear all about it even if it might not perfectly fit that bill. I know you guys are way cooler than me and have your winter skin all figured out and have some wisdom to share, so please do! I'll report back in a month or so and let you know how I'm making out.

[Row 1: Kiehl's Midnight Recovery Concentrate | Origins GinZing Refreshing Eye Cream | Kiehl's Creamy Eye Treatment with Avocado | Kiehl's Midnight Recovery Eye | Boscia Makeup-Breakup Cool Cleansing Oil | Row 2: Clarins Gentle Exfoliator Toner | Bioderma Cleansing Water | Clinique Take the Day Off Cleansing Balm | First Aid Beauty Ultra Repair Cream.]
This post contains affiliate links. Read more about our editorial policies.