This post was sponsored by Skinnygirl® Cocktails. Thank you for
supporting the sponsors that help make The Sweetest Occasion possible!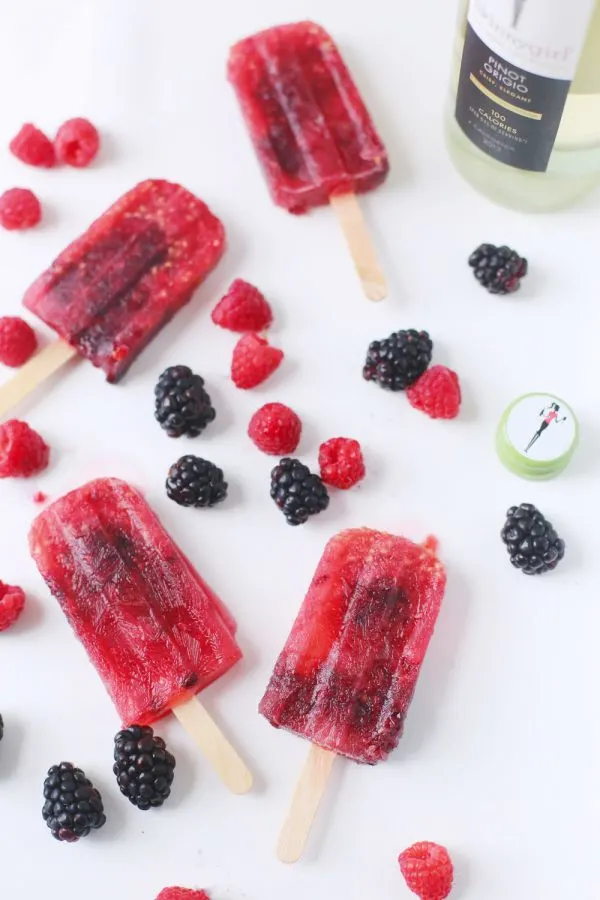 Every once in a while, I seriously blow my own mind. I know, I know. That's probably completely uncouth of me to say, but it's true. These blackberry raspberry sangria popsicles? Mind. Blown. Back when I was in New York with Skinnygirl® Cocktails in March, I had the opportunity to taste all of their wines. I was skeptical. Low calorie wine? How can this even be ok? Turns out, it's not ok. It's seriously really really good! Not surprisingly, the pinot grigio was one of my favorites, and a few weeks ago I decided I should use it as the base for sangria. (We all know I love a good sangria!) And then I decided to take it one step further and make that sangria into super refreshing and utterly delicious popsicles. Now, you get to the do the same! You can thank me later.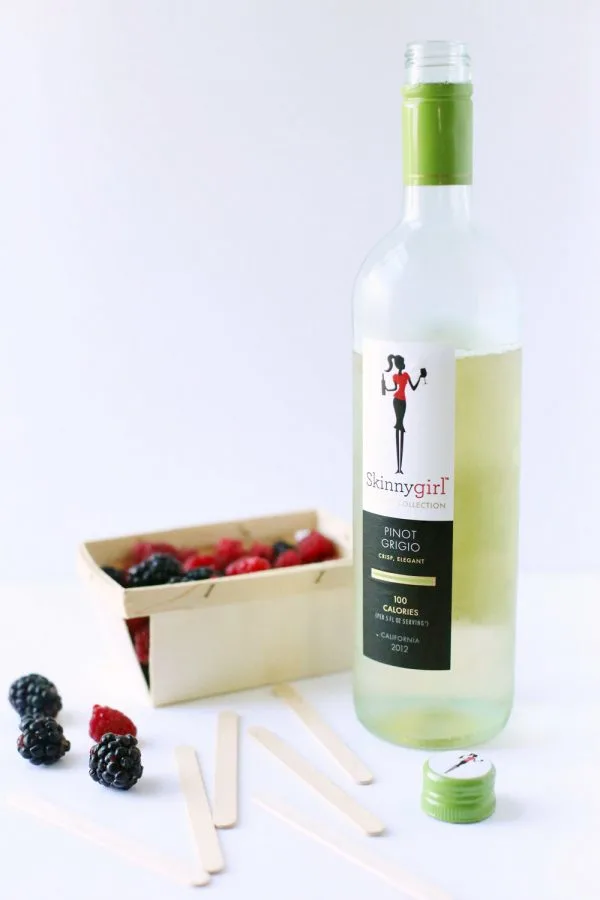 Lest you should be intimidated about making popsicles, let me assure you. There is nothing complicated about this process. We're talking about all of four ingredients including the wine, a popsicle mold (I have this one), a saucepan or two, your stove and your freezer. A couple of quick berry compotes, a bit of that awesome Skinnygirl® Pinto Grigio and some freezing time. Done and done! These are easy enough to make on a weekday or over the weekend so you have a stash on hand for a little weeknight treat. They're also special enough to make for a party!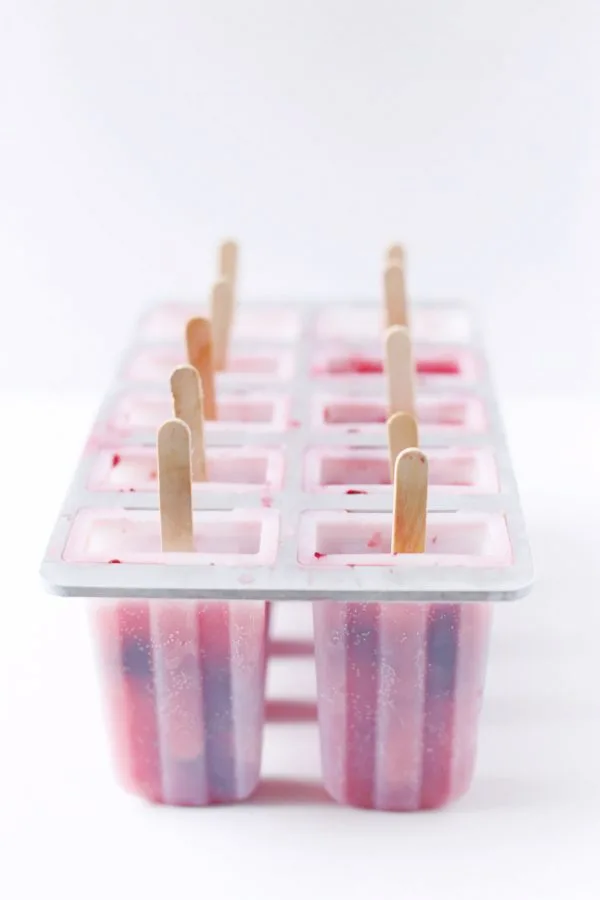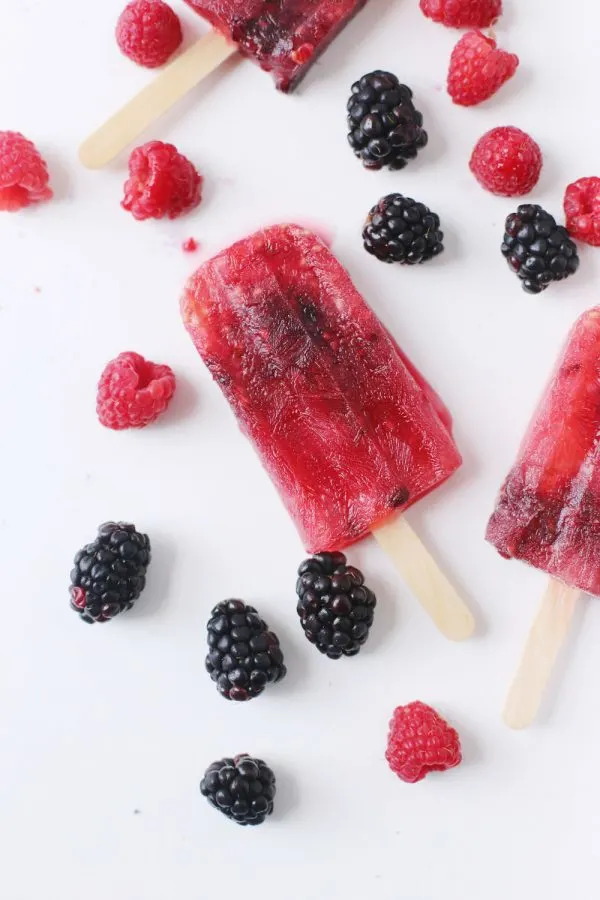 Makes 10 frozen pops
Place the raspberries in a small saucepan and mash with the back of a wooden spoon. Add half of the sugar and heat slowly over medium heat just until the sugar is dissolved. Remove from the heat and allow to cool to room temperature. Repeat the process with the blackberries. Once the berry mixtures have cooled, gradually add 1/2 of the wine to each of the berries. Scoop into a popsicle mold, alternating berry flavors, until the mold is 3/4 full. Insert popsicle sticks per manufacturer's instructions. Freeze at least 4 – 5 hours or ideally overnight. To release the pops from the mold, run warm (not hot) water over the backside of the mold for 15 – 20 seconds. Then gently pull on the popsicle stick until the pop slides out.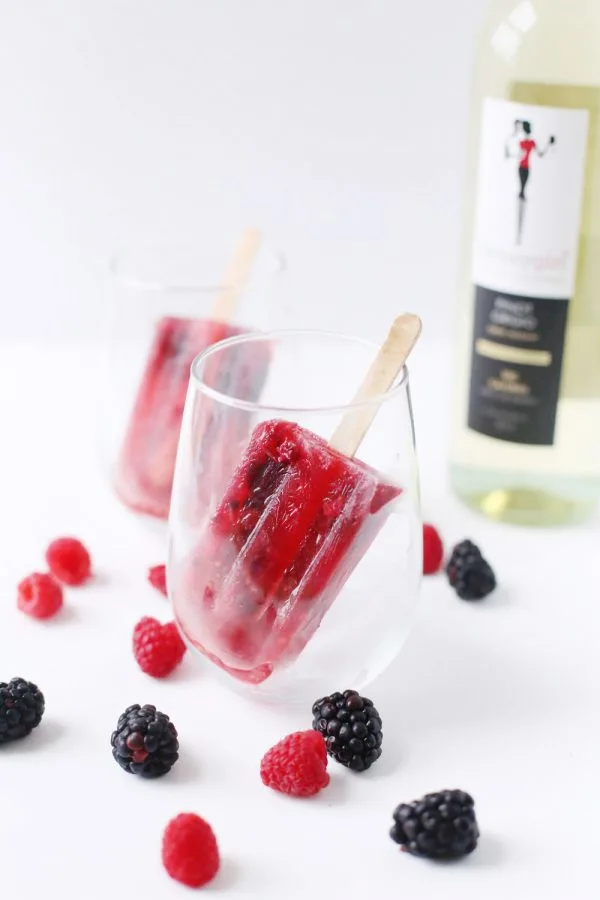 Of course, you can play with the flavor profiles here however you like! Choose a different wine varietal, add in strawberries or fresh peaches. The possibilities are fairly endless! I am officially addicted to making (and, uh, eating) homemade popsicles now and have a feeling I'll be playing with different recipes pretty much all summer long.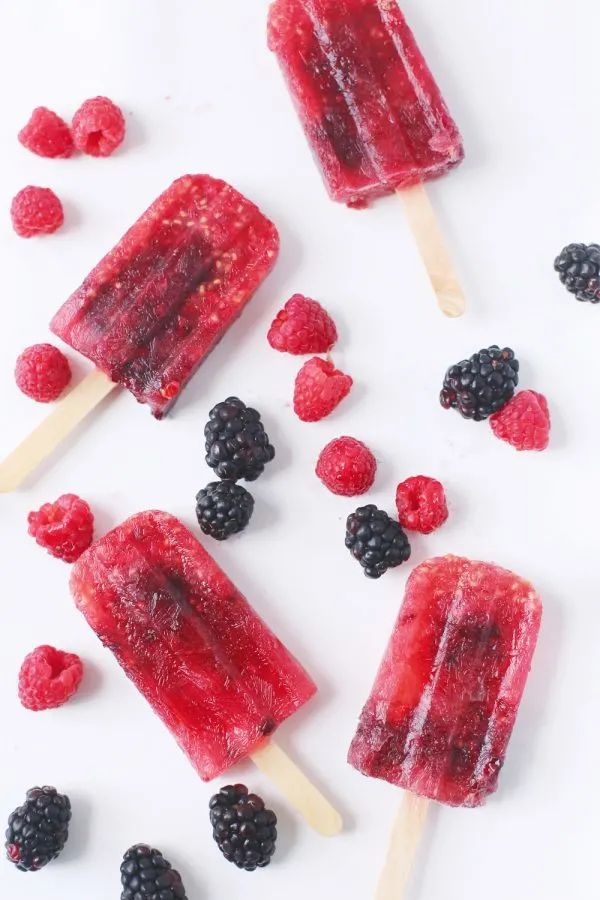 You definitely need to put these bad boys on your must-make list this summer! While you're at it, don't forget to make sure you're all signed up for the Skinnygirl® Cocktails Tastemakers program, too. When you get on the list, you gain exclusive access to special perks, discounts, rewards and exclusive behind-the-scenes info. You'll receive monthly emails throughout the year giving you the opportunity to get yourself entered to join in on awesome promotions and win some amazing prizes! And we all love prizes, am I right?


[Photos + recipe by Cyd Converse for The Sweetest Occasion.]
Skinnygirl® Cocktails is a registered trademark of Jim Beam Brands Co. ("Beam") and is used with permission. The information, comments and ideas expressed on this website do not necessarily reflect the views or opinions of Beam, its affiliated companies or any of their directors or employees. Beam does not sponsor, authorize, or otherwise endorse this website. Read more about our editorial policies.
Skinnygirl® Wine Collection ©2015 Skinnygirl Cocktails, Deerfield, IL (Per 5 oz – Average Analysis: Calories 100, Carbohydrates 5g, Protein 0g, Fat 0g). Drink Smart®