This post was created in collaboration with Munchkin. It's the little things. Thank you for
supporting the sponsors that help make The Sweetest Occasion possible!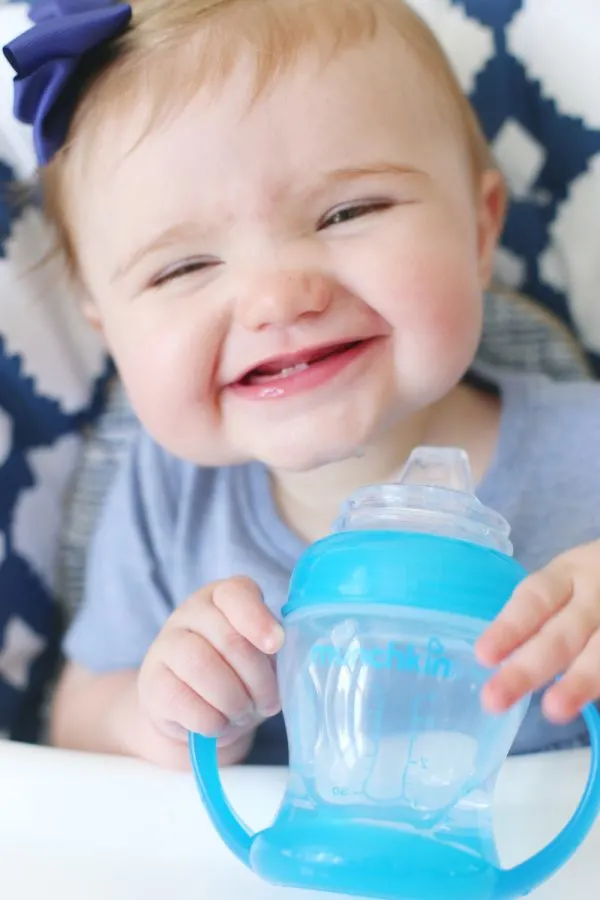 When we started introducing Emerson to solids at around four months, it was always my intention to make all or as much of her food as possible. For the most part that is what we've been doing ever since, snippets of which I've shared on Snapchat several times now. What's interesting to me is that when you tell people you make your baby's food so often they seem sincerely shocked, as if you've accomplished some great feat on par with winning an Olympic gold medal. Spoiler alert! Making baby food is really really easy. Plus, you know exactly what you're feeding your little one and have total control over all the ingredients, so you can making sure they're eating nutritious, whole foods worthy of a little champion. Today I am excited to be teaming up with Munchkin, one of our absolute favorite baby brands (and one I've mentioned several times before), to share three yummy baby food recipes perfect for the over 6 month crowd! They're not only healthful, nutritious and packed full of good-for-her foods, but they're also tasty enough that any grown up's palate would approve.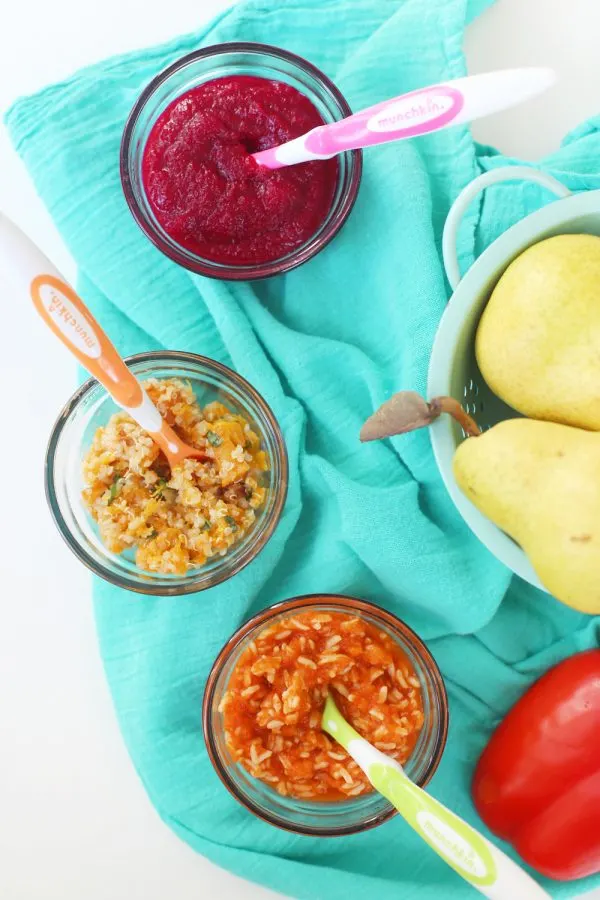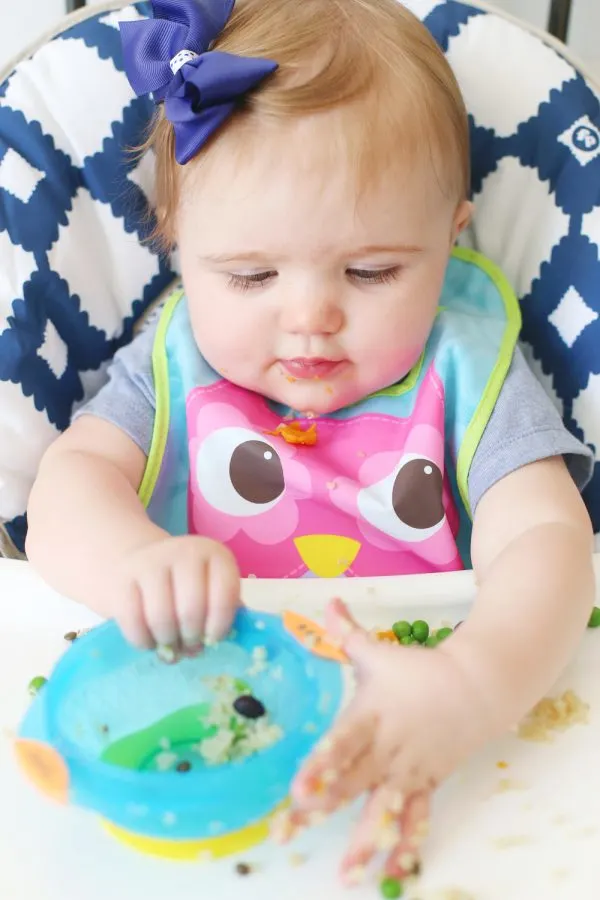 Butternut Squash + Quinoa with Basil
1 small butternut squash
1 cup cooked quinoa
1 tablespoon olive oil
1/2 teaspoon ground cumin
Fresh basil
Preheat oven to 350°. Peel, slice and chunk up a small butternut squash. Toss in a bowl with olive oil and cumin, then spread in a single layer on a baking sheet. Roast for 20 – 30 minutes until fork tender, turning occasionally for even roasting. Once roasted, allow to cool to room temperature. Place 2 – 3 tablespoons of squash and an equal amount of quinoa in a small bowl. Smash together with the back of a fork. Finely chop 1 – 2 basil leaves and work into the squash quinoa mixture. Bon appetitie, bébé! Tip: You can keep the ingredients separate in the fridge for up to a week and mix up small batches at mealtime. This one makes a great side for big people, too!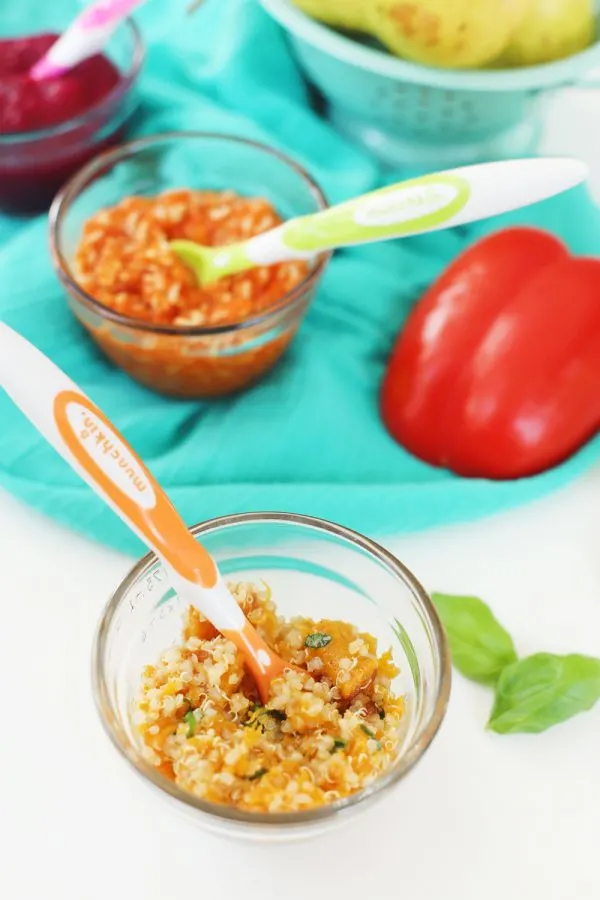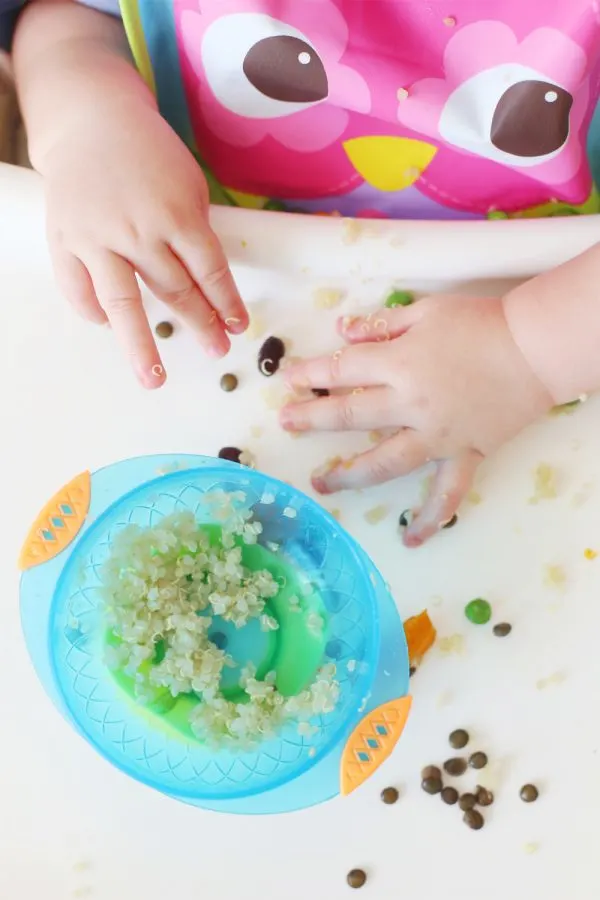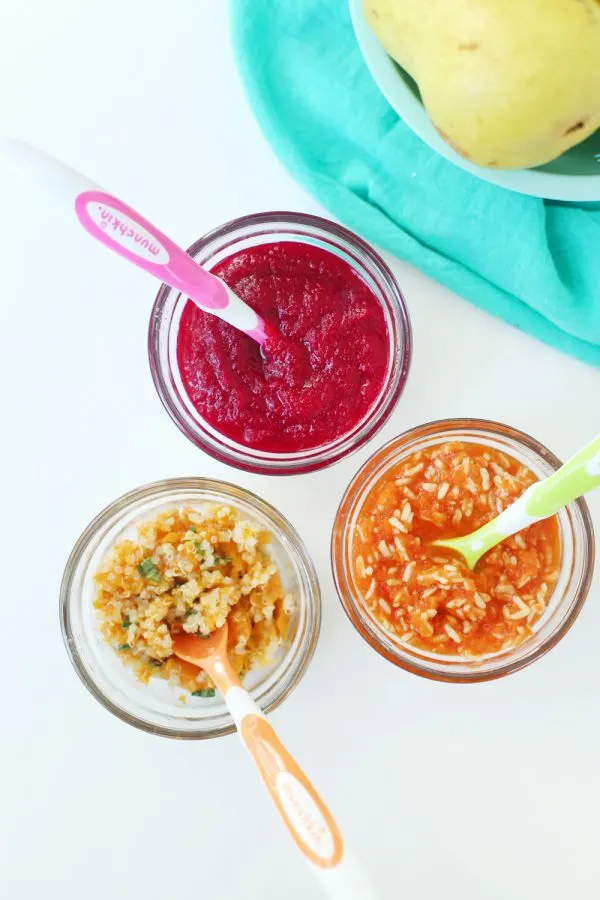 Beet Pear Purée
3 large beets
3 medium to large pears
Peel and cube up the beets and pears. Separately, steam over high heat until tender. The pears will take much less time than the beets, which is why we keep them separate. Transfer both to a food processor and process on high until smooth, adding a bit of the leftover cooking liquid from the steaming process as necessary to achieve the desired consistency.
Roasted Red Pepper + Brown Rice
3 whole roasted red peppers
1 cup brown rice, cooked
Roast three red bell peppers, then remove the skin. (A great resource if aren't quite sure how to roast peppers.) Add peppers to a food processor and blend until smooth, adding a bit of liquid (such as water or veggie stock) as necessary. Transfer puréed peppers to a mixing bowl and add in one cup of cooked brown rice. Allow it to sit for about 5 minutes, then serve to baby right away or save for up to a week in the fridge!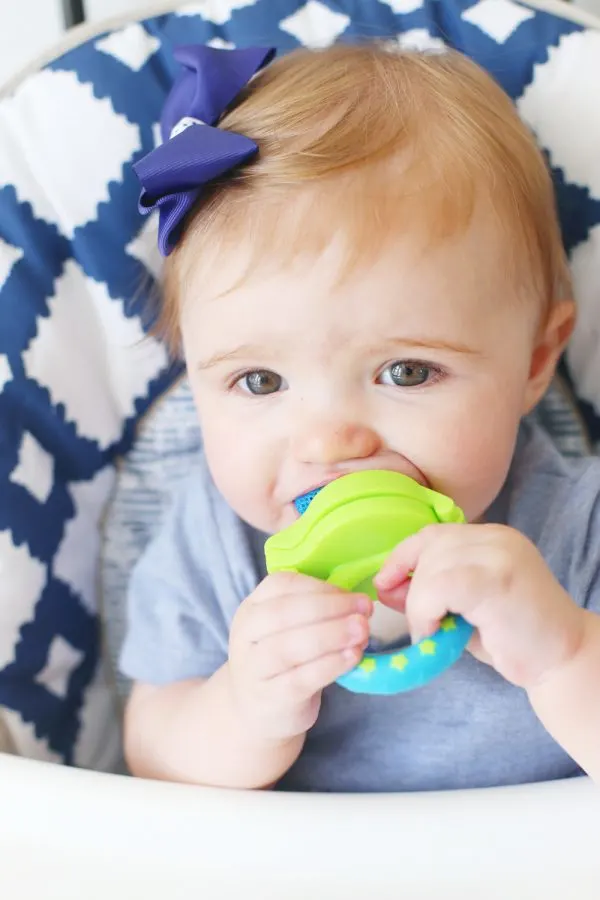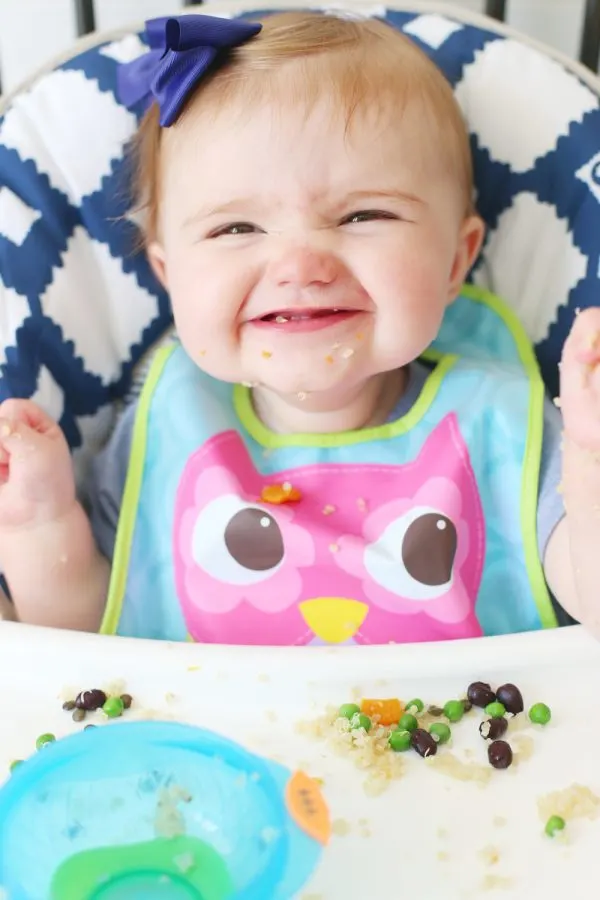 These days Emerson is starting to transition toward feeding herself a bit more, which is really fun, but also super messy. Let's cut to the chase and put it right out there – I won't judge you if you strip your baby down and feed her in just a diaper at this age! I've done it more than once myself. For a few months now we've been using the fresh food feeder from Munchkin to let her feed herself little snacks. Usually we stick a slice of apple or pear in there, but she also loves it with banana or blueberries. At the moment I swear by the stay-put suction bowls because I can toss in a few of her favorite little finger foods (generally quinoa, peas, black beans, roasted squash, cooked carrots and lentils), stick it to the tray of her high chair and she can have fun smashing it all over her face. (Which is the 8 month old version of feeding themselves if you didn't know.) While she's not exactly skilled at the spoon department, she knows what it is for and where it is supposed to go so it's pretty fun watching her try to make it happen. Oh the determination! I love that Munchkin's soft tip infant spoons are perfect for her to learn with and gnaw on while she's in this fun stage of not-quite tiny baby and not-quite big baby.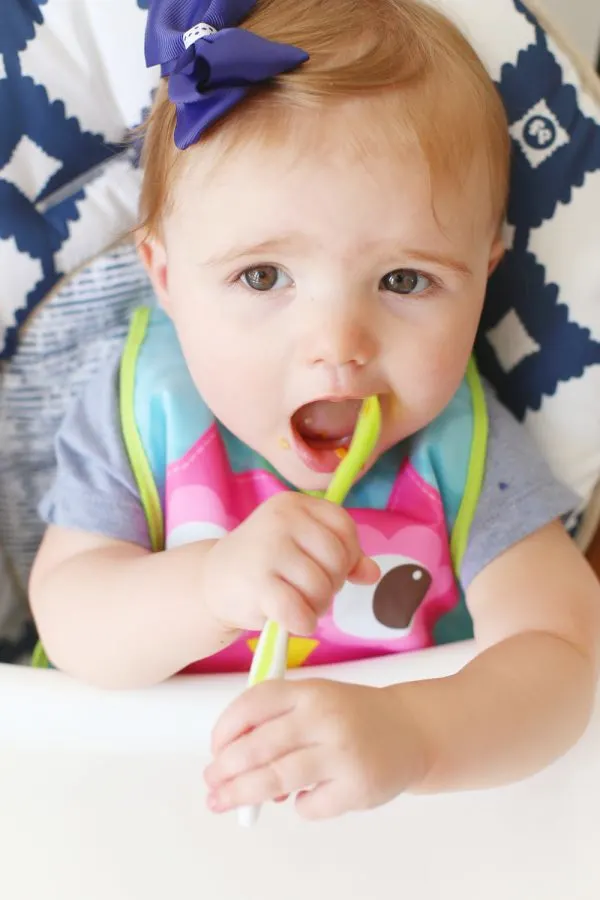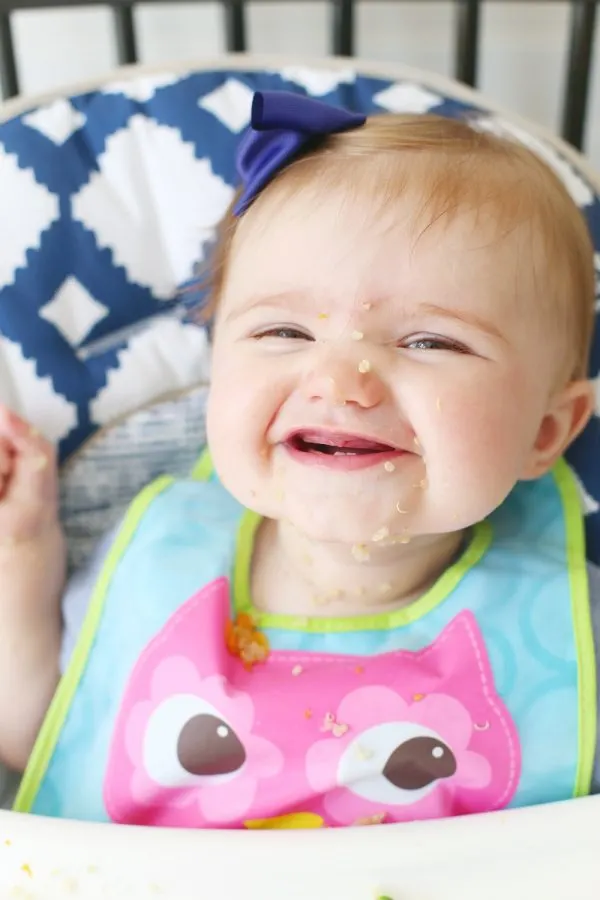 I read somewhere and full heartedly agree that variety and flavor are the spice of life when it comes to feeding babies at this stage! Let them try all kinds of things and don't be afraid to add in the same kinds of flavors, herbs and spices you'd use on your own food. (You know, just avoid things like pepper, salt and cayenne. Ha!) It's no joke that baby meal times comprise a huge percentage of the day, so make it fun! Eat and play with your baby, have fun making them new recipes and try not to get frustrated when she ends up with quinoa up her nose when you have to be somewhere in a half hour. It's all part of the journey! For more great tips, ideas and baby products to help you savor every victory, follow Munchkin on Facebook, Pinterest, Twitter and Instagram!

[Recipes + photos by Cyd Converse for The Sweetest Occasion.]
This post was sponsored by Munchkin. All opinions and words are my own. Read more about our editorial policies. For more great ideas and tips, follow Munchkin on Facebook, Pinterest, Twitter and Instagram!