I've blogged about color palettes and color inspiration a dozen times or more. You've all read about my love for blues, aqua, and basically anything that takes my breath away. Finally, the time has come to start making real decisions and I've basically settled on a rather loosely defined color palette of soft layered neutrals featuring the occasional smudge of blue as I deem fit and in whatever shade pleases me at the moment. I'm gravitating toward gorgeous layered ivories, champagne, gold, charcoal and dove grays, serene ocean blue, a bit of navy, a cool platinum silver, a dash of French blue. I guess after much thought and consideration, I've opted to strive to achieve a mood of color as opposed to relying on two or three specific shades of specific colors to pull things together.
As it turns out, such thoughts about beautiful neutrals paired with soft shades of blue or other muted pastels is shaping up to be quite a trend in fashion for 2009. Since the calendar has ticked past Christmas and the spring lines are hitting stores, there is a definite move toward gorgeous light and airy colors. I'm seeing it everywhere! Most recently, the gorgeous board below from coco + kelley, which she just posted moments ago and which stole my breath. It's color trend week at coco + kelley so make sure you add this incredible style blog to your reader if you haven't already so you can find your own color inspiration.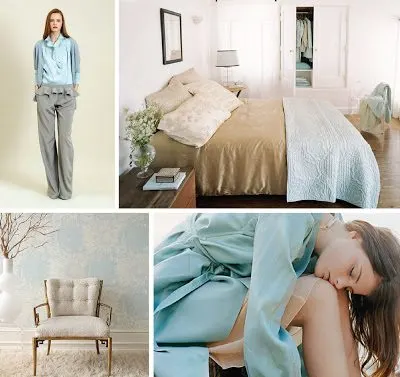 I don't have a word for it, but that, dear friends, is precisely how I want our wedding to feel.