This past weekend I had the extreme pleasure of coordinating Elena and John's beautiful fall wedding in the Finger Lakes. From day one, Elena was a dream client in my book. She got in touch after being referred by Megan Dailor, one of my absolute favorite photographers to work with, and has since become a friend I know I'll be staying in touch with for a long time to come. We had picture perfect fall weather for Elena and John's beautiful wedding overlooking Seneca Lake at Logan Ridge, and to say that Elena was an absolutely gorgeous and radiant bride would be the understatement of the year.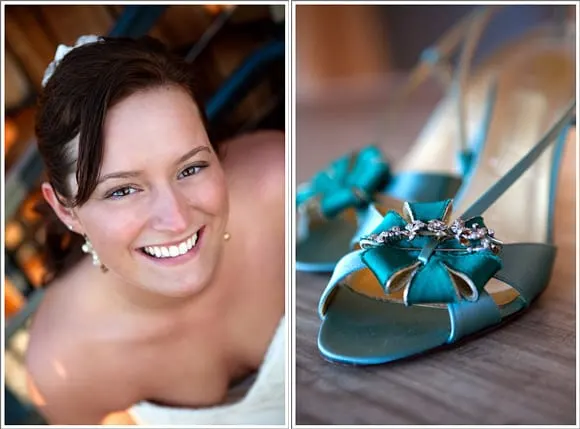 A girl after my own heart, Elena's beautiful shoes were from JCrew. (I have a well-documented and deeply rooted obsession with basically every pair of shoes JCrew has ever created.)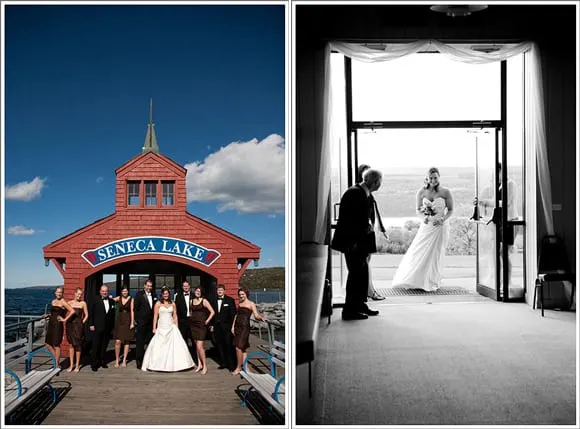 Elena's dress was by Mikaella and all of the bridesmaids wore different chocolate brown dresses from JCrew. The groom and groomsmen wore classic black tuxedos and brought their best swagger with them for the evening.

Elena and John are an incredibly sweet couple, both known for their loud voices and fun personalities. And they are clearly absolutely madly in love. I think these beautiful shots that Megan captured during their first look says it all…
I was really excited when Elena told me about her obsession with candlelight, namely because I have the same obsession with the warm glow of candles. John and Elena were married in front of one of Logan Ridge's many fireplaces and we absolutely covered it with candles. Their ceremony was sweet and full of laughter.
One of the highlights of the day was when Charm City Cakes showed up to deliver the wedding and groom's cakes, both of which were incredible to look at and amazingly delicious. Elena and John's mom surprised him with a groom's cake designed to match his logo in honor of his nickname, John Beer. And yes, that groom's cake is a keg with an antler busting up through the top.
The reception was full of laughter, a few tears, and much merriment. The dance floor was packed all night. John is, hands down, the most avid dancer of any groom I've ever worked with – he tore up the floor and kept the party going strong all night. I was told this was a group that loves to party and they certainly delivered on that promise!
I think what I loved most about John and Elena's wedding wasn't the attention to exquisite details (there were plenty), the great food, the amazing spread of desserts (we're talking cupcake towers on each table for centerpieces, two amazing cakes, and a dessert bar with ice cream and warm apple crisp), or even the wonderful vendors with whom I had the pleasure of working. No, what I loved most was the sense of celebration, the love that filled the room, the laughter that was shared between friends and the amazingly beautiful smile that didn't leave Elena's face all day. When I went to the dressing room to collect Elena to bring her down to start the ceremony, she was sitting quietly by herself sipping on a diet soda and taking it all in – from that point forward, anything at all could have gone wrong and she was just blissfully happy to be marrying John. Events like this one remind me why I am so in love with weddings.
Thank you, Elena and John, for allowing me the great pleasure of being a part of your celebration. I wish you many years of love and laughter.
{Photos by Megan Dailor.}