A while back, I discovered the blog of Emmy Lu Design Studio, an inspired stationery company that puts a unique spin on DIY wedding invitations, holiday cards and more. Their team of talented designers has created a beautiful selection of invitations and stationery, all of which you can have customized with your event details. Then, for a nominal fee, they provide you with PDFs of your design to either print at home or take to your local print shop for printing. Yes, it's true. You too can have stylish and affordable invitations and stationery without breaking the bank.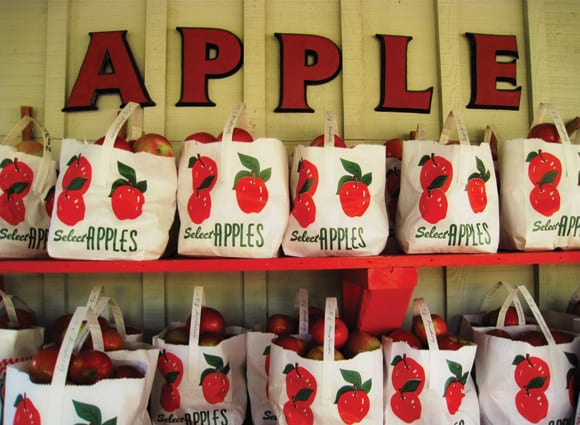 Long story short, I discovered Emmy Lu when one of the designers, Bethany, was featured on Brooklyn Limestone the lovely blog I mentioned yesterday. (Remember those fabulous cookie exchange party invitations?) I became an instant fan of the Emmy Lu blog and was thrilled when Bethany shared photos of her recent Fall Flavors party for me to share with all of you. This is precisely the kind of party that I adore. A group of friends, great food, lots of laughter, a few pretty details, and a spirit of warmth and celebration for no other reason than just because a party sounded like a great idea. (Bethany, you may just be a lady after my own heart.) It seemed like the perfect inspiration to start off your weekend.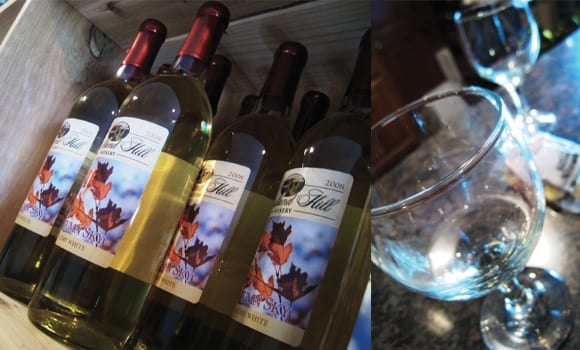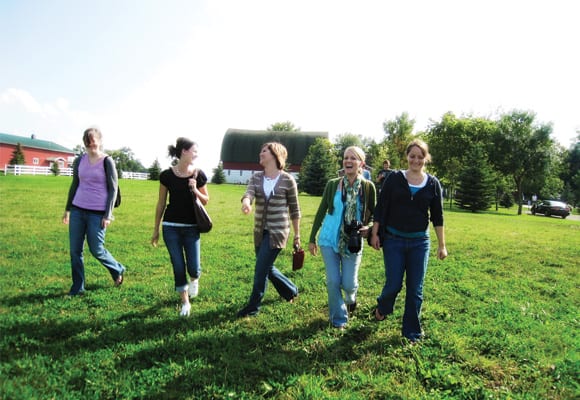 Bethany shares…
I decided to host the Autumn Flavors party a celebration of the season. I so enjoy the beauty of fall in this region, and I wanted to set aside some time to soak in it and truly enjoy it with my closest friends. While I have hosted several Halloween parties that featured some similar elements, I had never hosted a party exactly like this, where the focus was simply on the elements of the autumn season. I would love to make it a yearly tradition! I love the crisp feel of the air in fall, and the fact that I can wear cozy knits and my favorite vest. Living in Minnesota, I especially love the changing colors of the leaves, and the beauty of driving on country roads.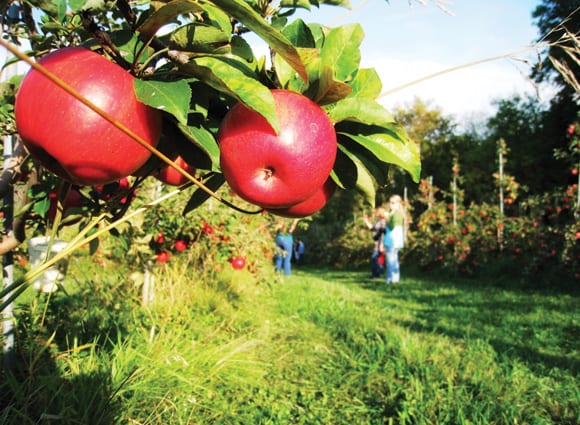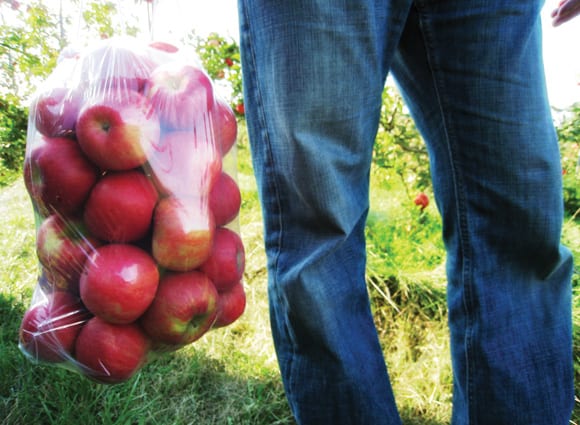 I planned a full afternoon's worth of activities, starting with wine tasting at a local vineyard and winery. From there, we all drove a few miles to a small, family-run orchard, where we picked apples, wandered through a corn maze, and munched on homemade apple donuts. After the visit to the orchard, we headed back to my house for a backyard BBQ and bonfire. I had prepared ahead of time, so guests arrived to a patio decked with party flags, strings of lights, candles, and a full spread of picnic-friendly food. I made things that had a fall theme, such as my favorite apple cake, sweet potato fries, and dip for fresh-cut apples. I also had a "s'more station" for making your own tasty treats over the open fire. We had bottles of soda in a bucket of ice, which kept our beverage options pretty simple.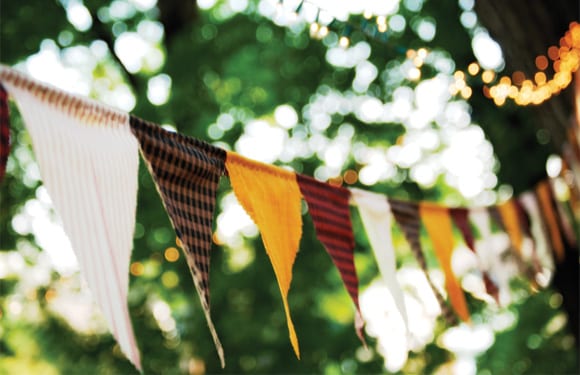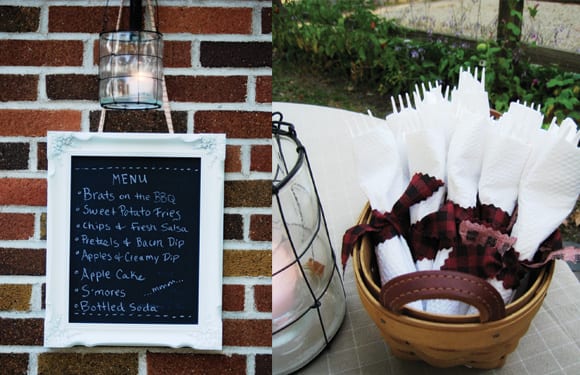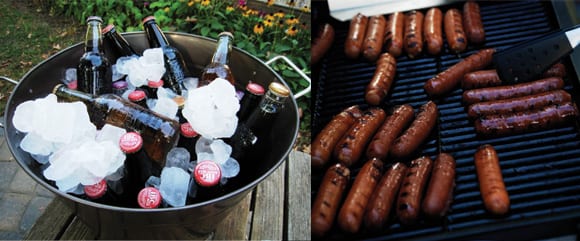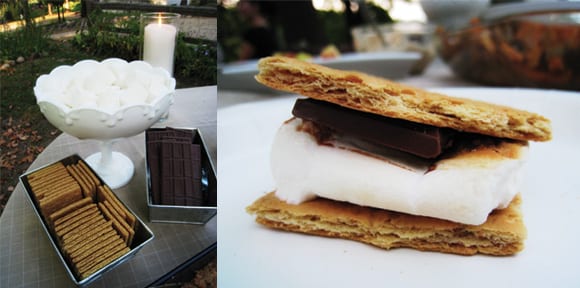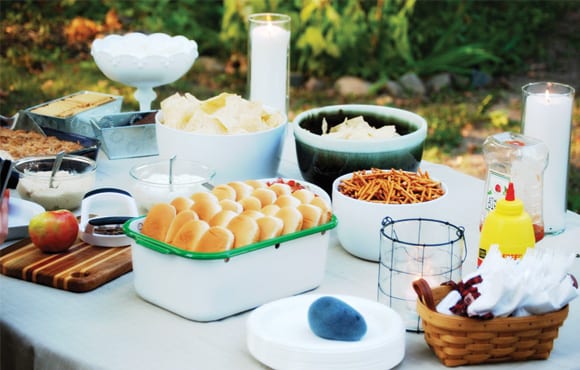 Because I am so in love with this party and find Bethany's style totally inspiring, I asked her to share a bit more about herself. I love her answer…

I am a designer, thinker, home-keeper, gardener, wife, daughter, friend, and creative with a love for simple pleasures: summertime at home, sunshine in the window, fresh baked cookies, and crisp, clean sheets. I grew up in the northwoods, and then settled in a small town on the edge of the city. "Home" is a little Cape Cod that I share with my husband and my yellow lab, Emmy. In my spare time I love to create, sew, learn, explore, photograph, design, cook, write, think, plan, dream, walk, play, and ponder.
(Note: Dear Bethany, I think we may be sisters and not even know it. Only my lab is black and her name is Nina.)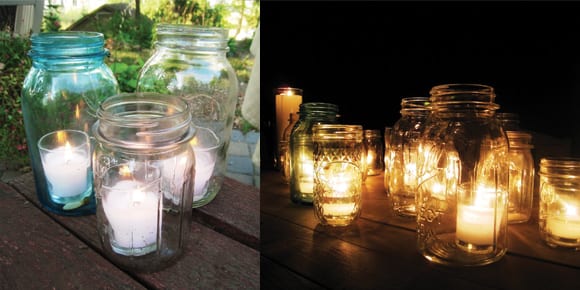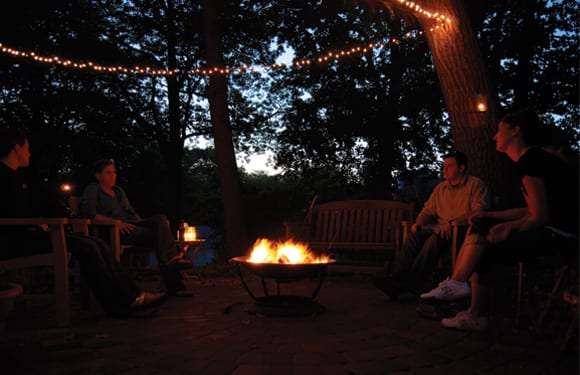 I think it's important to note that Bethany reused the mason jars from her wedding for this party. It has me scheming ways to incorporate all of the milkglass my mother and I collected for our wedding at my next party. Weddings are not the only excuse for a great party, friends, that much I assure you. For more details on this fabulous party and DIY instructions on how to make awesome fabric bunting of your own, check out the Fall Flavors posts at Emmy Lu. Thanks, Bethany!
{Photos from Emmy Lu Design Studio.}