I thought a little DIY inspiration sounded nice for your Monday afternoon so I'm excited to welcome one of my BFFs, Carolynn of Two Brunettes, for a quick and easy tutorial on creating your own flower wrist corsages and hair clips. Carolynn made cute paper flower corsages for each of her bridesmaid for her sunshine yellow summer wedding last year. These would also be great for moms, grandmothers, and other special guests.
Thanks, Cyd, for having me over to visit The Sweetest Occasion! Today I am sharing two simple DIY projects – a paper flower wrist corsage and a pretty flower hair clip. Both are inexpensive, quick and easy – the best kind of DIY project, right? These were so popular at my wedding that I've even made them again for other family members and friends for their weddings!
Paper Flower Corsage
The first step is always to simply play around with the arrangement until you get the pieces arranged in a way you like. Once you have that figured out, you can start getting glue happy!
Base flowers – from Micheals in the scrapbooking section just something to make a large base to hold everything that is going to be on top.
Ribbon – This is where you can get fun and choose a little punch of color, I didn't do this but it is a beautiful touch. Purchased from Jo-Ann Fabrics.
Decorative elements – I collected little touches for a while from various places, crafts stores, antique stores, even my moms basement etc, its fun to cut up old necklaces for the beads, or fun antique earrings!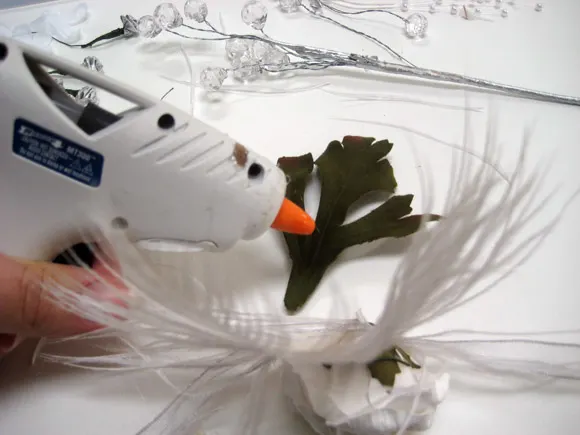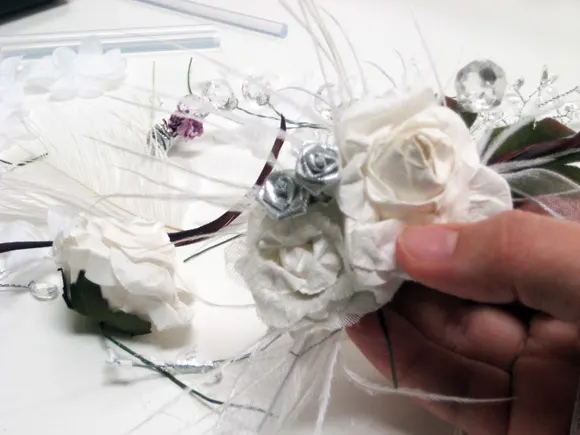 Next, use hot glue to secure all the elements together. Glue the base first, then add the ribbon, and add the decorative elements to the top. Voila! A simple, but super pretty DIY wrist corsage!
Hair Pin
This is VERY simple! You can purchase blank hair clips at any local craft store. For this hair piece I purchased vintage feathers at a local antique shop, and flower from Michaels. As with the corsage, simply play with all the pieces until you have them arranged in a way you like them – once you have the arrangement set, just start gluing everything to the clip! That is it! (Told you this was simple!)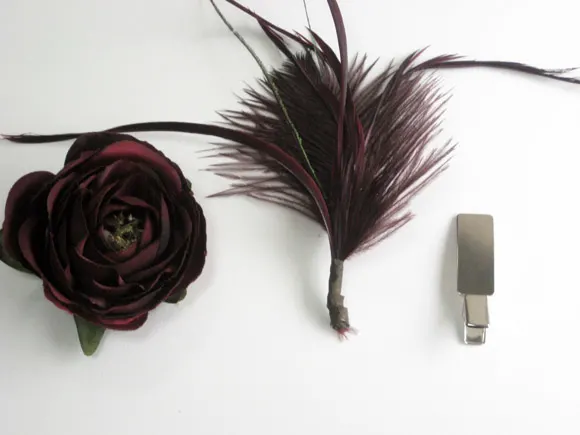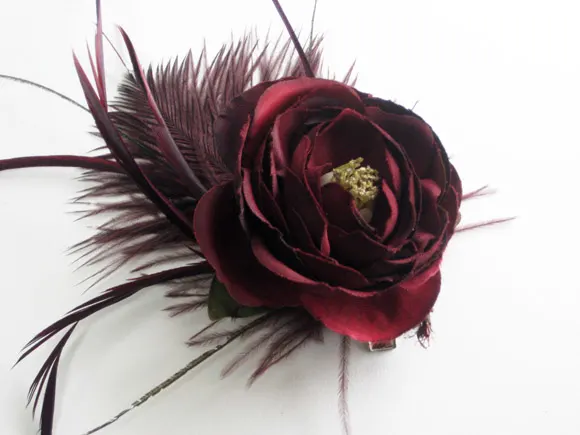 {Photos by Two Brunettes.}