When Becca of the fabulous blog Birthday Girl sent over this amazing party I almost fell out of my seat. This is genius! Becca teamed up with Michele of Cakewalk Baking and hosted a glorious gift wrapping party complete with a gift wrap buffet featuring pretty wraps, ribbon and embellishments. Loads of festive wintery treats made this party a true celebration of the holiday season. Read on for more from Becca!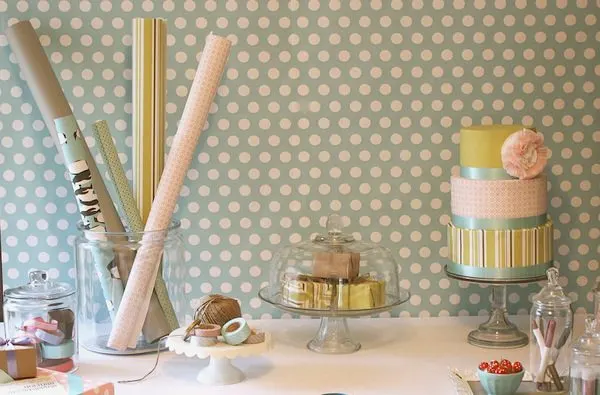 "Wrapping holiday gifts can be a boring chore, often amounting to hours spent on the floor in a sprawl of presents, cursing from the paper cuts and somehow always running out of tape. (Or is that just me?) Now turn that chore into a party, and you've got something much more fun and festive. It's hard to feel frustrated when you're sipping a cup of hot cocoa, sharing supplies and creative wrapping ideas among friends.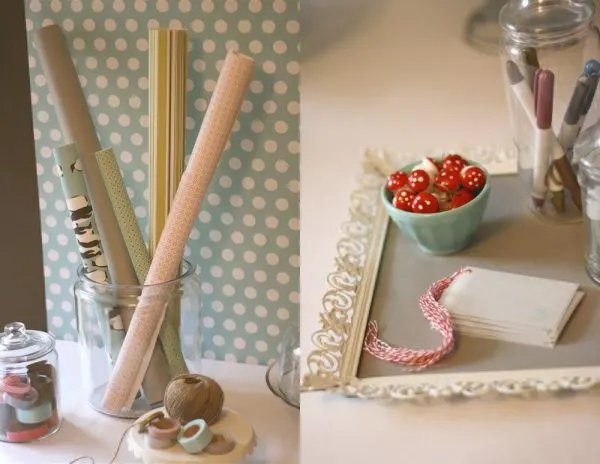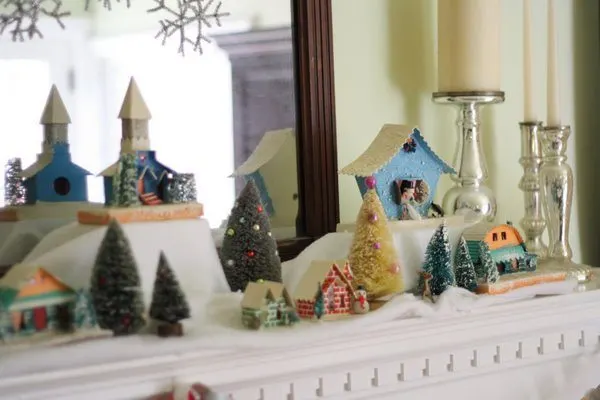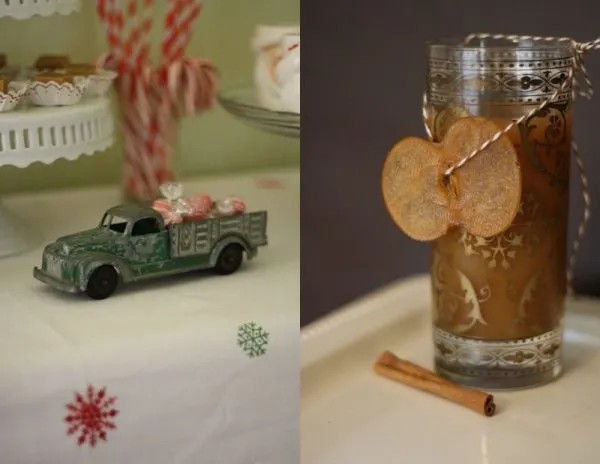 Last weekend, myself and Michele of Cakewalk Baking joined forces in a collaborative effort to bring this idea to life. We put a new spin on the dessert table by creating a gift wrap buffet of papers, ribbons, tags and accessories, complete with a paper cake! We chose a fresh winter color palette of blue, green, rose and silver, and I purchased the paper goods from Paper Source to make sure the patterns complimented one another. Embellishments included baking twine, cupcake liner flowers, glitter letters, happy tape, antique keys, small mushrooms, metallic markers and a variety of colorful gift tags.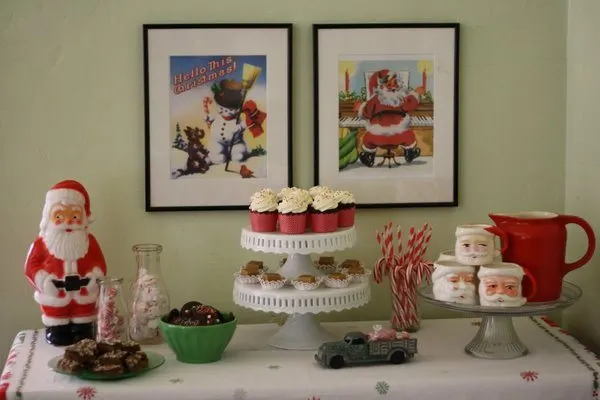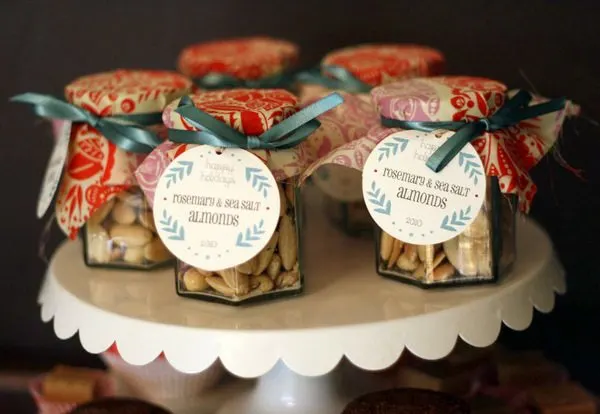 Michele did all the baking and outdid herself with a gorgeous selection of ginger cookies, fudge, white chocolate peppermint cupcakes, and melt in your mouth butter toffee. (Be sure to check out her blog in the next few days for some of these delicious recipes!) The cake stands and vintage holiday decorations are all part of her enviable personal collection, too. In addition to the sweet treats, we offered an assortment of seasonal beverages including hot apple cider, cocoa and a delicious champagne cocktail – guaranteed to get anyone in the holiday spirit. I created the homemade sea salt & rosemary almonds, packaged in glass jars to take home as favors. The wreath on the tag was a free download from Nonpareil Magazine, and I incorporated my own holiday layout and crafted the tags using a circle cutter.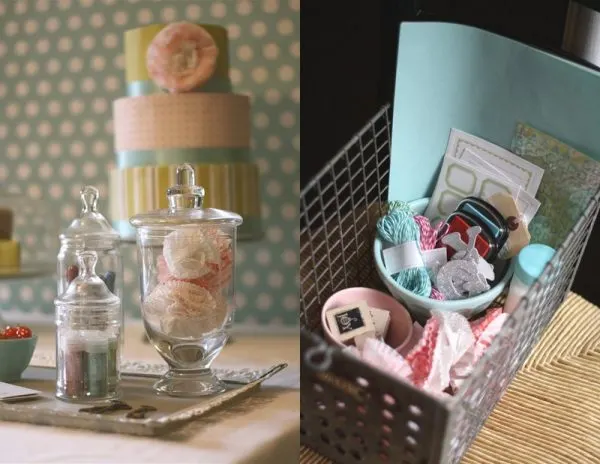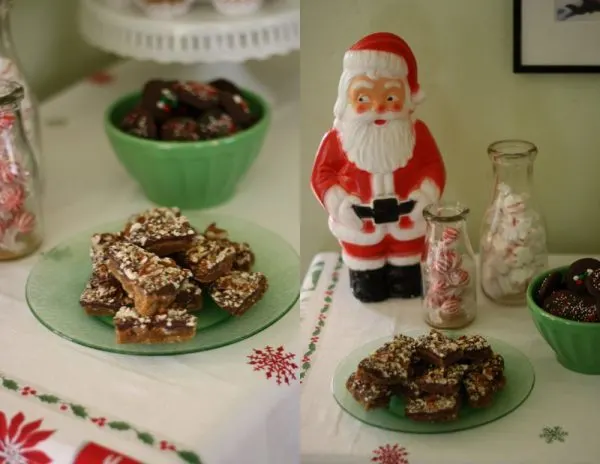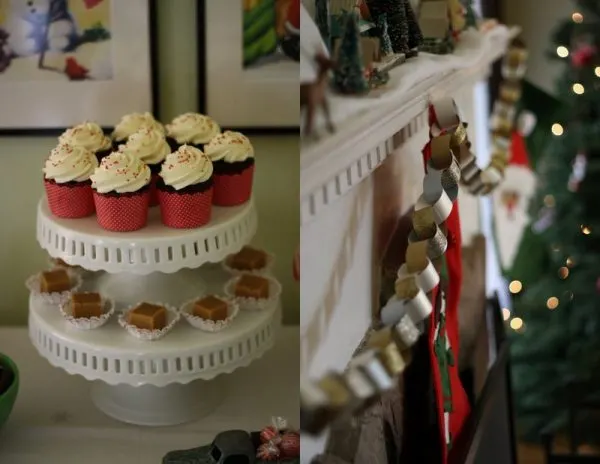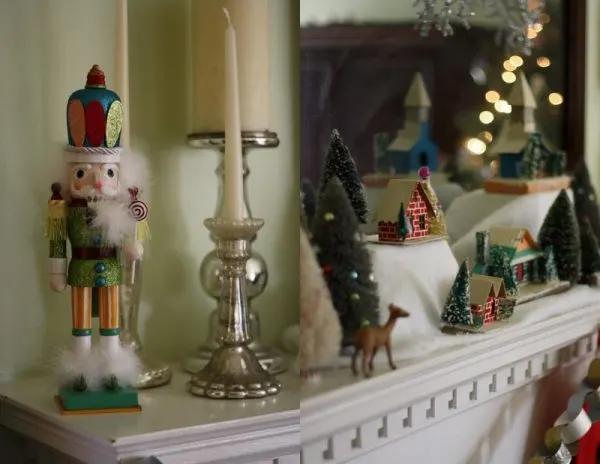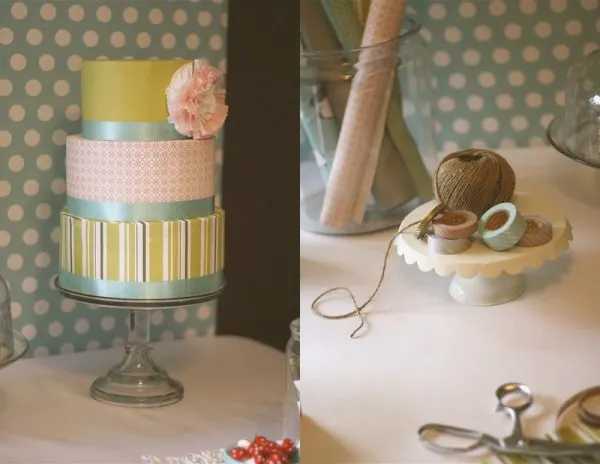 It was a perfect December afternoon, and aside from an unfortunate shortage of scissors, a good time was had by all. Perhaps more importantly, we all went home with an item checked off that big holiday to-do list!"
I told you this was genius. Thank you so much for sharing, Becca! I will definitely be stealing this idea in the future.
{Photos by Birthday Girl.}