On Friday I shared the gold glam Valentines Day table I put together and today I'm excited to share a punchy red and purple variation of the design, perfect for a really bright and cheerful Valentines Day celebration. I thought it would be fun to show how the same basic design elements (in this case the white linens, metallic gold paper runner and simple white vases and tableware) can be given a dramatically different look just by switching up a few details.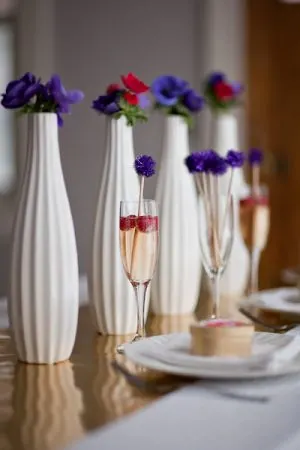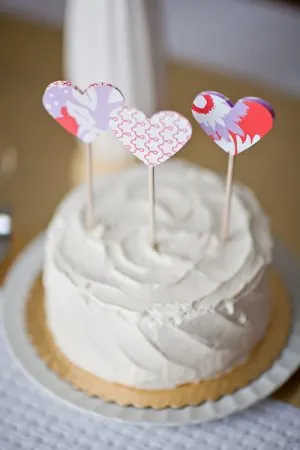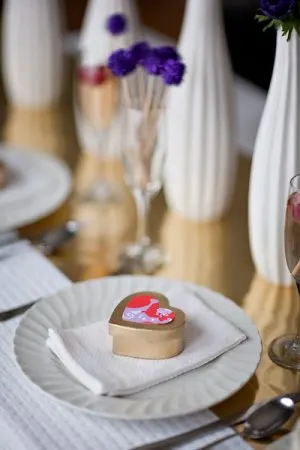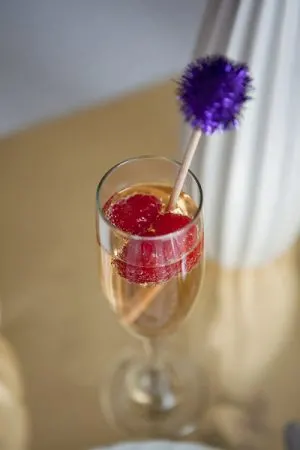 For this design I included DIY drink twizzle sticks, made simply by hot gluing metallic purple pom poms to the end of short sticks. Hearts cut out of double-sided gift wrap from Smock added lots of color and unexpected pattern. Using a paper punch, I punched out hearts and glued them to skinny dowels for a trio of cake toppers and used hearts atop metallic gold spray-painted favor boxes to tie the colors together. With the addition of rich purple anemones, the look was completely transformed. How can you put this to work for you? Buy linens and tableware in a neutral color in shapes and textures that you like, then switch up your look when entertaining with different color accessories. It really is that easy.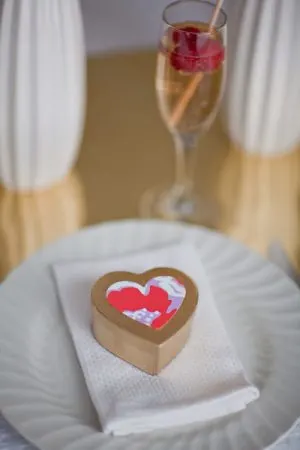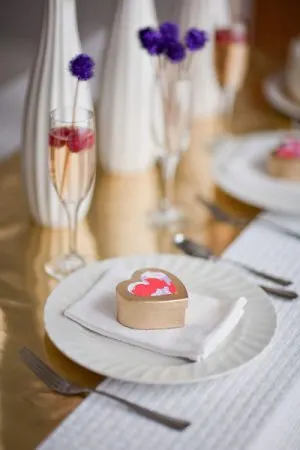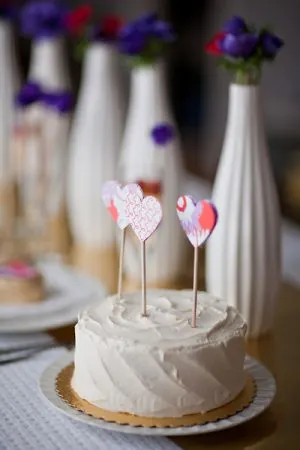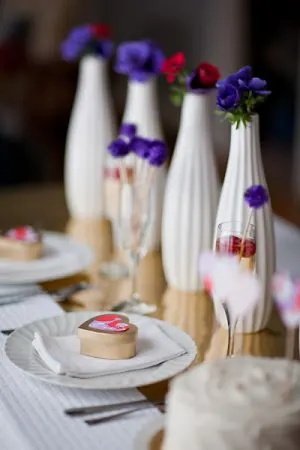 Just for fun, I'd thought it would be cool to share my design sketch for this project alongside the finished product. My typical design process usually starts with hunting around for inspiration in the form of a color palette or element I want to include. In this case, the shiny gold paper and the red and purple patterned gift wrap were my starting point. From there I sketch out some basic ideas and then go shopping for DIY materials and props. With a bit of luck, it all comes together as planned.
{Photos by Megan Dailor for Sweet Occasions Studio.}