Yesterday I told you a little about the sleek and modern Valentines Day shoot I styled for a fun little design challenge over at A Subtle Revelry. Today I'm happy to share the details with you! I collaborated with my girl Megan on this shoot, which never fails to be a great time. Megan is a kick ass photographer by day and I'm pretty sure she moonlights as a rock star by night = she's my kind of gal. Needless to say, when we get together it's all fun, which is exactly what this shoot was all about.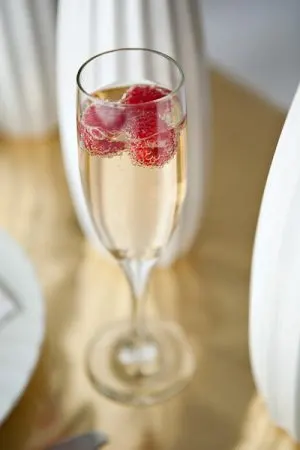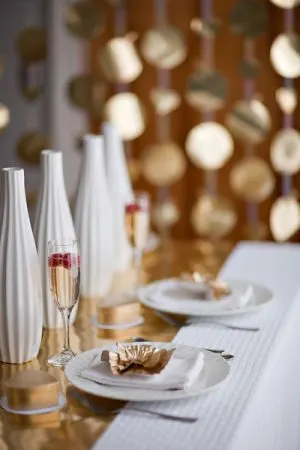 When thinking of the timing of the design challenge, I immediately felt inspired to create a modern, sleek Valentines Day look and I wanted the interest to be in the textures with simple, handmade details to make it one of a kind. I found a great metallic gold gift wrap at Hobby Lobby that was the perfect weight to use as a table runner and for crafting, ultimately becoming the inspiration for the glittery details incorporated throughout. I mixed the reflectivity of the gold paper with textural white linens, sculptural white vases and simple white tableware.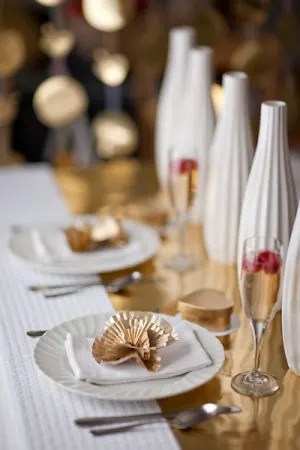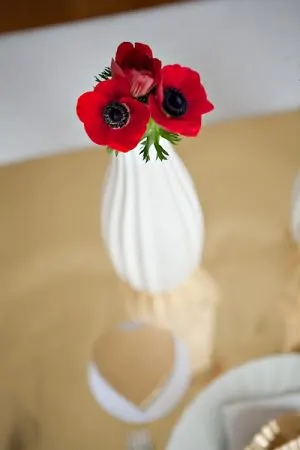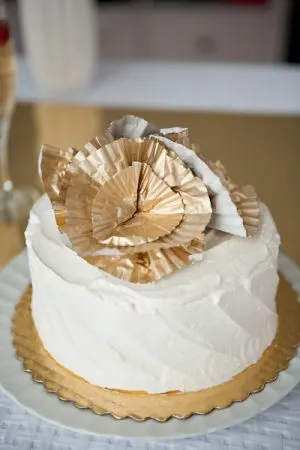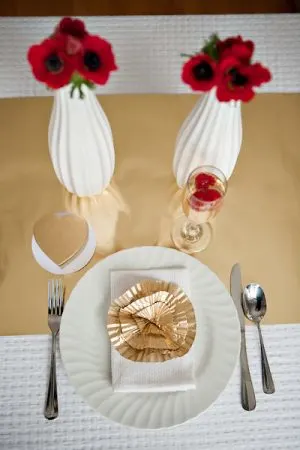 White and gold took center stage, with bright pops of color from vibrant red anemones and a few raspberries tossed in with the champagne. The overall look is sleek, modern and a touch glitzy without a lot of fuss. Simple favor boxes – just cardboard boxes spray painted gold – and cupcake liner flowers (see Carter & Cook's blog for a DIY how-to) at each place setting are fun extra touches. Along with a cluster of paper flowers on top of a simple white cake from famed local grocery store Wegmans, the look is fresh and polished.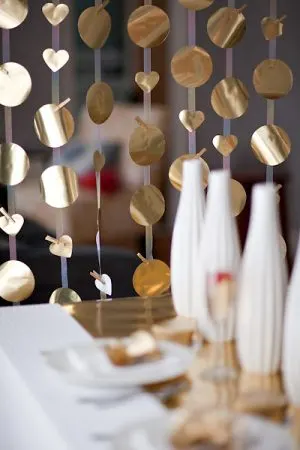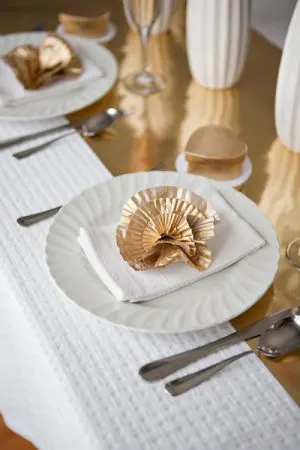 I envisioned this as a romantic Valentines Day dinner for two or the inspiration for a great sweetheart table at a wedding, but it would also make a lovely little proposal dinner, too, don't you think? (By chance there are any guys reading, you should really take me up on this – she'd be blown away.) There is still time to leave a little love on the official contest post, so please pop over if you feel so inclined! xoxo
{Photos by Megan Dailor for Sweet Occasions Studio.}