Throughout October I'm going to be taking some time off and have invited a handful of my favorite bloggers to join us. Today the awesome Andrea Hubbell is joining us! Andrea is a commercial photographer and the founder of Bella Eats, one of my favorite food blogs. She's also co-creator of Beyond the Flavor, alongside Sarah Cramer Shields. If you love food and entertaining as much as I do, you absolutely must check out her work!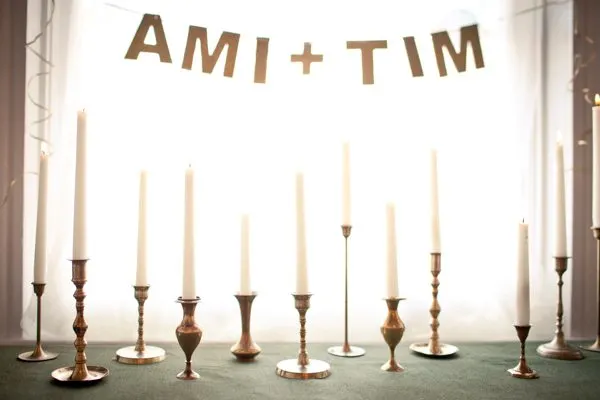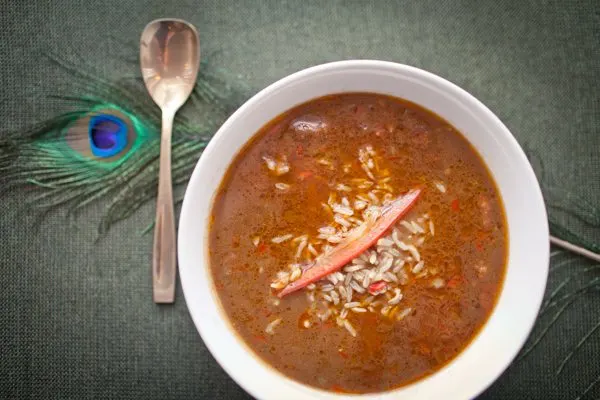 Friday lunch at Galatoire's is a New Orleans tradition. Locals gather to celebrate birthdays, anniversaries, reunions…any excuse for a party. Brian and I visited our beloved NOLA last January with two dear friends, and Galatoire's was the first stop on our agenda after our Friday morning arrival. We arrived late and were seated at 2pm after cocktails in the upstairs bar. The first thing you notice when you walk into the dining room is the revelry. People up and about and shouting across the room. We sang 'happy birthday' at least six times to guests dressed in their absolute best. Feathered hats, sequined gowns, dripping jewels…you can't overdress at Galatoire's! Our table was in the back corner, the perfect place to view the festivities surrounding us. We were there for hours, and were even invited back to the kitchen to photograph the chef and his team. It was the most incredible experience, one I'll never forget. You can read all about it here!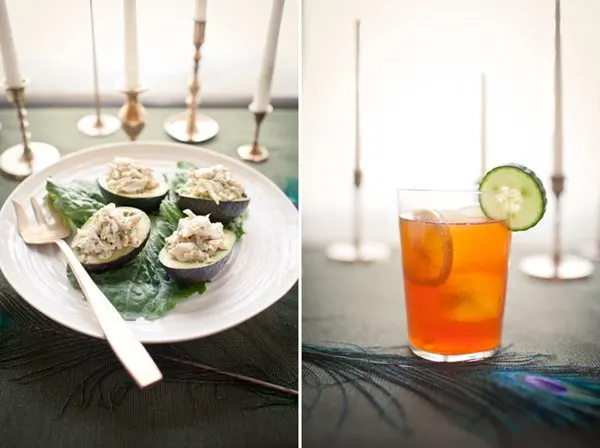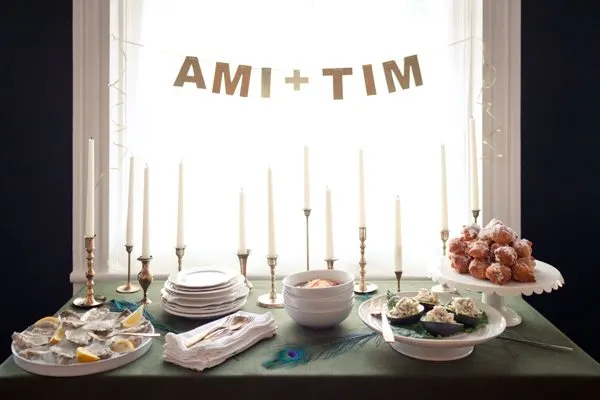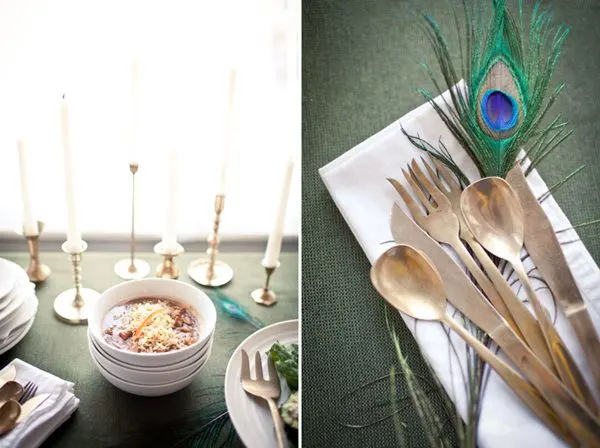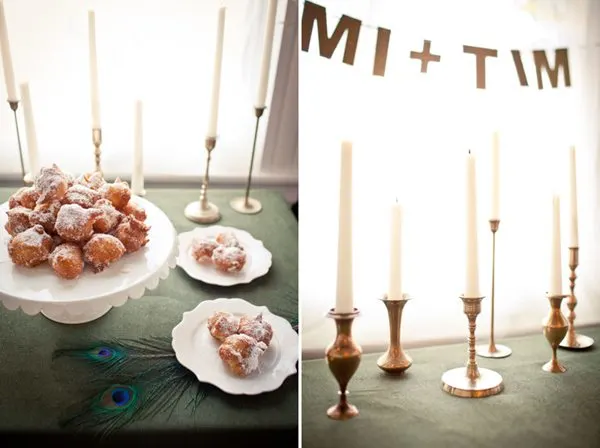 Inspired by our time at Galatoire's, I came back to Charlottesville and styled a bridal brunch around the famous Friday lunch theme. The menu included chicken and andouille gumbo, crab salad stuffed into avocado halves, oysters on the half shell, Pimm's Cup cocktails and, of course, beignets. The table decor was influenced by the color scheme at Galatoire's…deep emerald green, white, and gold. The brass candlesticks I found at a local junk shop, the tablecloth was a remnant from a local fabric store, and the letters I cut out myself from glittery paper, but can be found better-crafted on Etsy.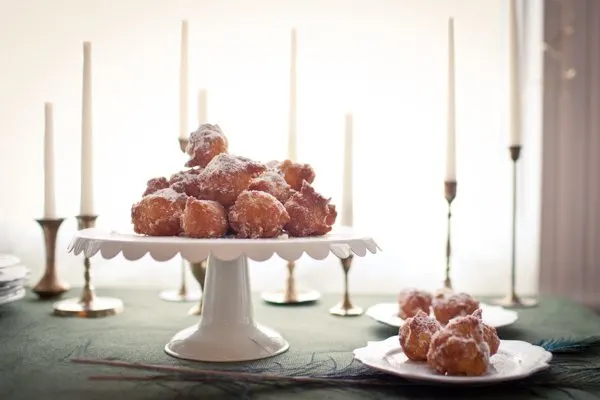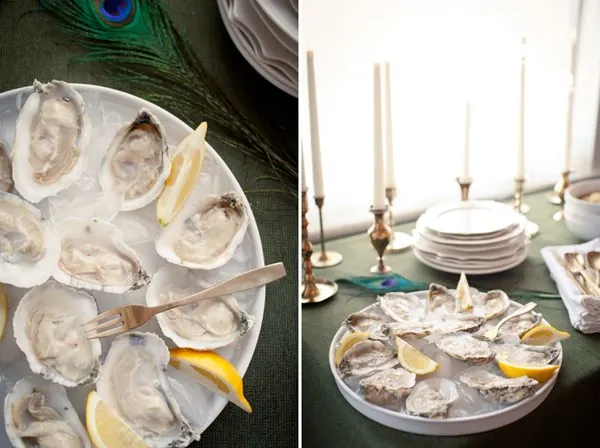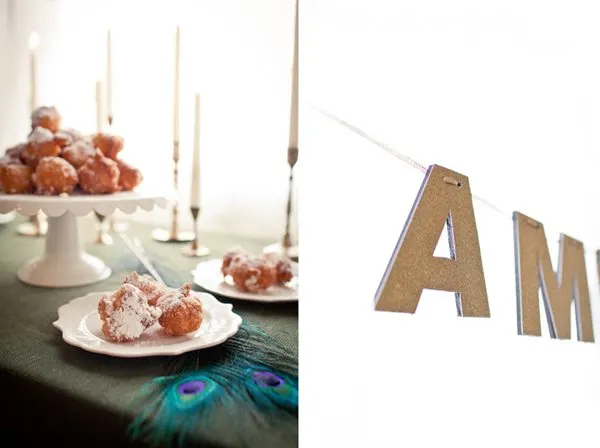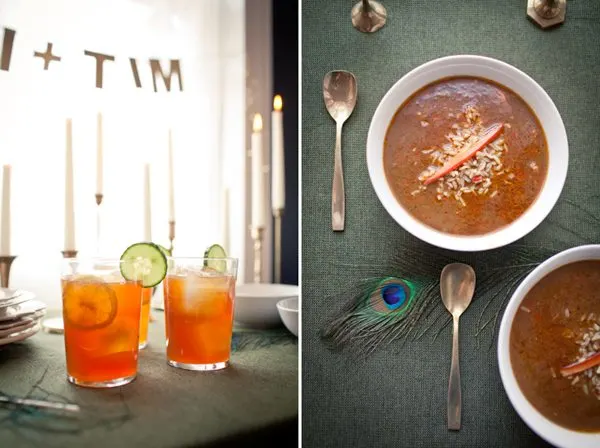 Want to host your own Galatoire's inspired luncheon or bridal shower brunch? Get all the recipes below or download them in printable form here. Happy lunching!
Pimm's Cup
Similar in taste to a good, Southern iced tea, these refreshing cocktails are a hit at the lunch hour!
Fill a 12oz cup with ice.
Add 2 oz Pimm's No. 1, juice from 1 lemon, and 6-8oz of 7Up, to taste.
Garnish with lemon slices and english cucumbers.
Gumbo
A New Orleans staple. Because the rest of our lunch menu is filled with seafood, I chose a chicken and andouille sausage version as our main course.
2 lbs boneless chicken thighs with skin
1 cup finely chopped onions
1 cup finely chopped red bell peppers
3/4 cup finely chopped celery
vegetable oil for frying the chicken
1/2 cup all purpose flour
7 cups of high-quality chicken stock
1/2 pound raw andouille sausage, casings removed, cut into 1/2 inch bites
salt, garlic powder, cayenne pepper
1 tsp minced garlic
1. Dry the chicken thighs thoroughly. Rub them down with a generous amount of salt, garlic powder, and cayenne pepper on all sides. Let stand at room temperature for 30 minutes.
2. Meanwhile, in a medium-sized bowl, combine the onions, bell peppers, and celery; set aside.
3. In a large heavy skillet heat 1-1/2 inches or oil until very hot (375-400 degrees). Fry the chicken thighs, in batches, until golden brown on all sides and meat is cooked, about 5-6 minutes per side; drain on paper towels.
4. Carefully pour the hot oil into a glass bowl, leaving as many of the browned particles in the pan as possible. Scrape the pan bottom with a metal whisk to loosen any stuck particles, then return 1/2 cup of the hot oil to the pan.
5. Place the pan over high heat. Using a long-handled metal whisk, gradually stir in the 1/2 cup of flour. Cook, whisking constantly, until the roux is the color of dark chocolate, about 2-1/2 to 4 minutes, being careful not to let it scorch or splash on your skin. Remove from the heat and immediately add the vegetable mixture, stirring constantly until the roux stops getting darker. Return the pan to low heat and cook until the vegetables are soft, about 5 minutes, stirring constantly and scraping the pan bottom well.
6. Meanwhile, heat the stock over medium heat in a separate saucepan. Add the hot stock to the roux, and bring the mixture to a simmer. Stir in the andouille and minced garlic. Simmer uncovered for about 45 minutes, stirring often.
7. While the gumbo is simmering, cut the cooked chicken into 1/2 inch bites. When the gumbo has simmered for 45 minutes, add the chicken and adjust the seasoning with salt and pepper. Serve with a scoop of Baked Rice mounded in the middle of the bowl.
Baked Rice
This has become our favorite way to prepare rice. Makes 6 cups, enough for 2 batches of gumbo.
2 cups uncooked rice (not instant)
2-1/2 cups high-quality chicken stock
1-1/2 tbsp very finely chopped onions
1-1/2 tbsp very finely chopped celery
1-1/2 tbsp very finely chopped red bell peppers
1-1/2 tbsp unsalted butter, melted
1/2 tsp salt
1/8 tsp garlic powder
Pinch of cayenne
In a 5x9x2.5 loaf pan, combine all ingredients and mix well. Seal pan snugly with aluminum foil. Bake at 350 degrees until the rice is tender, about 1 hour 10 minutes. Serve immediately.
Crab Salad-Stuffed Avocados
Crab and avocado are a perfect match. You may want to loosen the avocados in their skin for easy eating.
1/2 cup mayonnaise
2 tsp dijon mustard
2 tbsp finely chopped green onions
2 tsp capers, drained and chopped
1/2 cup finely-chopped celery
1 pound jumbo lump crab meat
salt, freshly ground black pepper
4 ripe avocados, cut in half
1. Whisk the mayonnaise, mustard, green onions, capers, and celery together. Gently fold in the crab, making sure to evenly distribute the mayonnaise mixture. Season with salt and pepper.
2. Fill the avocado halves with crab salad and serve immediately.
Oysters
Served simply, on the half-shell with a squeeze of lemon. Provide crackers and cocktail sauce for those wary of slurping straight from the shell.
Orange-Scented Beignets
The hint of citrus in these crispy, donut-like treats makes them really special. Wait as long as you can to fry the dough, preferably shortly before your guests arrive, and hold off on sprinkling with powdered sugar until you're ready to serve.
1 cup water
1/2 cup unsalted butter
1 tsp plus 1 cup granulated sugar
1/4 tsp fine sea salt
finely grated zest of 2 oranges
1 cup, plus 2 tbsp all-purpose flour
4 large eggs
1 tsp vanilla extract
vegetable or peanut oil, for frying (you'll need about 1/2 a gallon, if frying in a pan. less if using a deep fryer)
confectioner's sugar, for serving
1. Line a baking sheet with paper towels and set aside.
2. In a medium saucepan, combine the water, butter, 1 tsp sugar, salt, and half the zest. Bring to a rapid boil. Remove the pan from the heat and add the flour, stirring vigourously. Return to low heat and stir until completely combined and the dough pulls away from the sides of the pan and forms a ball. Remove from the heat.
3. Add the eggs, one at a time, mixing well after each addition. Beat until smooth and glossy. Add the vanilla extract.
4. Pour the oil into a heavy-bottomed saucepan or a deep fryer. Heat to 370 degrees. Using an ice cream scoop or a spoon, drop the dough by teaspoonfuls, working in batches, into the hot oil. Cook until golden brown, turning once, 3 to 5 minutes. Remove with a slotted spoon to the prepared baking sheet.
5. Combine the remaining zest and sugar in a bowl. While the beignets are still warm, roll them in the sugar mixture. Just before serving, sprinkle with powdered sugar.
{Photos, recipe + menu by Andrea Hubbell.}