Today we're going to talk about these pretty little canvas magnets. Very much a project born from wandering the aisles of my local craft store in search of inspiration, I stumbled upon these tiny little canvases and thought they'd make perfect magnets! This is such a sweet and simple project. It's an easy way to add a little style to the clutter of stuff consuming the front of your fridge or bundled together they'd make a sweet little homemade holiday gift, too! Best of all, they're super simple to make and you can personalize them however you'd like!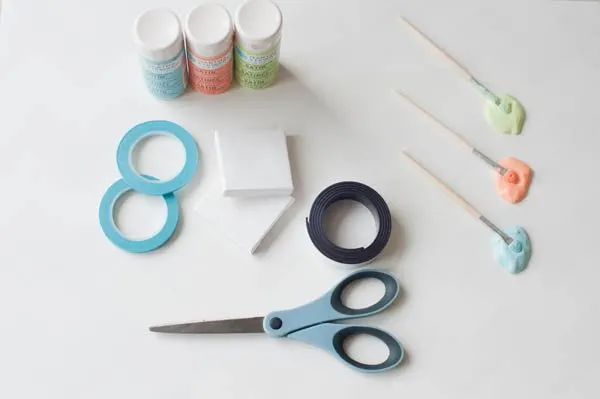 Supplies –
Mini canvases (I found mine at Michaels)
Thin patterning tape in multiple widths (mine is from Martha Stewart Crafts)
Acrylic craft paint
Mini paint brushes
Adhesive-back magnet strips
Scissors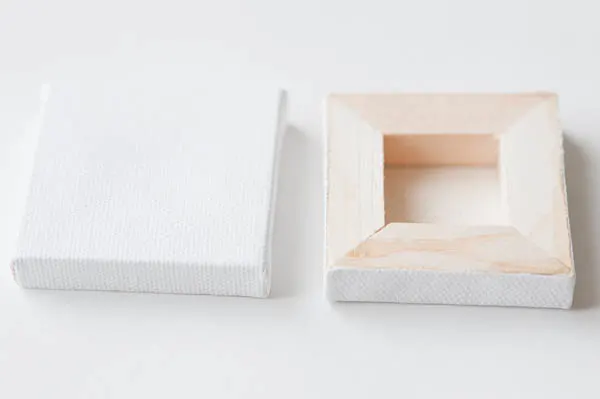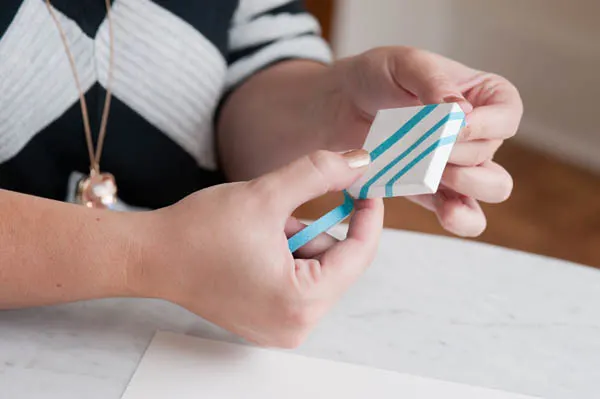 This patterning tape comes in several thin widths and works just like painter's tape, only on a small scale. The first thing I did was use the tape to create patterns on my little canvases. I'm a big fan of stripes (ok, a huge fan of stripes) so I kept my patterns graphic and fairly simple. You could play around with all kinds of patterns though. Chevron, argyle, plaid. So fun!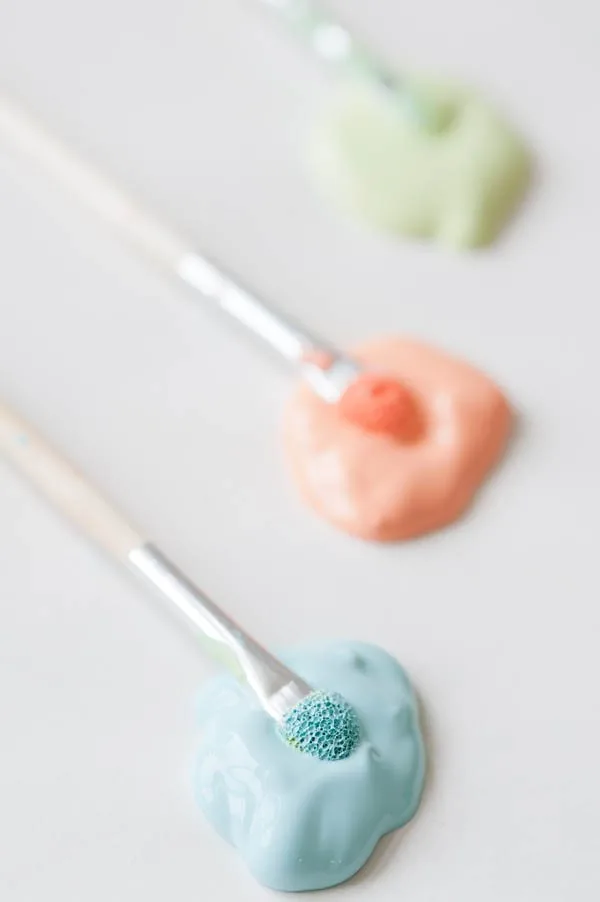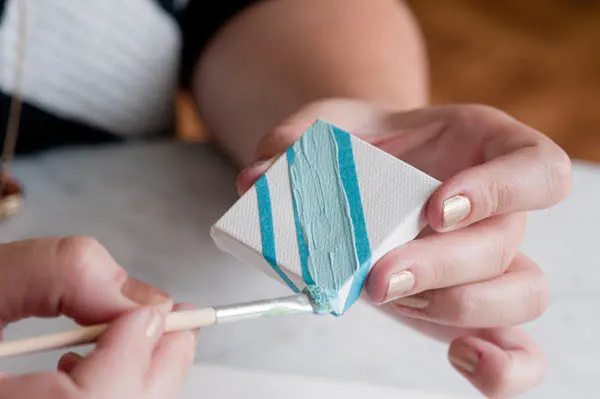 Next up, I loaded up my mini paint brushes and went to work painting my canvases. I used Martha Stewart Crafts paint in the colors Wild Salmon, Scallion and Surf, all in the satin finish. I applied a liberal coat, but didn't let it get too thick or gloppy. After applying the paint, I just waited a few minutes and then carefully removed the tape. From there I let the canvases sit for several hours until they were completely dried.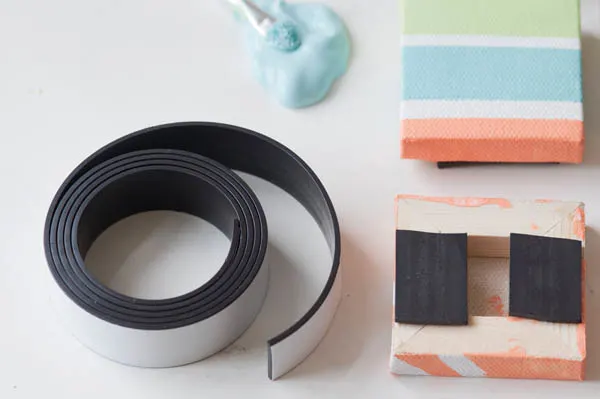 After the canvases are completely dry, you're basically done! You'll just need to cut a couple of small strips of your adhesive-backed magnet and adhere it to two sides of the magnet. I found applying a bit of pressure to the magnet for a few seconds helped ensure that the adhesive held fast to the back of the canvas. And there you have it! A super simple and sweet project to add a little fun and personality to your kitchen or to make someone you love smile.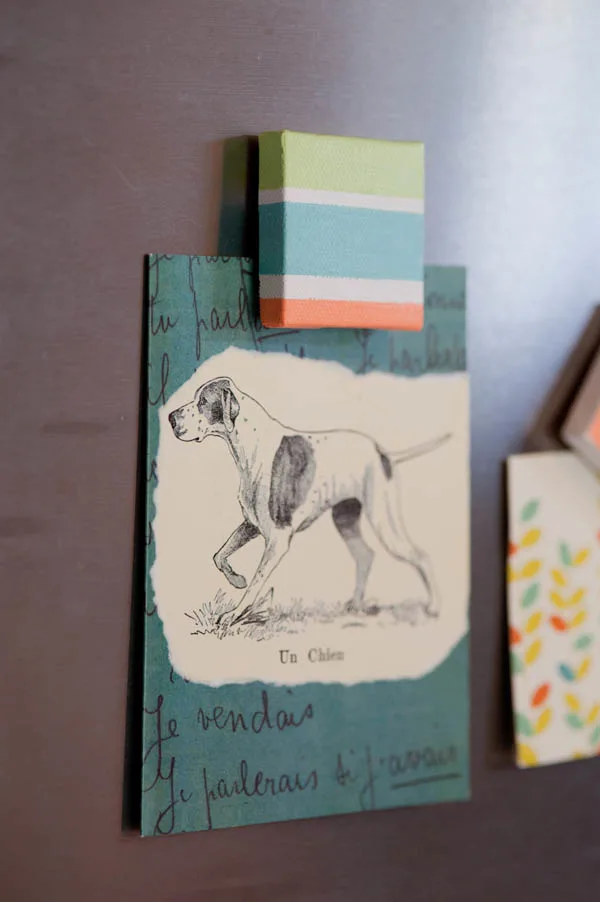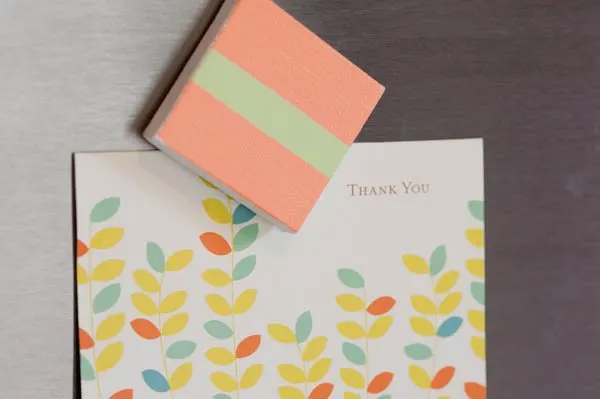 {Design + styling by Cyd Converse for The Sweetest Occasion. | Photos by Alice G. Patterson.}
The fine print: Please link with love! As with all of our posts, DIY projects featured on The Sweetest Occasion may not be copied, distributed or reproduced without express written permission. Love and links are always appreciated! If you'd like to share this post, please link to this post directly for the DIY tutorial and do not include the instructions in your own post. Thanks so much! xoxo