I am so excited today to be bringing you my sassy spring love list! The folks at Diet Pepsi asked me to share a handful of my favorite things for spring in celebration of sunshine, sass and the all-new Diet Pepsi can designed by famed HGTV designer Vern Yip. Spring is the perfect time to freshen things up – whether it be your wardrobe or your home – and you know I love any excuse to talk about pretty things I'd love to welcome home to live with me! Like a perfectly flirty aqua sundress, a splashy makeup case or a fabulous necklace. To see more of what people are loving and how they're taking advantage of spring, follow along on Twitter with the hashtag #loveeverysip – many thanks to Diet Pepsi for asking me to join in the fun!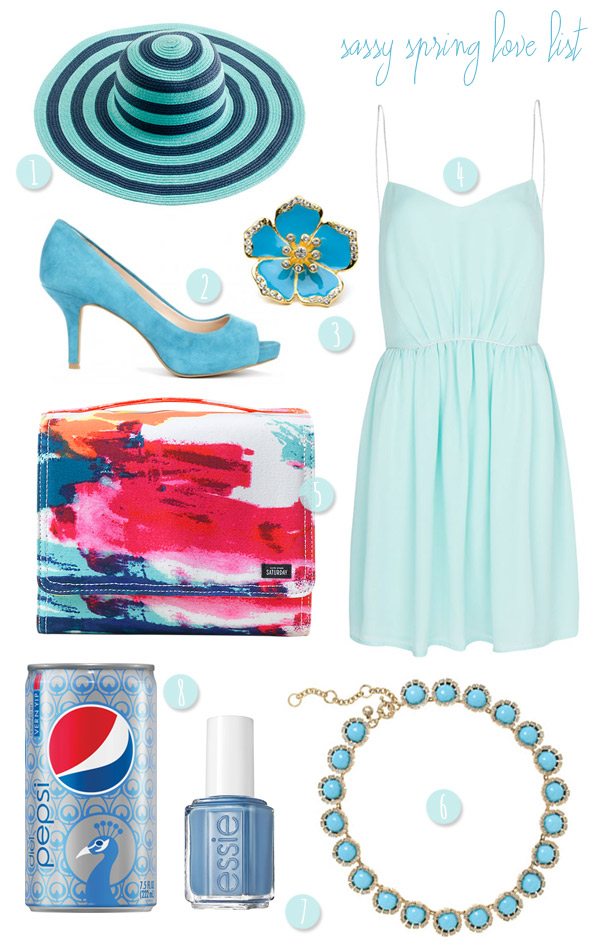 1: Striped straw hat | 2: Suede pumps | 3: Hibiscus ring | 4: Sundress | 5: Makeup case | 6: Necklace | 7: Nail polish | 8: Limited edition Diet Pepsi can designed by Vern Yip
This post was sponsored by Diet Pepsi. Read more about our editorial policies.