This post was sponsored by Keep. Thank you for supporting the sponsors that so generously help The Sweetest Occasion keep on keepin' on!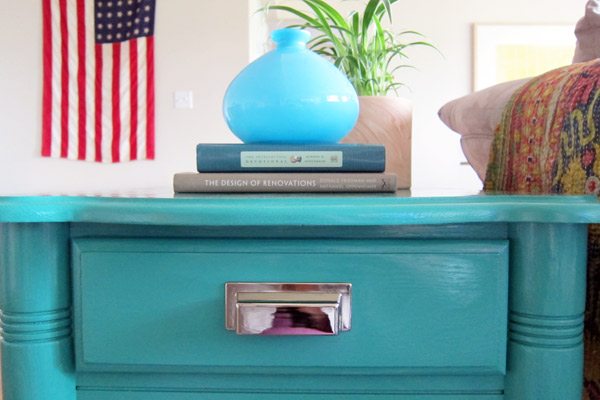 A while back when I shared the tour of our new digs, I mentioned having a whole lot of DIY projects to tackle, namely a few furniture makeovers. Recently I took on the task of giving our living room end tables new life. I purchased the pair for $50 on Craigslist a couple of years ago, always intending to paint them and somehow just never got around to getting the job done. The lines of the tables are fabulous but the stained yellow oak finish? And the wood hardware? Let's just say they left much to be desired. So after much debate I settled on a turquoise paint color in a super high gloss finish for a lacquered look that I'm kind of obsessed with at the moment.
The finish on the tables didn't have much of a gloss to it so after doing an abundance of research I determined I could likely get away without sanding down the original finish. I did give everything a really good scrubbing with soap and water and then, once dry, finished up by cleaning everything again with Windex and a lint-free cloth to remove any oil residues that might be lingering. I also removed the original hardware and filled the holes with a basic wood filler on each drawer because I had picked out the new hardware in advance and new the hole placement was slightly off. I also marked off the areas I didn't want to get painted with painter's tape, which was essentially just the inside edge of the drawer opening to help ensure the drawer would still function smoothly.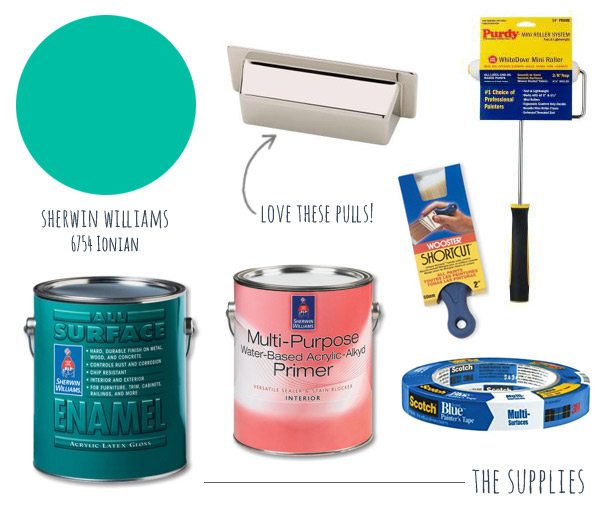 [The Supplies: Sherwin Williams 6754 Ionian in high gloss enamel | Sherwin William's Water-Based Acrylic-Alklyd Primer | Polished nickel hardware by Martha Stewart for Home Depot | 2″ Wooster brush | Purdy mini roller with high density foam covers | painter's tape.]
After conducting a ton of research on how to paint furniture and referring to the advice of the incomparable furniture makeover queen Jenny of Little Green Notebook, I decided on using an enamel to get the coverage and high gloss finish I really desired for these end tables. I first used a mini high density foam to apply a single coat of primer, using the primer that was recommended to me by the folks at Sherwin Williams to accompany the enamel I was using. The key with primer is to get a light, even coat and the foam roller got the job done perfectly. After allowing the primer to dry thoroughly for several hours, it was onto the paint!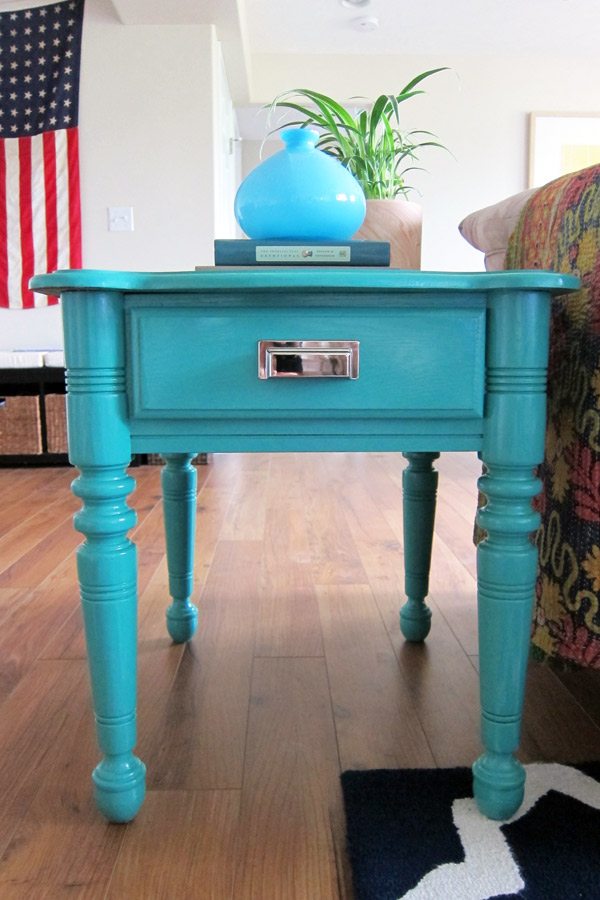 I used a small 2″ paint brush to apply the paint. The enamel is super thick, more like a glue consistency than what you'd associate with your basic latex paint, which has a self-leveling property that aids in making paint strokes virtually disappear as the paint dries. For me, one coat was enough, I just needed a bit of touch up to hit a few spots of the leg details I had missed the first time around. Apply the enamel in long, even strokes and resist the urge to go back over it repeatedly with your paint brush. Jenny likens it to applying nail polish, where typically you make one stroke down the length of the nail and then just let it be. That's the perfect analogy and the technique worked brilliantly for me.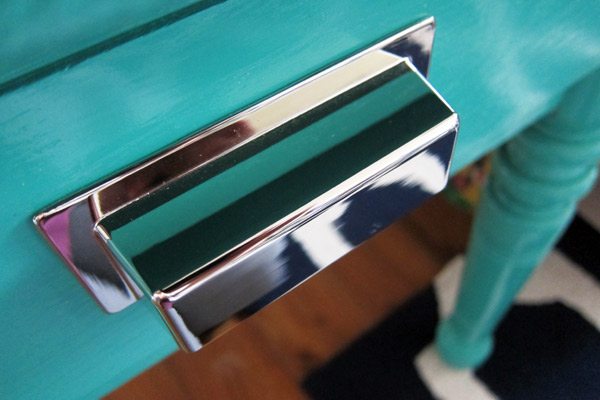 Once the paint was applied, I allowed it to set and cure for a good four or five days before installing the new hardware. That was the toughest part! I had no interest in being patient, but I also didn't want to mess with the pretty new finish of the tables either. I went with polished nickel bin pulls that I saw at Home Depot – they're from the Martha Stewart line and I love the classic yet modern look. The pairing of the polished hardware and high gloss finish? It's kind of amazing, even if I do say so myself. To install them I simply measured to mark where the holes needed to be and then drilled a hole with a small bit before simply attaching each drawer pull with the supplied screws.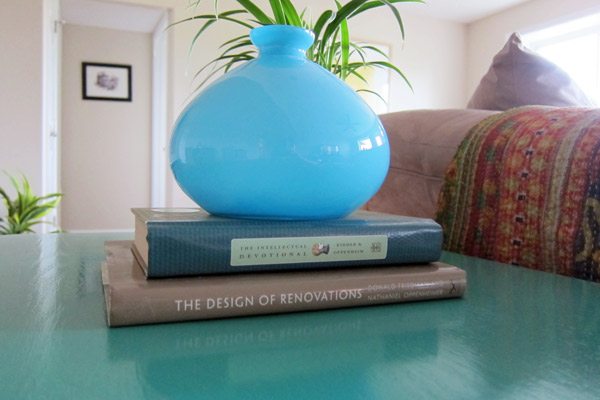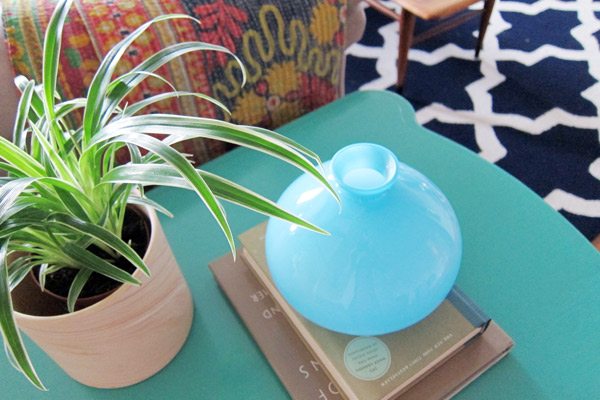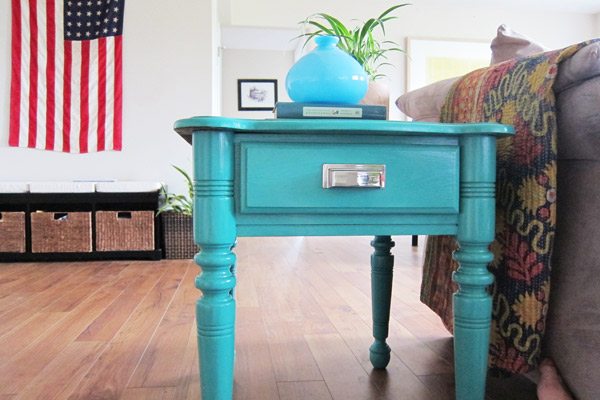 And that's it! Now we have two awesome new tables that add a gorgeous punch of color to our living room. And the best part? With the original Craigslist purchase and all of the supplies for the paint makeover, I spent less than $100 and have loads of paint and primer leftover to tackle another project. Paired with our new rug and accessories, the tables really help pull the room together. We still have a ways to go to get everything completely settled around here, but once we're at that point I'll be sharing an exhaustive home tour with all the details from each room. I can't wait!

[Photos by Cyd Converse for The Sweetest Occasion.]
This post was sponsored by Keep. Read more about our editorial policies.