Whether it's inviting a group of friends over for a football game or an impromptu fall bonfire in the backyard after dinner, I always feel like I do more entertaining in the fall. Sure, summer has a bounty of excuses to get together, but because there are so many parties and celebrations happening, I often feel like we're attending more than hosting. Let's face it, fall parties are inherently festive. When it's chilly and you can crowd together inside around freshly baked treats and coffee and warm spiced rum in a mug, well, there's a not a thing in the world to complain about if you ask me. It should be noted, by the time we're back here on Monday it's going to officially be fall…even though today is supposed to top out in the mid-80s. Nevermind all that, I'm officially over bemoaning the end of summer and embracing fall in all her glory.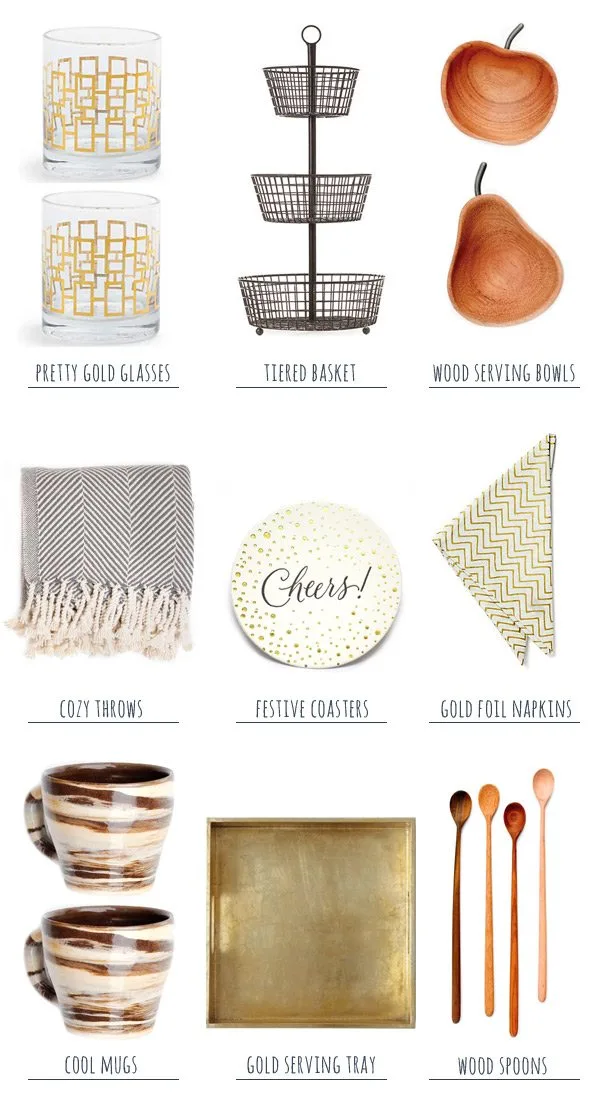 I'm dubbing this fall the year of wood and gold! I am wild about this pairing right now. Wood grain has a warmth that feels perfect for the season and with a subtle touch of glam from the gold, the look is beautiful without getting carried away with itself. Now, I should note. I don't go out every season and buy all new entertaining pieces. That said, I always pick up a few things along the way throughout the year at flea markets, online sales or yard sales so I have an ever-growing rotation of favorite essentials for each season. In the fall, I definitely gravitate more toward certain items than, say, the big pitchers and colorful margarita glasses I might pull out in the summer. Make sense? At any rate, here are just a few of the lovely things I think are just perfect for fall parties. Keep it soft, warm, and textural for fall. The season practically begs it of you.

[Shop: Gold glasses | Tiered basket | Wood bowls | Throw blanket | Coasters | Gold foil napkins | Mugs | Gold serving tray | Wood spoons.]
This post includes affiliate links. Read more about our editorial policies.