Now that you've got your cocktail all picked out for tonight's Halloween festivities, let's talk nibbles! Specifically, the oddest looking beet pickled deviled eggs. When on a recent trip to Atlanta for business, myself and a few other bloggers were chatting about how amazing deviled eggs are. Do you realize – everybody loves deviled eggs! (Ok, ok, maybe not if you're vegan. But still.) I personally love deviled eggs because they're so easy to make, you can switch up the flavor in a million different ways, and they always disappear at parties in a flash. Today's recipe mixes up the classic with the same amazing beet color and flavor of this morning's cocktail recipe, resulting in a festive little snack everyone will love. Yum!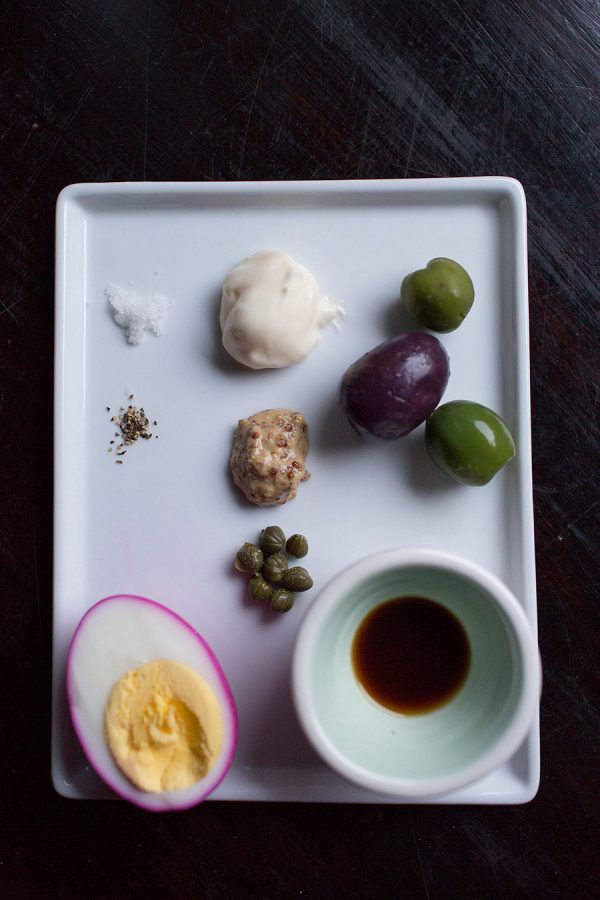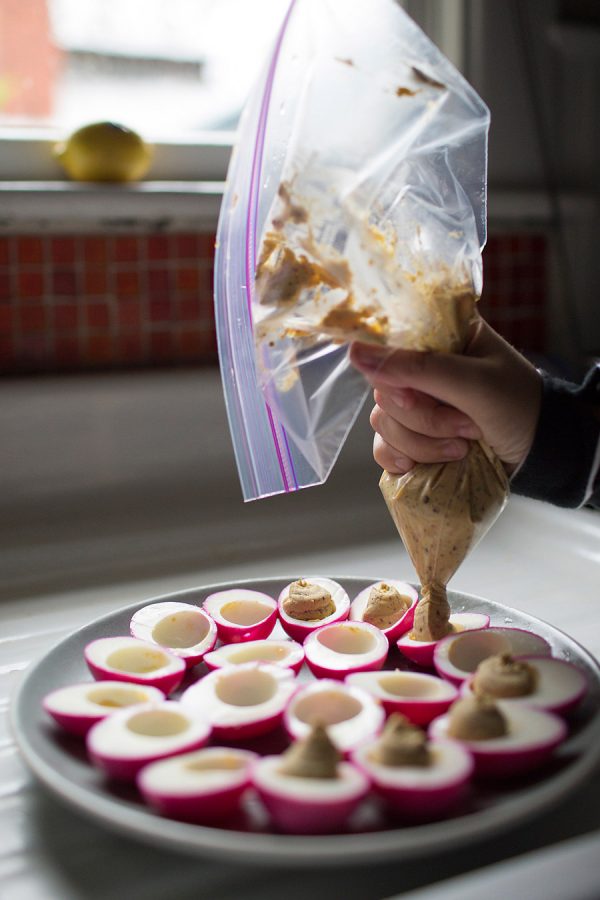 3 cups water
1 cup distilled white vinegar
1 small beet, peeled and sliced
1 small garlic clove, sliced
1 teaspoon sugar
1 bay leaf
12 hard-boiled large eggs, peeled
1 teaspoon worchester sauce
1/3 cup mayonnaise
1 tablespoon grainy mustard
1 tablespoon capers
1/2 teaspoon salt
Paprika for finishing
Olives (sliced so you have 24 slices)
Bring water, vinegar, beet, garlic, sugar, bay leaf, and 1/2 teaspoon salt to a boil in a 2-quart saucepan, then simmer, covered, until beet is tender, about 20 minutes. Cool completely, uncovered. Put beet mixture in a container with eggs and marinate, chilled, gently stirring once or twice, at least 1 hour. Remove eggs from beet mixture and pat dry (discard beet mixture). Cut in half lengthwise and remove yolks. Mix together in food processor or mash with a fork the yolks with mayonnaise, mustard, worschtser, and capers. Season with salt and pepper, then divide among egg whites. You can use a piping bag or a ziplock like I did. Top with olives to make "eyeball" looking eggs. Sprinkle lightly with paprika. Enjoy! You can also do this a few hours ahead of time before serving.

[Recipe + styling by Gray Harper Event Maker and Samantha Huba | Photos and cocktail recipe by Jade + Matthew Take Pictures.]