I can't even believe I'm about to type this, but guess what? Starting next Friday, we're talking holiday gift guides! Yeah. That happened insanely fast for me, too. I hear ya. Pretty much that means that I'm going to be cranking the Christmas music anytime now, because I'm that girl. But in the meantime, I figured it was worth indulging in one more dose of Friday window shopping before we turn all our attention to gift buying and stocking stuffing. I'm not going to play games here, I've been really itching for a new pair of boots or a fabulous new bag this fall. It's not going to happen because we're officially in Christmas shopping mode, but a girl can dream, right?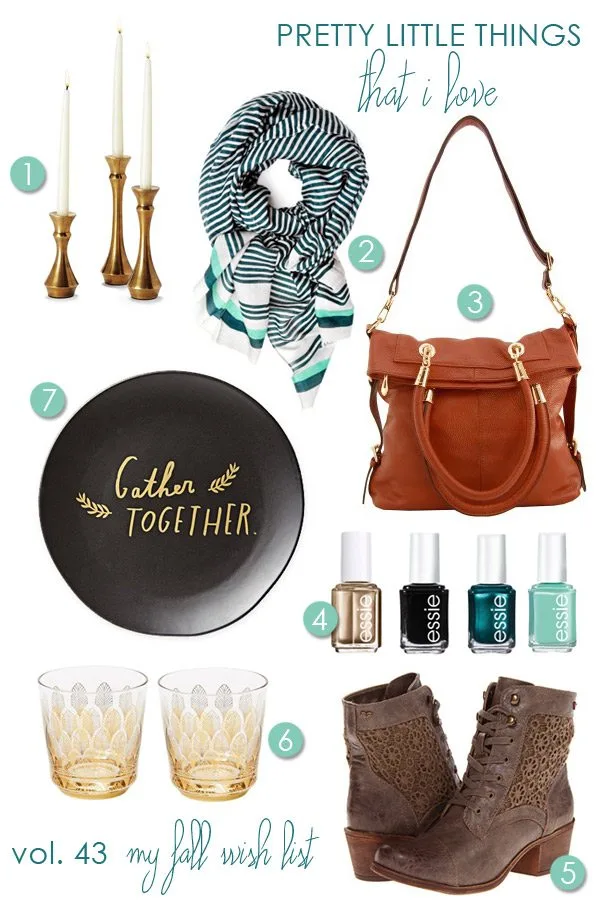 [1: Brass candlesticks | 2: Striped wool scarf | 3: Leather tote | 4: Essie nail polish in Good As Gold, Licorice, Trophy Wife and Turquoise & Caicos | 5: Floral cut-out boots | 6: Lowball glasses | 7: Gather together salad plates.]
This post includes affiliate links. Read more about our editorial policies.