This post was sponsored by Air Wick. Thank you for supporting the sponsors that so
generously help The Sweetest Occasion keep on keepin' on!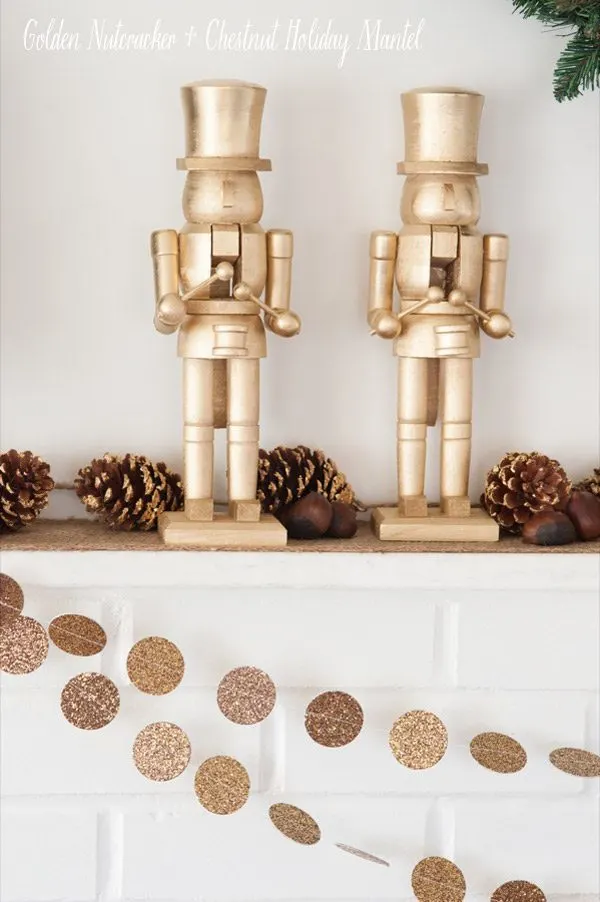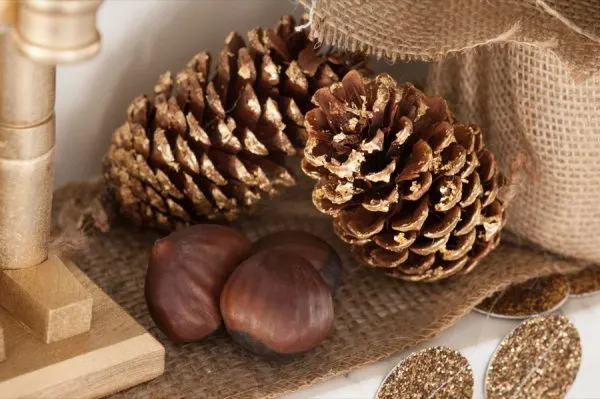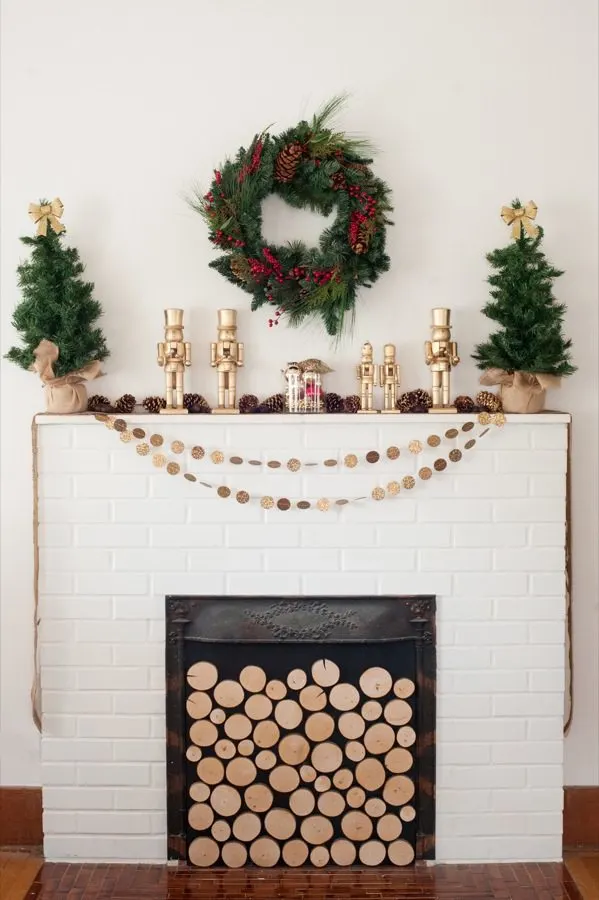 The first time I tasted roasted chestnuts I was walking through Manhattan on a cold winter evening with a friend. Having just finished a bit of holiday shopping, we passed by a street vendor with a cart literally wafting the aroma of warm, roasted chestnuts down the block. Turns out, we couldn't resist picking up a little paper sack of our own to try. Can I tell you a secret? Roasted chestnuts are some kind of amazing! Ever since then I've been hooked. My latest collaboration with Air Wick (designed to bring you six holiday DIY ideas) was inspired by Air Wick's Cinnamon Roasted Chestnuts fragrance, which for me brings back that moment. Standing on a corner in New York, delighting in the taste and smell of those delicious roasted chestnuts. In that spirit, today we're talking about creating a gorgeous holiday mantel, one filled with the smells and sights of Christmas – lined with golden nutcrackers and accented with chestnuts and pine cones!

Unfinished wood nutcrackers in various sizes
Metallic gold spray paint
Fresh chestnuts
Assorted holiday decorations (think ornaments, garlands, etc.)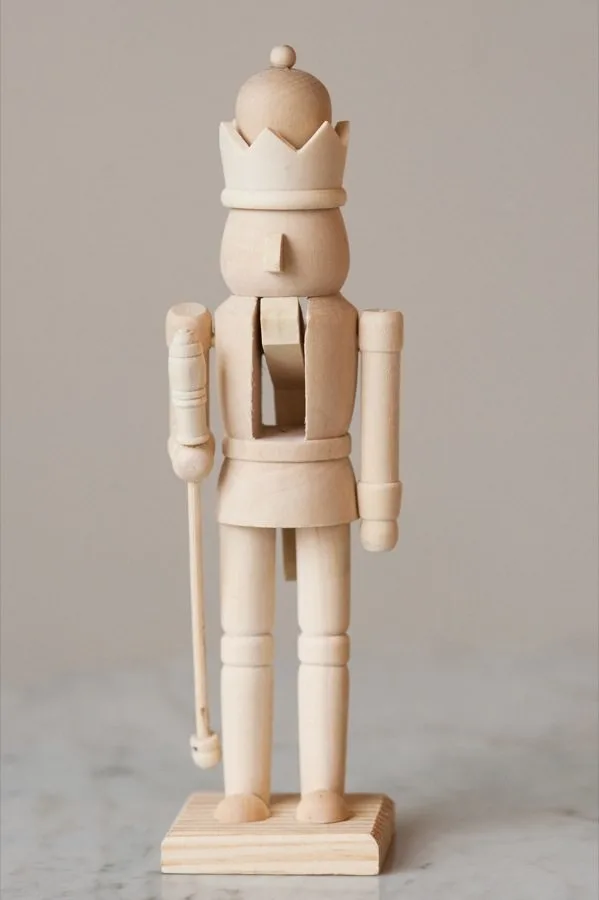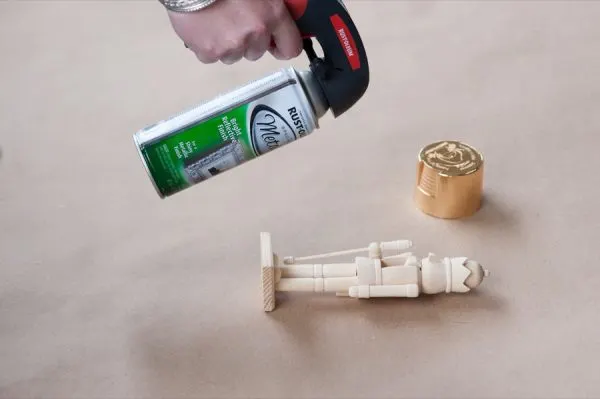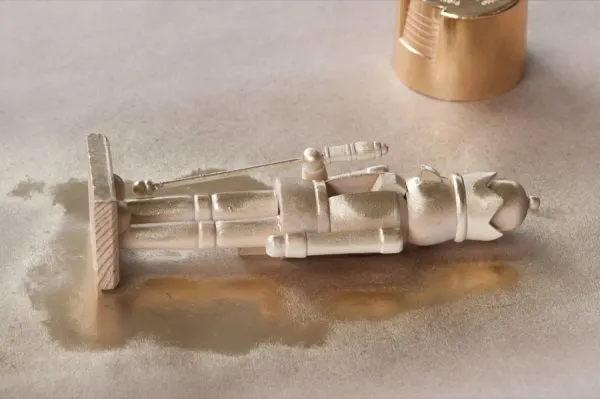 Easy is as easy does and today we're keeping it simple! To start you'll need a handful of unfinished wood nutcrackers. I opted to go with five nutcrackers for my mantel, three large and two small. (Mine are approximately 10″ and 7″ tall respectively.) Give each of your nutcrackers a gilded finish with a few light coats of metallic gold spray paint. (My favorite is Rust-Oleum Specialty Metallic in Metallic Gold.) Rotate them as you go to ensure even coverage on all sides and in all the nooks and crannies, then allow them to dry completely.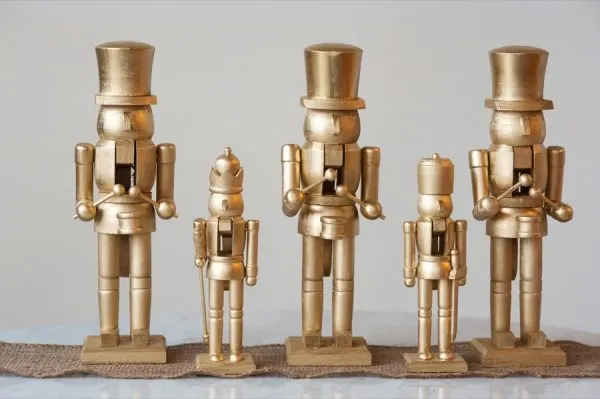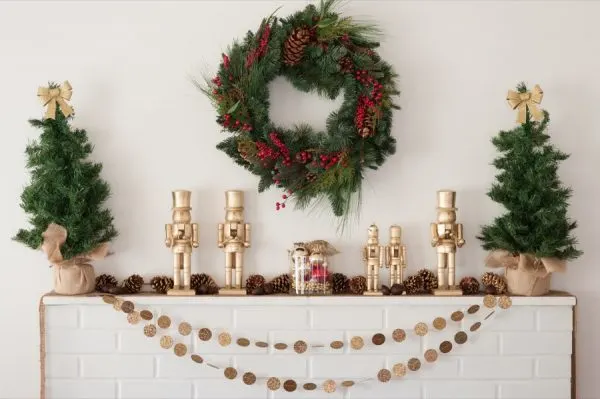 Once your nutcrackers are painted and dry, it's time to start decorating your mantel! (If you don't have a mantel in your home, this will look great along a sideboard or credenza, too.) To add a bit of texture I first ran a length of burlap fabric from the floral section of Michaels along the mantel, allowing it to fall several feet down either side of the fireplace. Next up, I played with the arrangement of the nutcrackers, opting to keep them toward the middle so they'd be the star of the show. A couple of gold glitter garlands swagged along the front of the mantel gave it just the right bit of shimmer and glam.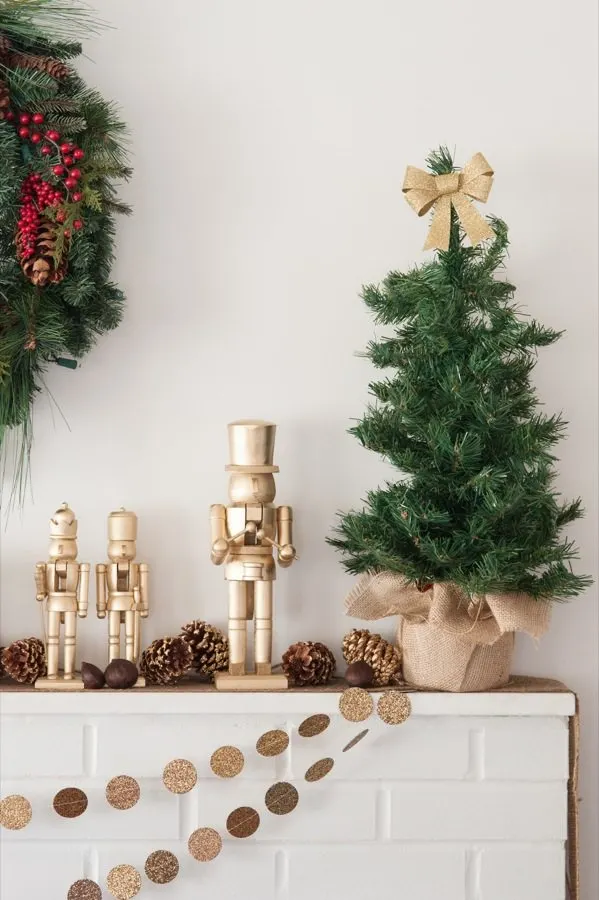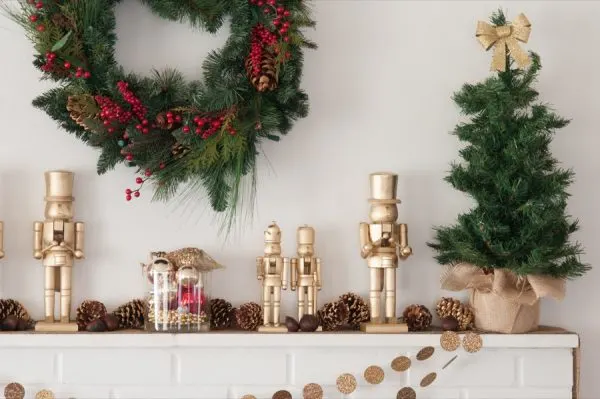 An easy styling tip for a holiday mantel is to frame everything out with a bit of height on either end. I selected two small pine tree topiaries for either side, topping each of them with a little gold glitter bow that I scored at a local dollar store. Then I nestled the gold leaf pine cone garland that I made last holiday season along the mantel to add an extra touch of texture and fun. Thinking about those roasted chestnuts I love so much, I scattered a handful of chestnuts along the length of the mantel alongside the pine cones. I thought it was the perfect extra touch, giving the look an essence of the warm, wintery scent of roasted chestnuts that was the very inspiration for the mantel decor.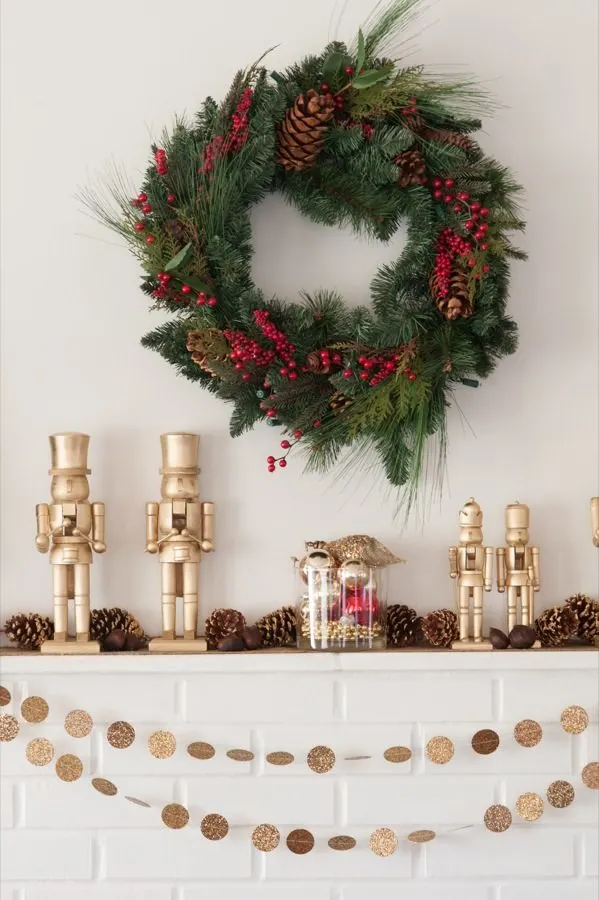 As you're working along, don't forget you'll need something hanging above your mantel to bring everything together. I went with a pretty wreath studded with pinecones and holly berries, but you could also use a large mirror, especially if you already have one hanging above your mantel. A pretty glass bowl filled with an assortment of shimmery gold and red ornaments was the crowning touch – just that little extra hint of color and shine that ties all the other elements together. For my mantel, I really wanted to keep the look limited to a combination of metallic gold and rustic elements, an ode to the things that most make me think of Christmas and that night in New York, nibbling on roasted chestnuts with the chill of winter biting at our cheeks. Switch up the colors and elements as you see fit and you really can't go wrong!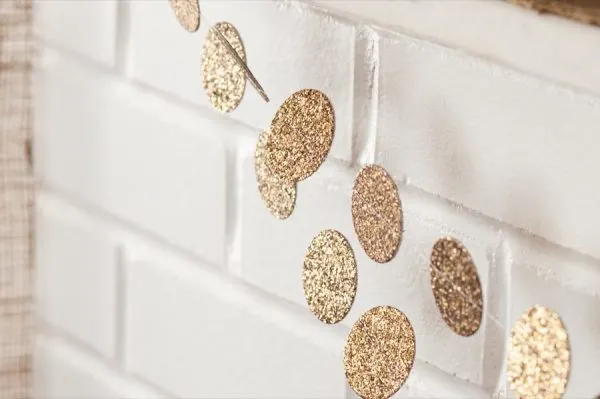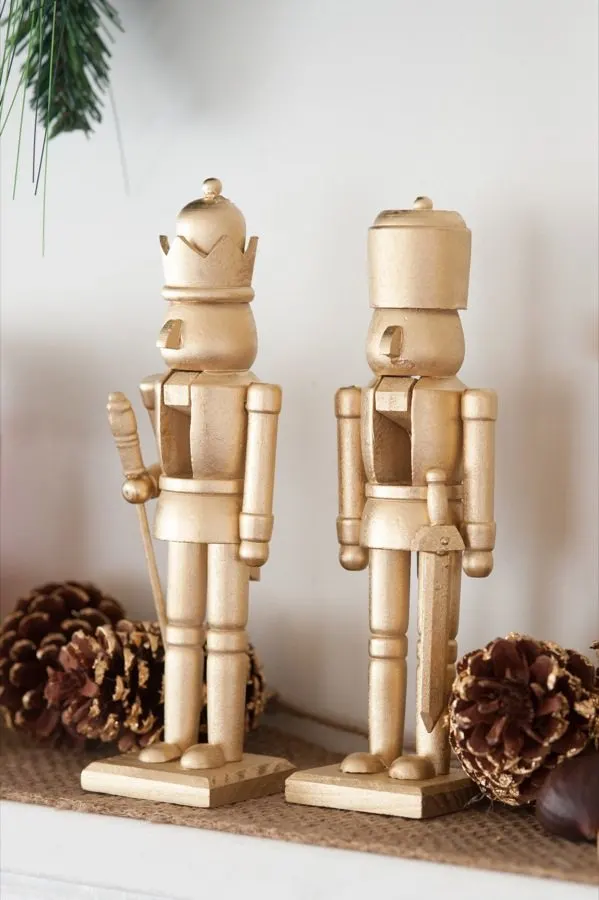 And there you have it, friends! A super festive holiday mantel perfect sure to bring the spirit of the holiday season to your home. This is so easy to do – just gather a bunch of pretty holiday decorations to pair with your nutcrackers and chestnuts, and spend an hour or so arranging and tweaking things until you have a look that you love.

[Design + styling by Cyd Converse for The Sweetest Occasion. | Photos by Alice G. Patterson.]
Sources –
Nutcrackers from Hobby Lobby
Mini Christmas trees from Target
Ornaments from Pottery Barn (some are vintage)
Burlap material from Michaels
Gold leaf pine cone garland – DIY tutorial
Confetti garland from Glitter & Grain
Cinnamon Roasted Chestnut fragrance by Air Wick
This post is a collaboration with Air Wick. For more homemade holiday ideas, follow along on Facebook! Read more about our editorial policies.