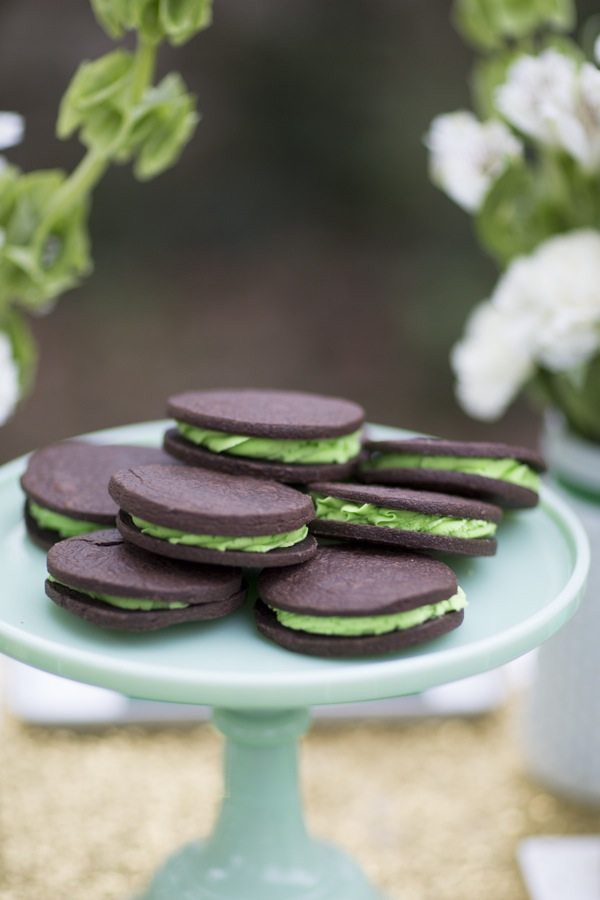 As a lady with a sweet tooth through and through, I'm a firm believer that no celebration is complete without a little something sweet! Because today we're talking about St. Patrick's Day, obviously these chocolate mint cookies with their peppy green cream filling are just the ticket. I'll definitely be whipping up a batch of these this weekend!

2-3/4 cups all purpose flour
1-1/4 cups dutch processed cocoa powder
1/2 teaspoon sea salt
1/2 put unsalted butter, room temp
1 tablespoon vanilla extract
2 cups powdered sugar
1/2 cup packed dark brown sugar
2 large eggs
Sift together flour, cocoa powder, and salt, set aside. In the bowl of the stand mixer fitted with the paddle attachment, cream the butter, vanilla, and both sugars on medium until light and fluffy, about 3 minutes. Turn the speed to low and add the eggs one at a time, beating until combined. Add the flour mixture in thirds, beating until just combined.
Divide the dough in half and place one half on the prepared cookie sheet. Place a piece of plastic wrap or another sheet of parchment on top of each one and use a rolling pin to roll out the dough to about 1/4 inch thick. Wrap the baking sheets in plastic wrap and chill in the refrigerator for at least 30 minutes.
Preheat oven to 350°. Remove one sheet of dough at a time and transfer to kitchen counter. Cut out cookies with a 2″ cookie round. Line the cookie sheet with fresh parchment and place the cutout cookies in the refrigerator for an additional 15 minutes. Repeat with second batch. Bake the cookies one sheet at a time for 8-10 minutes.
Cream Filling
8 tablespoons unsalted butter, room temp
1 teaspoon peppermint extract
2 to 3 cups powdered sugar to taste
Pinch of salt
Green food coloring
Cream the butter in the stand mixer fitted with the whisk attachment. Gradually add the powdered sugar until light and fluffy. Taste to make sure it's sweet enough for you. Add peppermint extract and green food die, whisk on high for about 2 minutes. Pipe the cream filling on each of the bottom cookies, cover with a top cookie and enjoy!

[Recipe: Samantha Sanford | Styling: Gray Harper Event Maker | Photos: Jade + Matthew Take Pictures.]