This post was sponsored by Uncommon Goods. Thank you for supporting the sponsors that so generously help
The Sweetest Occasion keep the party rockin'!
Do you guys know Uncommon Goods? I've been a huge fan of their quirky and cool collection of home decor, entertaining pieces and accessories for quite some time now. We're talking unique handmade and recycled pieces that will light up your next party or add that little something-something to any room in your house. Today I've rounded up a handful of my favorites, like this minimalist teak wall shelf that I think would be right at home in the new studio. I would love to load it right up with some of my favorites books and pretty little objects to keep me inspired while I'm working away. (Oh, and don't even get me started on this cardboard unicorn bust!) For more of my favorites from Uncommon Goods, you can pop over here where I've collected a bunch of things that have caught my eye. But considered yourself warned! You're about to have a wish list a mile long.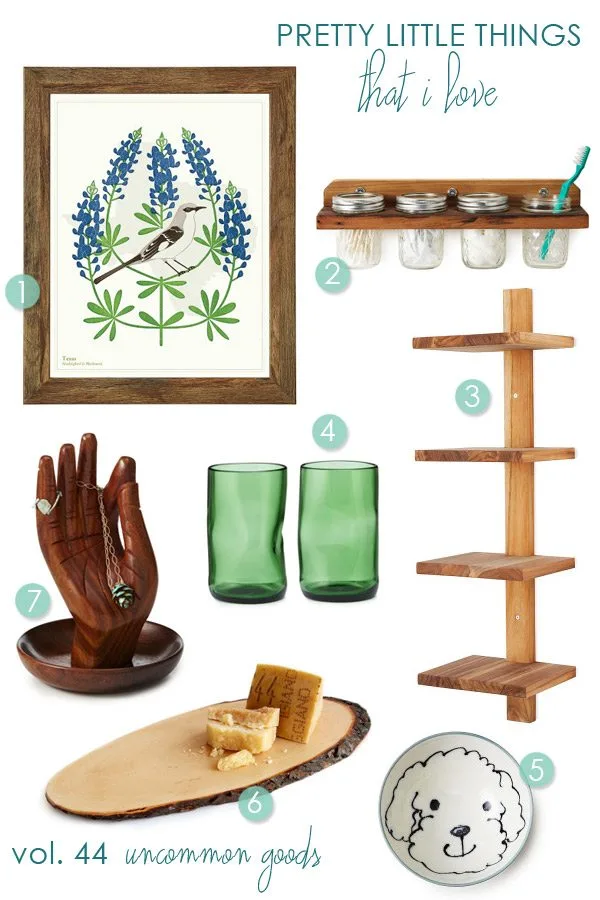 [Shop | 1: Birds and Bloom Art Print | 2: Wooden Wall Caddy | 3: Teak Wall Shelf | 4: Upcycled Glass Tumblers | 5: Dog bowls | 6: Bark cheese board | 7: Hand of Buddha Jewelry Stand.]
This post was sponsored by Uncommon Goods. Read more about our editorial policies.