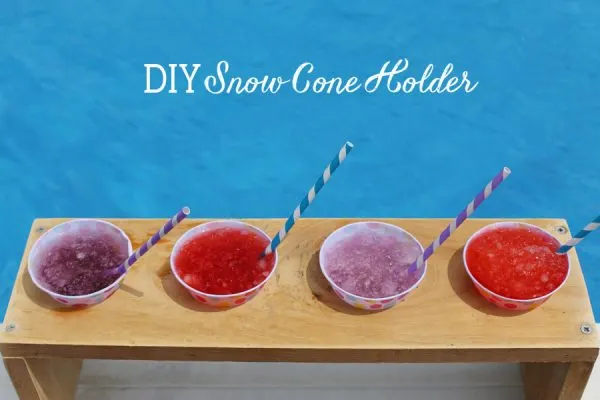 When I shared my boozy summer snow cones earlier in the week, I promised you a DIY tutorial for making the snow cone holder that B and I made. This little project is one that is so much fun and could be adapted for all kinds of uses, but it's definitely pretty awesome for holding frosty refreshing snow cones at your next summer party. To make it you'll just need a few basic supplies like a length of of 1×6 lumber, a drill, some screws and a little thing they call a hole saw, which is quickly becoming one of my favorite tools for working with wood. Together it took B and I about 45 minutes to make, most of which was spent in measuring and laying things out. The construction party is very simple. Don't be afraid of power tools! You can do this, friends.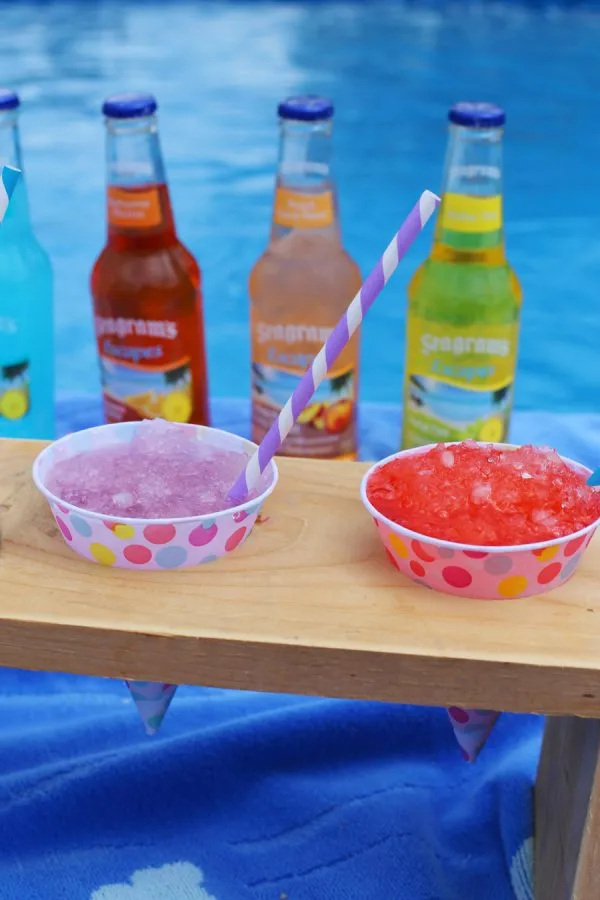 Ready to rock a snow cone holder of your very own? Click through for the tutorial!

(1) piece of 1×6 lumber approximately 30″ in length
Drill
2-1/2″ hole saw (we bought this one)
Saw
(4) 2″ fine thread screws
Sand paper
Tape measure
Clamp
Safety glasses
To begin you'll want to decide how many snow cones you'd like your holder to hold. I went with four, but you could easily do more. My snow cones are about 3-1/2″ in diameter so to start, we cut a piece of the 1×6 to 18″ long to form the top of the holder. We then used a tape measure and a bit of basic math to pre-determine the placement of each hole, spacing them evenly across the top.
Once the top board is cut and the placement of the holes are measured out, it's time to start cutting holes! To do this it's easiest if you use a clamp to secure your board to a workbench or similar surface. Using care, use the hole saw attached to your drill to cut through the wood to form your holes. (For a project like this, safety glasses are always a good idea!) You'll need a bit of patience and some elbow grease as cutting the holes doesn't happen instantaneously, but it's a pretty easy process overall.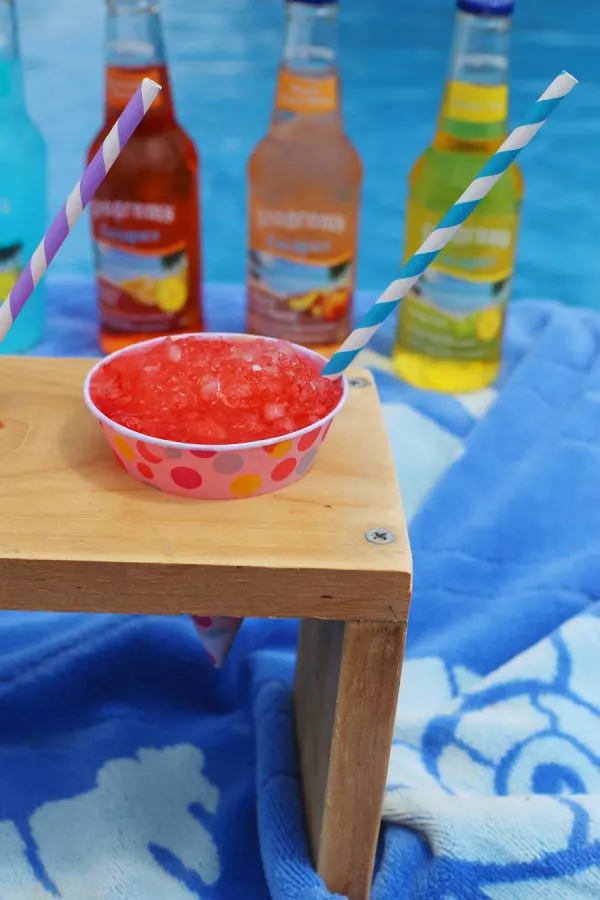 After the holes are cut, you'll need to cut the legs for either side of holder. After playing around with a few different heights, we cut (2) 5″ pieces from our same 1×6 to use as the legs. Again, you can easily customize the height of your holder to suit your holder, but we liked the looks of 5″, which gives the bottom of the snow cone cups plenty of room underneath and always gives the holder a little height to make grabbing cones easy. Once cut, simply attach each leg with a couple of screws, screwed in from the top board. Finish up the job with a good overall sanding and you're done!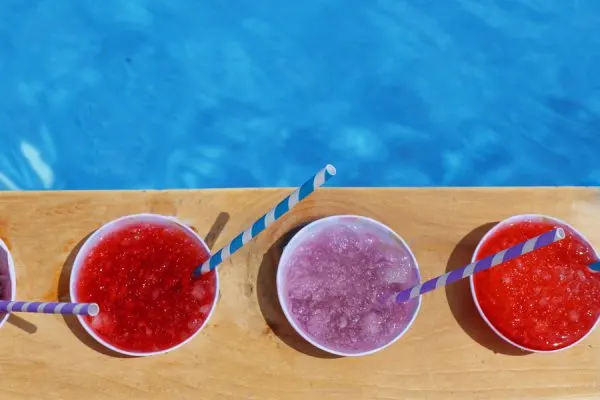 I opted to keep our snow cone holder simple. We used a piece of leftover lumber from my dad's workshop and I chose not to stain, seal or paint it, all of which are things you could definitely do to customize the look. I may eventually paint it, but because I couldn't decide which way I wanted to go with it, I decided to work with the raw wood for now. Either way, have fun and be safe out there, kids!

[Photos + tutorial by Cyd Converse for The Sweetest Occasion.]