At this point I think it's pretty undeniable that fall has arrived. I can give up the game of saying it's "late summer," because although technically true it feels nothing like summer here this week. The leaves are starting ever so subtly to stain red and orange. The wind has a crisp edge even on warm days. This morning it was outright chilly when we woke up! So naturally today, after a busy weekend of travel and hanging out with friends, all I really want to do is light a bunch of fall-scented candles and make a big pot of soup for dinner. Is anyone else ready to cozy up for fall? Here are six simple little ways to get your home ready and feeling festive for fall!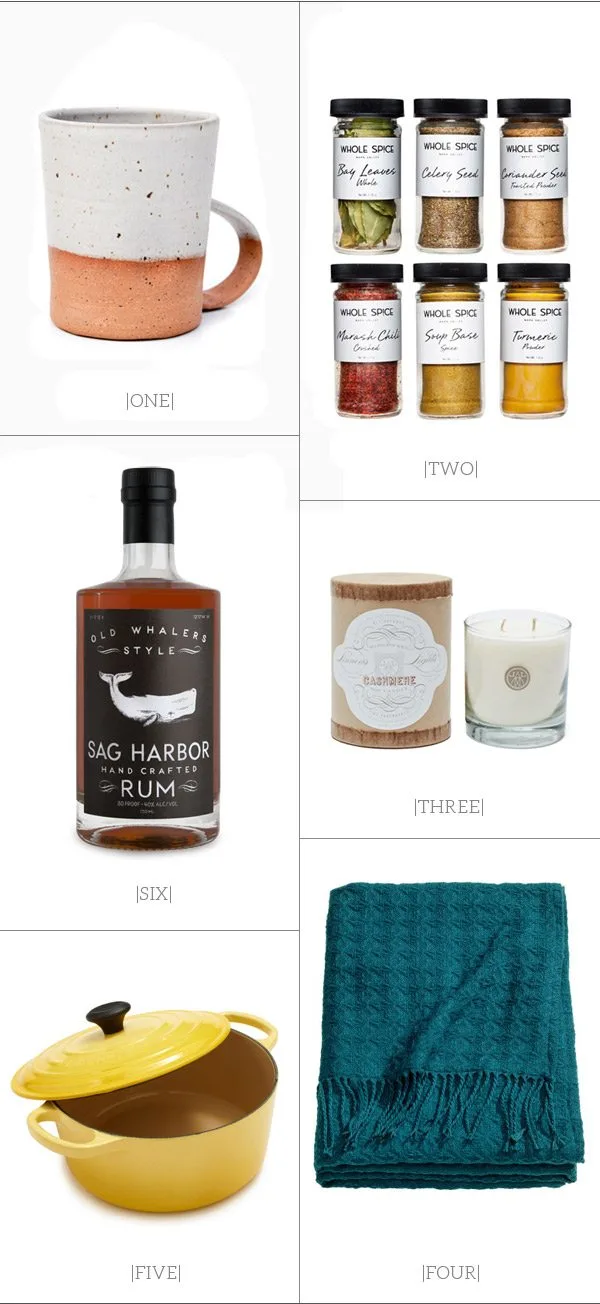 ONE I tend to drink way more coffee and tea in the colder months and a nice big ceramic mug is just the ticket for making that morning ritual feel a bit cozier. Don't forget the warm apple cider, too!
TWO If ever a season were made for soup, it's definitely fall. Now is the time to stock your pantry full of soup spices! With the right seasonings and spices always at the ready, you can whip up a delicious soup or stew any night of the week. Yum!

THREE Candles, candles, everywhere! Granted, that's my motto all year long, but right now is when I'm swapping out my fruity, beachy scents in exchange for warmer fragrances. Linnea's Lights is my go-to candle company and their signature Cashmere candle is perfect for fall!

FOUR I love cozy blankets and throws so this time of year I like to layer them up on every chair and sofa in my path. This cozy teal throw is a great price and I love the texture so I may have to add it to my collection of coziness.

FIVE If I could encourage you to make one investment for your kitchen this season it would be a good French oven. We have a few in different sizes and we use them all the time throughout the fall and winter for soups, casseroles and pot pies.

SIX While on Long Island this past weekend, we had the chance to do a tasting with Sag Harbor Rum at a cute little shop in Port Jefferson. I picked up a bottle to bring home and think it's going to be the perfect rum for fall cocktails and spiked cider.