This post was sponsored by Command Party. Thank you for supporting the sponsors that so
generously help The Sweetest Occasion keep the party rockin'!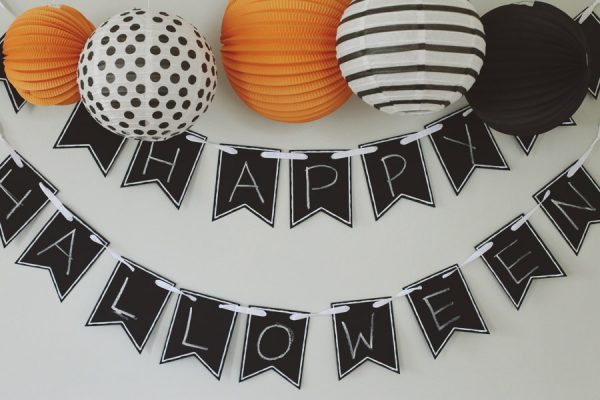 We're just a few weeks out from Halloween so today it only seems right that we talk about Halloween parties! Specifically, tips for hosting an easy fuss-free party that will have your guests feeling super special without making you crazy over the prep work. Halloween is on a Friday this year so I love the idea of hosting a little shindig with the neighbors after the trick-or-treaters have all made their way down the street. So let's get started, shall we?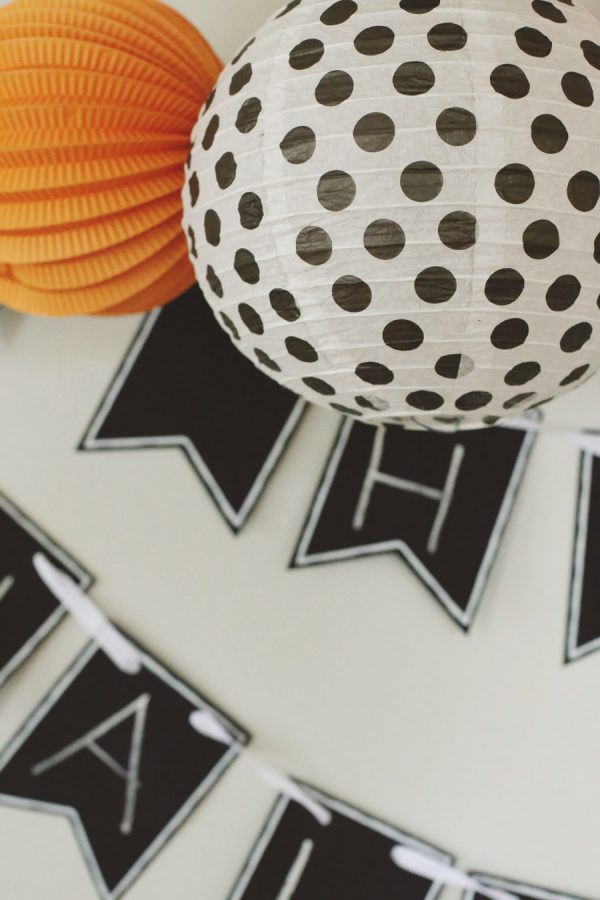 Hang a Cluster of Lanterns + Honeycomb Balls
One of my favorite ways to add a little fun to your Halloween party decor is with a cluster of lanterns, honeycomb balls and tissue poms hung over a table or bar. You can pick them up just about anywhere (Target usually has a good selection and Michaels typically does, too), they're inexpensive and with Command's new party ceiling hooks, they're quick and easy to hang, too! I can't even tell you the number of hours I've spent hanging stuff from the ceiling for a party or event and these new ceiling hooks are genius. Super easy to use, and safe for your ceiling surface, too! I sincerely wish they'd made these bad boys years ago.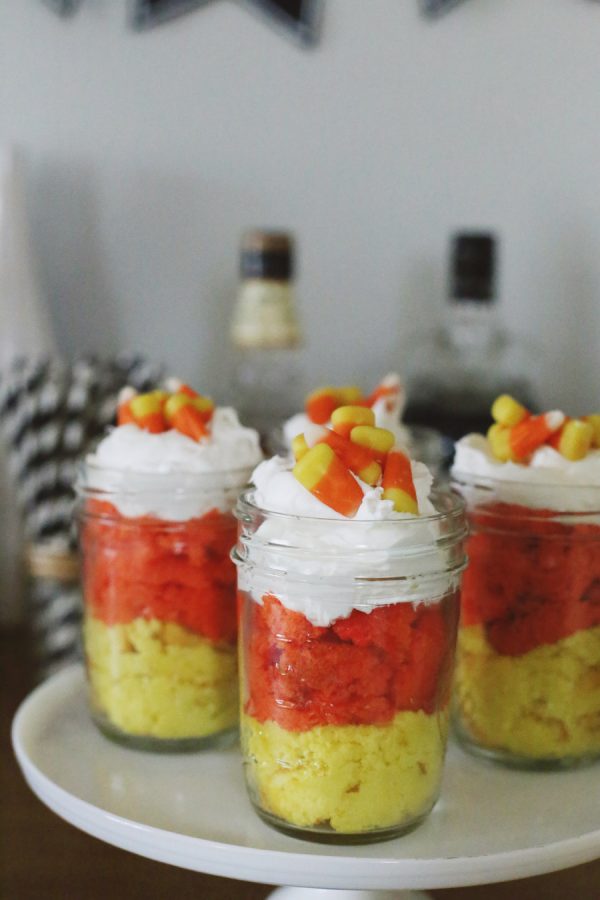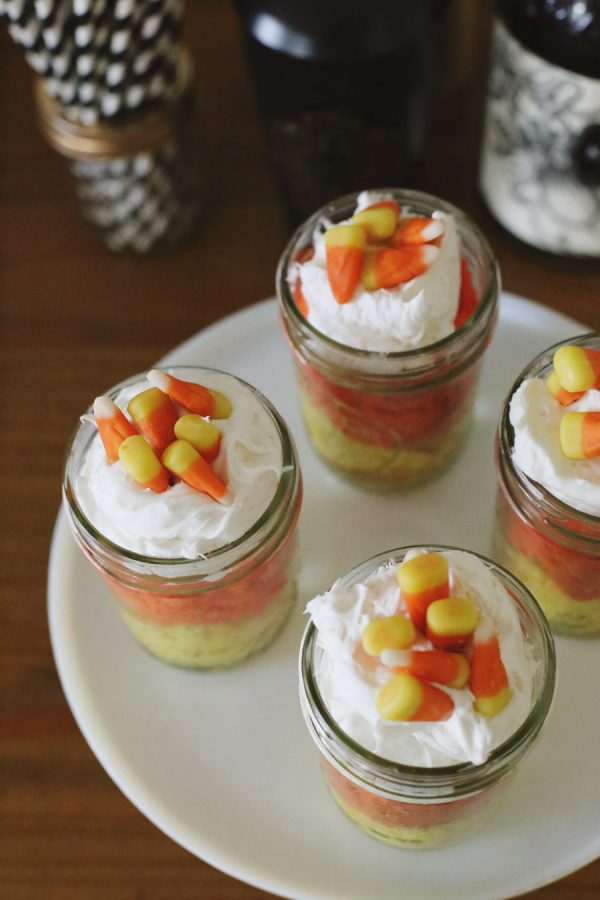 Serve Up a Cool Dessert
If you host a party a little later in the evening, the best part is that you can skip serving up a whole meal and opt for just one awesome dessert. I'm loving candy corn themed desserts of all varieties lately – I'll even be sharing the how-to for these candy corn cakes in a jar soon! Once you've settled on your dessert, arrange them on a pretty cake stand or tray to make them a focal point of your party spread. Easy peasy!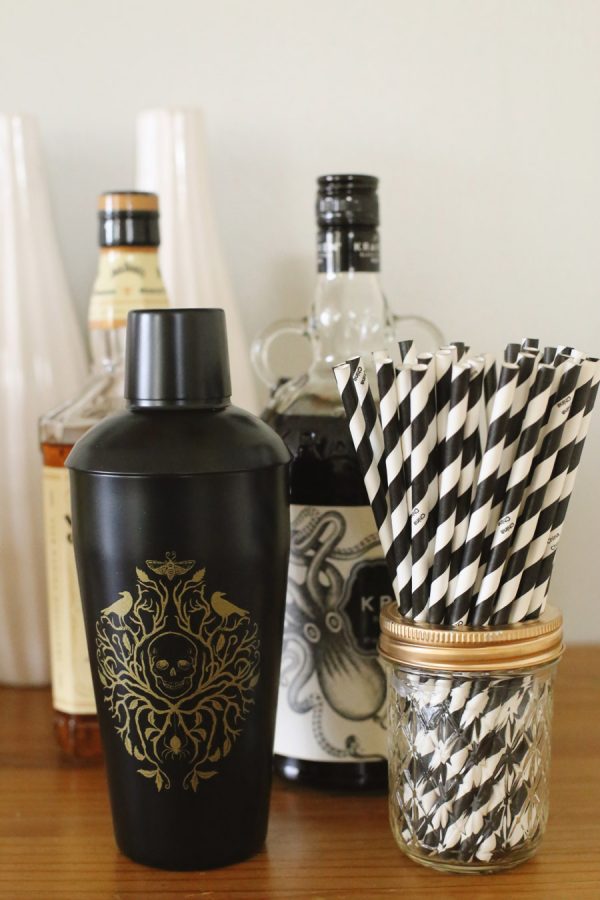 Coordinate the Bar
Add a perfectly spooky vibe to the festivities by selecting your bar accessories with Halloween in mind! Offer up black and white striped straws, set out the bottles from your stash that have a more vintage feel to the labels, and maybe pick up a cute cocktail shaker. This one is perfect with the golden skulls and crows etched on the front, but the look would be just as fun with a solid black shaker, too. This isn't about buying a bunch of stuff to use just for one night of the year, it's about editing what you already have with the occasion in mind so it lends to your decor without costing you a ton of dough. Smart, right?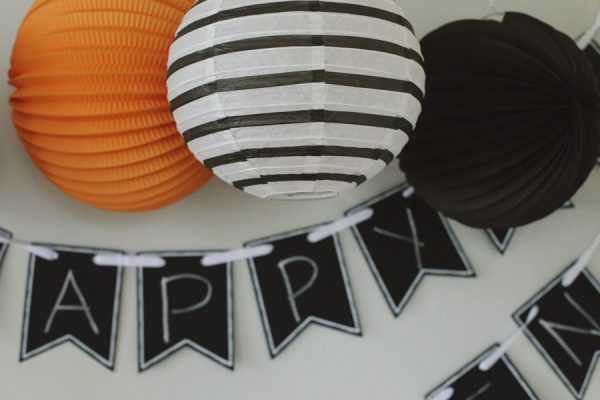 Don't Forget the Bunting
A little bunting or a cool garland goes a long way toward finishing off your party decor. It's just one of those easy little things that dresses up a space, gets guests excited about the evening and lends to the mood of the party. Something as simple as a black flag bunting goes so far toward making a room a party! With Command's new party banner anchors, the process could not be simpler. Just find a spot that needs a little extra party dressing, string up a garland and hang it up the anchors. Done and done. Now it's party time!

[Photos by Cyd Converse for The Sweetest Occasion.]
This post was sponsored by Command Party. Read more about our editorial policies.