We're shopping again today! Or, actually, window shopping. We're absolutely window shopping, at least in my case. I actually avoid shopping just for the sake of shopping, but I do love bringing home something new and pretty for my closet once in a while. Or, more often than not, for the house. If you peeked into my closet you'd find a ton of cute dresses that I've amassed over many years. Loads of basics in black and gray. A handful of tops in fun patterns. And scarves. Many many scarves. On a day to day basis, gray is one of my go-to colors for wearing or for decorating. Add in a bit of texture and maybe a fun pattern and gray just looks awesome with anything. Here are my current picks for cozy gray accessories, perfect for fall or the dreaded upcoming winter!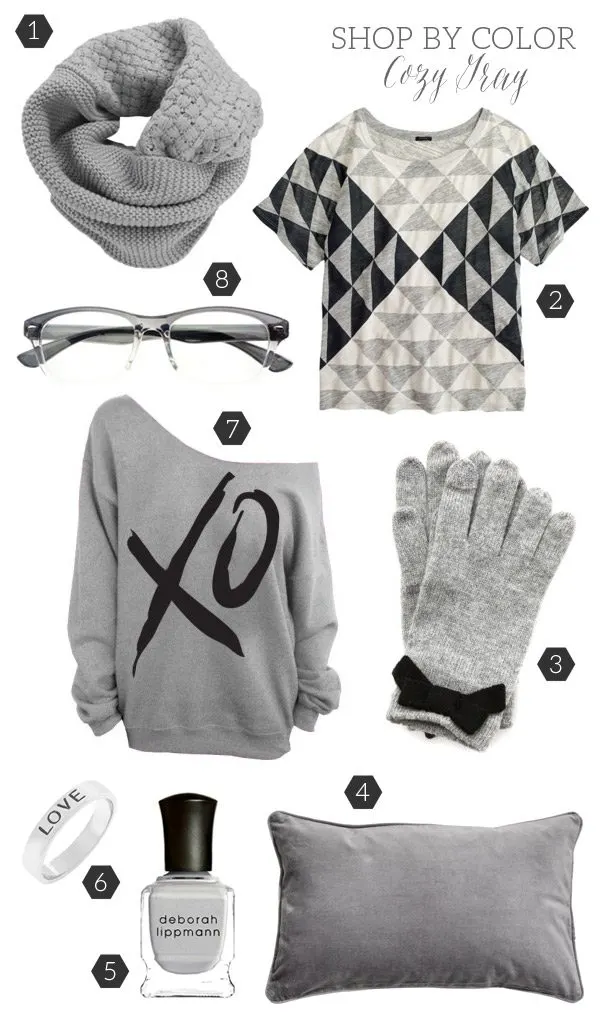 [Shop | 1: Knit scarf | 2: Geometric t-shirt | 3: Gloves | 4: Velvet pillow | 5: Nail polish | 6: Love ring | 7: Sweatshirt | 8: Glasses.]
This post contains affiliate links. Read more about our editorial policies.