This post was sponsored by Seagram's Escapes. Thank you for supporting the sponsors that so
generously help The Sweetest Occasion keep on keepin' on!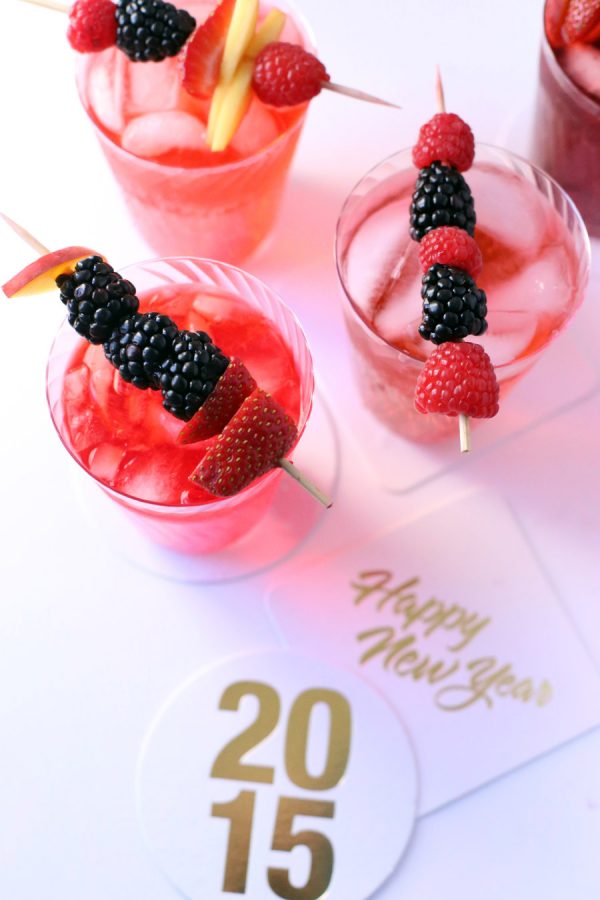 Hi, friends! I hope everyone had an amazing Christmas for those of you who celebrate and an awesome weekend in general for those of you who do not. I'm going to be continuing to take a little bit of time off now through January 5, but I'll be popping in here and there all week. So let's get onto the good stuff and talk New Year's Eve, shall we? Of course, no New Year's celebration is complete without a festive cocktail or two and today we're toasting 2015 with an easy New Year's cocktail station! This is perfect for New Year's Eve, but I'm actually kind of partial to hosting friends open house style on New Year's Day. You can set up an easy make your own cocktail bar and whip up just a few yummy snacks, invite friends to stop over anytime between 10am and 1pm (or whatever times you prefer) and you have a fun, festive and stress-free way to say cheers to the New Year with friends.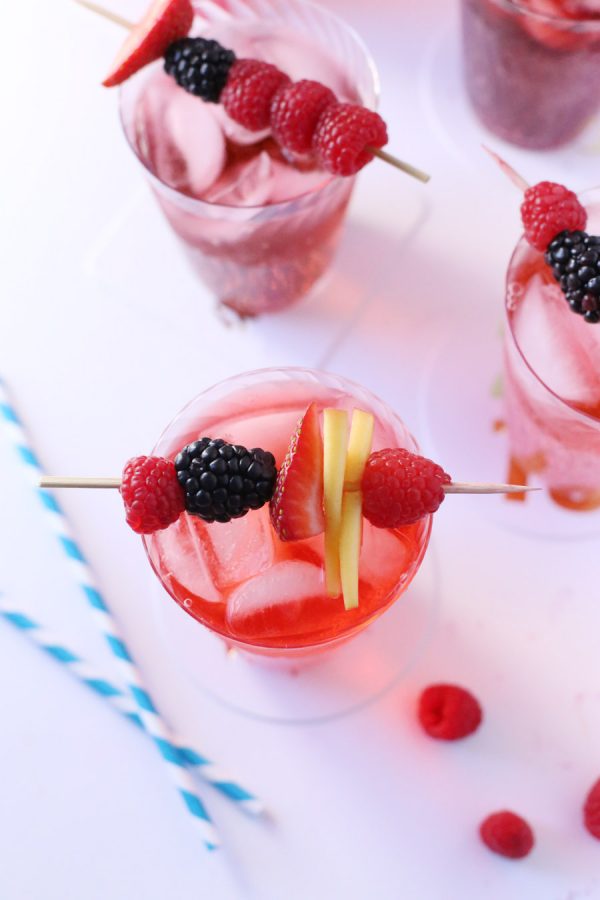 Begin by stocking up on your favorite flavors of Seagram's Escapes. I'm partial to the berry-centric flavors, but that's kind of my jam in general when it comes to anything fruity. Line them up along a table, sideboard or even the kitchen counter with a big bowl of ice, straws, coasters and a bunch of fruit garnishes. I set mine out in little glass footed ice cream sundae bowls. I love berries (again with the berries) and peaches, but pineapple, mango, apple, oranges or any other fruits you love would work great. I love that the vibrant flavors and colors of the Seagram's Escapes bottles are instantly festive so they do a lot of the work for you when it comes to creating a pretty spread.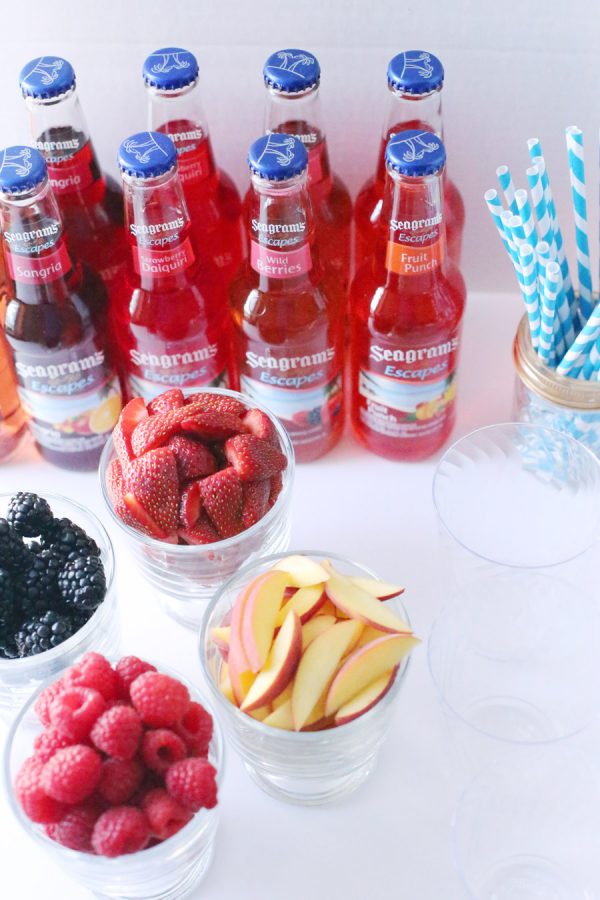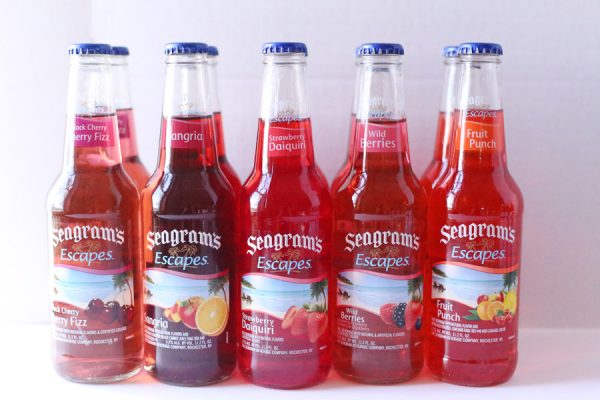 As friends pop in to exchange well wishes for the New Year, you can invite them to help themselves to a cocktail. From there they'll have a ball mixing and matching flavors, adding whatever fruit they love best and all you'll have to do is occasionally swap out the ice and make sure you're fully stocked on garnishes. This frees you up to mingle and spend time chit chatting without running around trying to refill drinks, because while hosting is fun, that part is never much fun at all. This isn't supposed to feel like work, friends!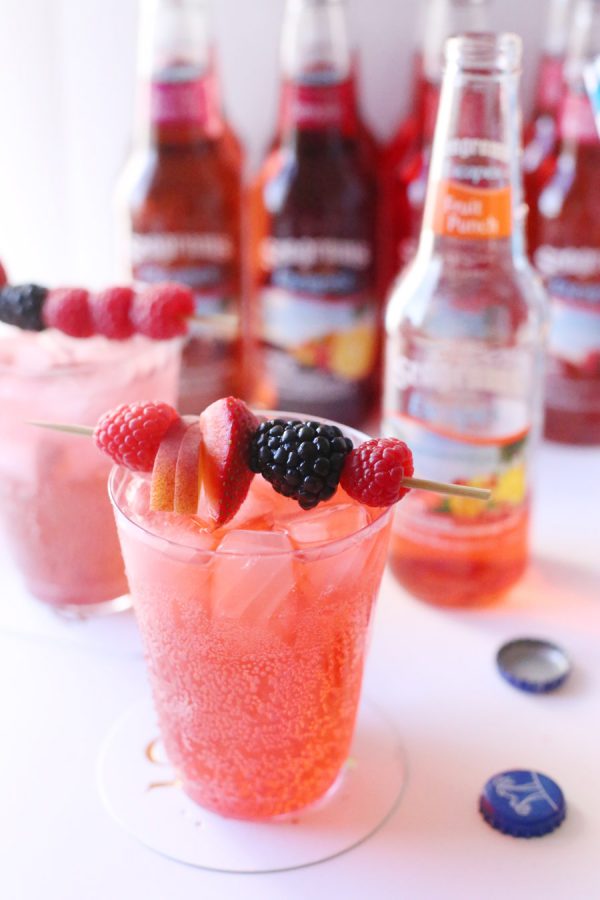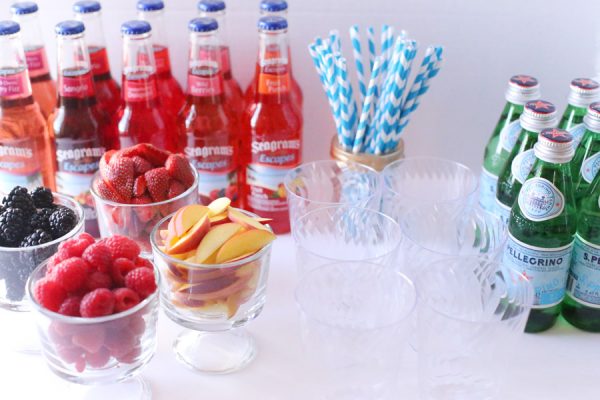 If you're hosting during the day, a few breakfast pastries like croissants and scones stacked up on a pretty cake stand or two will do the trick perfectly for offering guests a little something to munch on. If you're having friends over on New Year's Eve, I love the idea of setting out a few trays with easy, fun snacks like sliders and fries. And that's that. I told you this was easy! With festive cocktails and something yummy to snack on, you can never go wrong.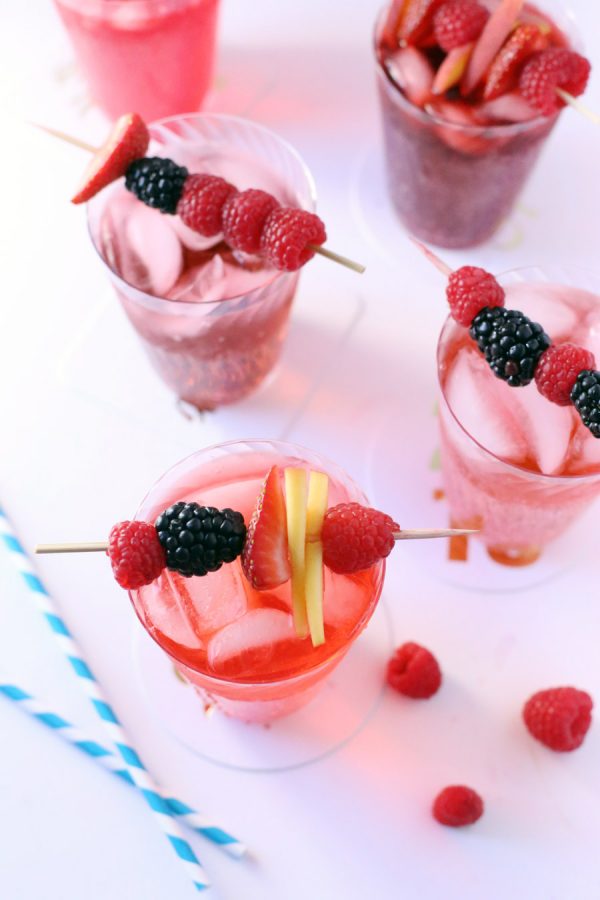 [Photos + styling by Cyd Converse for The Sweetest Occasion.]
Sources –
Coasters from The Pink Orange
Paper straws from Shop Sweet Lulu
This post was sponsored by Seagram's Escapes. Follow along at #keepitcolorful. Read more about our editorial policies.