This post was sponsored by Frito-Lay. Thank you for supporting the sponsors that so
generously help The Sweetest Occasion keep on keepin' on!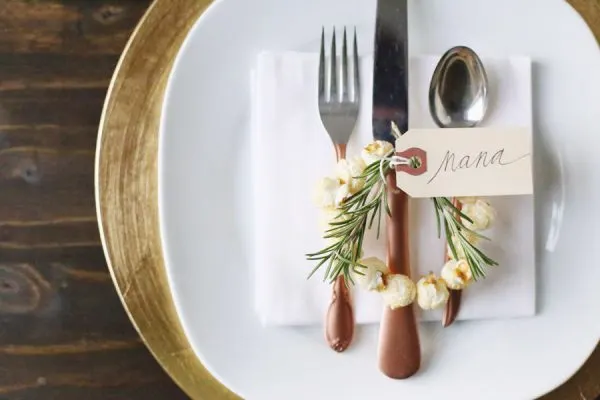 The holiday season is my favorite time of year to get crafty and, incidentally, it's also my favorite time of year to host friends and family! Today I'm excited to be working with the Frito-Lay "Season's Sweetings" SMARTFOOD DIY Challenge to share this fun little DIY project with you. Inspired by classic popcorn garlands (and the SMARTFOOD® brand's two new holiday flavors, SMARTFOOD Cinnamon Brown Sugar Popcorn and SMARTFOOD Sweet and Salty Kettle Corn Popcorn) we're making little mini popcorn wreaths that make really darling place cards for all of your holiday entertaining needs. Bonus! They also double as ornaments so you can use these to trim the tree, too.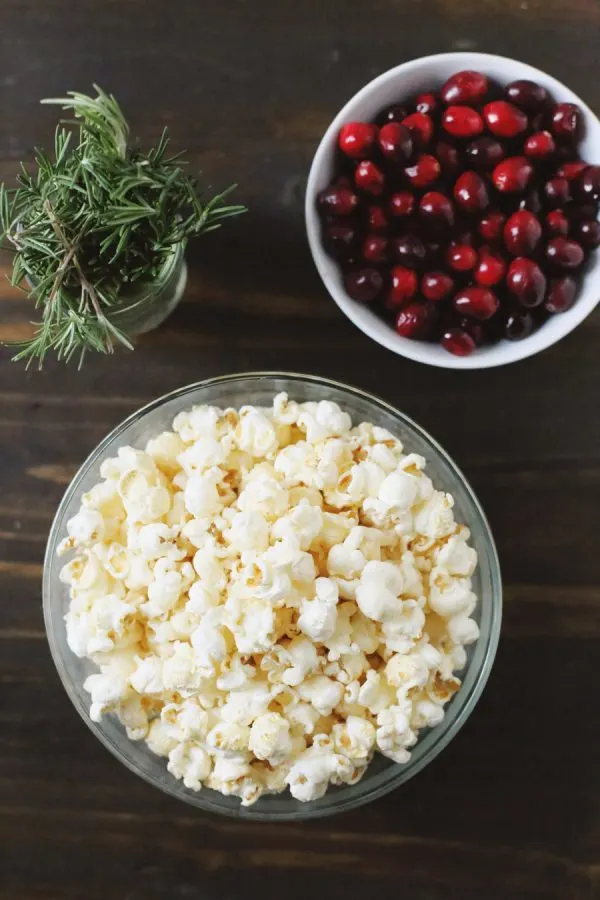 SMARTFOOD popcorn flavor of choice
Floral wire or similar thin gauge wire
Small shipping tags
Cranberries
Fresh rosemary
Scissors or wire cutters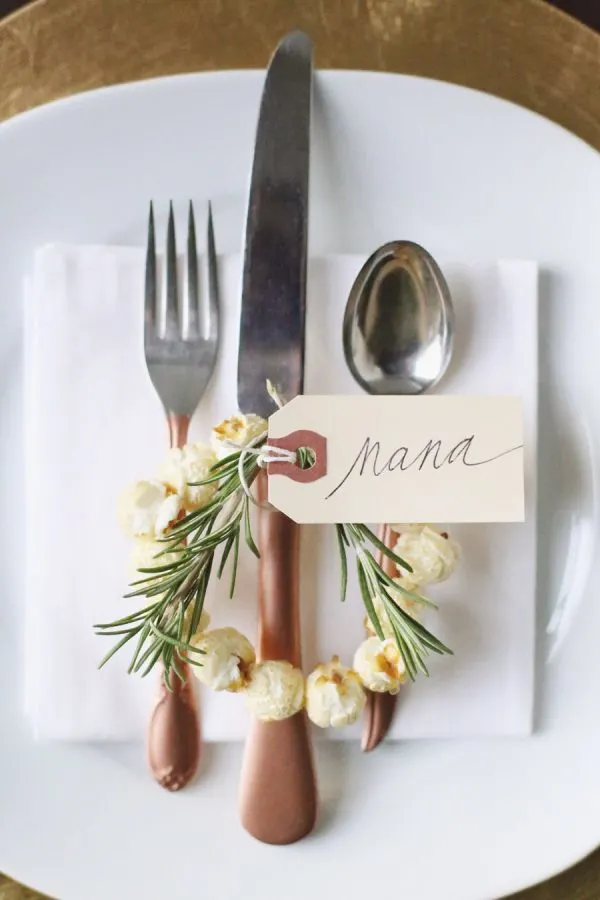 Begin by cutting a length of wire about 10″ long. This is longer than you'll need, but it will make sure you have plenty to work with as you go along. Then start threading your popcorn onto your wire, one piece at a time. For mine I used 14 pieces of popcorn for each little wreath.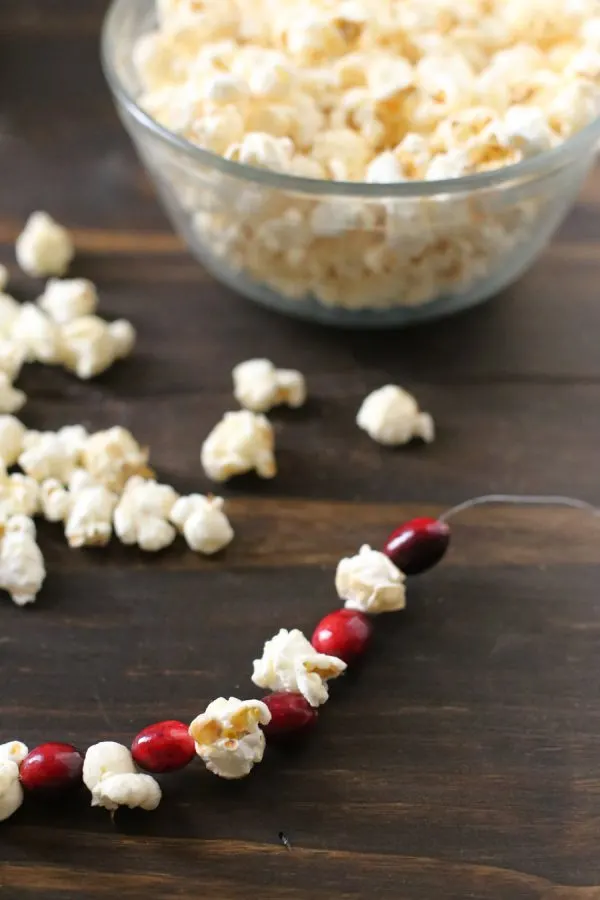 Alternately, mix up the look by making a few wreaths that combine popcorn and fresh cranberries. We're drawing from classic Christmas decor as our inspiration here, so you can have fun and include whatever you'd like. Little gum drop candies would be adorable, too! (Oh and snacking while crafting is completely encouraged. The boys helped me make these and they're in love with the SMARTFOOD Sweet and Salty Kettle Corn Popcorn!)
At this point if you want to add a little something extra to your wreaths, you can use the ends of the wire to attach a couple of rosemary sprigs. If you happen to have a bit of pine or boxwood trimmings available either of those would be perfect. To finish off the wreath, gather the ends of your wire and twist together to secure. Make sure everything is nicely secured and then trim to ends of the wire.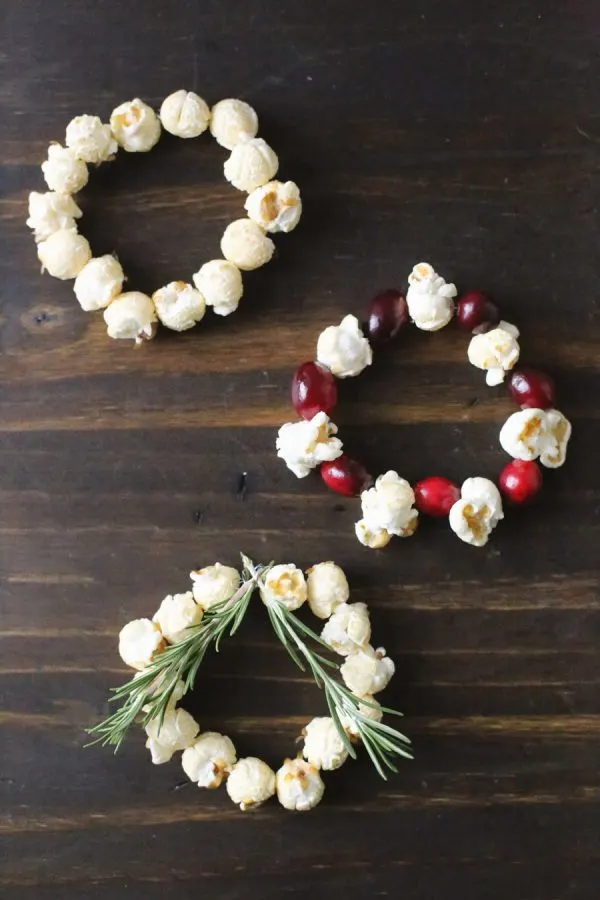 When you get to this stage, your wreaths are ready to rock it out on the Christmas tree as really fun ornaments that are easy enough for the kids to help you make. Or, take it one step further and attach a small shipping tag. Tie the ends of the tag around the top of the wreath, tie securely in a knot and trim the ends. Pen a name on each tag and you're ready to set the table! (Plus, both the SMARTFOOD Cinnamon Brown Sugar Popcorn and SMARTFOOD Sweet and Salty Kettle Corn Popcorn flavors make great party snacks!) As a third option, you could use these tied to packages as really amazing gift tags, too.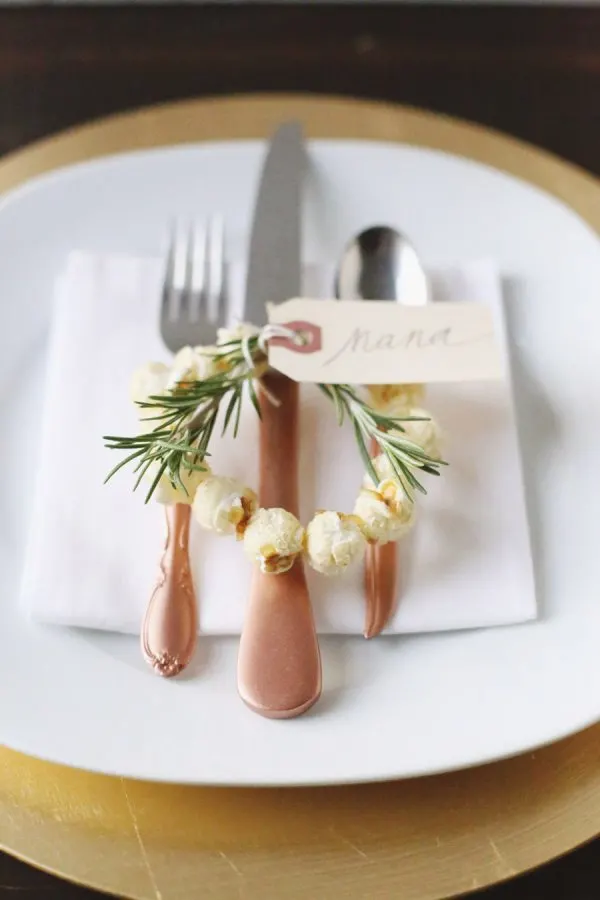 And now it's your turn to get crafty! The folks at SMARTFOOD popcorn want to see how their yummy snack flavors are inspiring your holiday decor this year! Share your awesome holiday-themed craft creations using the hashtags #SmartfoodDIY and #SweetEntry for a chance to win a $250 gift card (see official rules at Fritolay.com.) That's right! You can win a $250 gift card! To get started, follow Frito-Lay on Instagram and Twitter where they're sharing loads of fun party and crafting ideas all season long. I can't wait to see what you make!

[Design, photos + styling by Cyd Converse for The Sweetest Occasion.]
This post was sponsored by Frito-Lays Season's Sweetings. Read more about our editorial policies.