I'm jumping up and down excited to welcome back Melina of Sugary & Buttery today with her monthly recipe. Today Melina is sharing these amazing chocolate cheesecake Christmas trees, which I'm convinced are actually too cute to eat! But surprise, they are entirely edible and promise to be insanely delicious. I love this recipe, because it's the type of thing where the kids (whether they're your own or nieces and nephews) can get messy with you in the kitchen and then taste their own handiwork when they get done. Also, don't let these fool you – they're surprisingly simple to make so you don't have to be Betty Crocker to pull these off. If you make yourself some cheesecake trees the day before, you can plate them and use them as part of your centerpiece at a holiday party, too. Bottom line, these are amazing and I really hope you give this a try! Many thanks to Melina for sharing and be sure to pop over and pay her a visit this holiday season, because I know she'll be making many delicious things!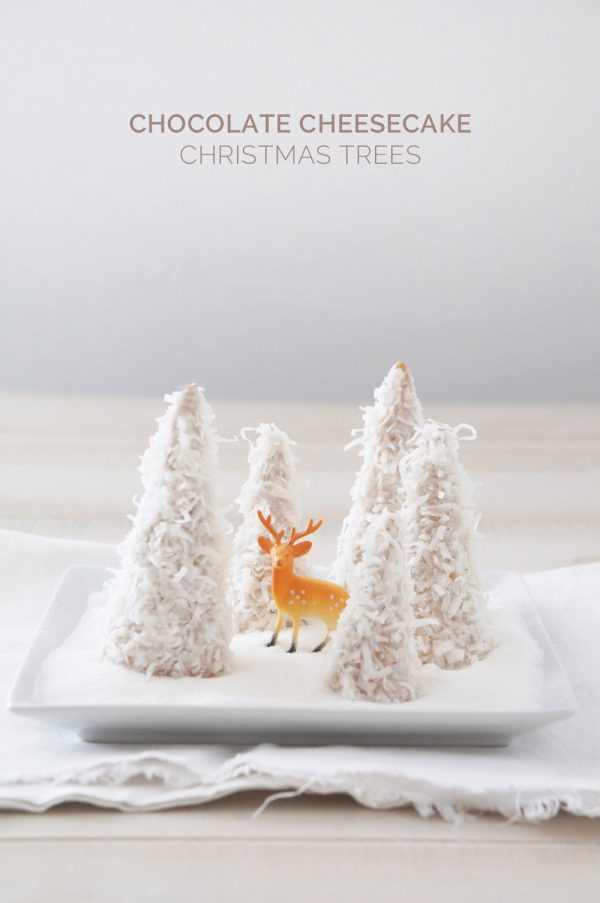 Makes 6 trees
For the Filling
1 pack cream cheese (8oz)
½ cup powdered sugar
1-1/2 cups milk chocolate chips
1-1/2 cups whipped cream
1 large Hersheys milk chocolate bar
For the Coating
1 egg white
3-4 cups powdered sugar (or more)
4 cups shredded coconut
You will also need 6 ice cream waffle cones
Break up the Hersheys chocolate bar into a bowl and melt it over a double boiler. Line the cones with chocolate by filling up a cone with melted chocolate, turning upside down and letting the chocolate run back into the bowl. Place the cones in the refrigerator for about 30 minutes to let the chocolate harden. This step is important to seal the inside of the cones and prevent moisture of the cheesecake filling to soak the cones. (Also, if you want different sized trees, trim some of the ice cream cones down before starting.)
Melt the chocolate chips. With a hand mixer, whisk the cream cheese and sugar until fluffy. With your mixer on medium speed, add the melted chocolate into the cream cheese mix. Add the whipped cream and whisk until well combined. Transfer the cheesecake into a piping bag with a round tip attached. Carefully pipe the cream cheese into the cones, making sure to fill them all the way down to the tip of the cones. Refrigerate for about 2 hours.
Whisk together the egg white and the powdered sugar, adding enough sugar to make a thick paste. Brush the outside of the cones with the icing and roll them in shredded coconut. Place on a plate with granulated sugar and decorate as you wish. (I found this little deer cake topper on Etsy.)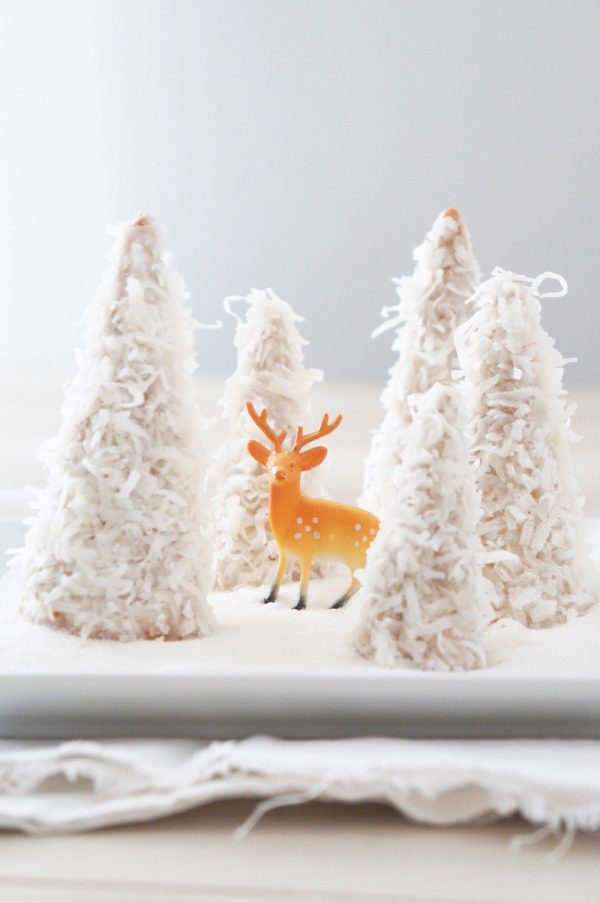 [Photos by Sugary & Buttery for The Sweetest Occasion.]