This post was sponsored by Lindt. Thank you for supporting the sponsors that so
generously help The Sweetest Occasion keep the party rockin'!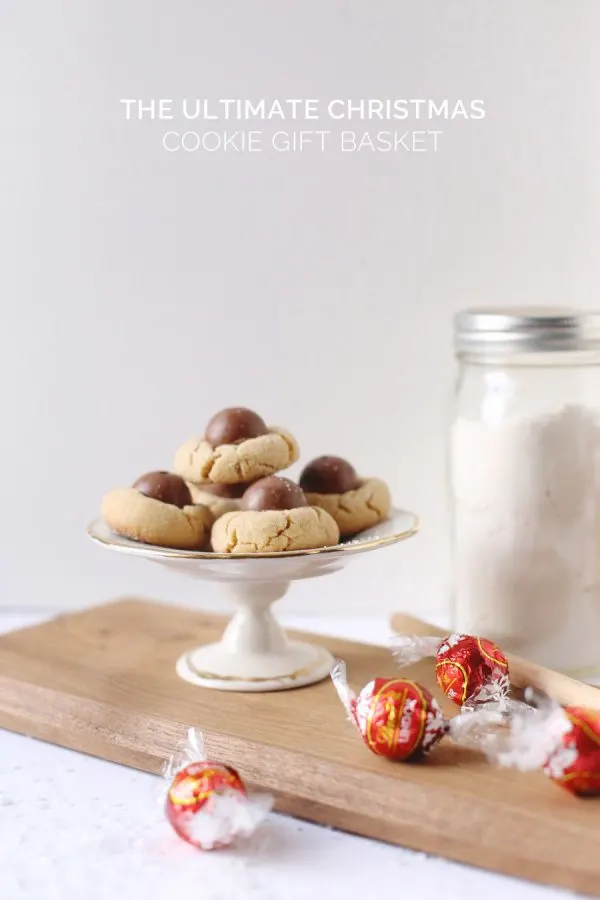 Friends, today is a good day, because we're talking about three of my favorite things: baking, chocolate and Christmas gifts. Hooray! One of my favorite gifts to give during the holiday season is a great gift basket. Today we're making the ultimate Christmas cookie gift basket! Loaded with yummy treats, a few pretty little baking accessories, baking mix, and a favorite cookie recipe, it makes a perfect hostess gift or an amazing present for a co-worker or neighbor. So let's do this, shall we?

A small basket
Lindt LINDOR Milk truffles
Assorted mason jars
Christmas Chocolate Truffle Cookies with Lindt LINDOR truffles (recipe below)
Kraft paper and a fine point marker
Wooden mixing spoon
A recipe card with cookie recipe
Wooden measuring spoons
Small candles, paper straws, an ornament, or other small trinkets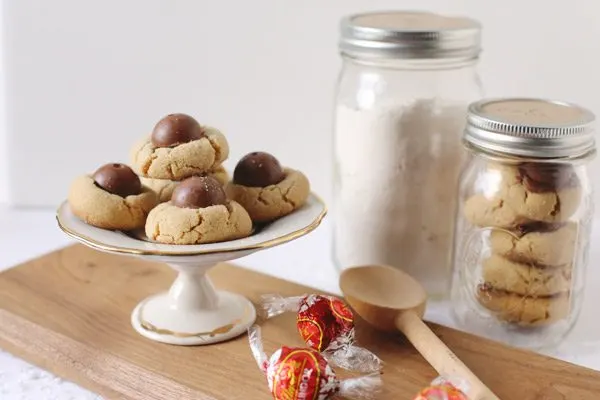 Begin by picking out a pretty little gift basket. I love finding them at Michael's this time of year where they're often 40% off. Next, pen the recipe for my Christmas chocolate truffle cookies on a pretty recipe card and tuck it into the basket. Bake a batch of Christmas chocolate truffle cookies. Made with Lindt LINDOR truffles they are irresistibly yummy! That smooth, melting chocolate center just takes these cookies over the top. Once cool, place several in a mason jar for including in the basket. In a separate mason jar, measure out the dry ingredients from the recipe. Then label each jar by cutting a piece of kraft paper to fit the lid and labeling each with a marker. Tuck the mason jars and a bag of Lindt LINDOR Milk truffles into the basket.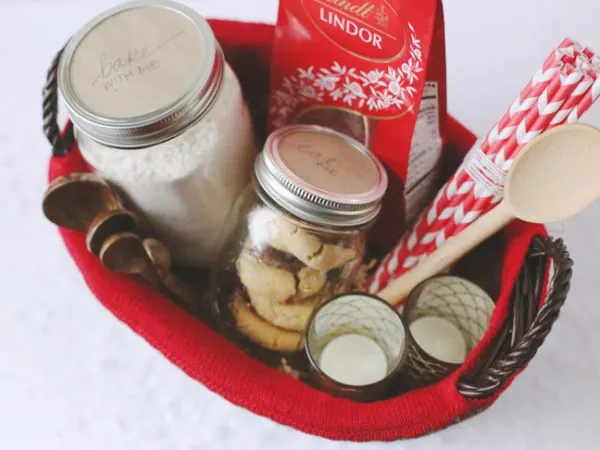 Next, add a couple of pretty baking accessories like a wooden spoon and a set of wooden measuring spoons. (These are from Pier 1 Imports and they make such a nice gift!) Finally, add a couple of fun sparkly trinkets like a couple of pretty votive holders, a Christmas ornament, or a bundle of striped straws. I love adding a little something unexpected just to make the gift's recipient smile.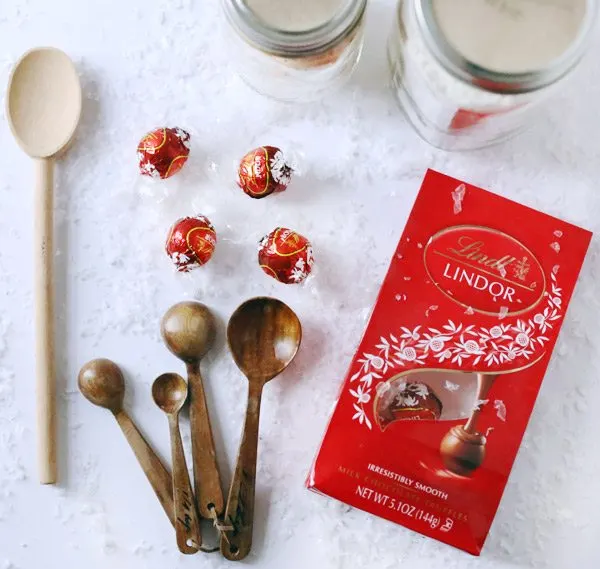 And it's that simple, friends! A pretty and super-thoughtful gift basket that's perfect for just about anyone on your list this Christmas season. Bonus! It's loaded with yummy treats and features an easy cookie recipe that's insanely delicious. The cookie recipe is actually adapted from one of my mom's recipes that has been a favorite of mine since childhood, so it's entirely tried and true. Adding the Lindt LINDOR truffles on top only makes them that much more delicious!
Enjoy and happy gifting!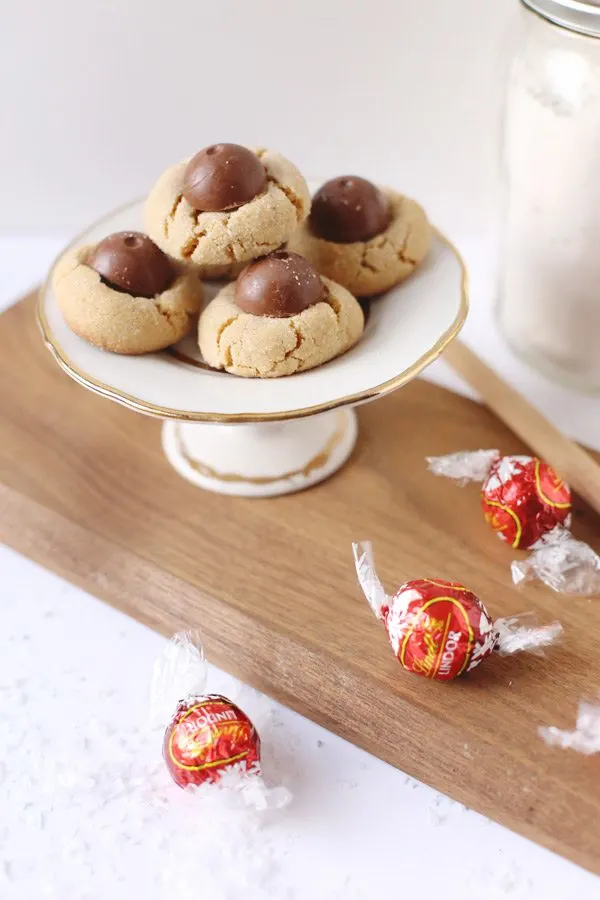 Makes 30 cookies
15 Lindt LINDOR Milk truffles
1-3/4 cups all-purpose flour
1 teaspoon baking soda
1/2 teaspoon salt
1/2 cup white sugar
1/2 cup brown sugar
1/2 cup peanut butter
1 egg
2 tablespoons milk
1/2 cup shortening
1 teaspoon vanilla
1/2 cup white sugar, reserved for rolling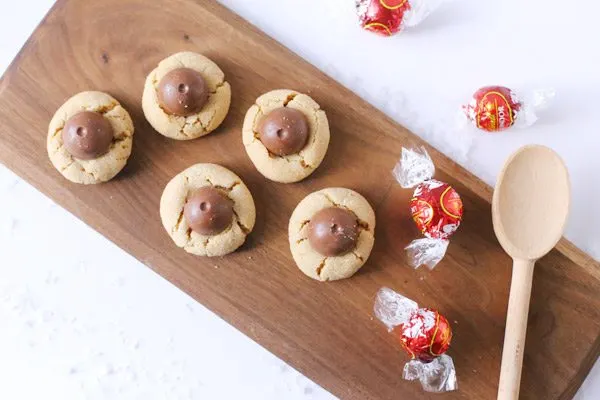 Preheat oven to 375°. Then, in a mixing bowl, combine flour, baking soda, and salt.
In a separate large mixing bowl (or the bowl of a stand mixer), cream together the white and brown sugars, peanut butter, egg, vanilla, milk, and shortening. Add the dry ingredients to the creamed sugar mixture and mix until well combined. Form the dough into small balls by rolling it in your palm. Then roll in white sugar to coat evenly. Bake for 10 to12 minutes or until the bottoms are golden brown. Remove from the oven and transfer to a wire rack to cool.
While the cookies are baking, unwrap the Lindt LINDOR truffles. Then cut each one in half to form two small domes of chocolate. Once the cookies are baked and still just barely warm, place a truffle half on top of each cookie. Make sure your cookies aren't too warm when you place the truffle on top or they'll melt completely, which results in some pretty messy cookies. (Although they're still super delicious!)
Check out both LindtUSA.com and Lindt Chocolate on Facebook for more indulgent chocolate recipes.

[Photos, recipes + styling by Cyd Converse.]
This post was sponsored by Lindt and was originally posted on Momtastic. Read more about our editorial policies.