There's just something about February that practically begs for us to treat ourselves, don't you think? Here in the farthest northern reaches of Upstate New York, it's just about the day that the calendar flips from January to February that winter just starts to feel so long. The holidays feel like a distant memory and yet spring seems so far off. And then, there's just February. I'm convinced it's no coincidence that it's the shortest month of the year, because certainly thirty-one days of February would feel entirely too long. Luckily for all of us, the sweet Melina of Sugary & Buttery is back today and she's bringing us the cure to all those winter woes. We're talking a pear and poppy seed layer cake, boasting triple layers of pear upside down cake and a poppy seed buttercream that will knock your socks off. You don't need an excuse to make this cake. You just need a love for spending time in the kitchen, listening to your favorite playlist and making a perfect floury mess. Sounds like heaven to me!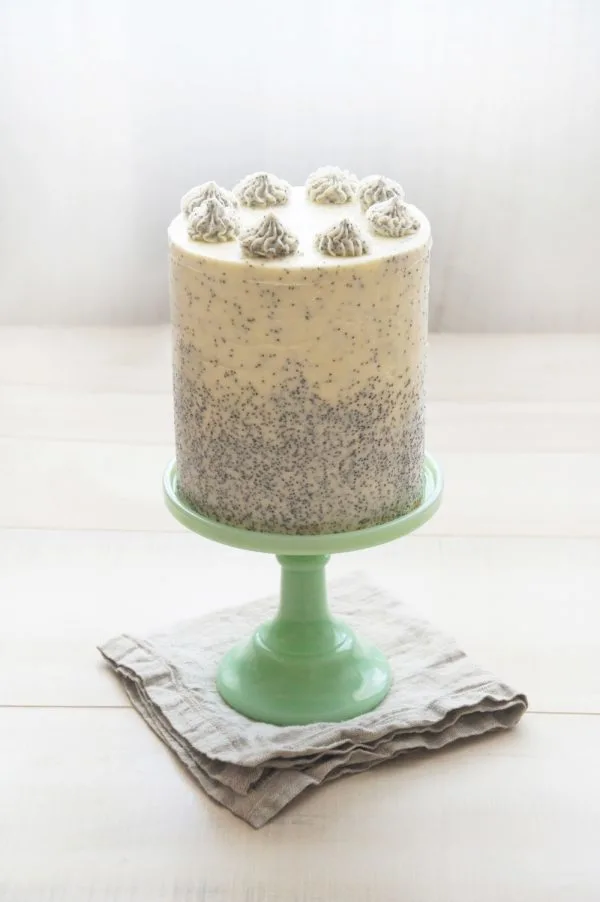 For the Cake
2 pears, peeled, each cut into eight
2 tablespoons maple syrup
1½ cups almond meal
½ cup flour
4 eggs
1 cup brown sugar
1 teaspoon vanilla extract
2 sticks butter
For the Buttercream
4 sticks (1 lb) butter, room temperature
1 cup powdered sugar, sifted
6 egg whites, room temperature
½ cup granulated sugar
½ cup water
½ teaspoons cream of tartar
1½ – 2 ounces poppy seeds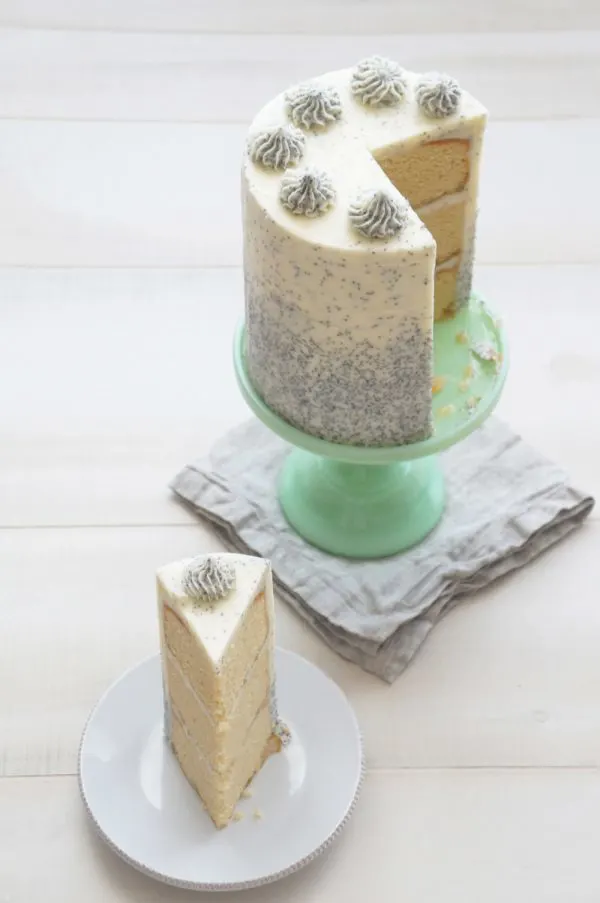 Preheat oven 350°F and lightly grease three 5 inch round cake pans.
Melt the butter and set aside to cool. Arrange pear slices evenly in 3 pans and drizzle with maple syrup. Set aside. In a large bowl, combine almond meal and flour. In a separate bowl, whisk together eggs, sugar, vanilla. Mix in butter. Pour into almond meal mixture and lightly fold together. Pour batter over pears in pans and bake for about 1 hour or until cooked when tested with a skewer. Cool the cakes in pans for about 10 minutes then invert onto a wire rack. Let cool down completely, preferably over night.
To make the buttercream, bring sugar and water to a boil in a small saucepan over medium heat. Boil the syrup until it reaches 240°F (soft-ball stage) on a candy thermometer. In the bowl of an electric mixer fitted with the whisk attachment, beat egg whites on low speed until foamy. Add cream of tartar, and beat on medium high until stiff but not dry peaks form. With the mixer running, pour the sugar syrup down the side of the bowl into the egg whites. Turn the mixer on high speed and beat for about 10 mins. Add the butter, piece by piece and keep beating. If it looks curdled at any point during the beating process, continue beating until smooth. Add half of the poppy seeds, then take out about 1 cup of buttercream and mix in the remaining poppy seeds, set aside. You should have a large portion of lighter buttercream and a small portion of darker buttercream, with more seeds.
Assemble the cakes with the pears facing down (otherwise the buttercream will not spread). Crumb coat the cake and refrigerate for at least 1 hour. Frost the top of the cake with the lighter buttercream and the bottom half of the cake with the buttercream containing more poppy seeds to achieve a slight ombre effect.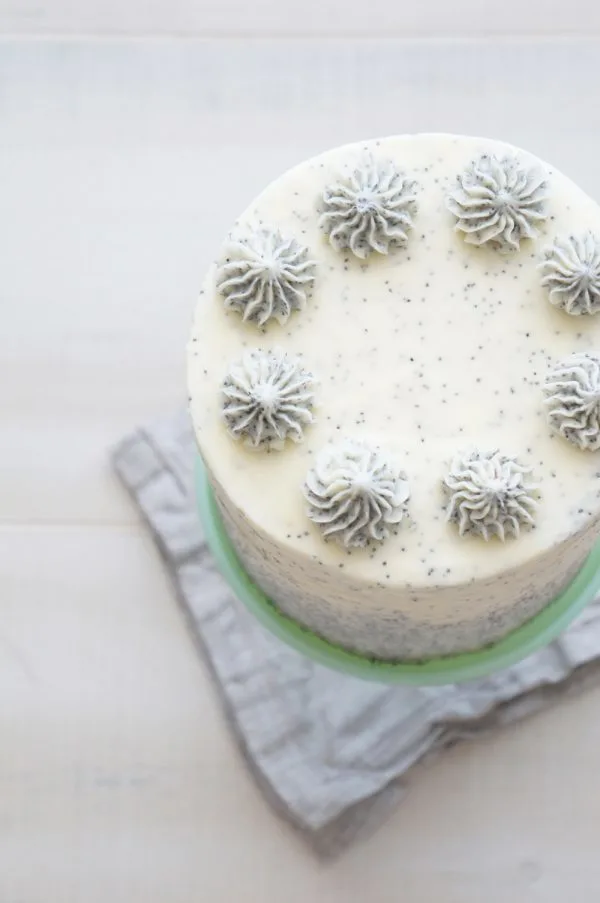 Guys! That cake! Isn't it about the prettiest thing you've ever seen? Plus I'm a sucker for pears so I can assure you I could gobble this right up. Huge thanks to Melina for being awesome and joining us here each month to share her confectionary talents. Her cakes have seriously inspired me to spend more time baking, which is something I just love doing, but don't make enough time for on a regular basis.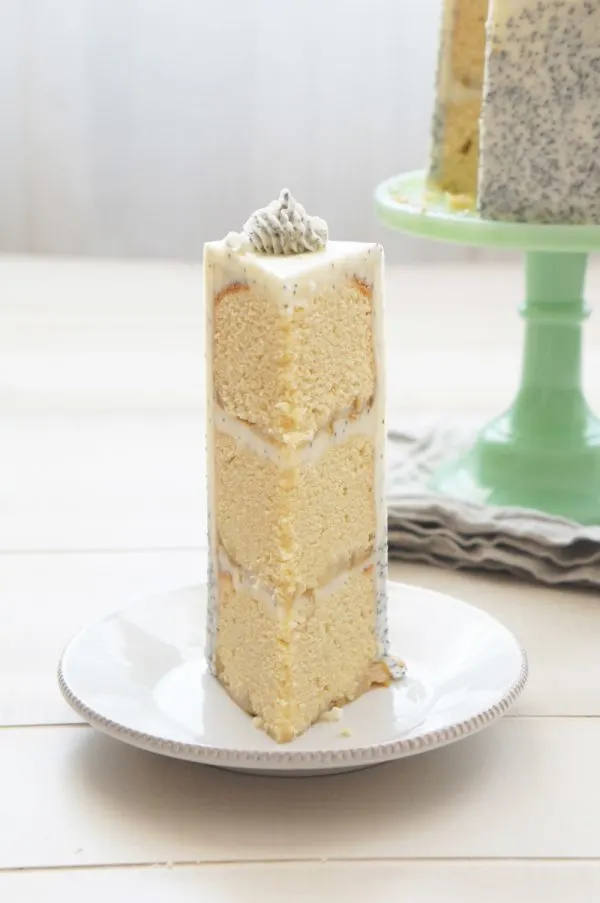 [Photos by Sugary & Buttery for The Sweetest Occasion.]