While big Easter dinners were typically how we celebrated as a family when I was a kid, I have to admit that I've become a bigger fan of Easter brunch as an adult. Maybe because I'm just a sucker for brunch in general? And the fact that a holiday brunch makes day drinking (you know, mimosas) totally acceptable? Or it could very well have to do with the fact that I just love breakfast foods so any chance I get to mix sweet and savory in one meal is a chance I'm going to take. So today, with Easter brunch in mind, we're making mini asparagus frittatas! Made in little crème brûlée dishes or ramekins, these are perfect for hosting a few or a bunch and they're super easy to make. Plus, these are really quite healthy, making a handful of Cadbury Mini Eggs later in the day absolutely acceptable.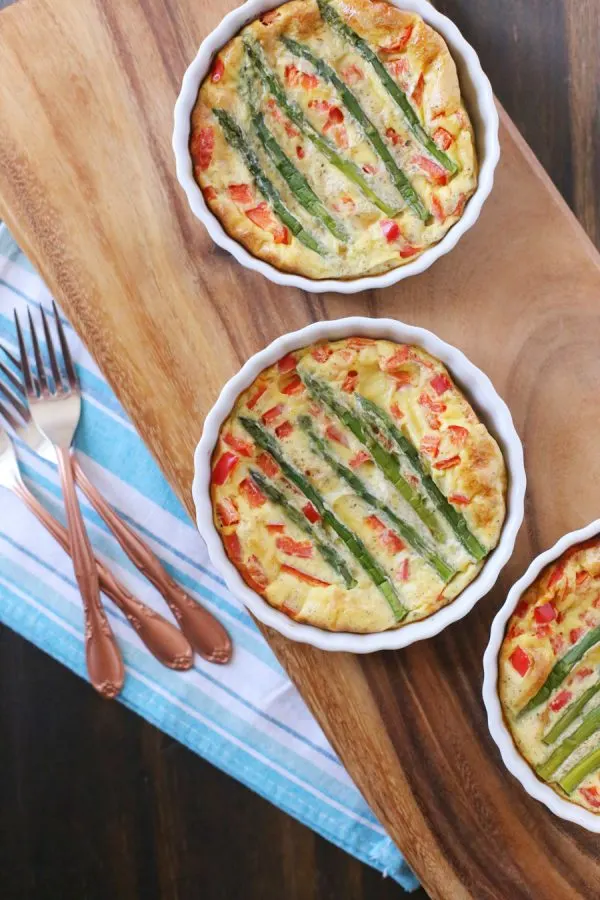 If you're into such meat things (which we know I'm not), a side of crispy bacon would go really well here. Definitely don't skimp on thick-cut crusty toast! Otherwise, some fresh fruit, loads of yummy jam, a pitcher of mimosas and coffee are all you need to round out your Easter brunch. There is nothing difficult there! Just how I like to roll.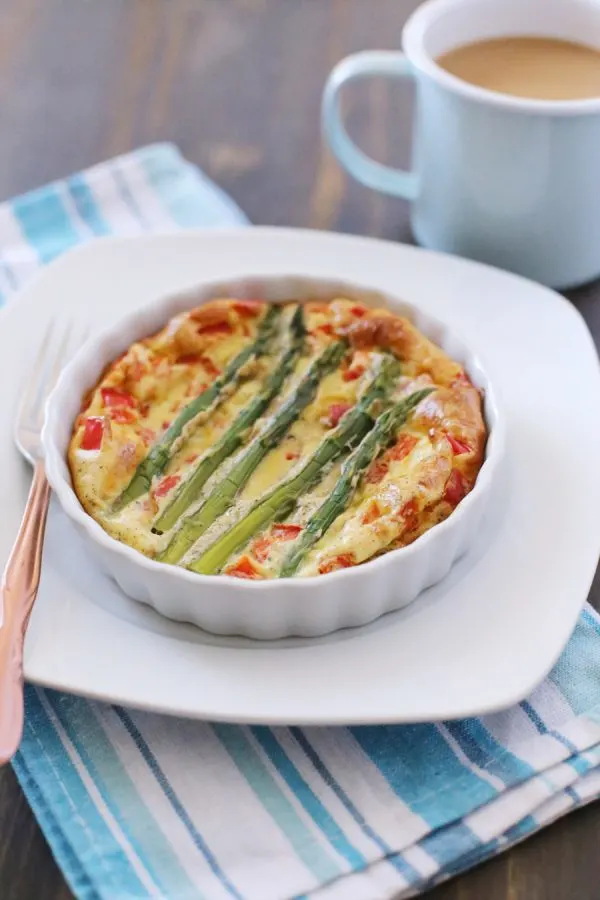 Makes (4) mini frittatas
6 large eggs

1/4 cup half and half
1/2 red bell pepper, finely chopped
20 stalks fresh asparagus
1/2 tablespoon olive oil or cooking spray
1/2 teaspoon fresh cracked black pepper
1/2 teaspoon sea salt
Preheat oven to 450° and then chop down the asparagus to slightly shorter than the width of your dishes. Lightly steam in a saucepan with a bit of hot water for 2- 3 minutes until bright green. Do not steam all the way through, the goal is to just start the cooking process so the asparagus is nice and tender after baking. While the asparagus is steaming, vigorously whisk together the eggs, half and half, pepper and salt in a small mixing bowl. Add more or less salt and pepper to taste. For a Paleo-friendly variation, skip the half and half and sub in a bit of water or plain, unsweetened almond milk. Then add in chopped red bell pepper and whisk again.
Lightly grease your dishes with the olive oil or cooking spray. Place all of the dishes on a baking sheet, then pour egg mixture into each to about halfway full. Arrange five or so asparagus stalks across the top then slide the baking sheet into the oven. Bake on the middle rack for 18 – 20 minutes or until ever so slightly brown around the edges. The egg will puff up as cooking. Once baked, remove from the oven and allow to cool slightly before serving.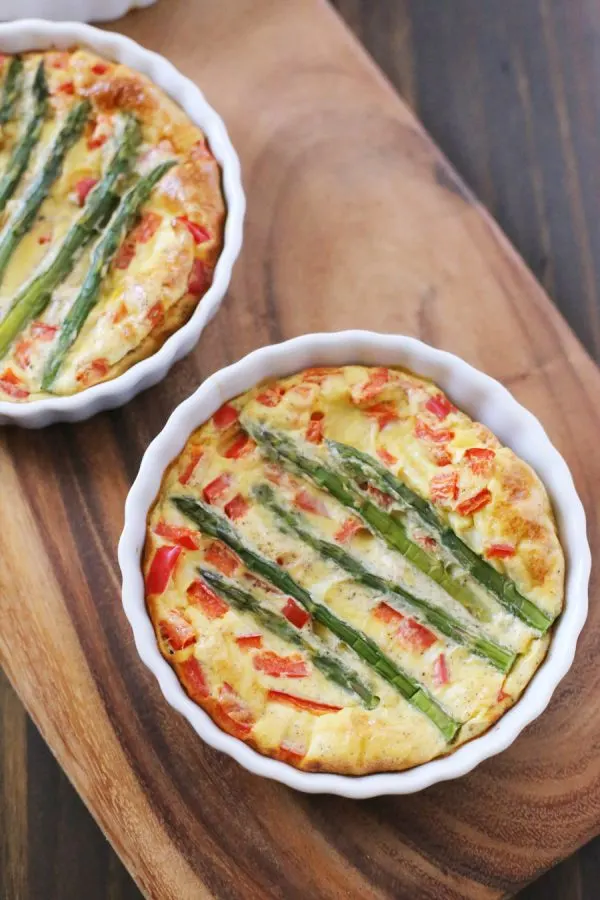 I used 4.5″ crème brûlée dishes for my mini frittatas. If you use something that's deeper or wider you'll need to adjust the baking time accordingly. Start by baking for 8 – 10 minutes and then check every couple of minutes until done. I intentionally keep these simple so that it was very easy to whip them up on Easter Sunday when most of usually have a zillion other things going down. That said, they'd be amazing with some caramelized onions, a bit of parmesan or mozzarella, or whatever other veggies you'd like to add. Yum! They're seriously even easy enough for a weekday breakfast – just set them to bake before you jump in the shower.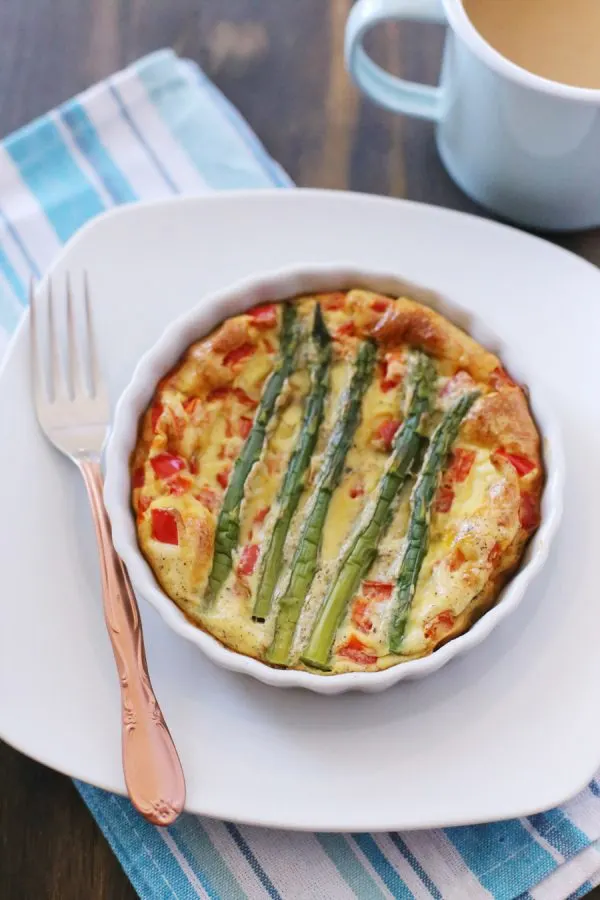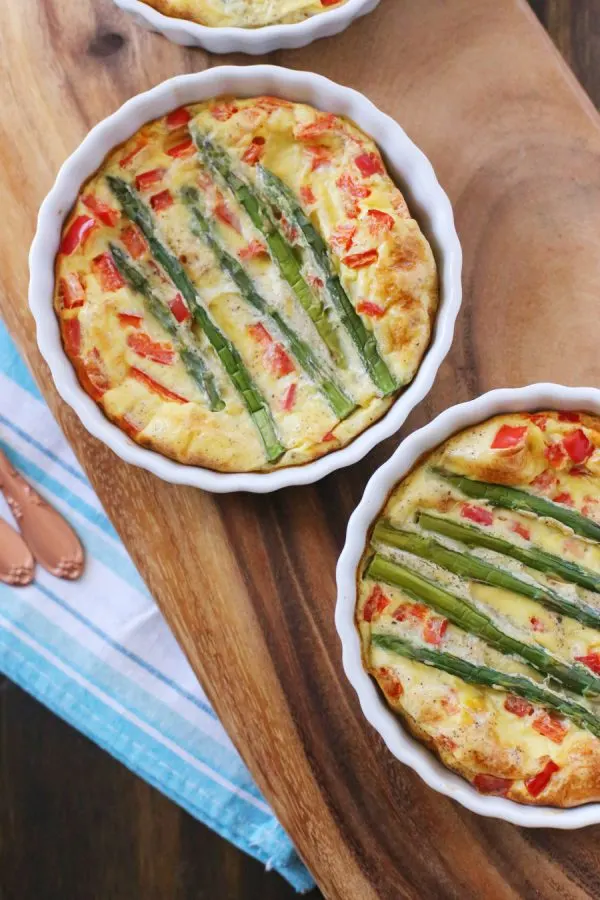 [Photos + recipe by Cyd Converse for The Sweetest Occasion.]