This post was sponsored by Simply Beverages. Thank you for supporting the sponsors that
so generously allow The Sweetest Occasion to keep on keepin' on!
Turns out, February was the coldest months on record ever for our area. We're talking more than 20 days of below zero temperatures and only a single day that even hit freezing. But as cold as we've been, there is no denying that spring is on the way. The days are getting longer, the sun is definitely coming around more often and soon enough (I hope) we'll be wearing flip flops! Today I've teamed up with Simply Juice Drinks to share with you some easy tips and ideas for hosting a fun, casual party designed to welcome spring. We're talking tacos and cocktails – two of my favorites! This is the easiest way to invite friends over for a little spring celebration that is sure to be a hit.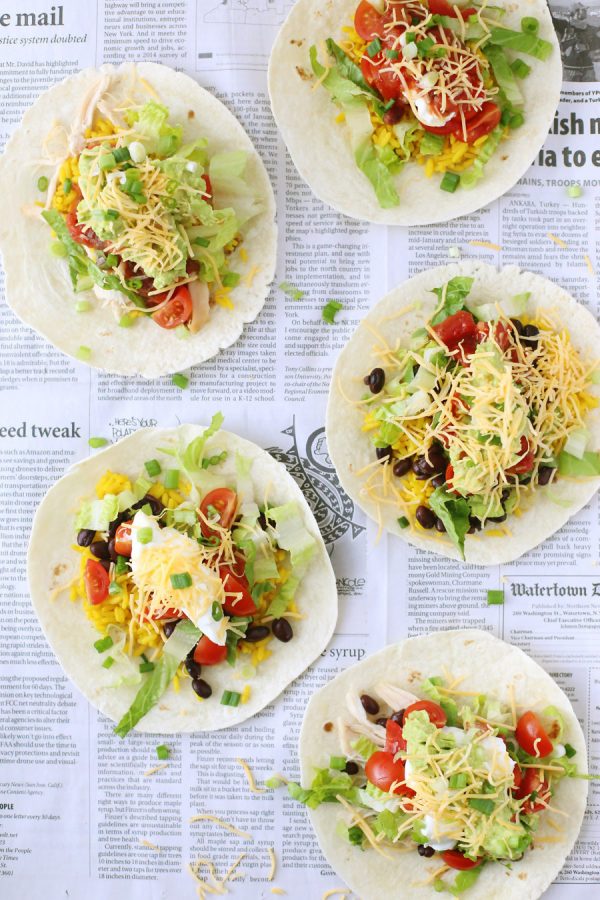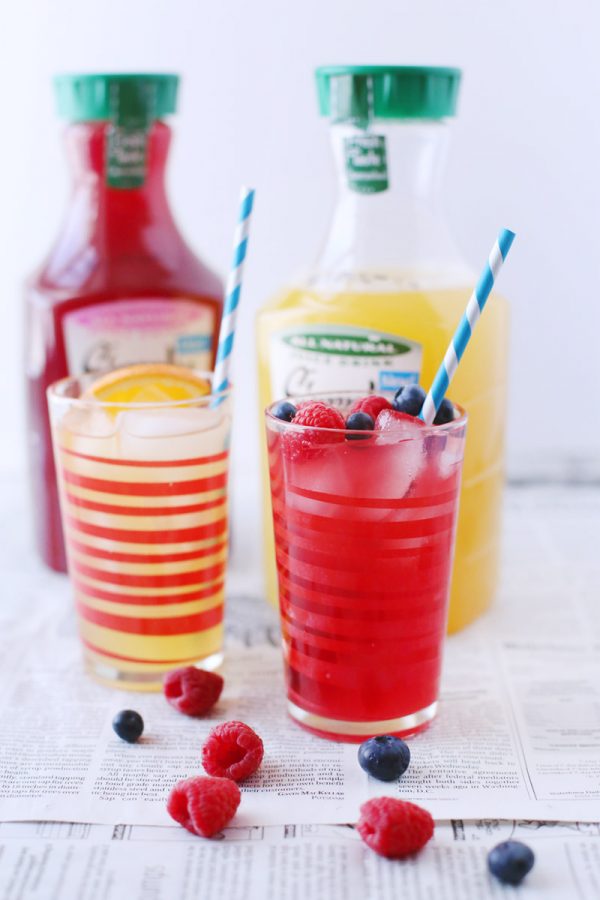 Today we're talking about one of my favorite ways to entertain, which basically revolves around a food station and a cocktail station. That way guests can come and go throughout the afternoon or evening and nibble and sip as they please. Specifically, it's all about the taco today. Mind you, we eat all kinds of taco-inspired fare around here all year long, but tacos are fun and easy to make and sure to be a crowd pleaser, which sort of fits with a party designed to celebrate the return of warmth and sunshine, don't you think?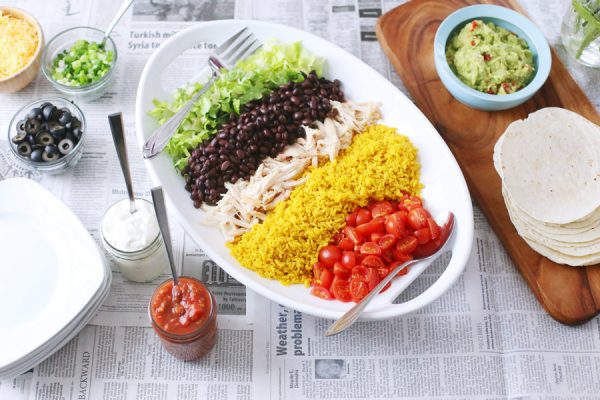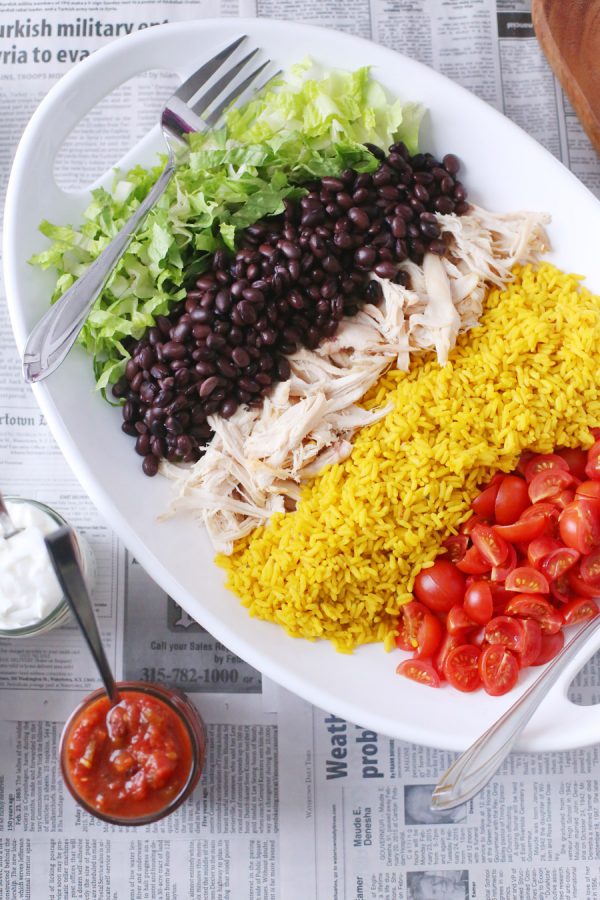 My favorite way to host a party is to work with everyday items you already own and style them in fun ways to make your party look really fun and special without having to run to the store to buy a bunch of stuff. So here I lined the table with newspaper and then laid all the taco fixings out using my standard white serving platters, mason jars and prep bowls. Something as simple as transferring the salsa from the store bought jar to a mason jar just makes it look that much better. For my taco bar I focused on all of my favorite fillings like black beans, rice, tomatoes, homemade guacamole, salsa, cheese, scallions, olives, the works. I did include chicken, recognizing that some people do prefer a meat option in their taco. The easiest way to do that and keep it super simple? Stop off and get one of those $5 rotisserie chickens at the grocery store. Done and done!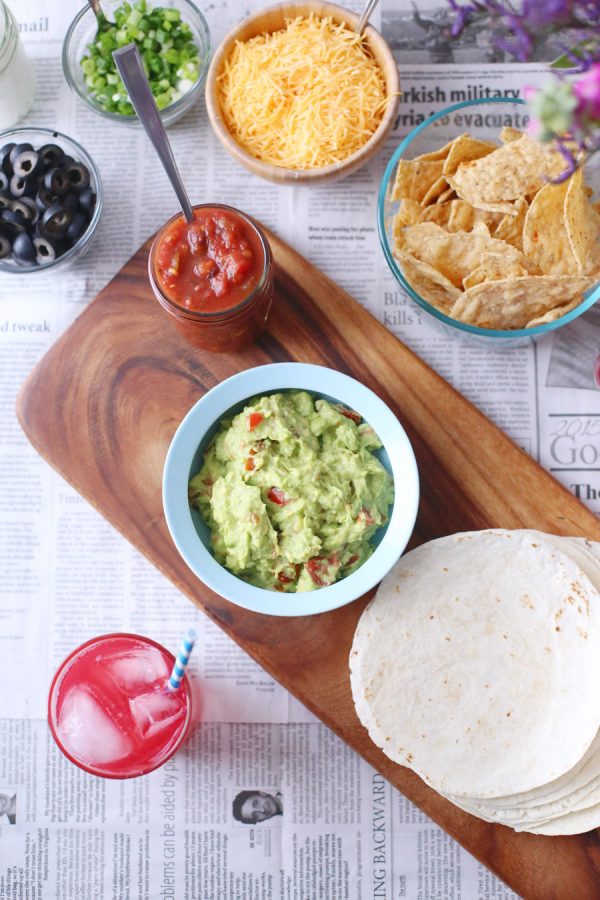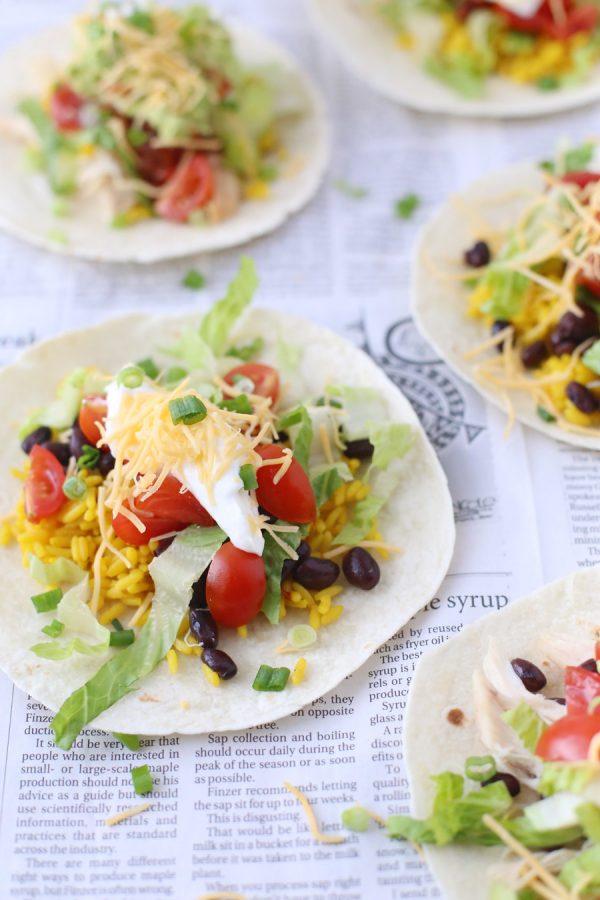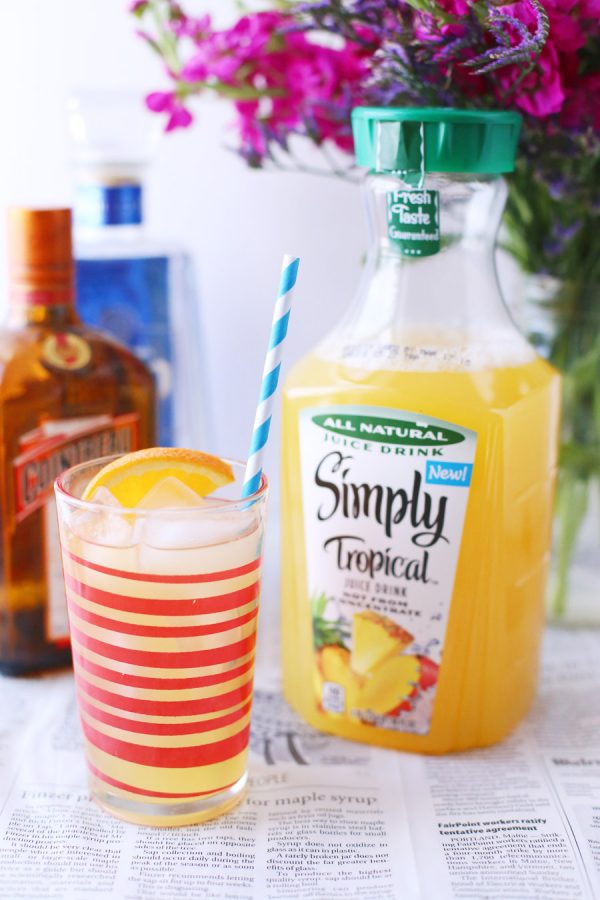 Of course no party is complete with a few good cocktails. That's where the new Simply Juice Drinks come into play! These new flavors (Fruit Punch, Tropical and Mixed Berry) lend themselves perfectly to crafting really delicious cocktails that all of your friends will love! I am personally loving the Simply Tropical (made with real pineapple and mango juice) made into a really delicious margarita. Just add orange liqueur or triple sec and a good silver tequila, shake and pour over ice. There is nothing better with tacos than a super yummy margarita!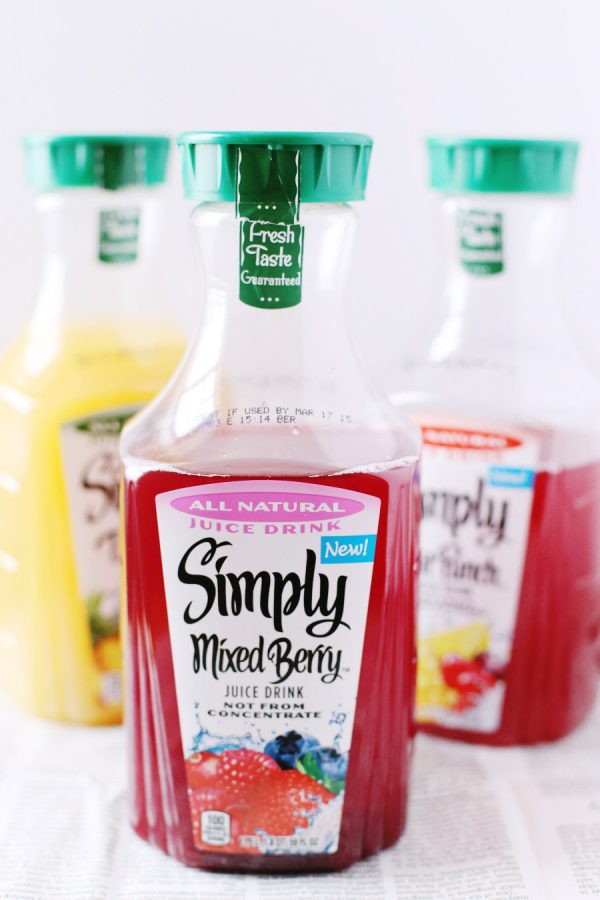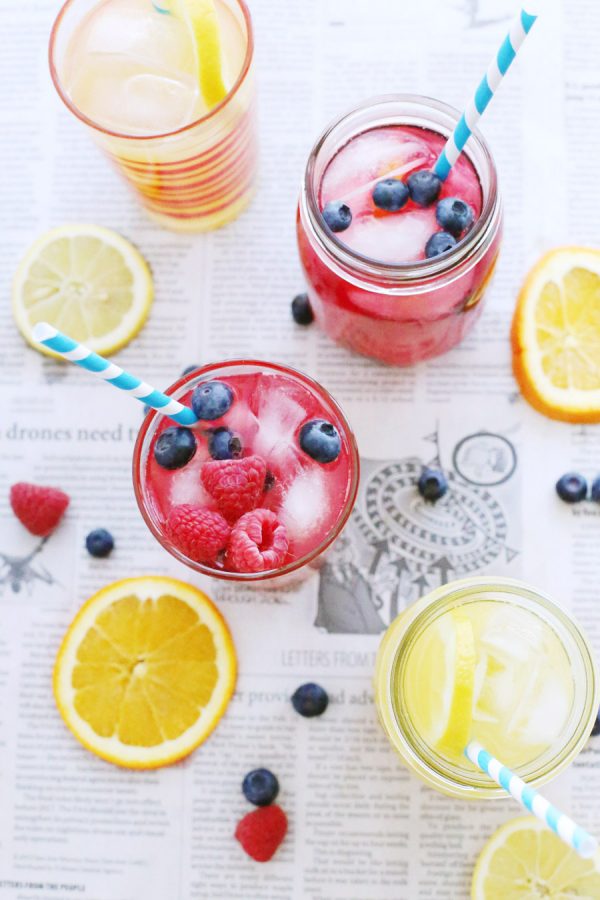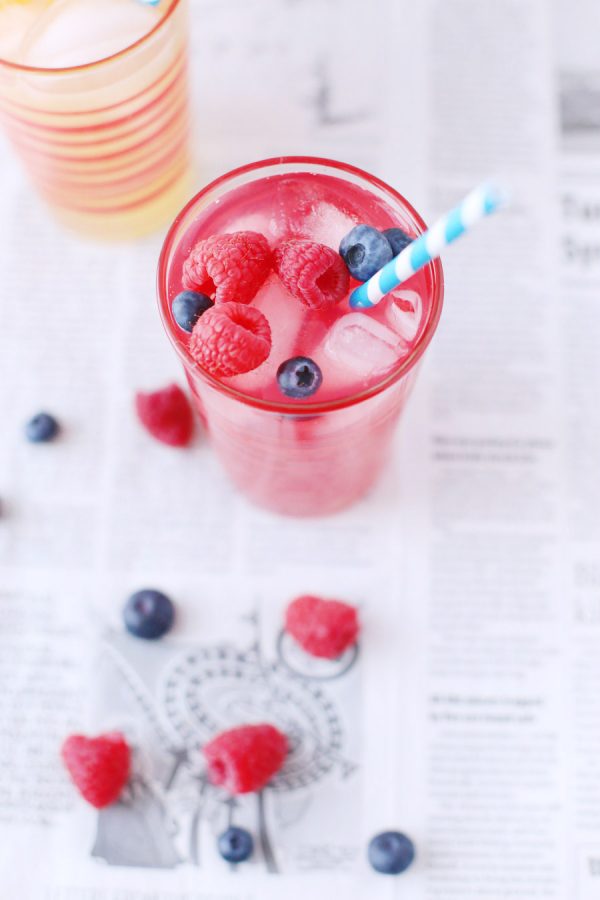 Not surprisingly, the Simply Mixed Berry is my favorite of the flavors! I have a serious love for berries, and pairing the Mixed Berry with my favorite gin and a bit of elderflower liqueur ended up being a very good idea. Serve over ice and load it up with fresh berries and you have an instant party in a glass. You also need to give the Simply Fruit Punch a try with a splash of good bourbon and a wedge of lemon. All three of these drinks are taking up permanent residence in my cocktail rotation. The Simply Juice Drinks are bursting with real fruit taste and they're made with simple, all-natural ingredients, making them perfect for whipping up fresh, tasty cocktails your friends will love.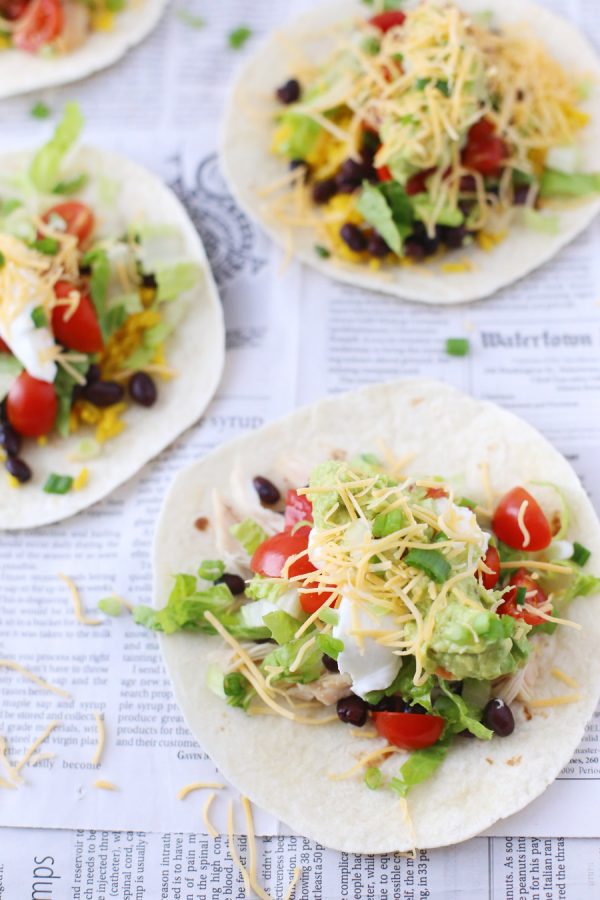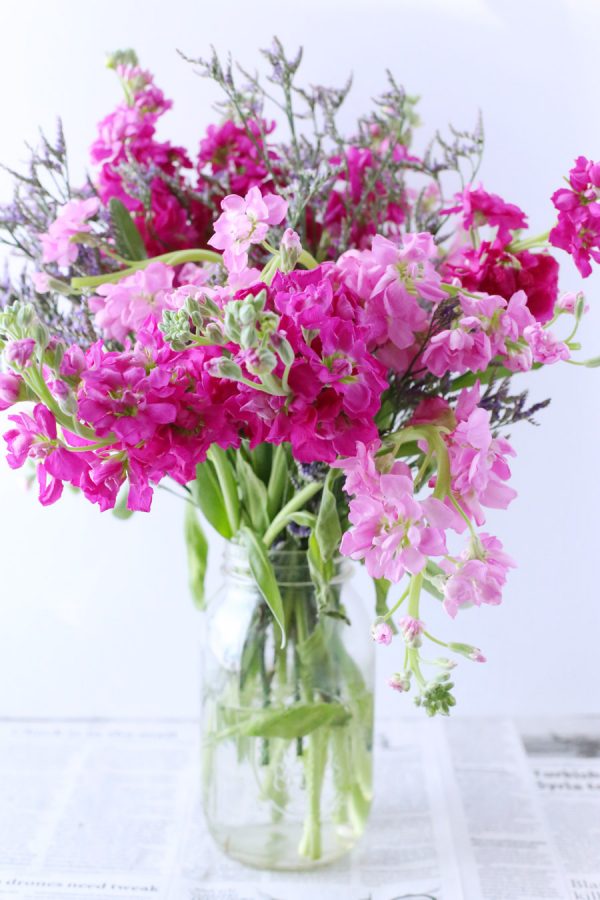 The last thing you need is to add a little extra color to your table before your guests arrive. Of course, I'm talking fresh flowers! I spent $10 on inexpensive grocery store flowers (yes, my favorite, we all know) and then trimmed them down and tucked them in a quart size mason jar. They look so pretty and it takes all of five minutes to do. If you buy big flowers that have more than one bloom to a stem, they'll largely do the work for you when arranging. Choose a monochromatic palette like I did here, with two or three shades of the same color and all you have to really do is plunk them in a jar without a lot of effort and they'll look so pretty.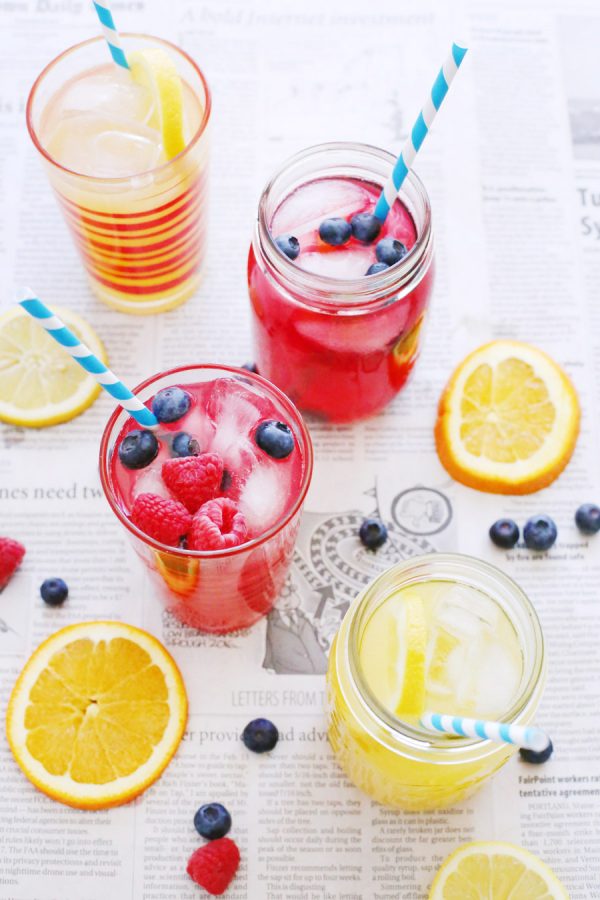 Is anyone else totally pumped for spring now? When in doubt, you can't go wrong with tacos and cocktails. For more recipe ideas, flavor combinations and inspiration, follow along at the Simply Facebook page!

[Design, styling + photos by Cyd Converse for The Sweetest Occasion.]
This post was sponsored by Simply Beverages. Read more about our editorial policies.