This post was sponsored by Valspar. Thank you for supporting the
sponsors that help make The Sweetest Occasion possible!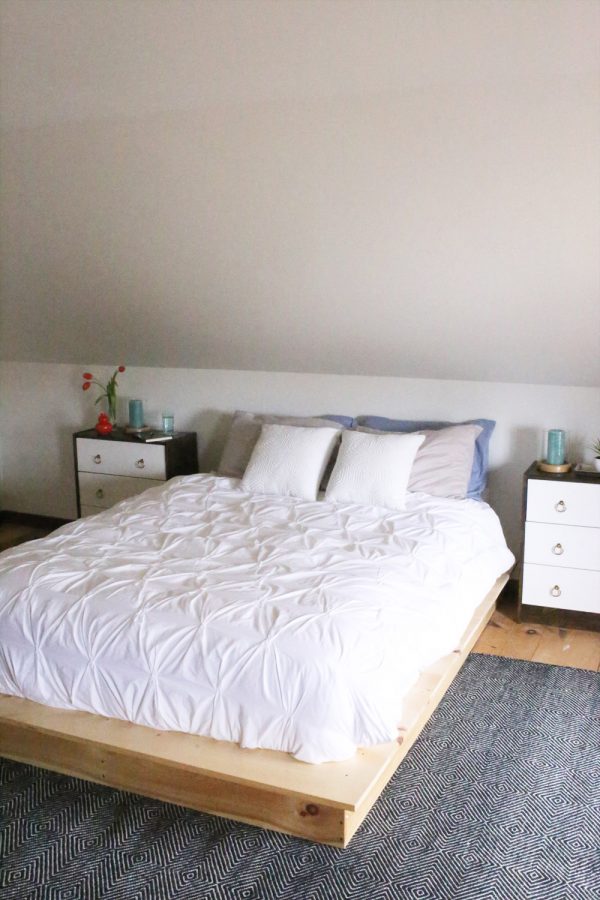 Friends, I'm excited to share with you a little mini master bedroom makeover that I recently tackled! This room has been on my list since we moved in over a year ago and it has been essentially neglected. This is the opposite of my usual approach. Typically when I move the master bedroom is my first priority, because I always feel that a settled and happy bedroom makes all the other moving stress much more manageable. I don't know why that didn't happen this time around, but I knew that it was time to get it done. So, when Valspar asked me to make over a room in our house featuring one of the colors from their Color Trends 2015 palettes, I knew exactly what was going down. The four palettes each feature six beautifully coordinated Valspar colors, hand selected to help you work current design and color trends into your decor without skipping a beat. Also, the colors are just super gorgeous.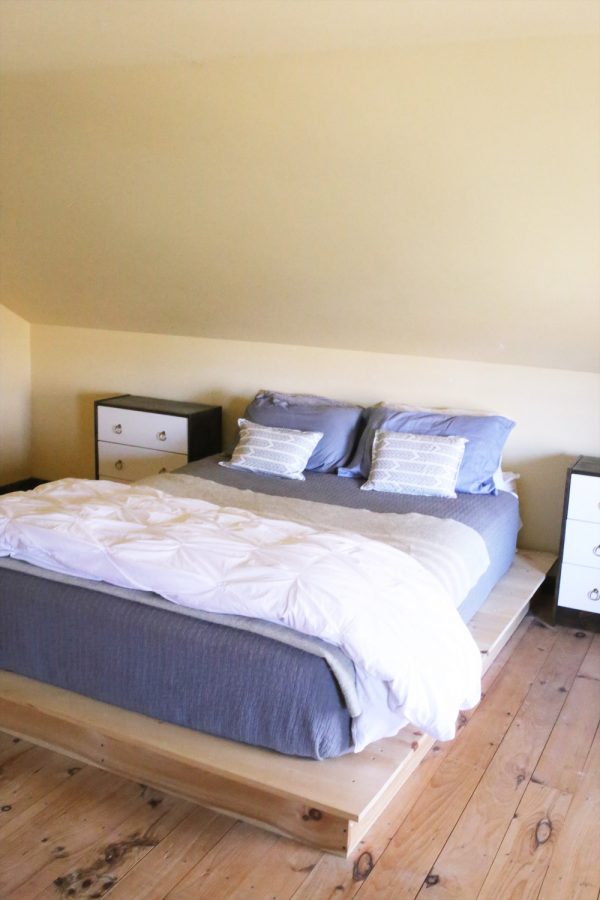 Oh, man. It pains me physically, emotionally and psychologically to share this before photo. Granted, the room has amazing architecture. It's actually a huge room and the pine plank floors are a dream. They were hidden under the ugliest forest green carpet when we first saw the house, but having spied the plank floors along the landing at the top of the stairs, I got right down on my hands and knees in the closet and started tugging on a corner. Happily, the plank floors were under there and our landlord agreed to ripping up all the old carpet. Joy! The honey mustard walls on the other hand? Sadness. Complete and utter sadness. I hated them from day one (we know how I feel about yellow in general, I mean come on) and then somehow just didn't get around to changing the color.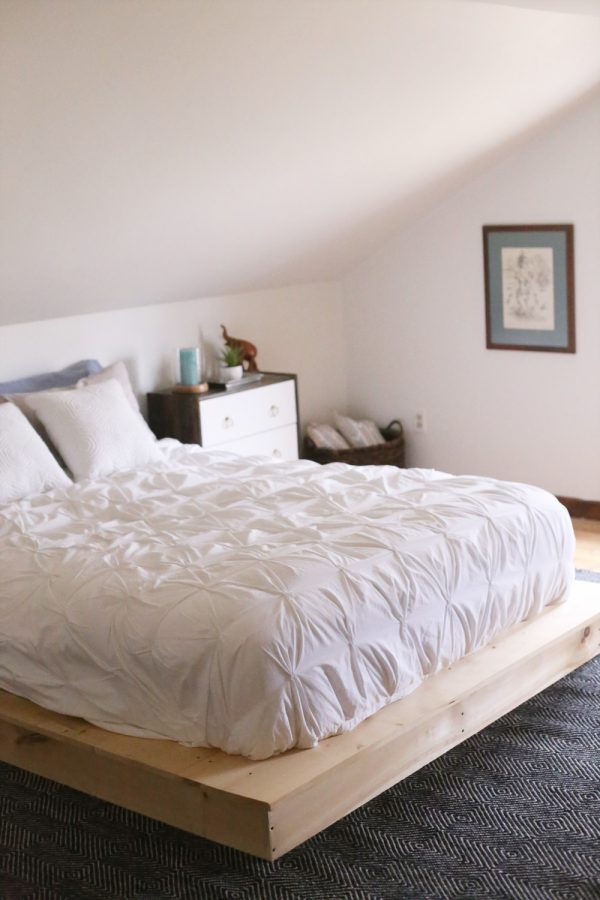 So a couple of weeks ago, the makeover was on. I'd always wanted to go with a very pale gray or slightly off-white color in this room. I wanted the warmth of a bit of color, but essentially just wanted to keep it very neutral and light, with loads of texture. Our old bed was entirely too large for the sloped attic ceilings and our boxspring didn't fit up the narrow stairs of our 1907 house, so one thing we had already done was build a very simple pine frame platform bed. All of those elements taken into consideration, and Valspar's Transparent VR106E ended up being the absolute perfect color. From the Sixth Sense color trends palette, it's a moody and modern gray/white color with a bit of a green undertone so it doesn't read overly blue and cold, but nor does it look brown or yellow at all. It's officially my new favorite color. It is just so peaceful and calming. Together, the entire Sixth Sense palette is all about a balance between modern technology and a peaceful living environment. For me, the colors just speak to me.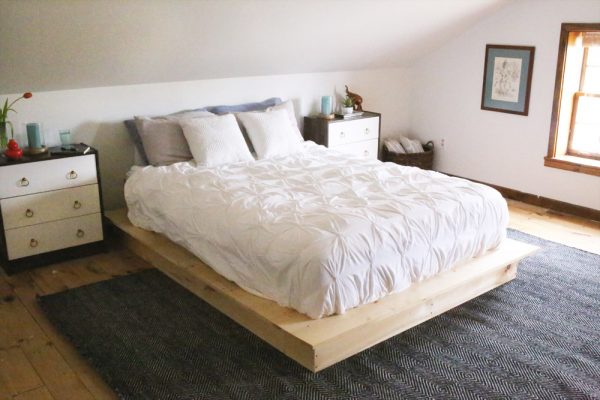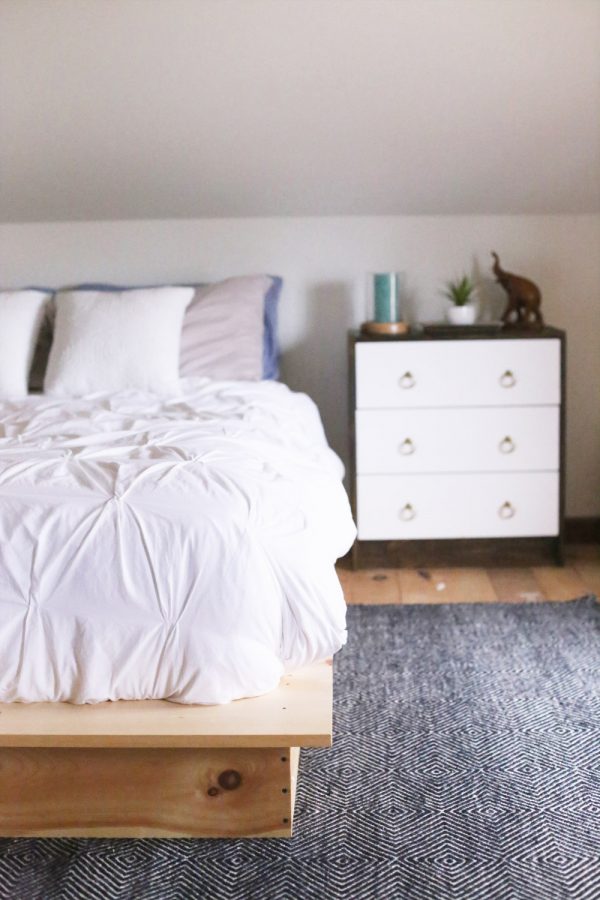 To get started, the whole room got a coat of Valspar Optimus in the eggshell finish, which is available at Ace Hardware stores. And yes, the room got just the one coat with just a few little touch ups here and there. I raved about this paint formula when I painted our front door, and here I am raving again. It's just that good. It's a true one-coat paint and primer formula that is sincerely genius. Next up, I rolled out the new carpet I had already purchased a couple of months ago but had not yet put in place. The carpet is perfect in the space and added just the right amount of pattern and texture. Then I just made the bed with our usual bedding (it's all the same as in the before photo, just styled differently), hung up some of the artwork I inherited from my grandmother's collection and called it good. So seriously simple and yet the room is completely transformed.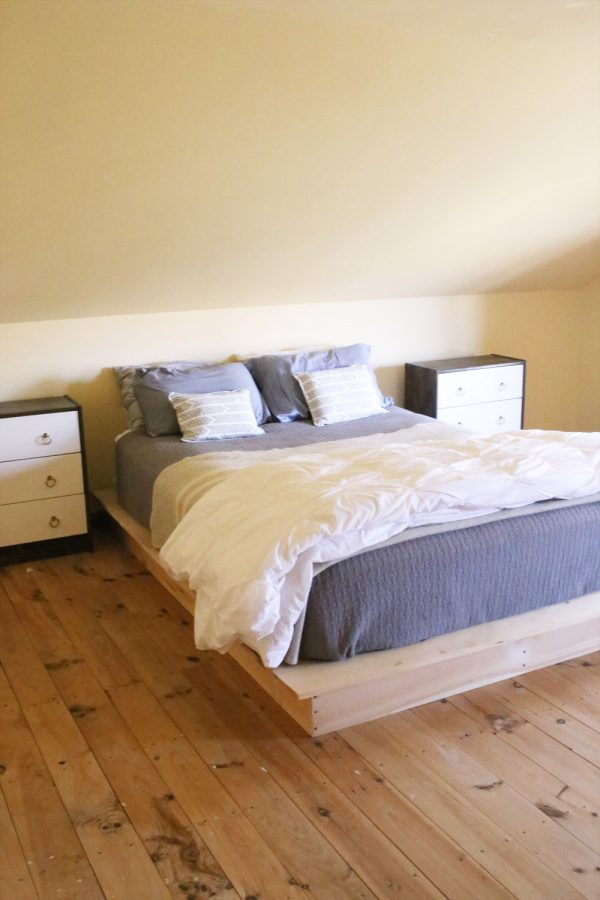 Yikes! Man, that was bad. It's funny how you become desensitized to something and then seeing it all fresh and crisp and new you become painfully aware of what you were living with before. Granted, the room looked a little cozier before these photos were taken, but I took them quickly after I had already cleared a lot of things out of the room. At any rate, you get the point. It was in sad, sorry shape. It just wasn't a space that was welcoming or made you want to hang out, which I think a bedroom should be. If ever there were a testament to the power of color, this makeover would be it for sure! Old, tired, sickly paint is never anyone's friend.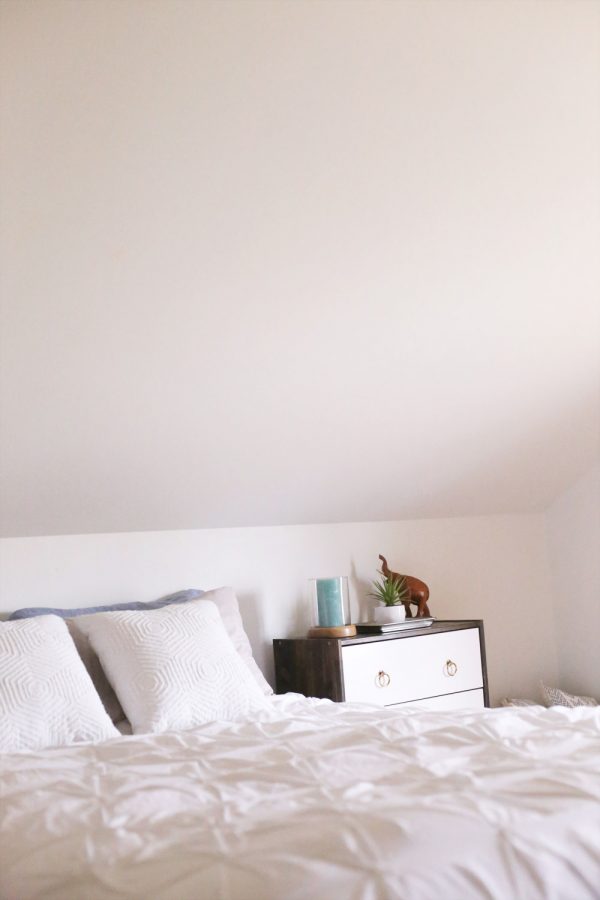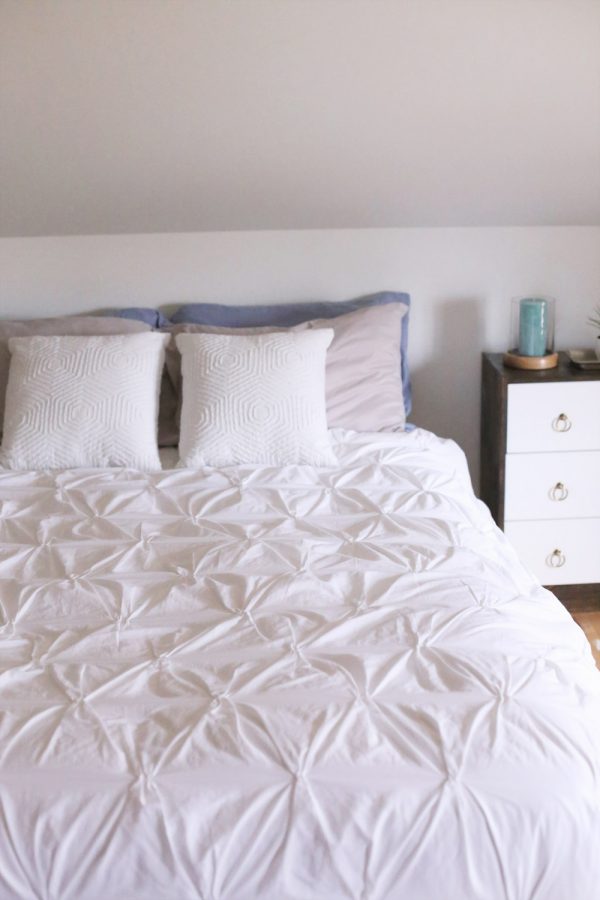 Does anyone else have a room you've been neglecting that could use a makeover? The Valspar Color Trends 2015 selections include a ton of gorgeous neutrals, earth tones, jewel tones and brighter shades to suit any style and any home. Because they're already grouped together into those mini palettes it makes choosing colors that work well together super simple even for those who might be intimidated about selecting paint. I love so many of the colors and am so thrilled with out how our room looks transformed with a wash of soft white. It's the perfect, restful den I was aiming for and a much-needed respite after spending long days tethered to my computer and iPhone.

[Photos by Cyd Converse for The Sweetest Occasion.]
Sources –
Paint is Valspar Optimus from Ace Hardware in Transparent
Pintuck bedding from West Elm
White throw pillows from Target
Gray quilt from HomeGoods
Rug from Rugs USA
Nightstands are an IKEA Rast hack
Candle holders from Target
Wood elephant is vintage (it was my grandmother's)
Illustrated art print by local artist Paul Lee
This post was sponsored by Valspar. This post contains affiliate links. Read more about our editorial policies.