Once upon a time, I discovered myself shocked as can be to learn we were expecting a little one. Fast forward (as in, super warp speed fast forward) several months and tomorrow is the day of my baby shower! It's such a surreal feeling because some days, other than the fact that stairs have become increasingly tricky to navigate, I actually still forget I'm pregnant. I have friends coming in from literally all over the country this weekend to be here to celebrate this baby and it is the most overwhelming feeling. Of course, Alice will be there taking lots of photos so we can share the celebration with you at some point in the next couple weeks. In the meantime, I'm sharing just a few baby shower ideas (you can find more here) inspired by the festivities plus a full 34 week baby update! 34 weeks. It's all happening so fast! Here's wishing you a beautiful weekend and I'll see you here on Monday! xoxo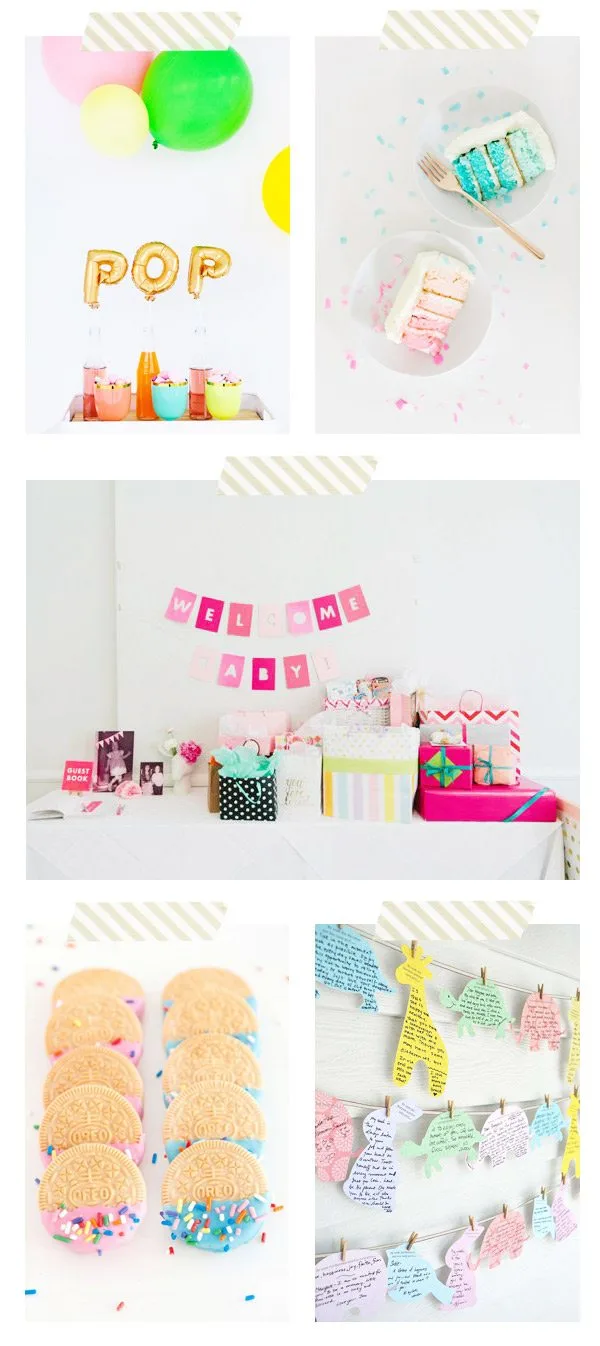 [About to Pop baby shower | Ombre cake | Hot pink baby shower | Confetti Oreo cookies | Wishes for Baby.]

Today officially marks 34 weeks pregnant! It's hard to believe that we're down to just a handful of weeks before the baby celebrates her birthday and I am feeling loads of emotions as we get closer. Basically every emotion known to man, if I'm being completely honest. There's actually part of me that wishes we had a bit more time before she arrives, because I feel like it's all rushing by a bit too quickly. Is that normal? Please tell me I'm not going crazy!
Hello My Name Is
We've been essentially settled on little girl's name since about 20 weeks along. That said, we've been up, down and all over the place trying to find the perfect middle name. As of a few days ago I think we may have figured it out! In the meantime we're staying pretty mum on her name until she's here. A very small handful of our closest people know what we've decided on for a first name, but beyond that we are keeping it quiet. We don't use her name when we refer to her and we don't plan to do so until she's here with us officially. We love love love her name though and I'm excited to share it with you once she makes her big debut!
Baby Got Legs
Anyone who knows me will tell you that I'm not exactly known for my height. I am perfectly average in height, but actually have slightly shorter than average legs. Were it not for my torso being of reasonable length, I'd be totally stumpy. All of that said, the fact that we have a little one on board boasting legs that are 97th percentile in length is completely entertaining to me. She very clearly got those legs from her 6'2″ daddy, not from this lady. As of right now, they're telling us to expect a long baby and we're so excited to see how it plays out!
C-Section Update
At next Friday's OB appointment I will be 35 weeks pregnant, at which point they'll be ordering a fifth and final ultrasound. They'll be doing a full growth chart again, checking placenta placement and determining if the baby has flipped head down at that point. Last we knew for sure she was breech, but it was still early so they weren't overly concerned. We don't believe she has flipped yet though so now they'll start to monitor that more closely. All of these various factors have us still of the mindset that we are headed for a scheduled c-section, but we won't have that firmed up for sure for a couple of weeks. The waiting game? Beyond stressful at this point!
Symptoms
At about 32 weeks I really started to feel the fatigue again. It's not necessarily every day, but when it hits it's real. We've been shooting a lot lately, prepping for when the baby comes so I can hopefully take a bit of real time off for a few weeks. On those shoot days I end up so exhausted I can feel it deep inside my muscles, like everything is vibrating or humming. Fatigue aside, I'm experiencing more tired muscles in general if I walk or stand for too long. Grocery shopping or running errands in general is becoming much less fun! It's not necessarily causing me any pain, everything just feels tight, tired and in need of a serious massage. Otherwise, I am still having a pretty amazing pregnancy and have largely avoided just about every scary symptom and side effect you read about. I feel really really lucky and know that feeling so good throughout these months is what is allowing me to work double time and get myself into a position where taking time off will be a bit easier. Now that we're entering the home stretch, I am hoping to be able to start slowing down in the next few weeks so I can do that whole nesting thing and just soak in the last days of being pregnant. I'm telling you it's utter craziness!