I debated for a while whether or not I was going to share Emerson's birth story because I tend to be really protective of my family and their privacy, but then I thought it would be a shame to not capture that day in writing before it started to fade. Then I debated how I would go about doing so and really over thought that for far too long, before finally deciding to just sit and write. So here I am. With a cup of coffee full to the brim, watching the baby snooze on the video monitor, snow falling outside, flipping through photos on my iPhone of that crazy, wild, beautiful day. I'm undoubtedly sharing some of the photos and memories nearest and dearest to my heart, which is a little different for me, but I do so in a show of gratitude for all of your love and support over the last many months. So, here goes!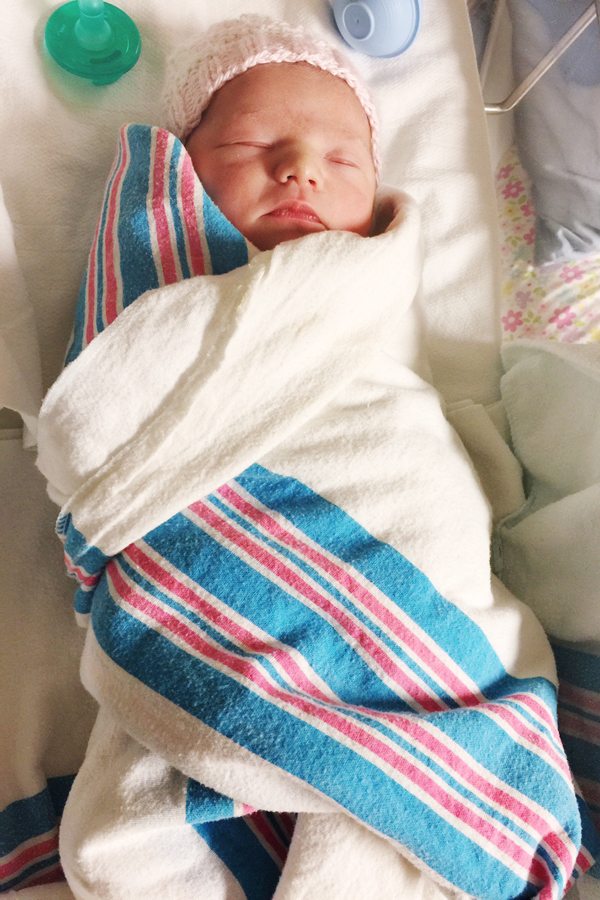 We had known since right around 20 weeks when I was diagnosed with complete placenta previa that we were most likely going to be delivering via cesarean section. It was largely just a matter of when and how early, or if I'd be able to go full term. I know that for many women the news of needing a c-section can be devastating, but I was honestly ok with it pretty much right away. I was distraught about all of the potential complications that can come with placenta previa (pre-term labor and severe hemorrhaging and the need for blood transfusions being just a couple), but beyond that I decided early on that I did not care how she was delivered, I just wanted our little babe to be healthy and safe. Done and done.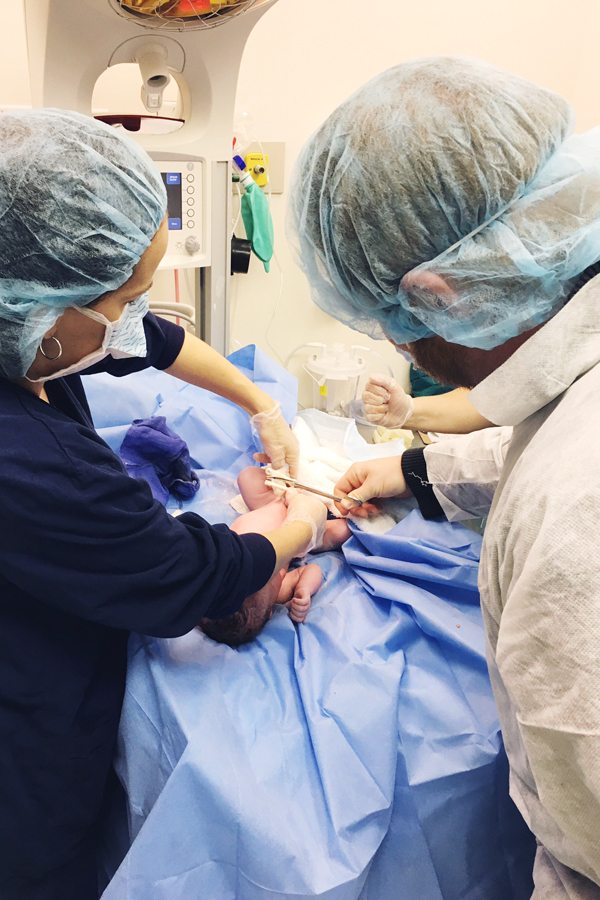 [Daddy cutting the cord while mommy is being closed up.]
Our c-section was scheduled for Monday, November 23, which meant Bob and I would have the entire weekend to finish preparing and trying to get our heads in the game. On Saturday night we went out for a really nice dinner, I finished up some laundry and packing my hospital bag, and overall we were able to relax most of the weekend. Come Sunday, our phones started ringing off the hook with friends and family checking in to wish us luck the next day and we had several visitors pop in to drop off things for the baby and give us hugs before the big day. Which is pretty much the part where I started to fall apart. By around dinnertime on Sunday, I was straight up losing my shit.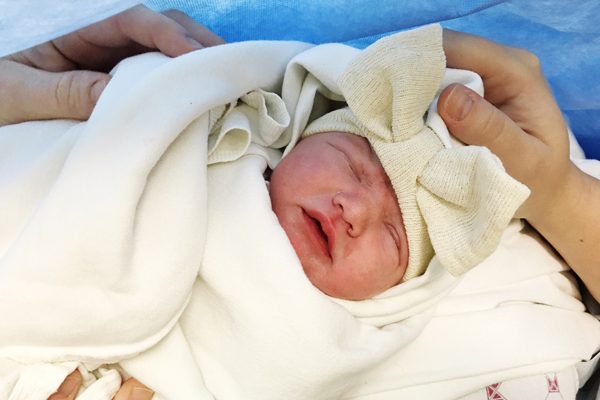 [Mommy's first time holding baby.]
So, quick back story. I am easily the most emotional person you will probably every meet. I feel everything, I feel it hard and I tend to wear my heart on my sleeve perpetually. You will absolutely find me crying over SPCA commercials as if I haven't already seen them (and cried over them) a hundred times. Any movie plot line involving kids, puppies or old people will wreck me. Marley and Me? I sobbed for about an hour after I watched it and I have never brought myself to watch it a second time. I'm that girl. So, it's reasonable that you would imagine that I'd have been one of those super mushy pregnant women, the kind crying over and scrapbooking every last milestone and doctor's appointment. I wasn't. I was shockingly calm, cool and collected. People would ask if I was getting excited and, honestly, I wasn't. But I was! But I wasn't. Truthfully, I just couldn't let myself go there. I had to keep a bit of a wall up between me and the reality of what was happening, or the emotions would have crushed me. So I focused on what I had to do. Plan photo shoots, write blog posts, schedule out content, take my prenatal vitamins, schedule my next OB appointment, wash baby clothes, and on and on. I was a machine. A very efficient machine. And the night before we were scheduled to meet our little lady, when there were no to-dos left to do, I fell apart. Straight up, shaking like a leaf, sobbing like a baby kind of falling apart. The enormity of the whole deal left me a train wreck.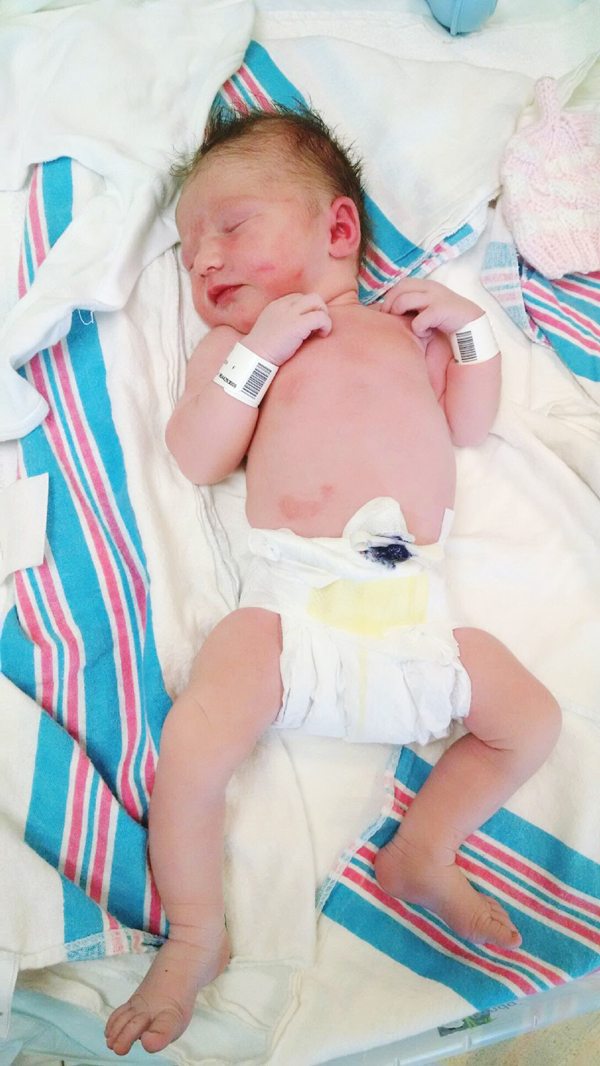 [Long skinny legs and feet for days! Still true, by the way.]
Finally, I got myself together enough to go to bed and was surprised that I actually slept pretty well. At 4:00 the alarm went off and I got up to have a little bit of time to myself before we were due at the hospital at 6:00. I showered, washed my hair, went back through my hospital bag again, and then made coffee for Bob while he got showered and dressed. We live only a block from the hospital so the drive there was insanely quick and before I knew it we were being buzzed onto the maternity floor to get checked in for surgery. Shockingly, after my epic meltdown the night before, I was back to being composed and fairly calm as were shown into our surgery prep room. I was handed a gown and asked to get changed and go to the bathroom a final time and from that point forward it was game on.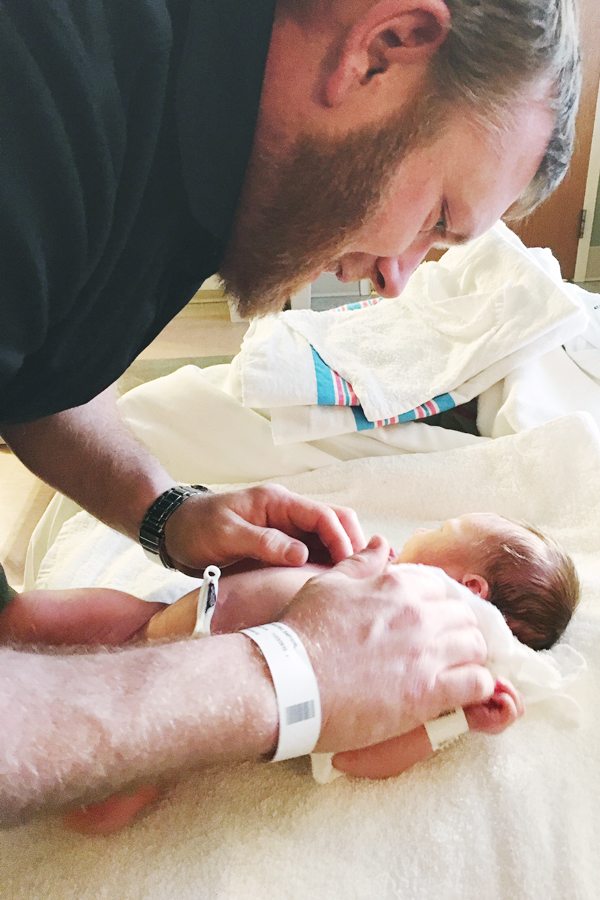 [Daddy giving baby her first little sponge bath. The sweetness kills me.]
From the bottom of my heart, hats off to the nurses at our hospital. They were so friendly and helpful and so genuinely excited for us that it was really hard to get freaked out about the surgery aspect of what was about to happen. "We're about to have a baby," we kept saying to each other. Surgical prep felt like a seemingly endless stream of IVs being inserted, admissions questions being asked, blood being drawn, measurements being taken, nurses coming in, nurses going out, and a constant flurry of activity for about 30 or 40 minutes. My parents met us there about 6:30 and started taking super flattering photos to send to my siblings while I just sort of sat there, being poked and prodded and fluttering on the inside. A few times the nerves almost got to me, but I kind of faked my way through it, trying to stay smiling and joking with everyone. My doctor came in to see everyone, we met our nurse anesthetist and then, it was time to say goodbye.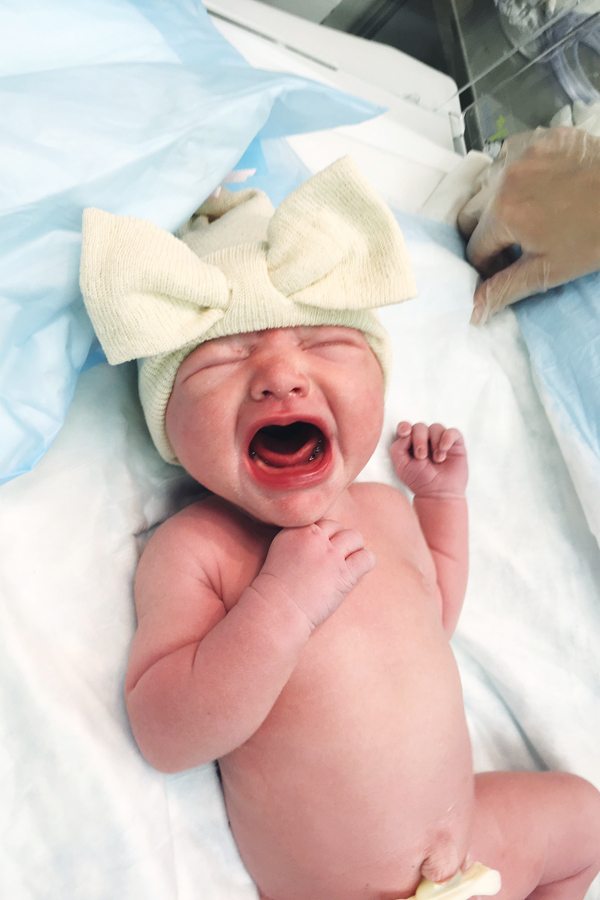 [Screaming her fool head off, which she's been doing every day since.]
My parents went off to the waiting room and at that time they went over everything that was about to happen with Bob and I again. Then, I walked off into the operating room while he stayed behind to get dressed in his surgical garb. Yes, I walked. Like I was just walking down the hall like it was just some ordinary day. So odd. They warn you that the operating room is insanely cold, but as soon as I walked through the door it nearly took my breath away it was so frigid. They had me sit on the edge of the surgical table and explained again the entire process for what was about to happen with regards to the spinal block and the surgery. The nurse anesthetist was one of my favorite people that day (she actually took most of the photos in this post with my iPhone for us in the operating room) and she was some sort of godsend, keeping my nerves in check as she placed the spinal.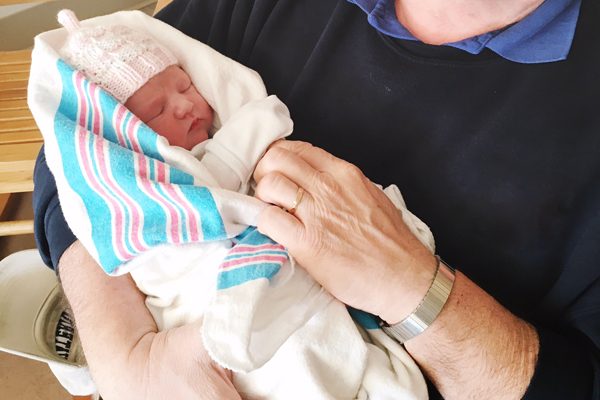 [Emerson's first time meeting poppa!]
At that point, shit was feeling really real. The spinal was inserted while I was sitting up straight on the very edge of the table and immediately all of the nurses start grabbing at you to get you laid down and into position so the the medicine has a chance to distribute properly and do it's thing. I was trying so hard to just stay calm, keep breathing and not panic, but honestly, I was kind of freaking the hell out. Where the hell was Bob anyway? Why hadn't they brought him in yet? The spinal is packed with a big dose of morphine, too, and the combination of everything going on in that bad boy has a tendency to drop your blood pressure dramatically. Cue insane shivering and shakes that somehow serve to make you feel even more nervous than you already are, all the while you're reminding yourself that you've read a million accounts of c-section deliveries and this is all totally normal, just keep breathing, damnit.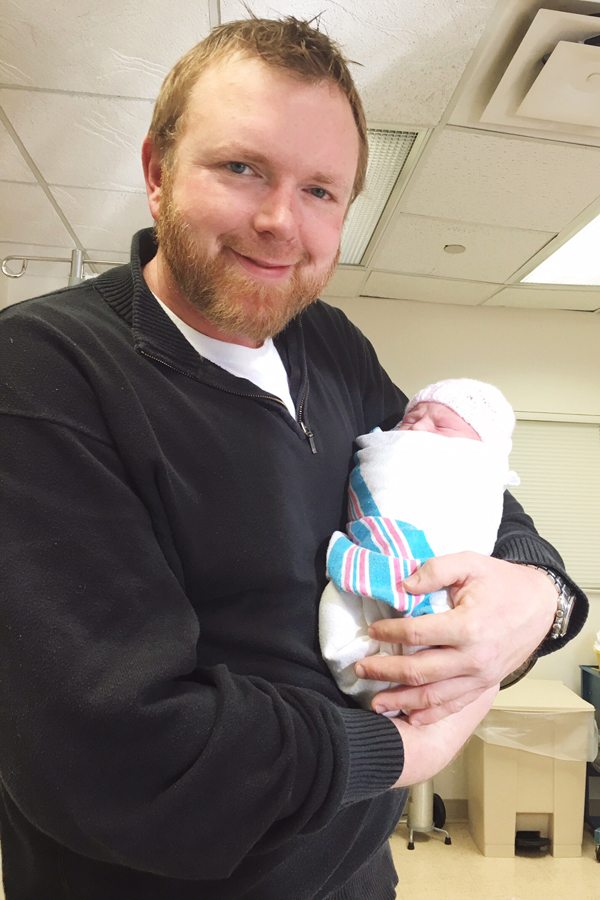 [One very happy daddy and Bob's first appearance on the blog, if you can believe it!]
By the time Bob met me in the operating room, I wasn't super communicative. I was very much in my head, talking to myself to keep calm and focusing on staying with it because the spinal and the morphine had combined to make me incredibly light headed and woozy. I felt a little bit like I was rolling all over the room, even though in reality I was strapped to a table. From there, it went so quickly. My doctor came in, the nurse anesthetist did a final check to make sure I was good and numb and off we went. We were talking to each other with the nurse anesthetist keeping us calm and up to date on what was happening and just a few minutes later, there she was. Born at 8:21am and measuring 7lbs 15oz and 20.75″, screaming the whole while. I experienced no pain throughout the entire procedure, but the part where they actually pulled her out was definitely really strange. I remember explaining it to people later that day as feeling like I was a giant wine bottle – like a corkscrew was pushing down and putting all this pressure on me and then pop! Out she came. It was an immediate release the instant she came out. It was honestly such a surreal experience, it's hard even now to accurately explain how it felt in that moment.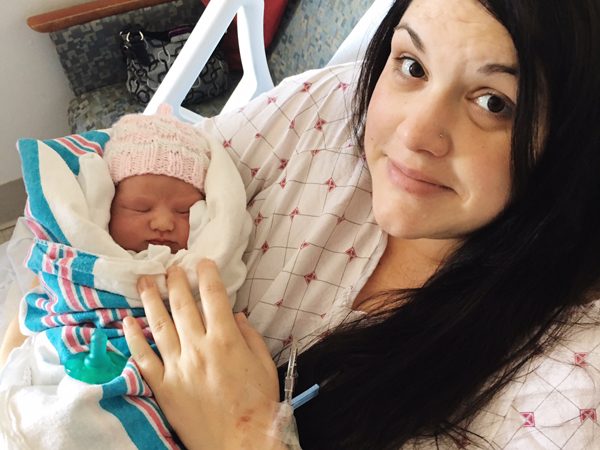 [A few hours after being born, already changing and looking so different!]
The nurses set to getting her measured, cleaned and bundled up, while the two of us melted into an utter puddle. The whole while that child was screaming her head off and the nurse anesthetist had gone over to take photos of her being weighed and swaddled even though I couldn't see any of that happening. I laid there with tears streaming down my face just so happy to listen to her cry, knowing she was ok. Bob cut the cord and went over to be with her while she was being looked over and after what felt like either thirty seconds or thirty years, she was brought over and placed on my chest. She was wrapped up like a burrito and wearing the sweetest little hat. I could immediately see that she had my nose, but still somehow looked a lot like her father and holy hell, I was just floored. I did not give two craps what happened next, because she was with us and perfect and nothing else mattered.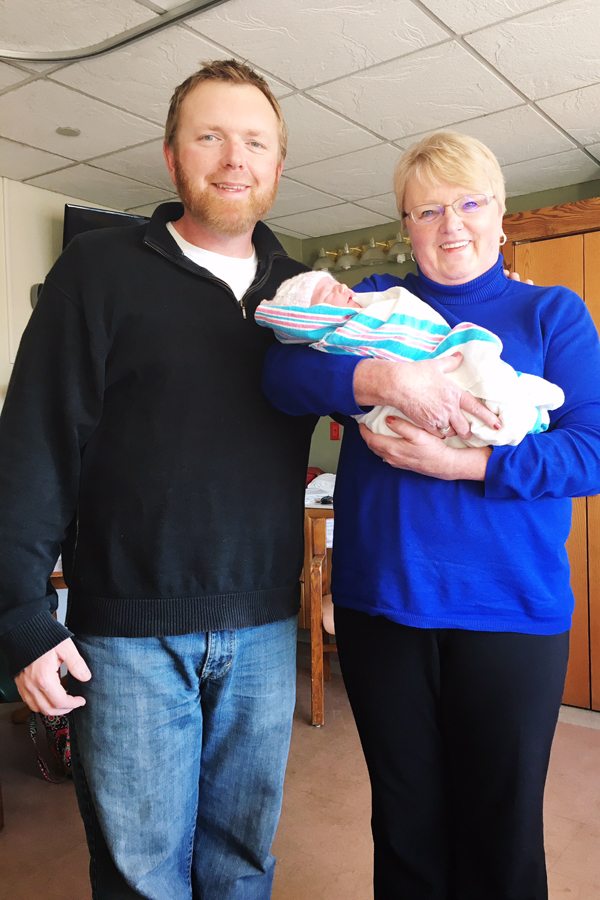 [First photo op with daddy and grandma!]
After I was all closed up, they wheeled us to recovery. I was holding her the whole time, but shaking like a leaf still so when we got into the recovery room they took her and placed her under the lights to stay toasty and then set to work trying to warm me up. My blood pressure had tanked and my temperature was only 94.9 when we got to recovery so they placed hot blankets on my limbs and mid section, and then encased me in this giant inflatable blanket that they blow hot air into to help get my core temperature regulated. Slowly my temperature creeped up while I just sort of laid there, high on morphine and watching the baby squirm around in her little bed about ten feet away. I didn't realize that it had been so long already and that our family was kind of starting to freak out in the waiting room, because needing to get my temperature regulated meant we were in recovery much longer than anticipated. Finally, my temperate got back up to just shy of normal and they let us go to our room. We passed by the waiting room so our parents and Bob's sister were able to come right out and walk with us to our room. I remember being so excited for everyone to meet her and hold her, I couldn't wait for her to be loved on by everyone.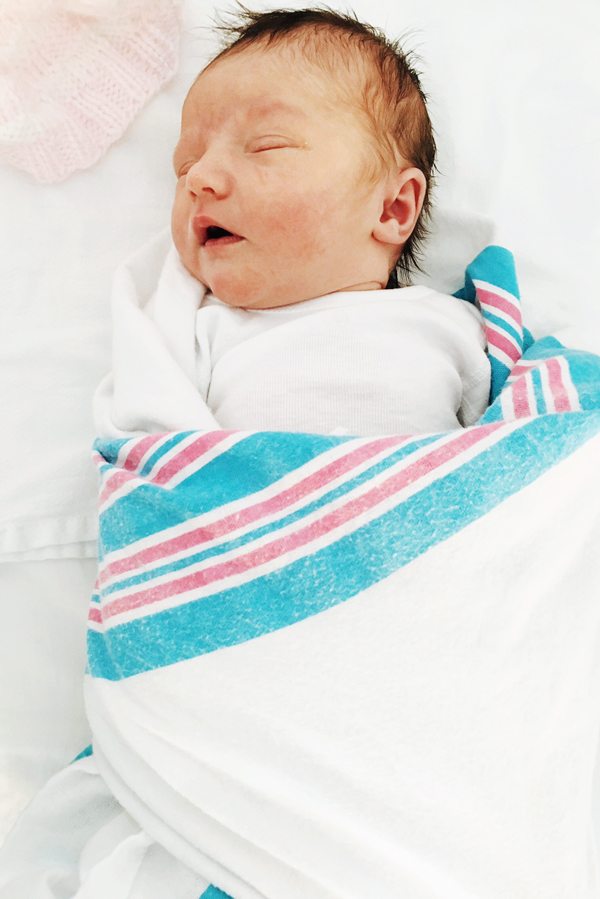 [Emerson Gray | Born November 23, 2015 at 8:21am | 7lbs 15oz and 20.75″]
The rest of the day was the happiest blur of visitors and baby snuggles, loads of text messages and phone calls and the craziest outpouring of love that honestly hasn't stopped since. Babies are seriously so magical in their ability to make you love them right away and to bring grown adults to their knees. Our lives have been utterly transformed and there has not been a single day where I haven't felt so grateful for our little chipmunk and all the ways she has reshaped our hearts.