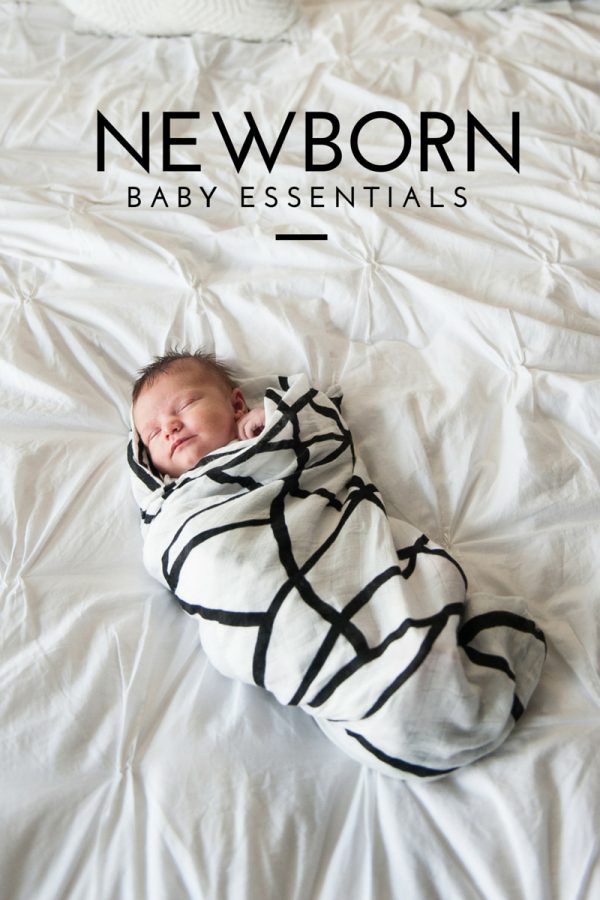 If you can believe it (because I can't), Emerson is four months old today! Everything they tell you about time passing in the blink of an eye? There is absolutely zero exaggeration when it comes that one, friends. She is at such a fun stage right now though! She is playing more, laughing with all her might, getting better at rolling over, sleeping like a little angel at night (naps, not so much), and learning new party tricks all the time. As a result, mommy is also feeling more rested and more productive these days. While that feels amazing, I also feel a bit like, "Wait! We're through the newborn stuff already?" Even when you know it's a cliché, it still moves that quickly. (I'm convinced the hormones and the sleep deprivation play a part!) So while we're moving forward and starting to outgrow some of the super tiny baby stages, I thought I would share my survival list of newborn baby essentials. If you're pregnant or hoping to be soon, pin this one, folks! Every baby is different, but I swear by these items to get you started. For those of you with older kiddos, any recommendations for the 4 to 6 months stage? Pipe up and tell me what's good! I'm all ears when it comes to the must have baby gear.

1. Chicco Lullago Portable Bassinet – We originally picked out this bassinet because of it's more simple, clean design and the fact that it is really travel-friendly. It wins all the way around! It is way easier to fold and pack than a pack n' play plus the generous size gives it a longer shelf life than a typical bassinet. Currently she is still sleeping in this nightly.
2. Motorola Digital Video Baby Monitor – For the first month or so this never even came out of the box because the baby was constantly with me, but beyond that, it has been a lifesaver. As I am writing this right now, I am watching her upstairs sleeping and she's not being interrupted by the dog doing her morning shake, rattle and roll routine. Genius.
3. Aden + Anais Silky Swaddles – We can't get enough of these swaddles! We use them for swaddling, as general blankets, as the photo backdrop in her monthly photos and they'd even make a good nursing cover on the go. Spend the few extra bucks for the silky ones – they're absolutely worth it!
4. Fisher-Price Newborn Auto Rock 'n Play – Of anything on this list, this is probably the thing that saved me during the thick of sleep deprivation when I hadn't showered in days. (And, yes, that really happens.) For the money, you can't beat it. We used it for naps and even for several weeks at night when she needed to rock in order to stay asleep. She's getting too big for it now, but it's still handy for entertaining her while I shower!
5. Munchkin Latch Bottles – I ended up not breastfeeding because this baby just would not latch. We tried all of the "fail proof" tricks and never once did she latch. She took to these bottles immediately though (even when she was hit or miss with several other brands of bottle) and we continue to use them every day. I can't recommend these bottles highly enough! Seriously.
6. Solly Baby Wrap – Some days your baby just wants to be held, but mommy also needs to drink coffee. It's life. It happens. That's where baby wraps come into play! Both she and I prefer our Solly wrap the best, plus they come in super cute colors and patterns.
7. Baby Bath Tub – We decided to keep it old school and simple on the bath tub front and I'm glad we did! We use this one on the kitchen island for bath time (it was just easier for me than bending over at first following a c-section) and I like that it's lightweight and easy for me to move with one hand if I'm also carrying her. It is as basic as it comes, but it gets the job done.
8. Braun Ear Thermometer – You'll also need a rectal thermometer but I highly recommend this ear thermometer for being able to quickly grab a temperature reading. We haven't been really sick yet (luckily), but she was running a low grade fever after her last shots and I liked that this made it really easy for me to keep tabs on her.
9. SheaMoisture Raw Shea Butter Baby Oil – We use this baby oil in lieu of lotion almost exclusively and we're obsessed with the stuff. It smells amazing, it's not loaded with a ton of crap and she really enjoys a little baby massage after her bath. Plus, it has kept her skin really soft and moisturized, which is saying a lot considering our winters are brutally cold and dry here.
10. Sprout Baby App – At the hospital they make you track every poop, pee and feeding so when we got home I felt most comfortable continuing to track her food intake. I wanted to find a good app to do so and this one is it! I still live and breathe by this app every single day and I track every ounce that she eats. It's also good for tracking sleep, vaccination records and her height and length stats at every doctor's appointment.
11. Baby Nail Clippers – By the time we were home from the hospital we had a hard time keeping mittens on this baby of ours, so baby nail clippers are a must! We keep them stashed in a couple of places around the house so we can easily grab them and trim when needed, because her nails seem to grow overnight.
12. NoseFrida – Yes, you use this thing to suck snot out of your kid's face. Yes, you're going to hear loads of people raving about it. Yes, you absolutely need one. A seriously incredible invention! I can't say enough.
13. Philips Avent Soothie Pacifier – By now she has all but weened herself from a pacifier, but in the early weeks we used one quite a bit. She always preferred these ones over any others (again with the nipple and latching issues), and she will still use one occasionally now if she's sleepy and just needs to be soothed a bit.
14. Footie Pajamas – For the first 1 – 3 months or so, literally all you need for your kid is a stash of footie pajamas and white onesies. Seriously. Then you don't have to mess with socks and changing diapers is easy as a breeze. We like the ones from Carter's because they come in cute styles but they are very affordable. We actually prefer the ones with snaps now (so you don't have to practically fully undress her to change a diaper in the middle of the night) but in the depths of sleep deprivation the first month or so, zippers are king!
15. Cybex Aton Q Infant Car Seat – I mentioned when we were working on our baby registry that I had researched the heck out of car seats. Picking this car seat was easily one of the best decisions I made! It is incredible. Yes, it is super expensive. But it is honestly just a superior car seat. The design of it is stunning (people also comment about it), but more importantly it has killer safety ratings and the base is the easiest thing in the world to install and move between vehicles when needed. If you're going to splurge, I'd suggest splurging on this car seat. I am a huge huge fan.

[Photo by Alice G. Patterson | See more of our newborn photos.]
This post contains affiliate links. Read more about our editorial policies.